The Long Way to New York: Trip Planning
Singapore Airlines SilverKris Lounge, Singapore
Singapore Airlines A330 Business Class SIN-BKK
Thai Airways First Class Lounge & Spa, BKK
Thai Airways B747 First Class BKK-HND
Getting from HND to NRT
ANA First Class Lounge, NRT
ANA B77W First Class NRT-ORD
United Club ORD
United B767 Economy ORD-EWR
Visiting the US Open
Sheraton New York Times Square
Hilton New York Midtown
Wingtips Lounge JFK & Delta to DC
Exploring Washington DC
Element New York Times Square West
Virgin Atlantic Clubhouse, JFK
Singapore Airlines A380 Suites JFK-FRA
Lufthansa Senator Lounge FRA
Singapore Airlines A380 Suites FRA-SIN
---
After a solid week in NY it was now time to venture over to Washington DC to visit some of the most iconic sites in America and perhaps see if I could get my name on the ballot for November. Given the way this election cycle is heading, I quite fancy my chances.
For the uninitiated, Washington DC is serviced by 3 airports- Regan (DCA), Dulles (IAD) and Baltimore (BWI). DCA is the most conveniently located if you want to be around the Washington Mall/Capitol Hill area. However, Dulles has the most international connections. So if you're flying from outside the States you'll probably fly into IAD, and if you're flying from within the States you'll want to try to get to DCA.
I wasn't able to find a United routing that worked for me (United has abandoned JFK and only operates out of EWR/LGA now) so I started looking for alternatives. I ended up booking a Delta flight for about S$236 because of Crossover Rewards.
Starwood and Delta have a marketing tie-up called Crossover Rewards.
With Crossover rewards, SPG Platinum and Gold members earn 1 Starpoint for every dollar spent on eligible Delta flights. Plus, SPG Platinum members enjoy elite benefits when traveling with Delta, such as Priority Check-in, Priority Boarding, Unlimited Complimentary Upgrades, and first checked bag free.
My Crossover rewards benefits applied seamlessly- in the system I was already set up to receive 1 free checked bag and my name was added to the upgrade list.
Now, SPG Platinum members have the absolute lowest upgrade priority so it would take something of a miracle for you to really get one. That said, I felt confident when I checked in and saw I was 1 of 1 for upgrading to First Class, with 2 seats available.
So naturally when I checked the list 2 hours before departure I saw I was now 15 of 15. Easy come easy go I guess. Come check in, I was unceremoniously assigned an aisle seat about midway through the plane.
I was amused that the security buckets at American airports have now become advertising mediums. It's clever, no doubt, and I have no doubt they originally considered putting a firearm in the promotional shot for Narcos only to realise the potential issues that would have caused.
Delta operates out of T3 and T4 in JFK. Although the system told me to check in at T3, I still ended up having to transfer terminals.
It's not that complicated really. You clear security at T3 and then take a Delta shuttle bus to T4. The route is very well marked out and you have nice friendly agents barking at you every step of the way so you know where you're going.
Delta calls its shuttle bus service at JFK the JITNEY. As I captured the lens flare on the shuttle bus I smiled to myself, knowing that I could finally produce photos worthy of the Instant Gram that young people these days use.
I used my Priority Pass to get access to the Wingtips Lounge. If you're flying Business Class with SQ, pay attention because this is the same lounge you'll get access to (First Class passengers get the Virgin Clubhouse, an amazing place which I'll write about soon)
The Wingtips lounge is located on the second level of the T4 departures area.
Yes, it's the village bicycle of T4, taking pretty much everyone
The lounge can seat perhaps 80-100 people. It's not the largest of lounges but it was close to empty when I popped in for an 845am departure.
A quick glance at the departures board suggested the reason for the emptiness- most of the international departures from JFK take place at night. During the day JFK is mostly domestic.
A look out the window confirmed as much
The main attraction in the lounge is really the food- don't expect spa treatments, games stations or anything else here.
This was a morning flight so the choice of items reflected as much. There was cereal (why does no one offer lucky charms anymore, I wondered)
Fresh fruit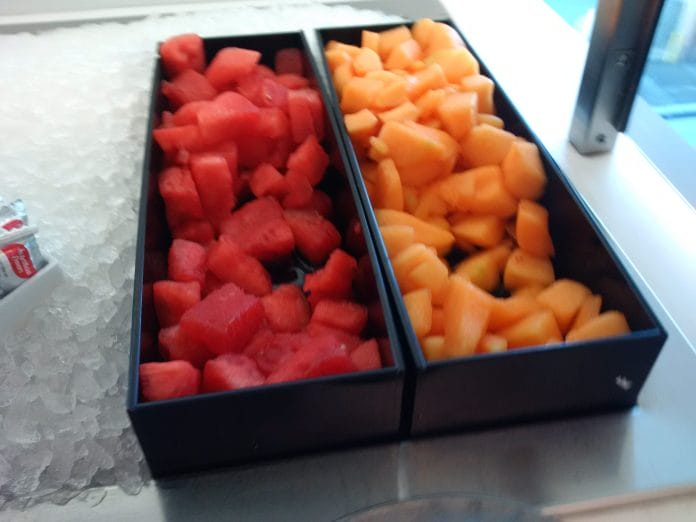 Yogurt
Hard boiled eggs
A selection of bread
And every American's favourite thing, oatmeal. I don't get what the deal is. Oh, there was chicken soup too.
The best thing about the lounge was they had the full alcohol selection out even though it was 7 in the morning.
That's not all. There was actually sparkling wine.
I didn't care that it wasn't champagne. I didn't care that it was probably some local brand with a french name. It sparkled, and that made it good.
There was also a fridge full of soft drinks and beer (Tiger beer too, surprisingly)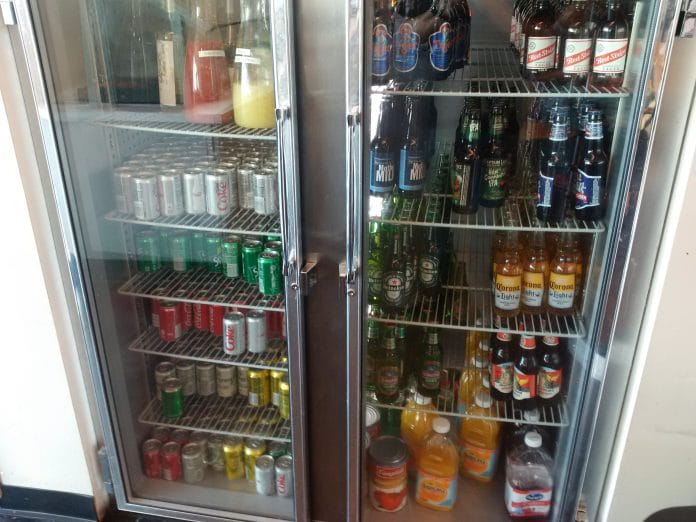 And a coffee machine dispensing coffee of questionable quality.
Around the corner there is a little annex with a smaller snack selection
The flight itself was a little more than an hour on an Embraer E-170 jet. The configuration was 2-2 in economy and I had an empty seat next to me.
Although the plane is a small regional jet, it still had some modern day conveniences like power sockets
Seatbelts
And a tray table.
And a loo.
And soap.
The flight was uneventful, really. There was no time for drinks or any sort of meal service. I turned on Mr Robot and tuned out.
I've said it before but it's worth saying again- when you're flying domestic in the States and paying your own way you really should go for price above anything else. Although United would have earned me miles I could use,  their base price was just too high to justify using them. The free bag I'd get with Delta also saved another $20 or so versus flying with another airline like American.
We landed on time in DC and I just had to find the relevant authority to file my election papers with.