The Long Way to New York: Trip Planning
Singapore Airlines SilverKris Lounge, Singapore
Singapore Airlines A330 Business Class SIN-BKK
Thai Airways First Class Lounge & Spa, BKK
Thai Airways B747 First Class BKK-HND
Getting from HND to NRT
ANA First Class Lounge, NRT
ANA B77W First Class NRT-ORD
United Club ORD
United B767 Economy ORD-EWR
Visiting the US Open
Sheraton New York Times Square
Hilton New York Midtown
Wingtips Lounge JFK & Delta to DC
Exploring Washington DC
Element New York Times Square West
Virgin Atlantic Clubhouse, JFK
Singapore Airlines A380 Suites JFK-FRA
Lufthansa Senator Lounge FRA
Singapore Airlines A380 Suites FRA-SIN
---
After Washington I was back in New York for 2 more nights before I jetted back to Singapore. After my rather underwhelming stay at the Sheraton New York Times Square, I was looking for another Starwood place with a similar location but, you know, less depressing.
I then realized that I was one brand away from completing the Stay 11 Brands Get 11,000 Starpoints challenge. As luck would have it, Element was the brand missing from my stays so far in 2016.
Award stays count towards the 11 brands challenge, so if I spent 24,000 points for 2 award nights it was kind of like getting one night for free. Plus, I'd be able to address my OCD and finally see purple triangles in the top left hand corner of every rectangle.
For those of you unfamiliar with the Element brand, it's positioned as the extended stay property under Starwood. This means you'll get features you'd expect in serviced apartments, like kitchenettes, dishwashers, washing machines etc.
Or, if you prefer the PR version
Inspired by Westin® Hotels & Resorts, Element Hotels promotes balance through flowing, multi-purpose spaces. Influenced by nature, the smart, environmentally-friendly design maximizes space and enables you to use each area in multiple ways.

We believe it's important for you to achieve a sense of balance – particularly while traveling for extended periods. By stimulating the senses and soothing the spirit, Element helps you relax and refresh, so you can get back to your best self.

With its open social areas and relaxing guest rooms, Element serves as a personal retreat from the stresses of travel. So whether you are here for days or weeks, business or fun, you have an experience that enables you to grow, prosper and flourish.
Where location is concerned, it's kind of funny because the Times Square area is so nebulously defined. The Sheraton Times Square is located on 53rd Street and the Element on 39th Street, yet both of them have Times Square in their name.
If you take the big vertical digital signboards with the Times Square ball to be the de facto centre of Times Square, then both the Element and the Sheraton are about equidistant 10 minutes walks.
Although the Element is positioned and marketed at a lower price point than the Sheraton, I think my stay here was head and shoulders above the Sheraton in every way.
First, the Element is a much smaller property than the Sheraton (411 rooms vs 1,780) so the lobby is a lot less claustrophobic and hectic as the Sheraton's.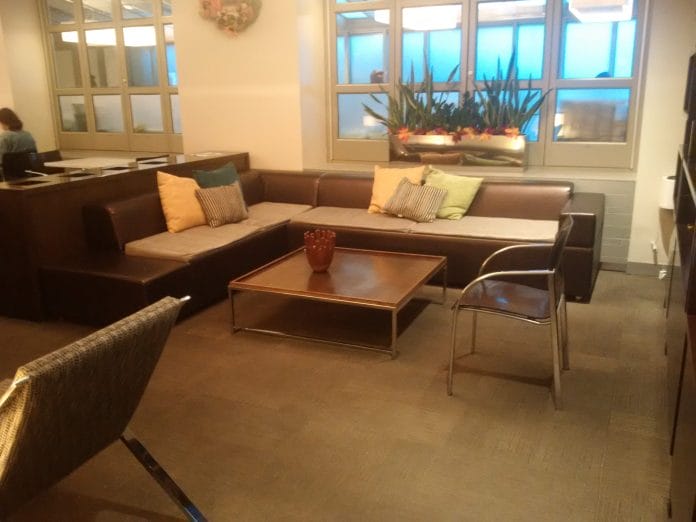 The Sheraton lobby is hardly the most relaxing place to step into after a long transatlantic flight, what with the overall noise level, the endless queues of people waiting to check in and the spillover from the Starbucks connected to the hotel. The Element's lobby was a veritable oasis in comparison.
Second, the Element actually opens up upgrade space to members. I had some suite night awards I was sure I wouldn't able to finish by year's end so I used two for my stay to upgrade to a 1 bedroom suite, but I was told that I probably didn't need to use them anyway. The check-in clerk was super cheerful and made me feel right at home.
Third, The Element didn't charge ridiculous "package handling fees". Want to send an Amazon parcel to the Sheraton to await your arrival? Sure, pay $10 per item. I must have sent more than half a dozen packages to the Element and there were no issues at all. I almost felt bad when I realised just how many packages they'd received on my behalf but they didn't make a big deal out of it.
Along with my room keys I received a welcome bag with 2 bottles of water in it (Although NY tap water is completely safe to drink). I forget which floor I was on, but it was one of the higher ones. If there's one drawback about this hotel it's how long the lifts take to arrive- there are only 3 of them to service the entire hotel, and during breakfast apparently the wait times are insane.
The standard 2 queen bed room looks like this- nice enough but the close proximity of the kitchen to the bed means that if you want to do any cooking your bed will probably end up smelling like oil.
And cooking is exactly what I wanted to do because I was hosting that evening. Therefore I was thankful to get the one bedroom suite with a separate bedroom and cooking area.
Each room at the Element has the following standard features-
Guest Room Features
Custom Closet
A custom-designed closet system with laundry hamper allows you to unpack, organize and settle in quickly and easily.
Workspace
The cleverly designed workspace includes open shelving, an ergonomically designed task chair, ambient lighting and an oversized work area. Power and data connections accessible from the desktop make it easy to plug in a laptop or other electronic devices.
Television
The smart entertainment center starts with a 32" LCD TV that swivels 359 degrees for visibility throughout the room, a DVD player and an extensive television channel lineup that includes on-demand programming.
Plug & Play Docking Station
Enhancing the entertainment center, the plug & play docking station lets you utilize the speakers and screen of the television to enjoy any content you may have brought along with you.
Easy-Access Power
You can easily recharge your electronics using outlets conveniently located on top of the credenza.
Windows
Large windows with sheer shades easily adjust for maximum light or shaded energy efficiency.
Bed 
Relax and rejuvenate in the signature Westin Heavenly® Bed. After a great night's sleep, you will be prepared to take on the challenges tomorrow holds.
Lighting
Ambient lighting offers three brightness levels so you can customize the amount of light and compact fluorescent light bulbs help you maintain energy efficiency.
Appliances
Full-size, energy-efficient appliances – refrigerator, cooktop, microwave and dishwasher – enable you to prepare anything from a snack to a gourmet meal.
Cooking and Serving Tools
Fully-stocked kitchen has all the essentials – pots, pans, knives, utensils, dishes, cutlery and glasses.
A Refreshing Refuge
Sleek and stylish, the bathroom is highlighted by an oversized spa shower and eco-friendly sink and toilet.
Bathroom Features
The custom rain showerhead, with shower wand, envelops you without wasting water. Shampoo and conditioner dispensers replace mini-bottles for a clutter-free, eco-friendly space.
Design
The low-flow sink faucet, dual flush and/or low gallonage toilet and sleek cabinetry combine environmental-consciousness with modern design.
It's not a great photo but this gives you a bit of an orientation of the room- the bedroom is to the left, the kitchen is on the right. There's a sitting area and work desk in the middle.
The bedroom was cramped to say the least. Even though Element is a brand concept by Westin I don't believe the two of them use the same bed- you won't get a Westin bed here. That said, the bed was excellent.
EDIT: It was in fact a Westin Heavenly bed. Who knew?
I could have sworn I took a photo of the bathroom but it's disappeared so make do with one from Tripadvisor.
Because I was in a suite, my kitchenette more approximated a kitchen. I loved it, having so much counter space to work with. The kitchen was fully furnished with everything you could possibly need. There were all sizes of pots and pans, all the cutlery, a full sized dishwasher, a microwave (real chefs don't use microwaves!), a full sized fridge, chopping boards… They even had a jumbo sized roll of paper towels which are a lifesaver when cooking.
If three's one complaint it's that the sink was a bit small. But I managed anyway.
I made a run out to the grocery store to get some supplies and it was back to playing domestic goddess.
Frequent readers will know that I set very exacting standards for pasta. And the standards that I set I try myself to meet. I was pleased to report that my efforts at Amatriciana made with fresh tomatoes turned out  pretty good, if I may say so myself.
A free hot breakfast is offered to every guest at the Element.
There was the usual bagel cabinet with several different bagel options
Sidenote: I already had what I consider to be NY's best bagel at the Brooklyn Bagel & Coffee Company in Chelsea, so all these bagels were just a distraction.
If you're going there, just get the plain with smoked salmon (they smoke it themselves) and red onion. Protip: ask for the cream cheese on the side because American levels of cream cheese are beyond us.
That said they also do a very generous avocado omelette (apparently that can be done) if you want eggs.
Back on topic- I mean the bagel at the Element was perfectly serviceable, if not a bit disfigured due to my complete inability to use a bagel slicer (it ended up folding the bagel instead of slicing it)
Other items included yoghurt
Coffee and tea
A selection of juices
Cereals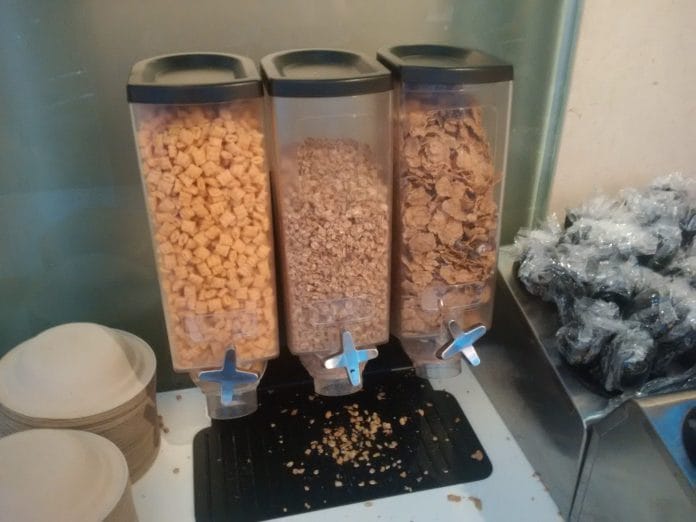 Fruit
And there was a single hot item station where a staff member was passing out breakfast sandwiches and bacon.
Here's a nice glossy publicity shot of the breakfast area because I realise my photography skills are holding this website back from true greatness.
I had a great stay at the Element and wouldn't hesitate to come back again. I know some people will say "but you're in NY and it's the gastronomic capital of the world why would you want to cook yourself". I guess that's fair enough, but if your plan is to do a few splurge meals and you want to balance out the accounts you could do a lot worse than whip up something yourself.
Besides, that evening when I was cutting onions and sipping a glass of prosecco and listening to Mezzanine de l'alcazar on Spotify (yes I'm pretentious) I closed my eyes and imagined for a brief moment that I was living in New York and making dinner in my own bachelor pad. It was not an altogether unpleasant fantasy.
With the trip done it was time to head back to Singapore, and against all odds I had redeemed the great white whale of redemptions, a Suites ticket on SQ25…