The Long Way to New York: Trip Planning
Singapore Airlines SilverKris Lounge, Singapore
Singapore Airlines A330 Business Class SIN-BKK
Thai Airways First Class Lounge & Spa, BKK
Thai Airways B747 First Class BKK-HND
Getting from HND to NRT
ANA First Class Lounge, NRT
ANA B77W First Class NRT-ORD
United Club ORD
United B767 Economy ORD-EWR
Visiting the US Open
Sheraton New York Times Square
Hilton New York Midtown
Wingtips Lounge JFK & Delta to DC
Exploring Washington DC
Element New York Times Square West
Virgin Atlantic Clubhouse, JFK
Singapore Airlines A380 Suites JFK-FRA
Lufthansa Senator Lounge FRA
Singapore Airlines A380 Suites FRA-SIN
---
A quick reminder that it's not too late to participate in the ANA First Class PJ giveaway- 2 pairs to be won! Check out the link here

---
My taxi pulled up to the first door of Terminal 2 and as I unloaded my bags, I felt the same tinge of excitement I get when I'm about to have  an amazing journey. New York and the US Open beckoned, but as always getting there would be the highlight of my trip.
If you read my New York gameplan, you'll remember that through the miracle of Lifemiles I managed to book this mixed First and Business class itinerary-
SIN-BKK-HND-NRT-ORD
The first leg of the trip was Singapore Airlines Business Class to Bangkok, from where I'd catch a Thai Airways First Class flight to Haneda. From Haneda I'd lug my bags to Narita and take a First Class ANA flight to Chicago. I'd then enjoy the unrivaled luxury of United's Economy product from Chicago to Newark (United used to let Star Gold members access Economy Plus seating, not anymore sadly)
The check-in staff said she could check my bag all the way through to ORD. I was surprised to hear this, because everything I'd read told me that I'd need to collect my bags at HND and take a bus to NRT. But the baggage tag printed out correctly with ORD on it, and I assumed the system could do no wrong.
I was just about to leave the counter when she said "Oh! Sorry" and confirmed that I was right- I would only be able to check my bag to HND. She then printed out a new tag with HND on it. I can only imagine what would have happened if she tried to use the original tag. This shows why it's really important to do your research beforehand, especially if your itinerary involves changing airports.
I think I've pretty much memorized the layout of Terminals 2 and 3 by now. Normally I head up the escalator and turn left to the crummy mediocrity of the Krisflyer Gold lounge. But today I'd be enjoying the relative superiority of the SilverKris lounge instead.
I knew that although I was connecting to an F flight downstream, SQ's lounge access rules are based on class of departure so I wouldn't get access to the First Class section of the Silver Kris lounge. I was however hoping that the lounge dragons wouldn't know. But SQ has some of the best trained lounge dragons in the business, so no dice. I was duly shown to the Business Class section.
Singapore Airlines will eventually upgrade its lounges in Singapore to match the new "home" concept that is already deployed in other lounges like LHR, MNL and SYD.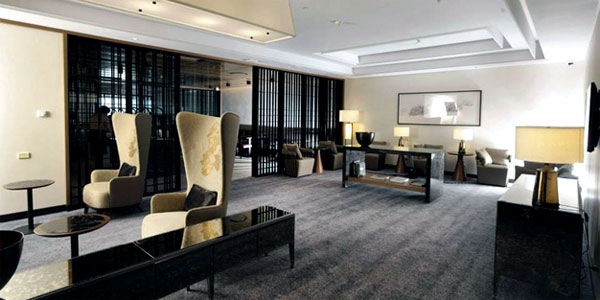 Until then, however, the lounges in its home base (I'm referring in particular to T2) will continue to be the weak link in SQ's lounge network. They're not bad, by any means. They're perfectly ok places to spend maybe 40-50 mins. But anything beyond that and you're liable to want to leave. The seating is not particularly conducive to work, the lighting can't decide if it wants to be bright or dim and there's just really not a whole lot to keep you there. In contrast, I absolutely loved SQ's new SilverKris lounge in LHR. I thought it was bright and cheerful, and I really digged the whole living room vibe.
It was time to inspect the buffet.
The buffet spread at the T2 Business Class section was a mix of Western, Chinese and Indian items.
There is also a selection of breakfast cereals, because nothing says vacation like cereal at 5pm.
There was also the usual salad and fruit bar
And a limited number of non-meat Japanese options. I can say I have never seen a single person taking these, and yet here they are at every buffet.
A rotating heatcase of neglected pastries and spring rolls provided as much social commentary as it did nutrition.
On the drinks side- SQ has taken to do these pop up booths in the lounge. Although some people may think it's a cynical attempt to monetize by giving advertisers exposure to their top customers, I don't really mind. Singleton whiskey was on display today, with free tastings available
The previous two times I visited, Charles Heidsieck champagne was on offer. Today it was Tattinger.
On the non-alcoholic side, the fridge has your usual assortment of drinks. I think I mentioned before that the water bottles have been downsized from 500ml to 250ml. Although it's amusing that SQ's bean counters are working overtime, it doesn't really make a difference given that Changi's screen at the gate setup doesn't allow you to bring water from the lounge onboard.
The rest of the lounge is functional, if unspectacular. There are reading materials
Computers with printing facilities
And an abundance of dimly lit seating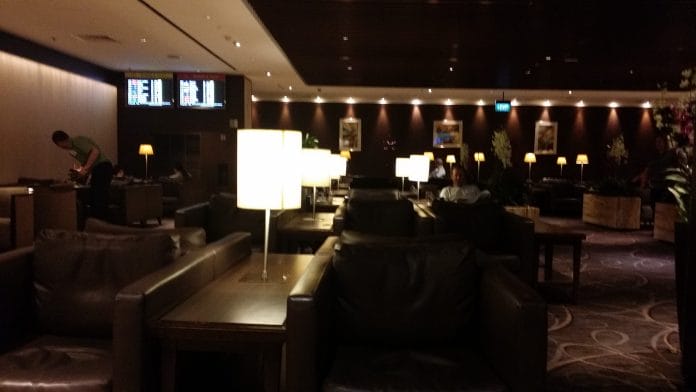 Without any compelling reason to stay, I left the lounge early to head for my Bangkok flight.