Introduction: It's the most wonderful time of the year
A Tale of Two Lounges: SATS Premier T2 and the Qantas SIN Lounge
Malaysia Airlines B737 Business Class SIN-KUL
Malaysia Airlines Business Class Golden Lounge KUL
Malaysia Airlines A330  Business Class KUL-NRT
Japan Airlines Business Class Sakura Lounge NRT
Japan Airlines B77W Business Class NRT-LAX
The Westin LAX
The Westin Westminster
Aloft Boston Seaport
The Consolidated AA Domestic First Class Experience
American Airlines Flagship Lounge JFK
American Airlines B772 Business Class JFK-LHR
American Airlines Arrivals Lounge LHR
The Great Northern Hotel, London
Sheraton Grand Park Lane, London
Westin Paris Vendome
Courtyard by Marriott Madrid Princesa
Four Points by Sheraton Barcelona Diagonal
The Consolidated Intra-Europe Business Class Experience
Sheraton Casablanca
Royal Air Maroc Business Class Lounge CMN
Royal Air Maroc B737 Business Class CMN-ACC
Ethiopian Airlines B787 Business Class ACC-ADD
Ethiopian Airlines Cloud 9 Business Class Lounge ADD
Ethiopian Airlines Q400 Business Class ADD-DAR
Protea Hotel by Marriott Dar Es Salaam Courtyard
Qatar Airways A320 Business Class DAR-DOH
Qatar Airways Al Safwa First Class Lounge DOH
Qatar Airways A330 "First" Class DOH-MCT
Oman Air Business Class Lounge, MCT
Oman Air E175 Business Class MCT-DXB
The Grosvenor House Dubai
W Doha
Qatar Airways Business Class Lounge DOH
Qatar Airways B772 Business Class DOH-BLR
The Ritz Carlton Bangalore
Vistara A320 Business Class BLR-DEL
Cathay Pacific A330 Business Class DEL-HKG
Cathay Pacific Arrivals Lounge HKG
W Hong Kong
Touring Cathay Pacific's HKG Lounges
Cathay Pacific A350 Business Class HKG-SIN
---
Cathay Pacific operates not one, not two, not three, but four different lounges in HKG (the above image shows five, but that's including The Arrival, which is an arrivals lounge that I reviewed previously). That's sure to confuse first time CX travelers as they try to seek out the "best" lounge that gives them the best experience for their money/miles.
What I like is that Cathay's four lounges aren't carbon copies of one another- they were created with genuinely different design philosophies and to serve different purposes. I was determined to try as many of them as I could, and thus began the great Cathay Lounge Race, where I'd try and burn off all the calories from weeks of eating and not exercising in one two hour afternoon dash.
Here's the map of Hong Kong's Terminal 1 and the Cathay lounges therein:
I passed through immigration and found myself on the 6th floor at the departure level, near gates 1-5. This is where The Wing is located. My flight to Singapore would depart from Gate 29, which is where The Cabin was located. Would I be able to squeeze in visits to all four lounges in the two hours I had to departure?
The Wing
My first stop was The Wing, which opened back in 1998 and is one of only two locations where Cathay offers a separate First Class lounge (the other one being The Pier).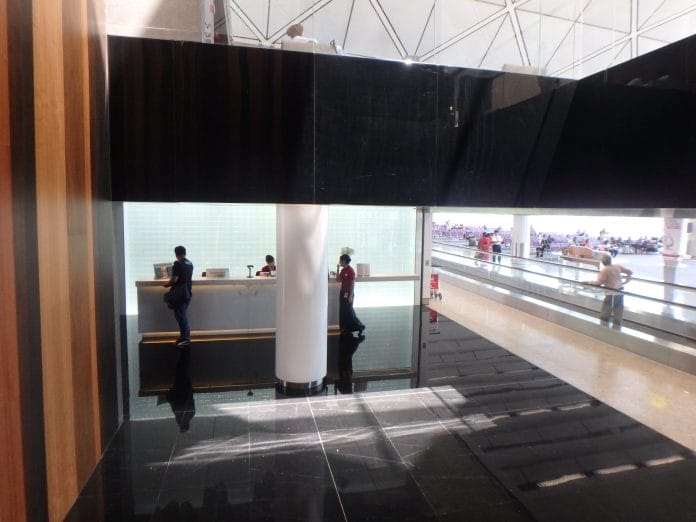 The lounge is split onto two floors- on the 6th floor you have the welcome area, shower rooms plus general seating with light bites, on the 7th you have more serious dining options like The Noodle Bar.
Let me try and break down the 6th floor offerings first. The 6th floor is great for sitting and chilling, and is definitely less crowded than the 7th due to the smaller selection of F&B.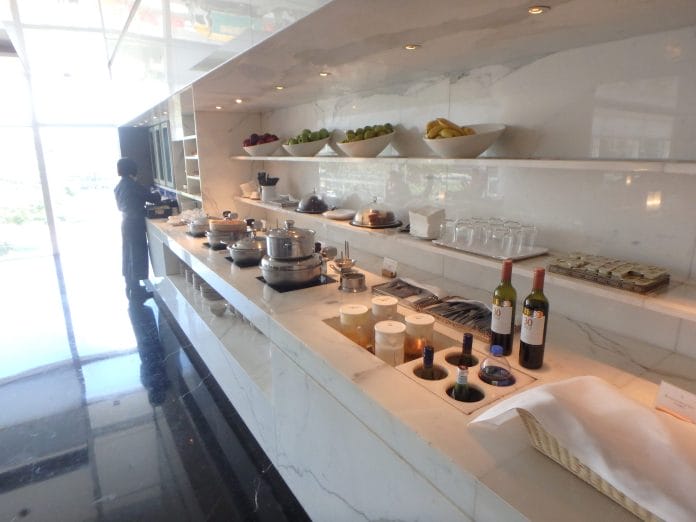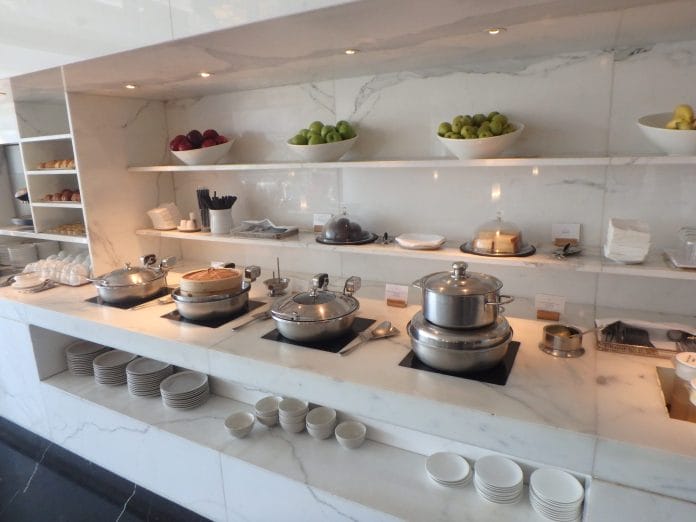 You'll still find hot items like soup and dim sum here, just that the selection won't be as extensive as upstairs.
A small selection of red wines, white wines, still and sparkling water and juice was available.
But of course the real highlight is the famous Solus chairs that were designed specifically for CX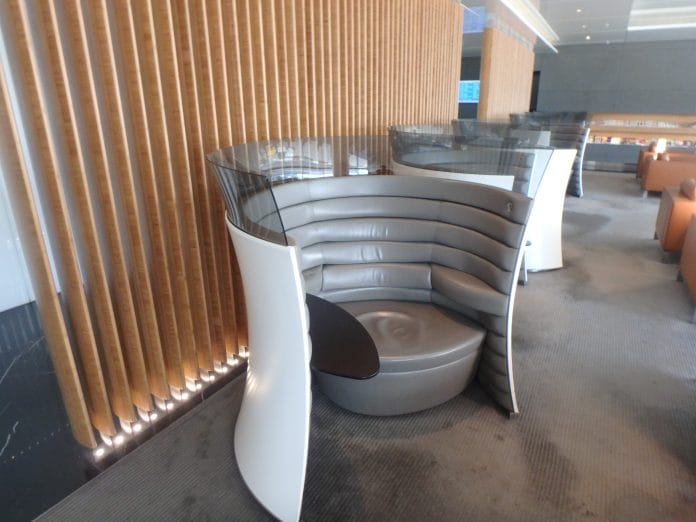 From LoungeBuddy:
You can also choose to enjoy Cathay Pacific's exclusive Solus Chair designed in collaboration with Foster + Partners. Each chair is handcrafted in Italy by the luxury furniture manufacturer Poltrona Frau and includes several features meant to appeal to travelers flying solo. The simple "C" shape with built-in seat and desk can quickly adapt between work and reading modes while balancing the desire for privacy without becoming claustrophobic. Even small details like a coat hook were not forgotten.
That's a heck of a lot of engineering for a chair. I sat in one and quite enjoyed the space it afforded, in particular the back support afforded by the armrest that jutted out from the leather. It reminded me of what SQ is trying to do with their new home away from home concept of offering individual productivity pods
The 6th floor also has showers, and it was at this lounge that I decided to take a shower in one of the 24 shower suites.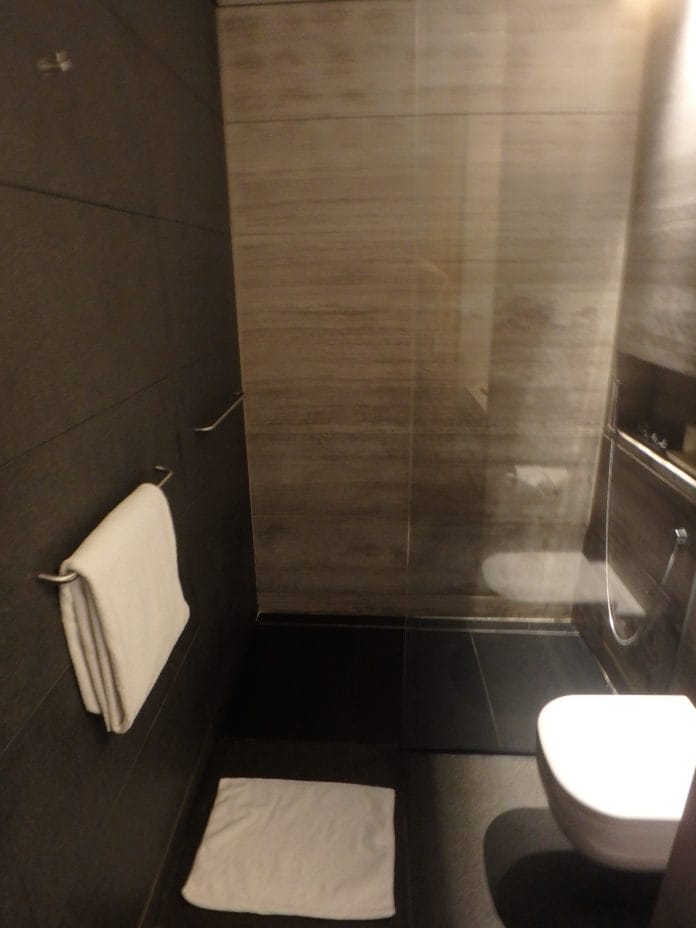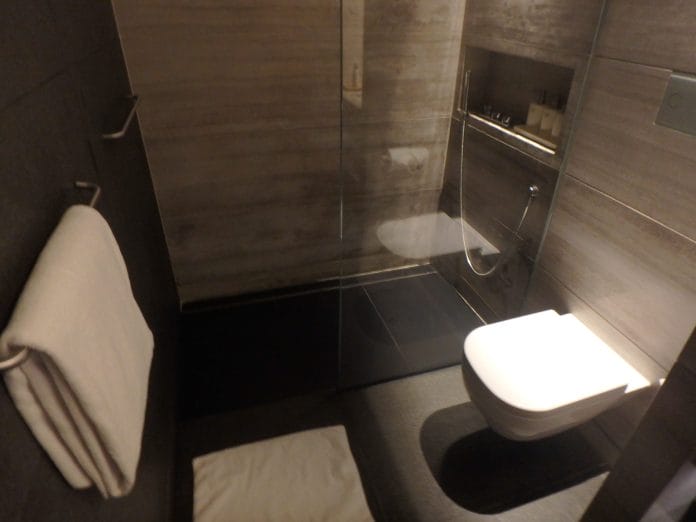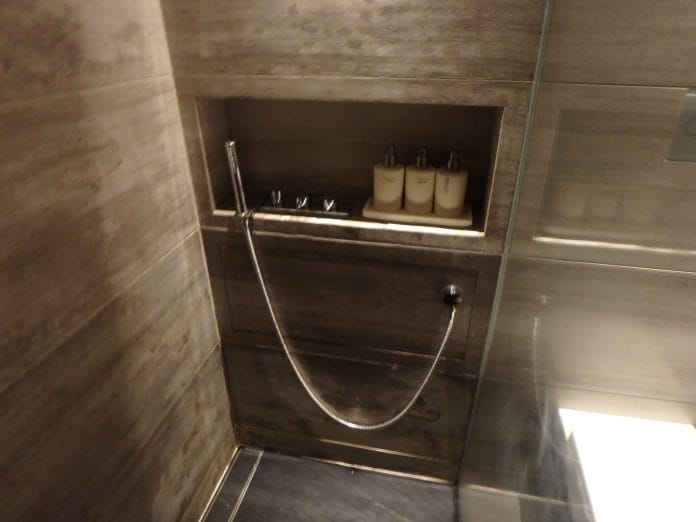 The shower rooms are small and functional; don't expect to luxuriate in one of CX's cabanas if you're slumming it in Business Class.
Indeed, just like in Arrivals Lounge, the bath amenities are unbranded and come in pump dispensers.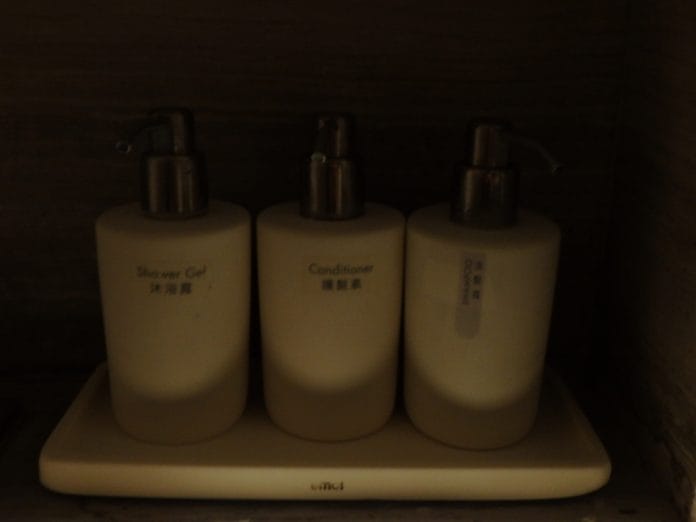 There isn't a lot of counter space to put things…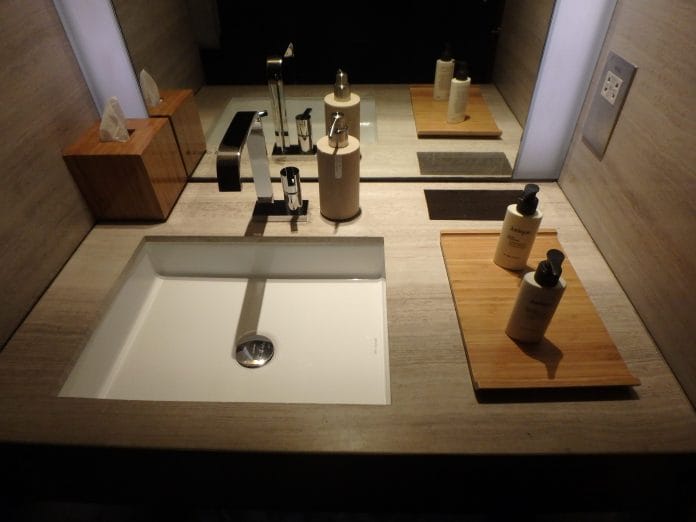 …but there was a drawer that pulled out revealing a hairdryer and various personal care products.
Refreshed, i ventured up the stairs to the 7th floor. To give you a lay of the land- when you go up the stairs to the 7th floor, you'll see a big open space with a lot of seats. This is the general buffet area, where you'll find a mix of Asian and Western options.
You'll also find the Long Bar overlooking the tarmac, where they offer wines and champagne.
As I mentioned earlier, this area was more crowded than downstairs as everyone made a beeline for the food.
The food selection was decent- think your usual Western staples of fish in white sauce, baked chicken, a pasta dish. There were a couple of Asian items here as well but the meat and potatoes (I'm so clever) of the Asian dining experience were to be found in The Noodle Bar.
The Noodle Bar is separate enclave within The Wing that caters to Asian tastes with noodles and dim sum offerings.
You can get a steaming hot bowl of freshly prepared noodles, served within minutes of ordering.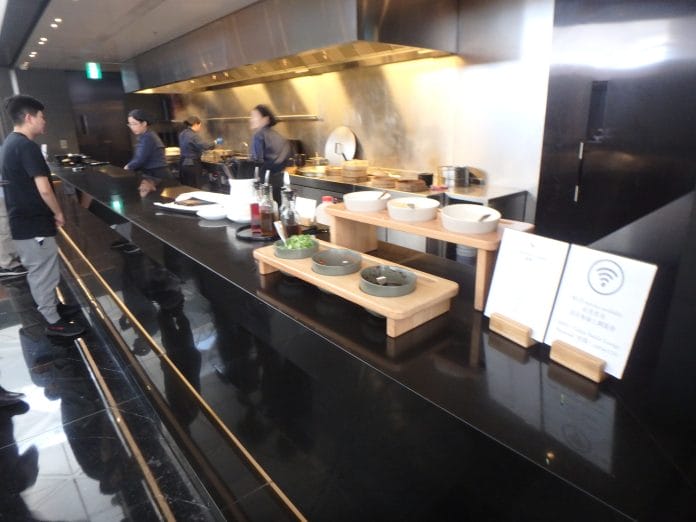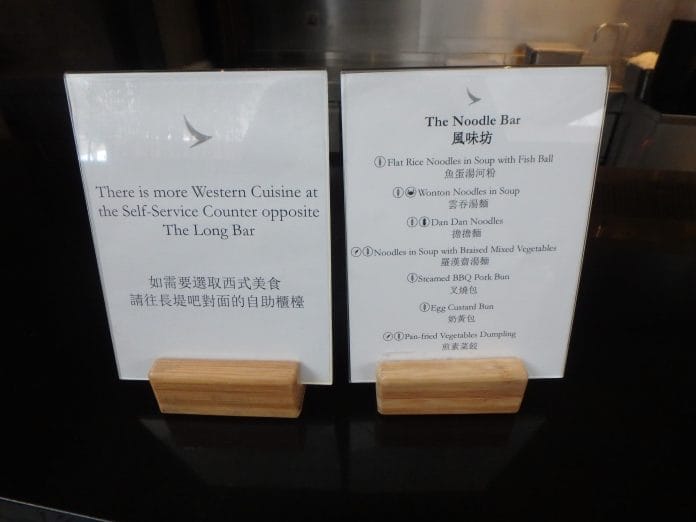 You're more than welcome to bring over wine you get from The Long Bar, but The Noodle Bar area only has water, soft drinks, canned beer and juice.
Next to the noodle bar is The Coffee Loft, Cathay's idea of a nice coffee lounge with an expensive coffee machine and barista.
Below the counter is a selection of pastries and and pies, which the staff will gladly serve on request.
You can also get some savory mini sandwiches
The Cabin
It was now time to make haste for The Cabin, located at Gate 25. I completely walked past the lounge without realizing it was there, because the signage for the lounge is extremely inconspicuous.
To access the Foster + Partners designed The Cabin, you head down a flight of stairs from the main passenger atrium. This is a shared facility for Business and First Class passengers that is perhaps a 10 minute stroll from the Wing (or a 5 minute jog, as I did. Go me.)
The lounge is narrow and long. AusBT puts the length of the lounge at 90m, meaning it spans the length of several gates.
The awesome thing about The Cabin is that it's got a terrific eye-level view of the tarmac, where I spotted this gorgeous lady waiting to be filled. With passengers. And cargo.
The Cabin is the only lounge to feature The Health Bar, a new concept by Cathay that focuses on "superfoods" (you guys know that's just a marketing term right?) and otherwise healthy eating.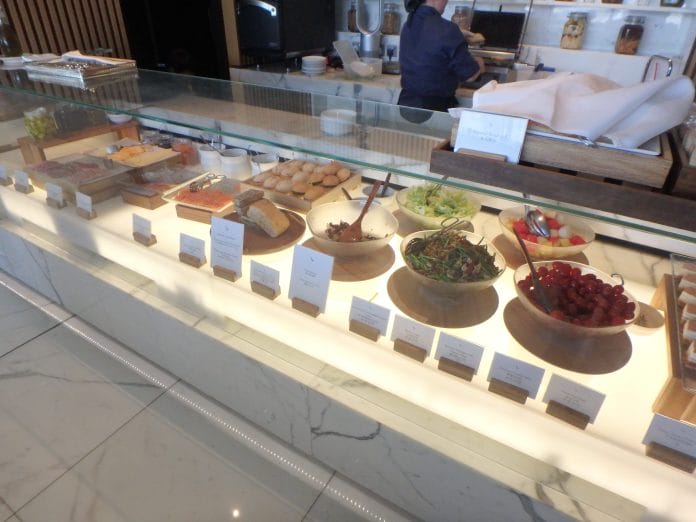 So expect lots of greens and trendy foods like quinoa.
For whatever reason, carcinogenic deli meats are still available. Ha!
They also offer freshly made juices for those weirdos who like to do juice cleanse. What's up with that? Does it provide for interesting bowel movements?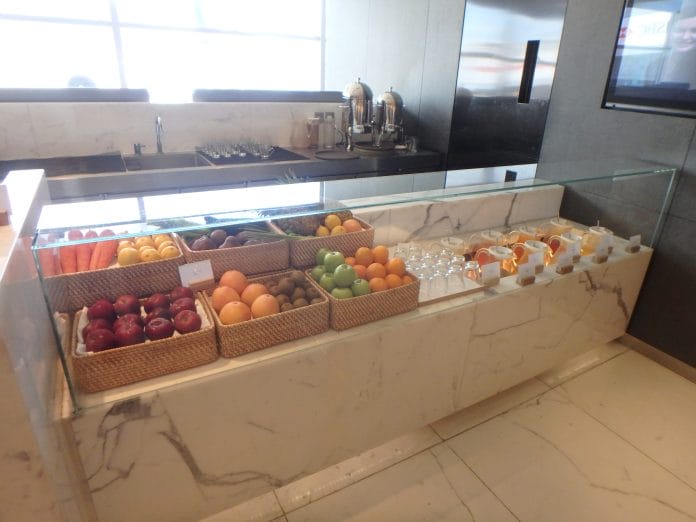 Fortunately if you end up here you can still be naughty and get alcohol. This bar didn't get "Long Bar" status (or at least I didn't see signage for it), but it had wines and champagne available on pour.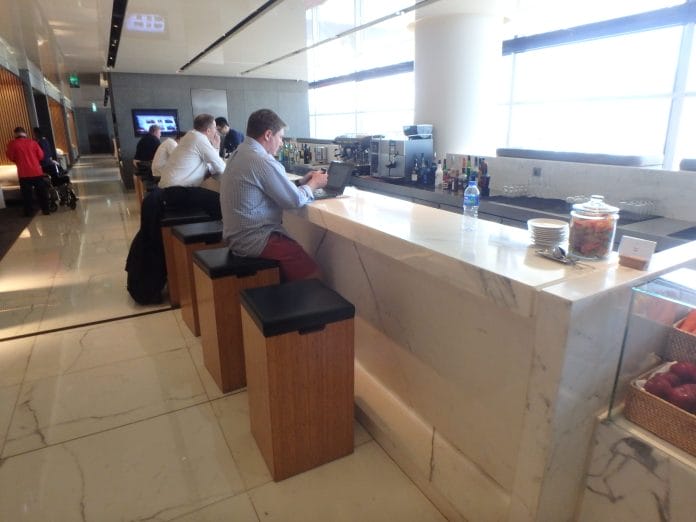 The same buffet items as in The Wing were available.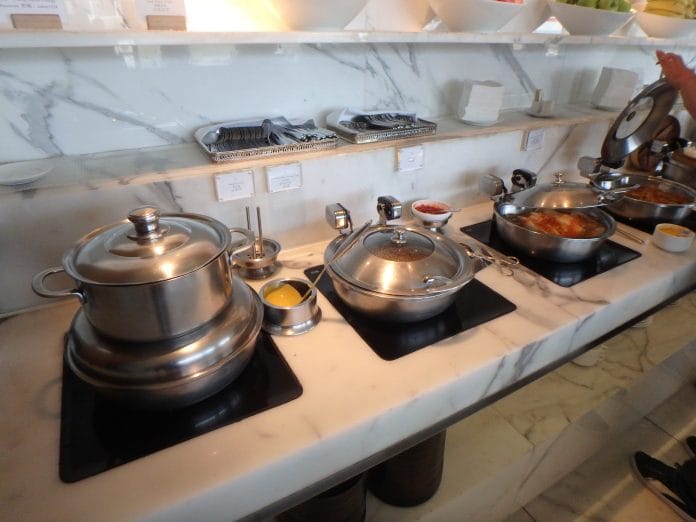 Plus a selection of breads (gasp, white bread!)
A small word about the soda dispenser. I love how organically they integrated it with the surrounding fixtures. They could have just used one of those standard issue soda fountains you see at Mcdonald's, you know the really colorful one, but they didn't. And the end result is so elegant, with the soda fountain recessed within a marble shell. It almost made me want to drink Coke.
If you walk all the way down the very long lounge, you'll find more seating and working areas.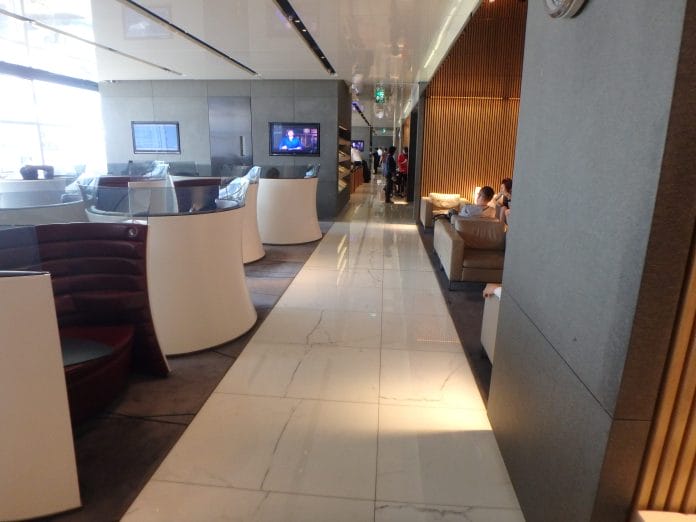 The sharp eyed amongst you will have spotted that everyone's favourite chair has made an appearance here too, in a red color scheme.
There is a row of computer terminals at the end of the lounge.
Even this quiet enclave has a drinks and coffee corner of its own.
The Bridge
50 minutes left till my flight departed and I sprinted as fast as I could to The Bridge. It was by now becoming clear that making it all the way to The Pier was increasingly unrealistic.
The Bridge is one of Cathay's newest facilities, also designed by Foster + Partners. Like The Cabin, it does not have a separate First and Business Class area but rather merges them into one to provide a shared elegant space. This one is a bit harder to miss because there's a big sign on the arch above.
Like The Cabin, you need to take an escalator down one level to reach the reception area.
This is without a doubt the most visually stunning of all the lounges, with wood floors, abundant artwork and plenty of natural light.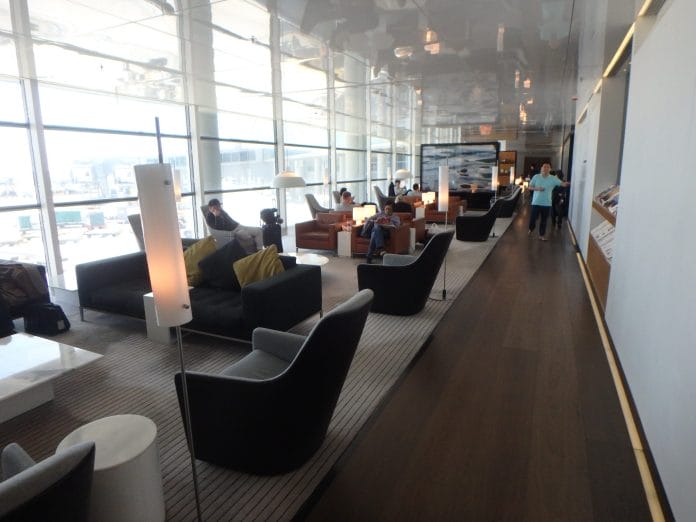 The style of the lounge evokes memories of your living room at home…if your living room overlooked the tarmac.
I had at this point run across 3/4 of HKG's Terminal 1 and was badly in need of a drink. Or seven. So I sauntered over to the long bar (look! More Solus chairs!)
I seated myself at the end of the long bar and a smiling bartender passed me the menu
I don't know why I pretended to look at the menu, there was only one drink that I deemed acceptable
Cathay serves Moet and Chandon champagne in its lounges- I have never understood the buzz this brand gets, because in terms of taste there are so many other champagne houses that produce superior quality at the same price point.
The Long Bar had some finger foods at one corner too if you were peckish. Mostly fried stuff like spring rolls.
The bartender noted I was out of breath and asked me how my day was. She laughed when I told her about my lounge marathon, and said she thought The Pier was a bridge too far, given that my flight was boarding is just over 15 minutes.
15 minutes huh? Better get cracking with the photo taking then.
There is a large dining area at The Bridge and it was mostly empty.
The food selection here was just as extensive as in The Wing, perhaps even more so. I saw quite a few items here that I didn't see at The Wing, and I think that's to make up for the lack of a Noodle Bar in this lounge.
I threw together a plate of food which I wolfed down before heading back to my boarding gate.
The Pier?
I did not have time to visit The Pier, which is on the opposite end of the terminal. And that's a right shame, because it's been recently renovated and these publicity photos look great
If you want to check out some reviews, I'm going to link you here and here. This is definitely one place I'm going to visit next time round.
Conclusion
I covered 3 out of 4 lounges, which all things considered isn't bad. I did like The Bridge the best out of all the 3, but the lack of a noodle bar is a disappointment.
I really appreciate that Cathay has made the effort to create four lounges with different atmospheres and different USPs- if you want a traditional lounge experience, The Pier or The Wing can give you that. If you want a warm homely atmosphere, The Bridge has you covered. If you're into eating healthy on the road, The Cabin can be your choice. Obviously running four different types of lounges means incurring greater operating costs, and perhaps CX can't really afford that, but it really adds something unique to the customer experience.
SQ needs to step up its game for its lounges in SIN. I understand the game plan is to refurbish the SilverKris lounges overseas with the new Home concept before doing SIN, but the first lounge in SYD was completed at the end of 2013 and we've yet to see a makeover for those in SIN. Hopefully we'll get an update on the timeline soon.