Introduction: It's the most wonderful time of the year
A Tale of Two Lounges: SATS Premier T2 and the Qantas SIN Lounge
Malaysia Airlines B737 Business Class SIN-KUL
Malaysia Airlines Business Class Golden Lounge KUL
Malaysia Airlines A330  Business Class KUL-NRT
Japan Airlines Business Class Sakura Lounge NRT
Japan Airlines B77W Business Class NRT-LAX
The Westin LAX
The Westin Westminster
Aloft Boston Seaport
The Consolidated AA Domestic First Class Experience
American Airlines Flagship Lounge JFK
American Airlines B772 Business Class JFK-LHR
American Airlines Arrivals Lounge LHR
The Great Northern Hotel, London
Sheraton Grand Park Lane, London
Westin Paris Vendome
Courtyard by Marriott Madrid Princesa
Four Points by Sheraton Barcelona Diagonal
The Consolidated Intra-Europe Business Class Experience
Sheraton Casablanca
Royal Air Maroc Business Class Lounge CMN
Royal Air Maroc B737 Business Class CMN-ACC
Ethiopian Airlines B787 Business Class ACC-ADD
Ethiopian Airlines Cloud 9 Business Class Lounge ADD
Ethiopian Airlines Q400 Business Class ADD-DAR
Protea Hotel by Marriott Dar Es Salaam Courtyard
Qatar Airways A320 Business Class DAR-DOH
Qatar Airways Al Safwa First Class Lounge DOH
Qatar Airways A330 "First" Class DOH-MCT
Oman Air Business Class Lounge, MCT
Oman Air E175 Business Class MCT-DXB
The Grosvenor House Dubai
W Doha
Qatar Airways Business Class Lounge DOH
Qatar Airways B772 Business Class DOH-BLR
The Ritz Carlton Bangalore
Vistara A320 Business Class BLR-DEL
Cathay Pacific A330 Business Class DEL-HKG
Cathay Pacific Arrivals Lounge HKG
W Hong Kong
Touring Cathay Pacific's HKG Lounges
Cathay Pacific A350 Business Class HKG-SIN
---
I rushed over to the boarding gate from The Bridge, the final CX lounge I visited in my 3 for 4 tour of Cathay Pacific's HKG lounges. My heart pounding, I arrived at the gate…only to discover that boarding hadn't even started yet.
I joined the line nonetheless so I could be first on board to take photos. One thing I've come to realise about writing trip reports is that an empty cabin is like ambrosia- you have unobstructed views of the seats, and you can take a million and one photos without someone giving you weird stares.
Boarding eventually started 15 minutes late (would that have been enough time to sprint to The Pier, I wondered), but I managed to overtake the two gentlemen infront of me in the jetbridge and be first on board. I'm a regular Jesse Owens.
I entered an empty cabin, decked out with CX's brand new A350 J seats.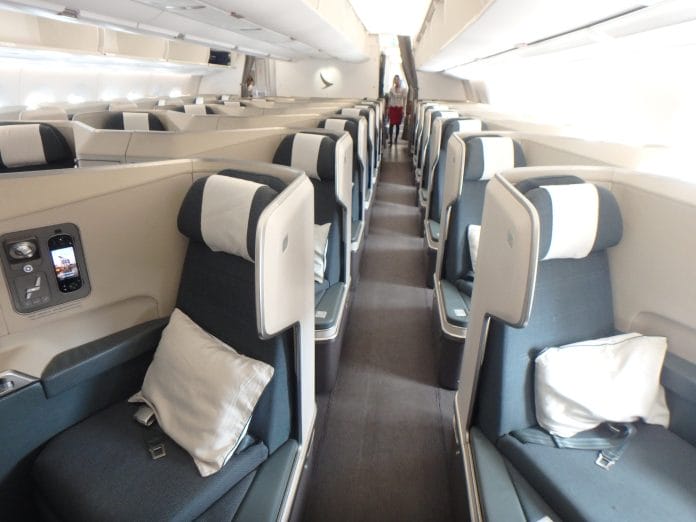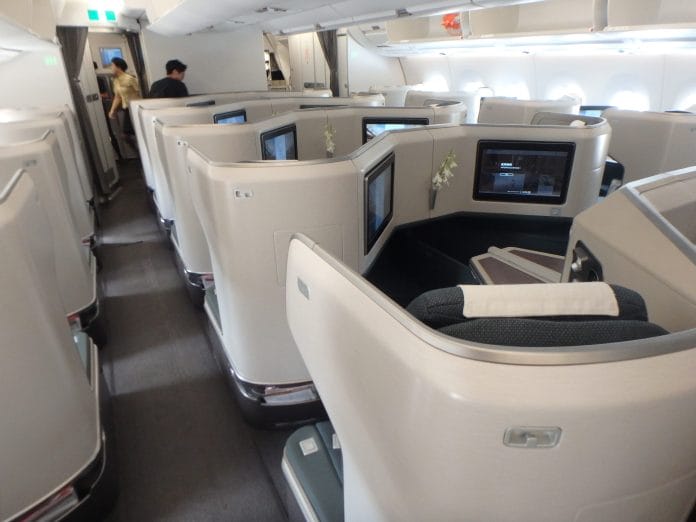 Obviously with a 1-2-1 configuration you'll go for the sides if you're travelling by yourself, but if they're all taken the centre isn't bad either. You can see that there is a lot of privacy between the two middle seats. This obviously doesn't work out if you want to talk to your seatmate, as both of you have to lean very far forward. But bah, conversation is overrated. 
Cathay Pacific's A350 seats have not had a charmed existence so far. The seats, provided by Zodiac Aerospace, were plagued with manufacturing defects. As per AusBT-
(the seats) have been beset by problems such as ill-fitting seat fabric and trim, peeling and flaking laminate surfaces and broken latch mechanisms.
That's an extensive laundry list of problems for a brand new seat. Here's a great rundown (with lots of photos) from the Runway Girl Network that documented the issues with the first gen of A350 seats. Long story short, Zodiac agreed to replace all the business class seats on the first A350 aircraft that joined CX's fleet. For aircrafts four to ten, which also had issues, CX's internal engineering team rectified them. Supposedly.
I have no idea whether I flew on a newly-delivered A350 or one that had been remedied, but for what it's worth I didn't encounter any particular issues with the seat on my flight.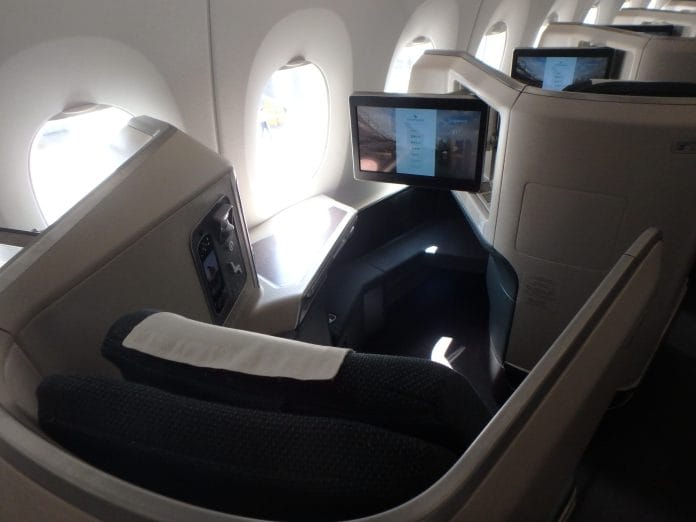 On first glance, the seat looks very similar to the one you find on the A330, but closer inspection reveals significant differences.
One feature that they have thankfully kept from the A330 is the large "ears" around the seat which enhances privacy.
Indeed, the profile of the A350 J seat provides similar privacy to that of the A330- it's difficult to see the top of anyone's head, unless they're very tall
Where have things changed? If you read my review of CX's A330 you'll remember how I talked about Cathay putting everything you need on the side panel. They've gone and changed that a bit, and you no longer find the USB or power plugs on the side panel. You will, however, find a modern touchscreen IFE controller.
I could not, for the life of me, find the power plug or USB ports and desperately needed to top off my devices. I flagged a passing crew member, who amazingly also couldn't find the plugs. She said she'd need to consult with a team member (I'm guessing she's new to this aircraft type, or Cathay's internal training procedures aren't as robust as they used to)
A few minutes later she returned and clicked open the cupboard on the side panel (you'll remember the A330 has this storage area for your headphones too).
Inside the cupboard, lo and behold, the power outlets! (I do like the shade of red they've chosen for the interior too)
The screen that CX has chosen for its A350s is very bright and crisp, even with the mid-day sun steaming through the windows. On SQ's 2006 J seat the screen can be washed out in bright light, so this is definitely an improvement over that (the 2013 J seat has very good backlighting and this is less of an issue)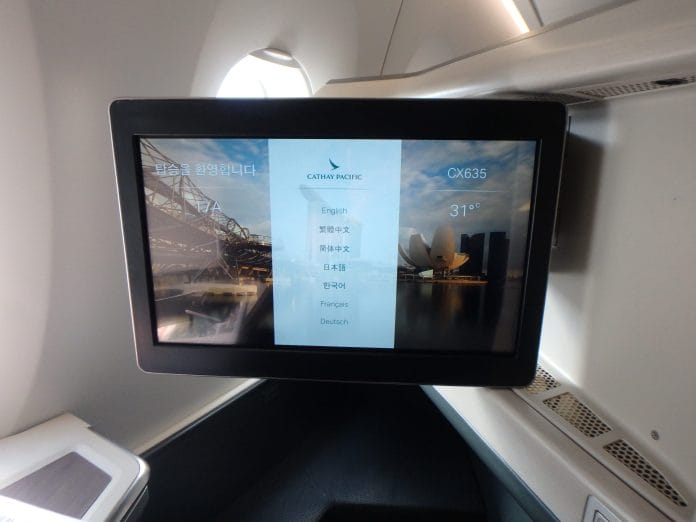 There are additional storage areas in the A350 seat as well. For example, here's the panel where your legs usually rest (note the unsightly coffee (?) stain that wasn't cleaned properly)
This area opens up to reveal a shoe storage area, in fetching red.
They've also made some space for you to put a water bottle in the aisle facing armrest.
You gotta love how high tech A350 cabins are- like how the ubiquitous fasten seatbelt sign and no smoking have gone digital.
It was a full house in the cabin as the plane taxied for takeoff.
The crew distributed menus shortly after takeoff for the meal that was to be served on this flight to Singapore.
I'm not sure whether this counts as cost cutting, but this meal wasn't tagged as lunch but rather refreshment. The flight left HKG at 1520, so I get what they mean by it's neither here nor there, but on SQ I believe they would have done a full dinner service on such a flight. It's funny because you have some people complaining that SQ is cheap compared to Cathay by not offering caviar service in First Class on supper flights (Cathay does), but here you have an example of CX having gone the other way in business class on a regional flight with a truncated meal service.
Nuts and drinks were served before the meal was brought- CX serves Moet in the lounges but Billecart Salmon in the air, the same thing that QR serves.
A little while later, the appetizer of cured salmon, fennel and creme fraiche was served.
The salmon was nice, but there were only two pieces of it. A small blob of fish roe was served on the creme fraiche.
The crew then did something interesting by wheeling a cart through the aisle. This cart had all three refreshment options on it (afternoon tea set, beef stroganoff and roast duck noodle soup)
I'm not quite sure what I thought of this. I eat with my eyes, so it's always helpful to see what each dish looks like before deciding. At the same time, it doesn't seem very business class to use carts for serving.
In the end it didn't matter because seeing the items didn't necessarily help me pick the best one.
The duck noodle soup was not what I expected from a country with as proud a food culture as Hong Kong. The soup was watery, the noodles bland, the veggies limp and the duck had that taste meat gets when you microwave it too much.
I will say this, though. Nothing beats Haagen-Dazs ice cream for desert. So what if it's not Danish? Caramel biscuit and cream is amazing.
After the meal, I checked out the latest iteration of Studio CX on the IFE system. You'll notice the version of IFE they're running is different from the one on the A330- this has many more features and a much nicer interface.
The screen is fully touch sensitive but if you don't feel like leaning forward you can always use the controller. Recent movies like Beauty and the Beast and the Lego Batman movie were being shown.
A big selection of games too, but sadly none of them reach the heights of the old Nintendo 64.
One feature that CX has on their IFE which I'd really like SQ to copy is satellite TV. Or even better- do what Etihad has done and broadcast sports live. I can't tell you how surreal it was to watch Arsenal live from 30,000 feet. I can't tell you how even more surreal it was to see them try not to pass the ball into the net.
The flight ultimately isn't very long at slightly over 3.5 hours, and soon we were descending into Singapore. I realised it would be the first time I'd set foot on home soil in 2 months.
Wrapping up the 2017 RTW Trip
I said at the start of all this that I probably have one of the most interesting jobs in the world, because I can't think of any other occupation that lets you do this sort of thing. Unfortunately, this will be the last time I'll do a RTW trip (at least for business) because in subsequent years I'll be handing off this particular portfolio to a colleague in the interest of spreading around the professional development.
That said, the discovery of how great value RTW tickets are has got me thinking about possibly using some of my miles to redeem an RTW award one day. Think about it- round trip saver business class to the USA is already 176,000 miles, but doing a RTW J ticket via Krisflyer is 240,000 (a round trip standard business class ticket is 240,000 miles too fyi).
I realise there are tremendous logistical difficulties in booking an award RTW ticket, because unlike a revenue ticket you're at the mercy of airlines opening up award space for routes/dates you want. In fact, I'd go so far as to say that if you want to book a RTW award ticket, you need to plan your destinations around what dates and routes are available, not the other way round. I'm still interested in booking one however, and that should if nothing else make for a very interesting experience.