It's hard to believe it's already been a year since AMEX rebooted The Platinum Charge Card, opening the previously invite-only card to those earning S$200,000 and above (with numerous anecdotal stories of approvals at the S$150,000 mark).
With the relaunch also came a host of new perks and benefits, which convinced me to pull the trigger on what became the most expensive credit card I ever owned. Fast forward 11 months, and my renewal window is just around the corner. This means I've got a decision to make: should I pay the S$1,712 annual fee in the second year?
How did the previous year go with the AMEX Platinum Charge?
In making this decision, it's perhaps helpful to think back to the past year and list down what I got out of my AMEX Platinum Charge.
75,000 Bonus MR Points
AMEX Platinum Charge cardholders who spend S$20,000 in the first 3 months after approval get 75,000 bonus MR points (46,875 miles). That's a lot of spending to be sure (especially when people are struggling to hit S$6,000 on the X Card), but it just so happened that my wedding coincided with the bonus period.
This enabled me to meet the S$20,000 threshold, and even better, part of that was spent at Lee Hwa Jewelry, a Platinum EXTRA Partner. This meant I enjoyed 20 MR points per S$1.60 (equivalent to 7.8 mpd) instead of the usual 2, further adding to my points haul.
S$800 Travel Credit
Cardholders receive S$800 travel credit, in the form of S$400 to use on hotels and S$400 to use on airlines.
Using the S$400 hotel credit wasn't a problem. I used it to book the Post Ranch Inn for my honeymoon, which stacked nicely with AMEX FHR benefits like a US$100 amenity credit and a room upgrade.
Note: AMEX no longer allows you to use the S$400 hotel credit in conjunction with FHR benefits- see below for more details.
The S$400 airline credit, on the other hand, was surprisingly difficult to use. That's because I've been redeeming the vast majority of my flights over the past year, and on the handful of occasions I did pay for a ticket, it was on a budget carrier (where the airline credit can't be used).
In the end I used the airline credit to book a trip to Bali in January- hardly the most ambitious of things to do, but really the only option I found workable.
If you're the sort who doesn't mind paying for revenue First and Business Class tickets, you'll definitely want to check out the International Airline Program, where you can also use your S$400 airline credit.
Lounge Access
Since losing my KrisFlyer Elite Gold status and giving up the Citi Prestige card, I've been relying on my AMEX Platinum Charge for lounge access whenever I don't redeem First or Business Class.
Even when I do redeem Business Class, however, I still find Priority Pass useful when flying out of Changi Terminal 2. Singapore Airlines' lounge here is dark, cramped, overcrowded, and urgently in need of a refresh (but won't be part of SIA's big lounge overhaul).
Fortunately, TGM is a short walk away and offers made-to-order Japanese and Korean set meals. It won't be winning any bib gourmand awards anytime soon, but it's still better than the underwhelming F&B selection in the SilverKris lounge. My SOP is to get a meal there, then head to the SilverKris for champagne. 
Sadly, AMEX-issued Priority Pass memberships are no longer eligible for "non-lounge airport experiences" from 1 August, which means that you can't get F&B credit at airport restaurants and bars. I never actually had the opportunity to use this, but I understand some people made quite the killing by shuttling from restaurant to restaurant maxing out  their F&B allowance (+1 guest).
Centurion Lounge IAH
Aside from Priority Pass lounges, I also managed to explore two Centurion Lounges, one in Houston and another in Hong Kong. Both of these were very high quality experiences, and AMEX can't open more international Centurion Lounges soon enough (don't hold your breath for Singapore, though, at least not until Terminal 5 comes).
Hotel Elite Status
The AMEX Platinum Charge comes with elite status in the following programs:
Marriott Bonvoy Gold
Radisson Rewards Gold
Hilton Gold
Shangri-La Golden Circle Jade
I didn't make use of the first two (I'm already a Marriott Platinum, at least for a few more months, and I've never stayed at a Radisson hotel), but the latter two proved very useful.
For example, the Milelioness and I visited the Conrad Koh Samui in May. As Hilton Gold members, we enjoyed free daily breakfast, some drinks vouchers, a room upgrade to a Retreat-level villa, and spa discounts.
Even better- this stay coincided with the AMEX x Hilton 40% cashback offer. AMEX Platinum Charge cardholders got a S$200 credit with every S$500 spent at participating Hilton resorts, up to a maximum of three times (regular Platinum cardholders had a spend S$300 get S$60 back offer instead). I maxed that out completely, getting S$1,500 of F&B, spa services, and activities for just S$900.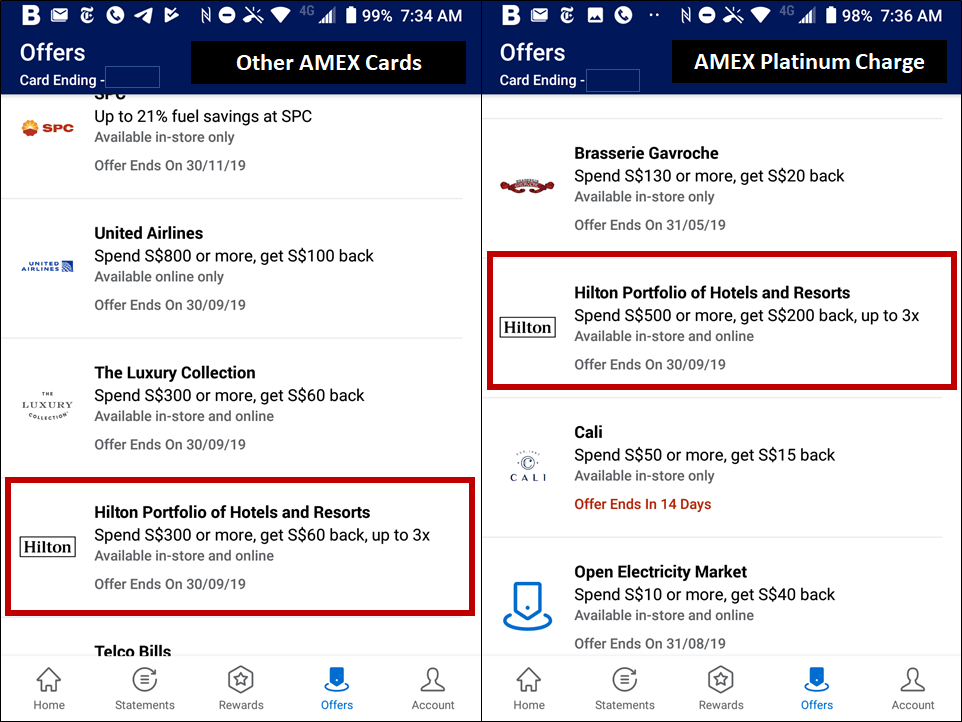 Apart from the Conrad Koh Samui, I also used my Gold status at the Conrad Bangkok, and I'm going to use it at the Waldorf Astoria Rome for my upcoming September trip. Even if I don't get any upgrade, I'll at least get free breakfast, which makes Hilton Gold so much more useful than its equivalent tier in other programs.
I never made any stays at a Shangri-La property, but I still found Golden Circle Jade status useful. Why? I was cashing out my leftover Golden Circle points from consulting days, and wanted to use them for F&B credit at one of the Shangri-La Singapore's restaurants.
I had roughly 2,400 points left, which would get me US$240 of dining credit as a base-level Gold member. However, Jade and Diamond members get 25% more value when redeeming GC points for F&B credit, so I got US$300 instead.
Free hotel stays
The AMEX Platinum Charge comes with a welcome gift of a two night stay at selected Banyan Tree/Mandarin Oriental resorts worldwide. You can also use this at the the Mandarin Oriental or Capella Singapore, but you'll only get one night.
I used my voucher at the Banyan Tree Ungasan Bali for a quick getaway after my wedding in January. Although I didn't fancy the dining options, the villas were massive (with one of the largest bathrooms I've ever seen), and I loved the private pool and jacuzzi.
The Platinum Charge also gives a free night's stay at either the W or St Regis Singapore. I chose the W Sentosa, although in retrospect it was probably not the best decision to stay during the NDP weekend.
The W was jam-packed, and this had a detrimental effect on the quality of the stay. Rooms not available until well after check-in time, no upgrades were given, there were long lines at breakfast and no chairs at the pool (plus screaming kids everywhere).
An unexpected surprise came in July in the form of a complimentary nights' stay at the Outpost Hotel. The overall experience was actually far better than the W Sentosa. Although the rooms are on the small side, they had very high quality fittings and there were some fun perks like a "curate your own minibar" welcome ritual.
AMEX Platinum Charge cardholders can get a Platinum Reserve card for free, which means an additional two night stay at selected Frasers Hospitality properties worldwide. I'll be using this in Osaka in November, which saves me a couple hundred dollars (or its equivalent in points).
And while we're talking about hotels, how about that spectacular Hilton transfer bonus that ran from October to December last year? AMEX offered 3 Hilton points per 1 MR point, a rate that till today I'm convinced was an error.
Error or not, it was honored, and for a brief period the AMEX Platinum Charge even became my general spending card. The prospect of earning 3.75 Hilton Points (2.6 cents) per S$1 in a hotel points scarce market like Singapore was too good to pass up.
Love Dining & Dining Vouchers
Love Dining benefits aren't exclusive to the AMEX Platinum Charge and can be obtained through any AMEX Platinum card. That said, I still got good value out of the Love Dining program by visiting restaurants like SKIRT (the Iberico double pork chop is a must-try), Burlamacco, Napolean, LaBrezza,  and other places I wouldn't have dreamed of trying without 50% off.
I also made full use of the S$100 Tower Club and S$200 St Regis dining vouchers. FYI, the Love Dining discount stacks with the St Regis dining vouchers and is applied before the voucher value is deducted, meaning even bigger savings.
Events
In addition to all the published benefits, AMEX Platinum Charge cardholders get periodic invites to AMEX Lifestyle events.
Off the top of my head, I attended three such events in the previous year- a watch show at TAG Heuer (nicely catered with champagne and canapes), the Michelin Guide Street Food Festival 2019 (overpriced and underportioned), and the no-expenses-spared THE PLATINUM af'FAIR 2019.
The joke goes that THE PLATINUM af'FAIR is kind of like AMEX's yearly attempt to convince cardholders that the af (annual fee) is FAIR. It's a massive carnival for adults, where activities include making your own bouquets, designing a personalized tin mug, casting pewter cufflinks, sampling artisan perfumes, getting a caricature done and a whole host of other things. All free-of-charge, of course.
There was also a ton of free food and wine- wagyu satay, atas chicken rice, peking duck, nasi lemak, champagne etc. Despite the large turnout, crowd control was surprisingly good and no one went home hungry.
The event was free to attend for the principal cardholder, and additional guests (up to 3) could be invited for 5,000 MR points each.  I thought the idea was pretty clever in the sense that people who qualify for The Platinum Charge are likely to have friends in the same income bracket, so the event almost serves like a member-get-member campaign. Friends see AMEX pulling out all the stops for their Platinum members, friends want to get the card too.
I think it's safe to say that quite a few cardholders managed to earn back significant chunks of their annual fee that evening, judging from the quantities of food, drinks and freebies consumed.
If you want to know more about the event, here's an excellent report from someone else who attended.
Odds and ends
I further stretched the value of my annual fee by getting the two complimentary supplementary cards. Supplementary cardholders enjoy similar elite status upgrades, Love Dining benefits, and lounge access (only the first supplementary cardholder gets a Priority Pass, but both can access Plaza Premium Lounges or Centurion Lounges simply by showing their card), so if you've already got the card, it makes sense to share the love with your family.
I also fully utilized the spa vouchers that came with the Platinum Charge (one at Adeva Spa, one at Spa Rael and one at The Ultimate Spa). All three had discounted companion rates, and there was no hard selling whatsoever, just a cursory question after the treatment about whether I'd be interested in a package.
What wasn't ideal?
Although I was overall quite happy with how my first year of membership went, there are a few not-so-great things to point out.
As mentioned earlier, the S$400 hotel credit can no longer be stacked with AMEX FHR benefits (or bookings via The Hotel Collection for that matter). If you were hoping to use your credit for a night's stay at an uber high-end property you normally wouldn't consider, then this throws a spanner into the works- either you use the credit and stay like a normal guest, or you take the FHR benefits and pay regular prices.
It's also disappointing that the Priority Pass offered through AMEX no longer offer F&B credit at the airport, especially when it seems this change is AMEX-specific (Priority Passes offered by other banks still retain this benefit). Rumour has it that AMEX is working on its own airport restaurant program, so let's hope we see something in the near future.
I visited the old Platinum VIBES a handful of times and enjoyed the experience, as well as the fact that alcohol was very reasonably priced (A bottle of Bollinger champagne went for S$90, vs ~S$80 at retail). Platinum VIBES's lease expired at the end of June this year, and although AMEX is working on a new member-exclusive lounge (allegedly in the CBD), there's been no confirmation of anything yet. I'm crossing my fingers we'll hear some news before the end of the year, but I was really hoping they'd have had a replacement venue lined up immediately after the old one closed.
Other gripes are fairly minor, like the lack of a digital concierge. I get that AMEX likes the human touch over the phone, but a chat function (or faster email turnaround) would be so much more efficient. It doesn't help that every time you get transferred to the concierge, you need to go through another verification exercise, even if you've already cleared one previously. Voice biometrics, anyone?
The year ahead
Given my travel plans for the next 12 months, I'll definitely be able to max out the S$800 hotel and airline credit once more. I'll probably do at least one staycation, so that's the St Regis/W Singapore voucher used, and I'm sure I'll be able to slot in the two night Fraser's Hospitality voucher from the Platinum Reserve somewhere in my travels.
Since I don't have airline elite status anymore, I'll need a Priority Pass for lounge access when I don't fly premium. Similarly, I'll be losing my Marriott Platinum status next year, and although I have Lifetime Marriott Gold (grandfathered in from Starwood), it's close to useless. This means that Hilton Gold will become all the more crucial if I want some semblance of elite benefits.
Between that and the renewal vouchers I'll be getting (basically the same, except no two night Mandarin Oriental/Banyan Tree stay), I think I'll be able to get good value out of the annual fee once more.
Conclusion
So this one's settled for me: I'll be renewing my AMEX Platinum Charge when the fee comes due in late September.
If you're up for renewal, do take a good look at your circumstances and decide if it makes sense, because $1,712 is no small amount of money. For example, my friend is expecting his first child in the next couple of months- that pretty much rules out all travel, so straight away a major value proposition of the AMEX Platinum Charge goes out the window. On the other hand, another friend is getting married soon, and with a lot of big ticket spending and travel on the horizon, the AMEX Platinum Charge is a good match for him.
Are you going to renew your AMEX Platinum Charge? Why or why not?