With the circuit breaker extended until June 1, it looks like we're all going to be ordering food delivery for the foreseeable future. Fortunately, there's no shortage of options to choose from.
Now, I'm not here to debate the relative merits of ordering through a delivery platform versus the restaurant itself. That's been discussed to death over the past few weeks, with much ink spilled. Which side you lean towards is up to you- I'm just here to recommend the cards to use.
Before that, there are two questions you need to address.
What's the MCC of your food delivery?
The MCC depends on how you order food. If you order through a food delivery platform, the MCC will almost certainly be 5499.
⚠️ Update: It's been brought to my attention that Deliveroo transactions code as 5812, not 5499. This doesn't change much, suffice to say you could also use the Maybank Horizon or UOB Preferred Platinum AMEX to earn bonus points
MCC 5499 is used by Deliveroo, GrabFood, Foodpanda, WhyQ, and Grain, to name a few.
If you order through the restaurant directly, the MCC will be one of the following:
MCC 5811: Caterers
MCC 5812: Eating Places and Restaurants
MCC 5813: Bars, Cocktail Lounges, Discotheques, Nightclubs, and Taverns
MCC 5814: Fast Food Restaurants
Orders made through Oddle will be processed under the MCC of that particular restaurant. 
The MCC distinction is important, because there may be some cards which reward restaurant dining, but not food delivery (e.g Maybank Horizon Visa Signature).
Is the transaction processed offline or online?
With food delivery platforms, there's no question. Your order will be processed online, end of story.
It can be slightly more dicey with restaurants. Most of the time, restaurants with website ordering systems should be processing the transaction online. However, you can't rule out the possibility that they may capture the card details online and manually process the transaction offline. A good rule of thumb is that if you have to enter an OTP, the transaction is processed online. That said, the absence of an OTP is inconclusive- I've encountered situations where transactions were processed online despite the lack of an OTP.
Again, the distinction is important because certain cards (e.g DBS Woman's World Card, Citi Rewards) award 4 mpd on online transactions only.
What cards should I use for dining?
Evergreen
The following cards will earn you up to 4 mpd on food delivery, throughout the year.
 
Earn Rate
Conditions*
DBS Woman's World Card

4 mpd

≤S$2K per
c. month, must be online
Citi Rewards

4 mpd

≤S$1K per
s. month, must be online
UOB Pref. Plat Visa

4 mpd

≤S$1.1K per
c. month, must be online
UOB Lady's Card

4 mpd#

≤S$1K per
c. month
UOB Lady's Solitaire

4 mpd#

≤S$3K per
c. month
Maybank Horizon Visa Signature

3.2 mpd

≥S$300 per c. month, restaurants only

AMEX KrisFlyer Ascend

3.2 mpd

≤S$200 per c. month, GrabFood only

AMEX KrisFlyer Credit Card

3.1 mpd

≤S$200 per c. month, GrabFood only

KrisFlyer UOB Credit Card

3 mpd

≥S$500 on SIA-group trxns in a m. year. No cap
HSBC Revolution

2 mpd

 No cap, must be online

*C. Month= Calendar Month | S. Month= Statement Month | M. Year= Membership Year
#Must select dining as quarterly 10X category
Take particular care with the Citi Rewards card. The Visa version has no issues with 10X on online food delivery, but Mastercard users have reported not getting 10X with Foodpanda & Deliveroo.
With the DBS Woman's World Card, Citi Rewards, UOB Preferred Platinum Visa, and HSBC Revolution, the transaction must be processed online.
With the UOB Lady's Card and Lady's Solitaire Card, you'll earn 4 mpd so long as you chose dining as your quarterly 10X category, regardless of whether the transaction is processed online or offline.
The AMEX KrisFlyer Ascend and KrisFlyer Credit Card only earn bonus miles on GrabFood transactions, and the Maybank Horizon Visa Signature only on deliveries under MCC 5812 (i.e no fast food).
Card Promotions
In addition to the evergreen cards, the following cards are running limited-time promotions for bonus miles on food delivery.
Do note that the OCBC Titanium Reward's promotion is for Deliveroo and Food Panda only, and transactions on the DBS Altitude must be made online.
Conclusion
In addition to using the right card, be sure to check banking apps like UOB Mighty and DBS Lifestyle for food delivery coupons. These pop up with some regularity, and usually apply to both new and existing customers.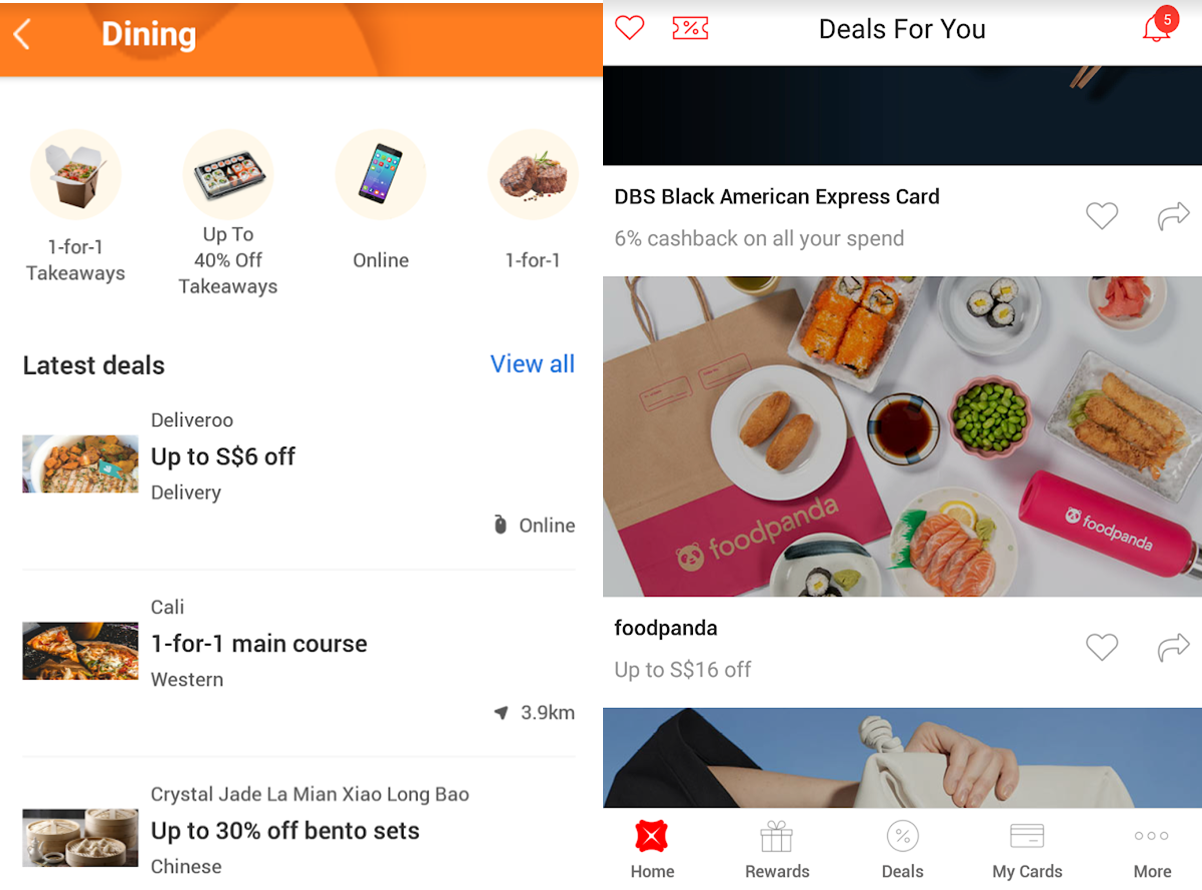 For other cards you may require during this stay-home period, be sure to check out the stay-home credit card guide.