To call the Mandarin Oriental Singapore "old" isn't so much a slight as it is a statement of fact. When the hotel first opened in January 1987, rooms cost just S$150 a night. The first-ever MRT line was 10 months away. The Singapore Indoor Stadium didn't exist, nor did SilkAir, Class 95 FM, or the COE system. 
The Oriental Singapore, as the property was then known, formed a hospitality triumvirate with the Pan Pacific and Marina Mandarin- three luxury hotels handpicked by the URA to bring some glamor to the nascent Marina Bay area. 
A luxury hotel, you say? While the Mandarin Oriental is indeed a marquee name amongst luxury hotel brands, you'd be hard pressed to tell when driving past the Mandarin Oriental Singapore. 
After all, this is a building that looks entirely anonymous from one side. A Brutalist mass of white and grey, built in a time when concrete and monochrome palettes were de rigueur, it hardly makes much of a statement.
But head around the back and the building starts to express itself a little more, as John Portman's unique fan-shaped design elegantly unfurls in a series of overlapping layers, not unlike a Balinese rice terrace.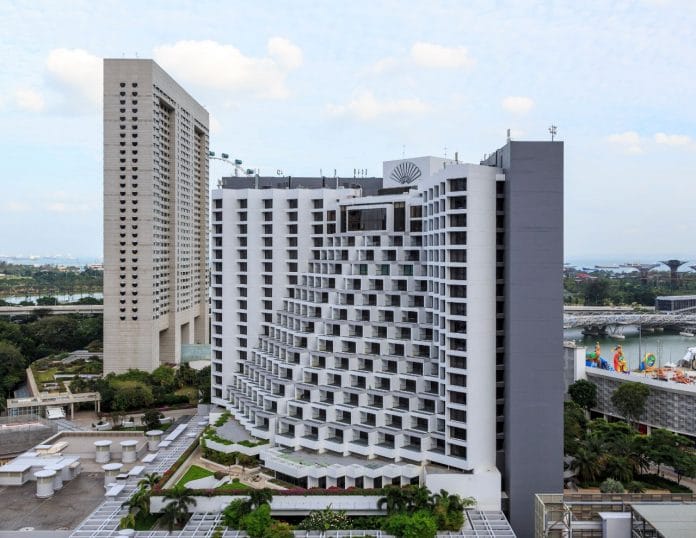 View it from above, and your perspective morphs once more. From on high, the building resembles a squid from Space Invaders, albeit inverted.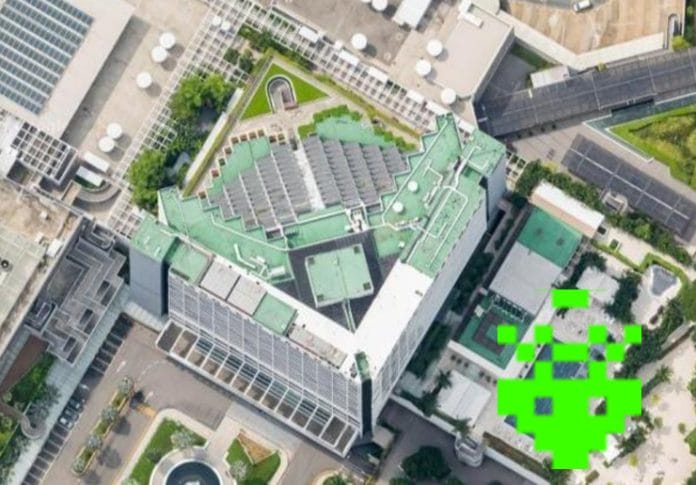 One building; three perspectives. It's perhaps a reminder that you shouldn't judge a book by its cover, nor a hotel by its façade. And when it comes to the Mandarin Oriental Singapore, that tired exterior belies the luxury within.
After all, despite its age (and plenty of competition from younger, sleeker establishments), the hotel continues to rake in the awards. It's one of only three hotels in Singapore to hold a five-star rating from Forbes Travel guide, it was voted Best Luxury Hotel in Asia Pacific by Travel Weekly readers, and TripAdvisor pegs it as the 6th best hotel in the country.
Does the emperor have any clothes? It was time to find out. 
Booking a Mandarin Oriental Singapore Staycation
When the SingapoRediscovers Vouchers (SRV) first went live in December, the Mandarin Oriental Singapore launched a great deal. For S$352 nett, you could get the following package:
🏨 Mandarin Oriental SRV package (S$352 nett)

1-night stay in Deluxe Room

Breakfast for 2 adults

Guaranteed 6 p.m check-out (for stays from January to June 2021)

S$100 F&B credits

Book By

N/A

Stay By

N/A

Cancellation Policy

Non-refundable

This offer is no longer available, and has been replaced with a "Lunch On Us" offer, which swaps the S$100 F&B credits for a semi-buffet lunch at Melt Cafe for two. I don't know about you, but I'd much rather have the F&B credits. 
Considering how pre-COVID rates were well in excess of S$500, I figured this was the perfect opportunity to review the hotel. 
I booked the package through Trip.com and fully utilized my S$100 SRV. To sweeten the deal, I paid with my HSBC Revolution Card, which gave me a further 10% cash rebate (registration required), reducing my nett cost to just S$227. Sensational stuff, considering the S$100 F&B credit.
Mandarin Oriental Singapore: Arrival and Check-in
The Mandarin Oriental Singapore is located at 5 Raffles Avenue, and is part of the Marina Square shopping complex. If you're taking the MRT, Esplanade or Promenade would be the closest stop. 
Complimentary parking at Marina Square is available for all guests. The entrance to the carpark is just next to the hotel driveway, so it's simpler to drive directly to the hotel (as opposed to entering via the shopping mall and trying to navigate underground). 
I don't know whether it was just a gloomy day, but the Mandarin Oriental struck a stern figure against the overcast sky. A sullen-looking water fountain greets arriving guests. 
Fortunately, the greeting was a lot warmer than the architecture. No sooner had my Grab pulled up to the driveway than a porter appeared to help unload my bags, while a beaming staff member greeted me by name and ushered me inside. Mandarin Oriental really loves its fan motif- even the door handles are fan shaped. 
The Mandarin Oriental Singapore's lobby is dressed to impress. One of the first things you see upon entering is a 15-meter tall chandelier, ornately dangling from the central elevator podium like an oversized stalactite. An oversized statue of Guan Yin lends a dash of Eastern flavour. 
If the architecture gives you a sense of de ja vu, that's probably because you've been to the Pan Pacific Singapore, also designed by John Portman. Both hotels share similar DNA- a dramatic open atrium with layers of overhanging, angular corridors, and bubble lifts that silently traverse up towards a soaring skylight and down towards a series of reflecting pools. The main difference is that unlike the Pan Pacific, all bubble lifts here face inwards, giving passengers a panoramic view of the hotel's various restaurants, meeting spaces and corridors as they ascend. 
The lobby was empty when I arrived (just after 1 p.m on a Monday), and I was attended to immediately by a friendly associate. She confirmed that the booking had already been paid for in advance, so all they'd need was a S$100 security deposit (yes, the hotel has Paywave). 
She also confirmed my 6 p.m check-out the following day, and explained that my S$100 F&B credits could be used at [email protected], Cherry Garden, Dolce Vita, Melt, and MO BAR. However, since Cherry Garden and Dolce Vita were closed on Mondays and Tuesdays (see dining section below), I'd also be able to use my F&B credit for in-room dining. I told her I was interested in Morton's happy hour (the one with the free steak sandwiches), and she quickly made a reservation for later that evening. 
As a member of the free-to-join Fans of MO program, I also received a welcome gift. This used to be two free cocktail vouchers at the MO BAR, but unfortunately, it's been nerfed (well, in my opinion at least) in favour of a metal tin with two pineapple tarts. 
⚠️Fans of MO members also receive other perks like room upgrades, dining/spa credit, early check-in and late check-out, but these only apply when you book directly with the hotel. Since I booked through Trip.com, I only received the welcome gift
After the formalities were completed, I was escorted to my room. 
Mandarin Oriental Singapore: Marina Bay View Room
The Mandarin Oriental has a total of 527 rooms, split into the following categories:
Room Type
Size
No. of Rooms
Deluxe Room*


33 sqm

143

Ocean View Room

33 sqm

100

Marina Bay View Room*

34 sqm

186

Ocean Grand Room

53 sqm

16

Premier Room

56 sqm

23

Marina Bay Suite*

62 sqm

16

City Suite

84 sqm

34

Bay Suite

77 sqm


1

Premier Suite

93 sqm

6

Oriental Suite

140 sqm

1

Mandarin Suite

242 sqm

1

*Also comes in club configuration
My package was for the lead-in Deluxe Room category, but I ended up receiving room 1902, a Marina Bay View Room instead. This is 1 sqm larger than a Deluxe Room (score!), and as the name suggests, commands a better view. 
Despite the hotel's age, Mandarin Oriental has done a commendable job of keeping the rooms presentable. The carpet, bed runner, throw pillows and bolsters all add a much-needed splash of colour, and the crisscross pattern behind the headboard provides some visual variety to the otherwise monotone walls. 
Apart from some construction next to The Float @ Marina Bay, the view was great both day and night. There was a clear line of sight to the CBD and Marina Bay Sands.
The King-sized bed had a mattress which was soft as a marshmallow, either a bug or a feature depending on your preference. I personally like my mattresses firm, but surprisingly I still managed to get a good night's sleep regardless. If you're wondering what brand of mattress it is, both King Koil and Simmons claim to supply the Mandarin Oriental Singapore. And yes, there is a pillow menu.
Both bedsides have a universal power outlet and USB port, but Mandarin Oriental has thoughtfully included two more USB ports for the person on the right in the form of a clock radio. 
While most of the lights can be controlled from the bedside area, this convenience doesn't extend to the desk lamp nor the standing lamp in the corner, so you'll need to get up to switch those off. Also, the curtains are hand drawn- no shortcut there either. Some of the switches were misaligned and catching dust on their edges, but they all worked properly.
Also on the bedside was a Mandarin Oriental hygiene kit, which consisted of three wet wipes, a bottle of hand sanitizer, two masks and interestingly enough, a pair of disposable gloves. 
The work desk had a black marble top and an ergonomic-friendly Herman Miller Aeron chair.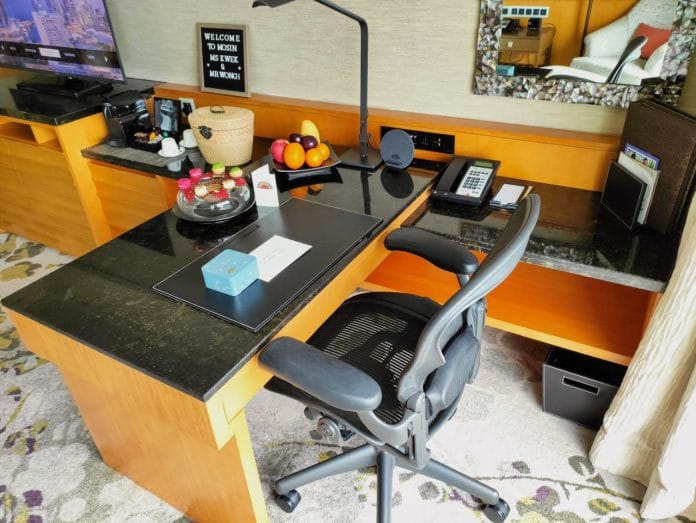 Nearby are two universal power outlets, an Ethernet and HDMI port, and two USB ports for charging. I finally learned these things are called MediaHubs, and if you're bored you can scroll through the company's catalogue and see how many you recognise from previous hotel stays.
If cables are so last century, wireless charging capability has been added by this Mandarin Oriental doohickey that I mistook for a speaker on first glance.
I was concerned when I logged into the Wi-Fi network and saw an upsell offer for "streaming" Wi-Fi (at S$7++ per night). Some hotels are notorious for throttling their basic connection, effectively forcing guests to pay for decent speeds. 
However, I was pleasantly surprised to find that the regular Wi-Fi purred along at ~28Mbps, making the Mandarin Oriental Singapore among the fastest of all the hotels I've visited so far.
 
🔽Download
🔼 Upload

Mandarin Orchard

273 Mbps

294 Mbps

M Social Singapore

46 Mbps

49.Mbps

YOTELAir Changi

29 Mbps

49 Mbps

W Sentosa Cove

34 Mbps

34 Mbps

Mandarin Oriental

28 Mbps

28 Mbps

The Fullerton Hotel

23 Mbps

24 Mbps

PARKROYAL Pickering

24 Mbps

23 Mbps

Shangri-La Singapore

19 Mbps

18 Mbps

Pan Pacific Singapore

19 Mbps

19 Mbps

Dusit Thani Laguna Singapore

19 Mbps

19

Mbps

InterContinental Bugis

15 Mbps

15 Mbps

The Capitol Kempinski Hotel

16 Mbps

13 Mbps

Hilton Singapore

13 Mbps

14 Mbps

Marina Bay Sands

11 Mbps

11 Mbps

Andaz Singapore

8.0 Mbps

9.5 Mbps

The Barracks Hotel

7.3 Mbps

7.7 Mbps

Hotel 81 Tristar

7.0 Mbps

6.8 Mbps

Raffles Hotel

6.9 Mbps

6.8 Mbps

Hotel Soloha

4.7 Mbps

5.1 Mbps

Hotel G Singapore

4.4 Mbps

4.8 Mbps

Internet speeds based on Speedtest.net scores
There's no Smart TV in the room, so there's no way to connect it to a smartphone. Watching content from your laptop is possible, but you'll need to request a HDMI cable. 
Next to the TV was a mini-bar area with the in-room refreshments (and a welcome message on a letter board). For those who need a caffeine fix, a Nespresso machine and four pods were available. An insulated wicker basket with hot jasmine tea was also waiting in the room upon arrival.
A little welcome amenity of macarons and cakes was on the table, together with a welcome card from the GM.
Inside the wardrobe were two bathrobes, an iron and ironing board. The bathrobes were extremely comfortable, thanks to a smooth lining sewn on the inside.
The spacious bathroom was decked out in marble tiles, with both a bathtub and shower area. 
With all the space they had to work with, I'm surprised they didn't make double sinks a standard feature.
The shower cubicle didn't have a bench, although what was more surprising was the lack of a handheld shower. Water pressure was decent, but counts for little if you can't easily wash your nether regions (the bathtub has a handheld shower, but the lack of a shower curtain makes spraying a messy exercise). 
The bathtub was clean and in good condition (no rust rings, which I encountered at the Shangri-La), but it's definitely single occupancy only. Bath salts were available in a small jar next to the tub. 
Surprisingly for a hotel of this calibre, the toilet lacked a bidet seat or even a bidet hose. I checked with the Mandarin Oriental, and it's not just my bad luck- with the exception of a handful of suites, most rooms and suites do not have automatic or manual bidets. 
The lack of a bidet means it's back to good ol' fashioned toilet paper, and did you know that Mandarin Oriental has its own brand of Kleenex? Here's a little tip to know you have a fresh roll: only the first sheet has the little fan logo. 
Bathroom amenities included a shaving kit, emery board, comb, two dental kits, a sanitary bag, sewing kit and shower cap. 
Toiletries are house brand (they used to offer Aromatherapy Associates), and while that's a bad thing at most hotels, this is the Mandarin Oriental. Both the shampoo and bath gel had a pleasant citrus smell, and housekeeping was generous with the replacements. 
With the exception of a spotty patch on the carpet, the rest of the room was clean. 
My overall take on the room: I can't think of anything that blew me away. It was clean and comfortable, but otherwise unspectacular. The bathroom was particularly underwhelming- the lack of a hand shower, the small bathtub, the lack of a bidet- those are surely hygiene (literally) factors for a place like this.
For the price I paid I can't complain, but I'd find it hard to justify the regular prices for the room alone. 
Mandarin Oriental Singapore: Facilities
Pool

Gym

Spa

Yes
(7 a.m to 7 p.m)

Yes
(7 a.m to 7 p.m)
Yes
(10 a.m to 8 p.m, Thu- Mon)

Kids' Club

Business Centre

Others

No

No

N/A
Swimming Pool
🏊‍♂️ Mandarin Oriental Singapore Pool Timings
2-hour slots

0700-0900

1300-1500

0900-1100

1500-1700

1100-1300

1700-1900
The Mandarin Oriental Singapore's swimming pool is located on the 5th floor, and is open from 7 a.m to 7 p.m daily. Each guest is entitled to two hours per day, though it's not strictly enforced if capacity permits. A maximum of 50 people can be in the pool area at any one time. 
The pool measures 25 metres long and is 1.2M deep, and its regular size makes it ideal for lap swimming. It's not heated (few pools in Singapore are), and can get quite chilly when the wind from the bay blows in. 
Wet decks allow guests to sunbathe while partially immersed in the water, while soaking in views of the Singapore skyline. 
Located nearby is a separate wading pool for toddlers, with little fountains spurting water. 
The five private cabanas lining the side of the pool are in high demand, so be sure to ask the staff for one when you arrive. I was pleased to see that the cabanas were religiously sanitized in between guests. 
The cabanas have curtains that can be drawn for privacy, and the tropical setting reminded me a little of Bali. You know, that place people used to go to, not too long ago. 
Staff occasionally drop by with little refreshing juice shots, which was a nice touch. Food can be ordered from the nearby [email protected] lounge (menu) and enjoyed by the pool. 
Gym
🏋️ Mandarin Oriental Singapore Gym Timings
1-hour slots


0700-0800

1300-1400

0800-0900

1400-1500

0900-1000

1500-1600

1000-1100

1600-1700

 1100-1200

1700-1800

1200-1300

1800-1900
The gym at the Mandarin Oriental is located on the same floor as the pool, and open daily from 7 a.m to 7 p.m. A sign outside says it's also available for use during non-operating hours, so I guess they open it up if you feel the need to pump iron at midnight (fnar). 
Guests are allowed a one hour slot per day, but just like the pool, the rule isn't strictly enforced if the hotel's not full. The gym has a maximum capacity of five users at any time, and the usual assortment of cardio equipment, such as treadmills and cycling machines equipped with personal entertainment systems. 
There's also a separate area for stretching and strength training. 
One thing that set this gym apart was the presence of an outdoor exercise area. Guests can choose an al fresco workout if they so wish, or use it as a space for yoga. 
The most fun thing about the gym, however, was its body fat analysis machine. It took my measurements and promptly declared me tubby, a prognosis that drove me to worry-eat. 
Spa
The Mandarin Oriental Spa is only open from Thursdays to Mondays, 10 a.m to 8 p.m. 
Guests staying on weekdays receive a voucher for a 90-minute massage at S$190++ (usual: S$270++), but that's still a hefty chunk of change. I suppose that's par the course for a place like this though, where one hour treatments usually start from S$220++.
The spa menu can be found here.
Mandarin Oriental Singapore: Breakfast
Served at

Cost

Style

Melt Cafe

S$46++ (adult)
S$23++ (child aged 10-12)
S$13.80++ (child aged 7-9)


A la carte buffet

Hours

Sparkling Wine?

Discounts?

7.30 a.m to 10.30 a.m

No

None
Breakfast is served at Melt Cafe on the 4th floor from 7.30 a.m to 10.30 a.m daily. Reservations are not required, at least not when I visited. Guests were greeted by name upon arrival, and escorted to either indoor or outdoor seating depending on their preference. 
Physical menus were distributed, and while the wording seems to suggest you can only choose one main course, I had no issues ordering multiple items. 
Drinks orders were taken first, and I'm pleased to report that the Mandarin Oriental serves freshly squeezed juices (you'd be surprised how many supposedly high-end hotels settle for the cheap stuff- looking at you Fullerton).
A plate of cut fruit was served as an appetizer. 
This was followed by sliced fish congee- rather simple, but I believe that's the point. 
The dim sum consisted of two chicken char siew bao and three chicken siew mai. It wasn't particularly inspiring, and I'd recommend giving this a pass if you're counting your calories. 
The Nasi Lemak looked a bit strange, and it took me a while before I realised it was because they'd swapped the usual sunny side egg for a sambal telur. It doesn't make for the same visual impact (nothing beats slicing a runny yolk and seeing it ooze seductively over the rice), but the taste was decent. The fried chicken, in particular, was moist and juicy, while the rice had a strong coconut fragrance. 
I didn't have high hopes for the pancakes, but they came out very nice indeed. Light and fluffy, paired with Vermont maple syrup and sliced bananas, I actually wish I'd ordered another helping. 
I didn't though, because I had to save space for waffles. These were disappointing and lacked any hint of crispiness. Stick with the pancakes please. 
Our waiter insisted we try the prata, and I'm glad we did. Actually, I thought the first iteration wasn't great; the prata seemed soggy, like it'd been sitting out too long. 
So I asked whether it could be made crispier, and the second one that came back was phenomenal. From what I gather (and do correct me if I'm wrong), there was nothing wrong with the first batch; it was just done in a more traditional Indian style. Crispy prata is the style in Malaysia, so be sure to specify your preference when ordering. 
I have to be honest: I'd browsed through the breakfast selection prior to arriving, and my expectations weren't very high. The selections didn't excite the way the Capitol Kempinski or Shangri-La Valley Wing breakfast menu did.
While the outcome was better than expected, I still wouldn't call breakfast a particular highlight of my Mandarin Oriental stay. I mean, I wouldn't pay S$46++ per head if breakfast wasn't included in my rate. The pancakes and prata were probably the two best dishes, but everything else was forgettable. 
Other Dining Options
Restaurant

Status as of 19 Jan 2021

[email protected]

Open

Cherry Garden

Open

Dolce Vita

Open

Melt Cafe

Open

MO BAR

Open

Morton's The Steakhouse*

Open

Teppan-Ya*

Open

*Mandarin Oriental F&B credits cannot be used here
My first piece of advice about dining at Mandarin Oriental is: don't visit on Monday or Tuesday. At the moment, Cherry Garden and Dolce Vita only operate from Wednesdays to Sundays, so you'll be a bit short on dining options at the start of the week. 
Morton's The Steakhouse
My second piece of advice is that you not be an idiot like me and show up for Morton's Happy Hour at 6.10 p.m. 
For the uninitiated, Morton's runs "Mortini Nights" from 5 p.m to 7 p.m daily, where martinis go at S$15.95++ each. That's a good price for a hotel cocktail, but what's amazing is the fact that you get free filet mignon sandwiches too. 
Now, my understanding was that you show up, order a drink and eat yourself silly. That may have been the SOP in the past, but Morton's has wised up and now staggers the servings. They're brought every half hour, and they only serve you one sandwich per person each time. 
Since I showed up at 6.10 p.m, I had a grand total of two sandwiches (6.30 p.m, 7 p.m). They were phenonemal (juicy beef, crispy warm bread, addictive mayo), but they're small. You definitely want to come down at 5 p.m. 
MO BAR
MO BAR ranks among the top 50 bars in Asia, and after visiting, I can see why. It says a lot about how confident the place is in its pedigree that it doesn't even see the need to offer a happy hour.
But try the drinks, and you just might forget that you're paying regular price. We ordered the signature Sarimanok cocktail, a rum-mango-citrus concoction which comes with a beautiful edible rice paper overlay (S$24++). Equally good was the Chamoe (S$24++), a vodka-melon-citron cocktail with a frozen melon ball. 
The food is no slouch either. We ordered the jiaozi (S$22++) with kurobuta pork and minced prawn, a delightful Gyu-Katsu Sando (S$32++) which could give the steak sandwiches at Morton's (see above) a run for the money, and the hotel's signature lobster laksa (S$28++), served with a delicious broth that gets piped in from a teapot just before serving. 
This would far and away be my recommendation for where to spend your S$100 F&B credits. 
Mandarin Oriental Singapore Service
Service at the Mandarin Oriental Singapore is, in a word, impeccable. I'd say it was on par with Raffles or Kempinski.
Whether it was Sid by the pool (who insisted on being our personal photographer), or Giruda at breakfast (who didn't bat an eyelid at my request for crispy prata) or any of the other staff whose names I unfortunately can't recall, all service interactions were flawless throughout. Even the team member who brought room service on the first day seemed genuinely interested to know how my stay was going. Every time I walked past the front desk to go in or out of the hotel, the staff cheerfully greeted me by name. 
And then there's the small things. When the Milelioness checked-in (she arrived in the evening, that's what happens when you have a real job), the front desk addressed her as "Ms Kwek". 
"Mrs Wong," she corrected them (what a keeper).
The next morning at breakfast, the staff were all calling her Mrs Wong. At other places, that little interaction would have been quickly forgotten; here it was noted, disseminated and institutionalised overnight. It's the kind of attention to detail you'd expect at a luxury hotel. 
I've written before about how the gold standard for housekeeping is that they plan around guest schedules, not the other way round. In other words, I love it when I return from breakfast and find the room already made up- it's minimally disruptive and shows good coordination between the breakfast team and housekeeping. That's something the Mandarin Oriental pulled off without a hitch. 
So I have absolutely no complaints here. Excellent service, from start to finish. 
Conclusion
Ranking the Mandarin Oriental is a tricky exercise. While I didn't find the room or breakfast to be all that impressive, the service and experience at MO BAR knocked things out of the park. The pool is a lovely place to unwind at, and the hotel's got no shortage of distractions within walking distance.
I certainly wouldn't say this was anywhere near as good as my stays at the Capitol Kempinski, Raffles Hotel, Shangri-La Valley Wing. The InterContinental Bugis just shades it (on the strength of a better breakfast and a nicer room), so I'd place the Mandarin Oriental Singapore slightly after in terms of overall experience. It helps that I secured such a good rate for the hotel; I don't think I'd have been as satisfied if I were paying the usual S$500+ rates without any inclusions.
It's also a shame that The Oriental Club wasn't open, because it is, by all accounts, one of the best club lounge experiences in Singapore. There's no word on when it's coming back online, but I'd love to try that out at some point. 
Have you staycationed at the Mandarin Oriental recently? What was your take?
Overall Staycation Rankings
Mandarin Oriental Singapore
*Andaz Singapore ranking is as per my 1 October 2020 visit; the experience has notably declined since then. 
🏨 In Summary
Excellent service and a killer MO BAR experience rescue the so-so rooms and passable breakfast at the Mandarin Oriental Singapore. The current packages are an excellent deal, but I'd be more hesitant about paying full price. 
Do say: I'm a Fan
Don't say: Whoooooshhhhhhh