17 months ago, I left the departures area of Changi Airport, aborting a flight to Kuala Lumpur at the last minute after Singapore announced a mandatory SHN for returnees from ASEAN countries. That later expanded into a de facto travel ban, and I haven't set foot airside ever since (well, Restaurant A380 aside).
Mercifully, the end is in sight. SHN restrictions are set to be lifted from September, and I fully expect we'll be hearing more details on where we can travel over the next few weeks. This means it's time to dust off your miles- heaven knows we're sitting on a lot of them (you know the adage: never ask a woman her age, a man his salary, a miles collector their stash).
In that spirit, I thought I'd draw up some accounts on what I've been doing with my miles and points over the COVID period. 
KrisFlyer Experiences: 6,000 miles
In January this year, KrisFlyer Experiences launched a series of 3-night Dream Cruise packages for just 6,000 miles each, valid for up to two people. You had to top up fees and gratuities of S$123 per head, but it still represented a great deal in my book. 
Unsurprisingly, packages were snapped up in a matter of hours and haven't reappeared since. I managed to book one, which gave me an opportunity to review the World Dream experience and benchmark it to Royal Caribbean.
The retail price of the cruise was about S$510 for 2 pax, which meant I got about 4 cents per mile in value. Yeah, I'll take it. 
| | |
| --- | --- |
| Cost | 6,000 miles |
| Peacetime Equivalent | KrisFlyer awards start at 7,500 miles, so you couldn't even go anywhere with 6,000. |
| Verdict | Worth it. All meals and entertainment covered for three nights, at less than the cost of a one-way ticket to Bali.  |
Platinum af'FAIR 2020: 12,500 miles
American Express' annual shindig for Platinum Charge and Centurion members is called Platinum af'FAIR, and it's quite a doozy. The 2019 event (held at The Arts House) was incredible, with carnival games, arts and crafts stations, live entertainment and a whole lot of free food and drink. 
With the ban on large gatherings, I was starting to think that 2020 would be the year without Platinum af'FAIR. Then AMEX surprised us all by announcing the event would continue– in virtual form. 
It wasn't flawless. Food came late, the virtual platform lagged like mad, and I wasn't able to watch any of the entertainment. But I have to applaud the effort behind it, and with fully-vaccinated individuals soon able to gather in groups of up to 1,000, there might be a mega blowout yet to come in 2021.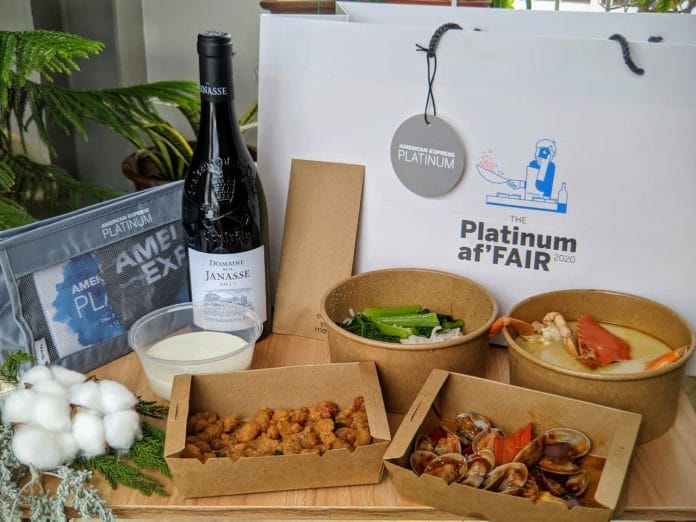 The cost of attending the event was 20,000 MR points (12,500 KrisFlyer miles), which included a goody bag, meal set, and two bottles of champagne. The champagne alone retailed at around S$240, so the value per mile was well above 2 cents each. 
| | |
| --- | --- |
| Cost | 12,500 miles |
| Peacetime Equivalent | One-way Economy Class ticket to Bangkok |
| Verdict | Worth it. The only way to attend Platinum af'FAIR is by spending MR points anyway, and I wasn't about to miss it.  |
Dyson vacuum: 29,938 miles
Yes. I redeemed my miles for a vacuum cleaner. But with good reason. 
Back in March 2020, OCBC was trying to drum up some buzz around its STACK Rewards platform. One of the deals they ran was a Dyson Cyclone V10 Fluffy (RRP: S$799) for 29,938 Travel$ (29,938 miles). That yielded a value of 2.7 cents per mile, enough for me to pull the trigger. 
The Dyson handles like a dream. French maid cosplay has never been more fun. 
| | |
| --- | --- |
| Cost | 29,938 miles |
| Peacetime Equivalent | Round-trip Economy Class ticket to Hong Kong (give or take) |
| Verdict | Worth it. Merchandise is usually a big no-no for miles redemptions, but at this kind of valuation, you'd be a buyer too. |
KrisShop: 75,970 miles
One highlight in an otherwise bleak year for travel was the trio of on-ground experiences that Singapore Airlines ran in late 2020: Restaurant A380 (review), Inside SIA (review) and [email protected] (review).
I paid for Inside SIA and Restaurant A380 with cash, but decided to pay for [email protected] with miles instead and send the cost of the meal to The Food Bank. KrisShop gives an absolutely abysmal value of 0.8 cents per mile, so the S$607.76 charge worked out to 75,970 miles. 
This obviously wouldn't be something I'd recommend doing, and I never thought I'd spend so many miles on home delivery. Good fun, though. 
| | |
| --- | --- |
| Cost | 75,970 miles |
| Peacetime Equivalent | One-way First Class ticket to Dubai |
| Verdict | Totally not worth it, but hey, it freed up some funds for a good cause. |
AMEX Platinum Charge Annual Fee: 97,273 miles
Despite the hiatus on travel, I made the decision to renew my AMEX Platinum Charge in September last year. A big factor in the decision was the ability to offset the annual fee with MR points at a rate of 1,000 points= S$11. 
The total points required for a full waiver were 155,636 (97,273 miles), which works out to 1.8 cents per mile. 
| | |
| --- | --- |
| Cost | 97,273 miles |
| Peacetime Equivalent | One-way Business Class ticket to New York |
| Verdict | Worth it. Still managed to get good value from the card in 2020, although it remains to be seen how 2021 plays out. |
Accor Points: 108,000 miles
It's normally nigh on impossible to earn hotel points at a decent rate in Singapore. That's why Standard Chartered's transfer bonus to Accor Live Limitless (ALL) garnered so much attention last year. 
During the promotion, SCB X Card and Visa Infinite cardholders could transfer points at a ratio of 3,500 SC points: 1,400 ALL points (usually 700), with no cap. 2,000 ALL points are worth €40, so 3,500 SC points (1,400 miles) got €28 of value. That worked out to 3.2 cents per mile. 
Fixed value loyalty schemes normally aren't my cup of tea, but in a climate where hotel rates are at all-time lows, there's deals to be had. I converted my entire SCB X Card sign up bonus of 270,000 SC points (108,000 miles) to 108,000 ALL points and used half of them for my Raffles Hotel staycation.
The other half is still worth €1,080, which I'm hoping to spend once the borders open. 
| | |
| --- | --- |
| Cost | 108,000 miles |
| Peacetime Equivalent | Round-trip First Class ticket to Mumbai/New Delhi |
| Verdict | Worth it. One of the best opportunities to earn hotel points in Singapore, and one I doubt we'll ever see again. |
Statement credit: 372,500 miles
In April last year, American Express launched a pretty awesome promotion for AMEX Platinum Charge cardholders: double points and double statement credits. By my own admission, I focused too much on the former, while undervaluing the utility of the latter.
As it turns out, the ability to redeem 1,000 MR points for S$9.60 of statement credit (instead of the usual S$4.80) was a rare opportunity indeed. Given the exchange rate between MR points and KrisFlyer miles (400 MR: 250 miles), you were basically cashing out miles at 1.54 cents each– not as good as redeeming a flight, but decent value for an on-ground redemption. 
I ended up converting about 596,000 MR points (372,500 miles) to fund my staycation reviews, but had I known the restrictions on travel would remain so long, I'd probably have converted more. 
| | |
| --- | --- |
| Cost | 372,500 miles |
| Peacetime Equivalent | 2x Round-trip Business Class tickets to Europe |
| Verdict | Pretty worth it. Converting miles into 1.54 cents that can be spent anywhere is as good as it gets.  |
Conclusion
On-ground redemptions are usually terrible value compared to flight awards, but during this period we've seen opportunities to score outsized value, well above the sub-1 cent per mile you'd normally get.
Options for Spending KrisFlyer Miles

Redemption Option

Value per mile

✈️

Award flights

2-6 cents

🏨

Shangri-La Golden Circle conversion

1.1-1.4 cents

✈️

Pay for flights with miles

1.02 cents

🚘

KrisFlyer vRooms

0.8 cents

🛍️

KrisShop

0.8 cents

🏬

CapitaStar conversion

0.7 cents

🎡

Pe

lago

0.67 cents

📱

Kris+

0.67

cents 

 

⛽

Esso Smiles conversion

0.33- 0.67 cents



These are generally the exception rather than the rule, however, and it's hardly a reason to declare open season on your miles with Kris+ or its brethren. Singapore Airlines has anyways been extending KrisFlyer miles such that none will expire before April 2022, so there's no pressure to burn them immediately. 
And if all goes well, we'll soon be redeeming our miles for the thing they were created for- soaring at 35,000 feet. 
How have you been spending your miles during this period?