The Milelion's RTW Trip 2018: Trip Planning
Singapore Airlines SilverKris Lounge T3 SIN
SWISS Intl Airlines B77W Business Class SIN-ZRH
Cosmo Hotel Berlin
Westin Grand Berlin
The Intra-Europe Business Class Experience, 2018 Edition
Turkish Airlines A330 Business Class IST-AMM
Sheraton Amman Al Nabil
Royal Jordanian Crown Lounge AMM
Egypt Air B737 Business Class AMM-CAI-NBO
Tribe Hotel Nairobi
Sheraton Kampala
Ethiopian Airlines B737 Business Class NBO-ADD
Ethiopian Airlines B787 Business Class ADD-GRU
Marriott Sao Paulo Airport
Avianca Brasil A330 Business Class GRU-SCL
San Cristobal Tower Santiago
Air Canada B77W Business Class SCL-YYZ
Air Canada Express E175 Business Class YYZ-BOS
W Boston
United Airlines B757 First Class BOS-SFO
W San Francisco
United Airlines B77W Polaris Business Class SFO-NRT
ANA B787 Business Class NRT-SIN
There were a few options to get to Boston from Santiago, but the one that appealed the most to me was Air Canada via Toronto. I had never flown with Air Canada before, but figured I knew enough Canadian jokes to blend in (Q: Which Canadian city is full of promiscuous older women? A: Vancougar)
Check-in at SCL was chaos. The lines for the Air Canada counter were stretching all the way back perhaps 100+ meters in the terminal. An Air Canda 77W is configured to take 450 passengers in total, so it looks like everyone decided to show up at the same time.
Thankfully no one decided to bum rush the Star Gold/ Business Class line, so my check-in was completed in a grand total of 4 minutes. As I walked towards the departures area I was staggered by just how many people there were in line and how slow it was moving. And also that everyone was taking it so good-naturedly.
Air Canada uses the Avianca lounge in SCL, but no one tells you that at check-in. Plus, the Avianca lounge has absolutely no signage, at all. The AA Admirals Club, the Delta Sky Club and even the contract lounges are clearly marked on airport directional boards. Not so the Avianca lounge, and after getting bounced from lounge to lounge (contract lounge told me Air Canada uses the Sky Club, Sky Club told me they use the Admirals Club, Admirals Club asked me if I knew the difference between Star Alliance and Oneworld…) I finally found it in the basement near a handicrafts store.
The lounge is an abject disappointment though- no hot food available, only sandwiches, pastries and prepackaged cookies. Even the internet was so slow it was unusable- I ended up tapping the airport's free Wi-Fi which was much faster and more reliable.
If I thought the situation at check-in was bad, boarding was a whole different deal. It turns out Air Canada had oversold the flight (in order words, more than 450 people turned up!) and they were offering CAD 800 travel vouchers on Air Canada for anyone who was willing to be bumped. I presume the problem was in economy, not business, but even if I were in economy I wouldn't be willing to take the money in the form of a restricted currency. Surprisingly, quite a few people were willing, and another haphazard line formed.
Boarding finally started and I got to see Air Canada's beautiful new business class cabin. For reference purposes, here's what their old lie flat product used to look like:
The new cabin is sleek and modern, with a much more agreeable color palate.
My company has recently switched to using CWT for airline bookings and boy do I have a lot to rant about them. I'll save that for another time, suffice to say that they in their infinite wisdom took away my carefully reserved window seat and put me in the middle block instead ("your preferences said aisle seat not window" "it's 1-2-1, they're all aisle seats" "but your preference said aisle seat").
Here's the window seat for comparison:
This angle shows the privacy the window seat has a bit better. The wings protect you from anyone approaching the seat from the rear.
In all honesty, the middle seats aren't that bad thanks to this privacy divider that is up by default for TTOL. Unless you're really tall, you won't see too much of your neighbour when seated.
So yes, that's my seat 2D.
The seat does narrow towards the front, but it's not as cramped as some other reverse herringbone designs.
The seat has a lot of storage space, a good amount coming from this compartment where the IFE controller, headphone jack, USB outlet and power plug were located.
There's another storage nook down beneath your feet where a bottle of water was waiting.
And not forgetting the entire side panel next to your arm.
The seat controls have two physical buttons for TTOL and full flat. If you want nuanced adjustments you'll have to use the digital screen.
You can also use it for mood lighting or service calls
The crew came around with water, juice and sparkling wine (I think they only open the champagne in the air- the sparkling wine served on the ground was of discernibly lower quality).
I have mixed feelings about the crew. They weren't as bad as some of the North American airlines, but they weren't particularly personable either. The push back was delayed by more than an hour, but during the entire time no drink refills were offered, and the crew looked more keen to collect back all the glasses so they could tick off the PDB portion of service. One member of the crew came around to shake hands and thank each passenger for their business, but he had a really disengaged look on his face when he did so. He also handed out forms for Canadian immigration. I asked him if I needed to fill it if I was just transiting, to which he shrugged and said "maybe?"
An amenities kit was distributed to each passenger while we waited on the tarmac.  I quite liked the design, although the contents were somewhat underwhelming. I so badly want one of Delta's Tumi bags…
The headphones on offer were surprisingly good quality. I'm ashamed to say I don't know if they were noise cancelling.
Menus were distributed and dinner orders taken before take-off.
These were tonight's dinner selections:
And the wine list:
After take-off the crew did one more round of drinks before meal service. I had a glass of Drappire champagne and some still water, which was served with some (cold) nuts.
The meal came shortly after- smoked salmon to start, with garnishes of cheese and red onion. This, sadly, was the highlight of the meal.
The main was dismal- on paper it was supposed to be seabass, risotto and veggies, but in reality it was a completely bland mess. The fish had that flavor meat gets when you microwave it too long, the risotto was gloop and the veggies were limp.
Dessert was fruits and ice cream. The ice cream tasted cheap.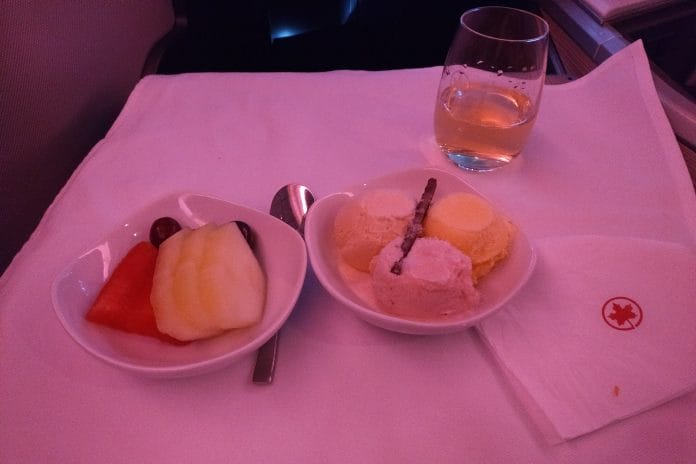 Perhaps it's not fair to judge an airline's catering from an outstation, but nothing in the meal really impressed me.
Air Canada's bathrooms had automatic taps and really not much else. There were no extra amenities here and their handsoaps were generic stuff.
The most interesting feature of the bathroom was that Air Canada apparently has a special "jet scent". I did not partake.
Despite our late take off, I still wasn't feeling sleepy so decided to fiddle around with the IFE, which Air Canda calls enRoute.
The movie selection wasn't as large as I expected, but it still had a mix of recent films (and a lot of French cinema, because Quebec).
I ended up watching the original Blade Runner because I told myself I'd watch it before watching the 2049 version. I didn't actually find the original as great as I was supposed to, based on what I read online. In fact I found it a bit draggy and self-indulgent. Maybe I need more Michael Bay movies.
Air Canada IFE
It was right after the tears in rain monologue that I felt the champagne kicking in and decided to call it a night.
Although Air Canada does not provide a separate mattress pad (nor PJs, boo), the bed was comfortable enough that I didn't notice the absence. It's an excellent surface for sleeping, and I knocked out for 6 hours which hardly happens when I fly.
I awoke with barely 90 minutes to go to landing.
Breakfast was served on a single tray. I went for the omelette which was unsurprisingly overcooked. No, I don't like catering ex-SCL at all…
We ended up getting into Toronto about 30 minutes behind schedule, which wasn't too bad considering we took off more than an hour late. It was so cold I saw ice piling on the tarmac.
Conclusion
Air Canada has an excellent hard product on its refurbished 77Ws, and it was easily one of the best business class seats I've experienced so far. It's a shame the service is fairly indifferent and the catering terrible. It's also a shame I didn't get to experience flying Air Canada business ex-Toronto, because they've got what looks like an amazing business class lounge facility. Next time…