The Milelion's RTW Trip 2018: Trip Planning
Singapore Airlines SilverKris Lounge T3 SIN
SWISS Intl Airlines B77W Business Class SIN-ZRH
Cosmo Hotel Berlin
Westin Grand Berlin
The Intra-Europe Business Class Experience, 2018 Edition
Turkish Airlines A330 Business Class IST-AMM
Sheraton Amman Al Nabil
Royal Jordanian Crown Lounge AMM
Egypt Air B737 Business Class AMM-CAI-NBO
Tribe Hotel Nairobi
Sheraton Kampala
Ethiopian Airlines B737 Business Class NBO-ADD
Ethiopian Airlines B787 Business Class ADD-GRU
Marriott Sao Paulo Airport
Avianca Brasil A330 Business Class GRU-SCL
San Cristobal Tower Santiago
Air Canada B77W Business Class SCL-YYZ
Air Canada Express E175 Business Class YYZ-BOS
W Boston
United Airlines B757 First Class BOS-SFO
W San Francisco
United Airlines B77W Polaris Business Class SFO-NRT
ANA B787 Business Class NRT-SIN
---
I hailed an Uber and headed to Amman airport, where I'd be catching a flight to Cairo and then onwards to Nairobi to start the African segment of my RTW trip. Protip: at the time of writing, Uber is still not legal in Amman, and police conduct regular roadblocks to fine drivers (my understanding is that Uber pays the fines on behalf of the drivers while it works out its licensing). Most drivers would rather not go through the hassle of claiming the fine money from Uber though, and request you sit in the front seat to avoid suspicion. As if seeing a Chinese dude in the front seat with a Middle Eastern man wouldn't set off any alarms. "Just say we are friends," said Mohammad, my driver.
We got to the airport without any incident except at the end, which I suppose was totally foreseeable given that the entire entrance to the airport was one big police checkpoint. Mohammad duly got his fine slip, shrugged it off in a very c'est la vie way and dropped me off.
Check-in at Amman airport was surprisingly chaotic, especially around the Egyptair desk. There was a line seven deep for business class when I arrived, but after a while someone from behind the desk shouted at the line that this was only for business class passengers and then every one infront of me mysteriously vanished. Can't really blame them though- on the TV screens at the counter "business class" was only given in English, so presumably some of them couldn't read that.
My bags were tagged straight through to Nairobi, with a transfer in Cairo. I also got an invitation to the Royal Jordanian Lounge which Egyptair uses in Amman. I have to say it's quite refreshing to see green on a boarding pass. I mean we used to see green on SQ's economy passes, until a certain bean counter decided that color boarding passes were so not worth it.
Amman doesn't have a priority lane for business class passengers, but fortunately there were many counters open and the line moved reasonably fast. There was a centralized security checkpoint after that, and it opened out, expectedly, to the duty free area.
Amman airport isn't particularly difficult to navigate, and I found the Royal Jordanian lounge within minutes. It's located on the second floor…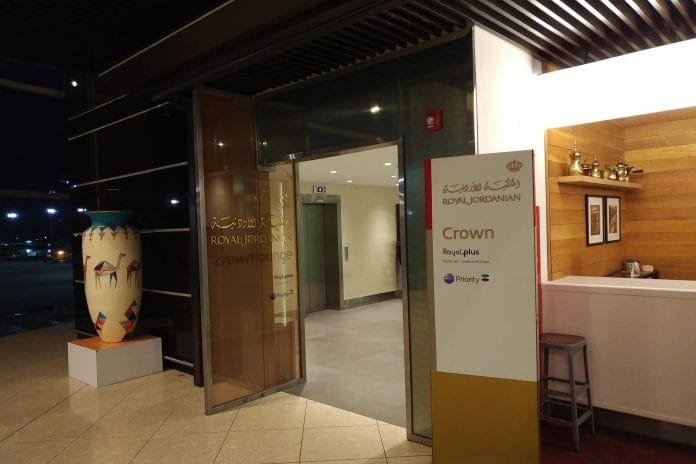 …which means that after you enter on the first floor you need to take a lift upstairs.
You get a pretty great view of the departures concourse from the second floor. The entire terminal is pretty much two levels, with duty free and concessions on the first floor and a couple of lounges on the second.
Here's the layout of the lounge, which was substantial in size. You enter from the lift podium in the bottom right of the image.
If you enter and head straight, you'll access (1) The Space, (2) The Grove, (3) The Library, (4) The Neighbourhood and (5) The Hub. All these were completely deserted, and for whatever reason everyone was in areas (6)-(8)
Here's (1)-(5) first. Check out all that real estate…
Royal Jordanian Lounge Seating
Areas (1)-(5) don't have any F&B at all, save this small corner at (2) The Grove that has some fruit and (not fresh) juices.
If you instead head straight when you exit from the lifts and go across the small walkway, you'll instead be in areas (6)-(8), where everyone in this lounge was congregating.
Royal Jordanian calls the buffet area "The Chandeliers", which sounds nice and all, but let me be clear this is hardly gourmet central. The food on offer was mostly low quality, fried and pre-packaged stuff. Don't come hungry, is my advice.
It's called "The Bakery", but all the pastries on offer were remarkably stale.
In terms of drinks, there was some watery orange juice (and something else of indeterminate origin)
And a central table with a coffee machine and bottled water. Soft drinks were available in the chiller below.
I couldn't decide if the bar was supposed to be manned or help yourself, because in my entire stay at the lounge I never saw a bartender materialize. Most people were content to climb behind the counter to help themselves. Only a local Jordanian white and red were available, no sparkling here. 
There were also a few semi-private TV rooms  at the end of the dining area.
I didn't think there was much else to talk about in the lounge. The Wi-Fi was slow to the point of being unusable, the food and drink wasn't life changing and although it was a decent enough place to sit and work, it's definitely not something worth coming to the airport early for .
I'm not sure how many oneworld carriers operate First Class to Amman, but it's kind of concerning to think that this is the lounge for both First and Business class passengers in Amman. Given the Middle East's reputation for over the top luxury and glitz, this would certainly be a massive disappointment to anyone with higher expectations.
I ended up leaving the lounge early so I could be first on board my first ever Egyptair flight.