The Milelion's RTW Trip 2018: Trip Planning
Singapore Airlines SilverKris Lounge T3 SIN
SWISS Intl Airlines B77W Business Class SIN-ZRH
Cosmo Hotel Berlin
Westin Grand Berlin
The Intra-Europe Business Class Experience, 2018 Edition
Turkish Airlines A330 Business Class IST-AMM
Sheraton Amman Al Nabil
Royal Jordanian Crown Lounge AMM
Egypt Air B737 Business Class AMM-CAI-NBO
Tribe Hotel Nairobi
Sheraton Kampala
Ethiopian Airlines B737 Business Class NBO-ADD
Ethiopian Airlines B787 Business Class ADD-GRU
Marriott Sao Paulo Airport
Avianca Brasil A330 Business Class GRU-SCL
San Cristobal Tower Santiago
Air Canada B77W Business Class SCL-YYZ
Air Canada Express E175 Business Class YYZ-BOS
W Boston
United Airlines B757 First Class BOS-SFO
W San Francisco
United Airlines B77W Polaris Business Class SFO-NRT
ANA B787 Business Class NRT-SIN
---
I had a bittersweet feeling upon the conclusion of my 2017 RTW trip because I knew it'd probably be the last time I'd work on such a unique case in my professional career. I'd previously done another RTW trip in 2016 (also for work), but 2017 was supposed to be the swansong for round the world jetsetting.
Or so I thought.
I can't disclose too much about the circumstances that have led to the need for The Milelion's RTW Trip 2018, suffice to say that work calls and come the new year I'll be on the road again for about 6-7 weeks making the world a better place one continent at a time.
Here's 2018's roster of places to go, including stopover airports. I'm travelling Westwards from Singapore, starting off in Europe before visiting the Middle East and East Africa. Then it's across the ocean to Latin America where Brazil and Chile are on the agenda, before visiting both the West and East coasts of the US.
The alliance of choice this year is Star Alliance once again, after 2017's dalliance with Oneworld. Their connectivity (and the opportunity to review some exciting new cabin products) was the deciding factor, and especially important was the Africa presence (Oneworld lacks an African partner, and Skyteam is…well….Skyteam).
I've written in detail the process of booking a revenue RTW ticket back in 2016 so I won't repeat it again here, suffice to say that booking things via a corporate travel agent is a very different experience from doing it yourself. And by different I mean frustrating. But that's another rant for another time, and the long of the short of it is that all is booked, all is ready and there's trip reports to be written.
In an attempt to make the 2018 RTW trip report more manageable to write, I've decided to leave out certain lounges or hotels I've reviewed before, for example the Four Points Barcelona, the Cloud 9 Lounge in Addis Ababa and the ANA Business class lounge in Narita. I'm also going to do a mash-up review of intra Europe business class (because it's basically economy class with a blocked middle seat) that will include Swiss Air, Turkish Airlines and Lufthansa. There'll be some short economy flights I'll do to get from Sao Paulo to Vitoria or Nairobi to Kampala, but these again aren't write home about material.
What is write home material, however, is the following…
Swiss B77W Business Class
Swiss has a gorgeous looking business class cabin on their 77Ws, which is what I'll be flying to ZRH to kickoff this trip. Surprisingly, not all the 62 business class seats have aisle access. 10 of them (16%) are window seats where you have to climb over the person next to you to get to the aisle.
This is somewhat similar to what MH has done on their A330s, but keep in mind such a configuration also creates "throne" seats that are in high demand (and can only be selected in advance for free by elite tier Miles and More members).
I checked the seat map and Swiss is asking for S$269 to pre-book one of the throne seats. I managed to snag a seat in the middle with guaranteed aisle access and will take my chance during online check-in.
It's a pity that Swiss uses T2 in Changi Airport because this means using the much inferior Silver Kris lounge in that terminal, but there's nothing stopping me from popping over to T3 if I have the time.
Air Canada B77W Business Class
This will be my first ever flight on Air Canada, and fortunately I'll be on an aircraft that's equipped with their new Executive Pod.
The old "Classic Pod" looks kind of dismal, even if it is an all aisle access configuration.
Air Canada has recently opened what sounds like a fantastic dining facility at their Signature Suite in Toronto airport, but alas I'm flying into YYZ and not out of it. My connecting AC flight to BOS doesn't qualify for access, and in any case will be departing from a different terminal.
Egyptair B737 Business Class
Narrowbody flights are rarely aspirational, but hey, a chance to fly with a new carrier is always welcome. Egyptair offers the best connectivity between Amman and Nairobi, with a very short layover in Cairo.
I'm not sure how much you can expect from a flight like this, but it's still exciting to chalk off another airline from the list.
Avianca Brasil A330 Business Class
I must have used hundreds of thousands of Lifemiles in the years since I discovered the program, but this will be my first time ever setting foot on an Avianca plane (ok, technically second. I took a brief flight with them during my Road to Rio trip report but that was an economy flight between GIG and GRU).
Technically I'm not flying with Avianca, I'm flying with Avianca Brasil which has a separate fleet and callsign. Avianca Brasil also has a fleet of A330s that is equipped with a reverse herringbone business class.
This is much better than what Avianca proper has on its A330s (although Avianca is progressively retrofitting its A330 fleet so it has the upgraded product), which is an angled flat product.
I have absolutely no idea what to expect from Avianca's onboard service, but I imagine that's part of the fun.
United Premium Transcontinental First Class
I've mentioned before that domestic first class in the States is nothing to get excited about, but there are certain transcontinental routes that see high volumes of business traffic and therefore get special treatment. On such routes you'll find flat bed seats, decent onboard F&B and upgraded amenities like lounge access (normally not granted to First Class flyers on domestic routes) and amenities kits.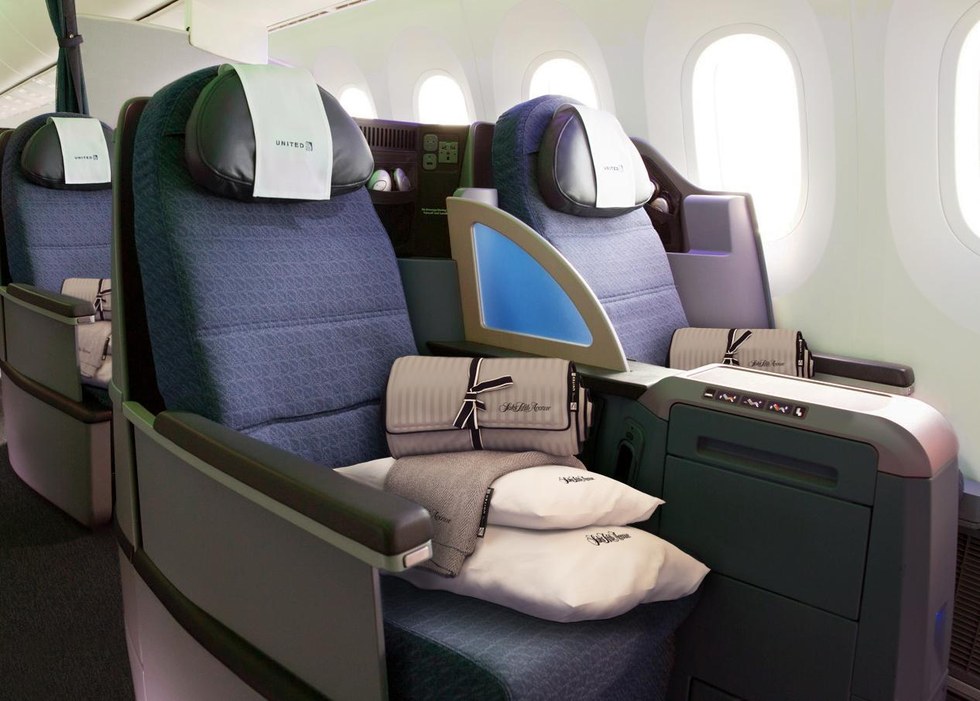 Boston to San Francisco is one such route, and that's why I'm actually ok with flying United. As per the PR:
Experience better coast-to-coast service with our updated premium transcontinental routes between New York/Newark and Los Angeles, New York/Newark and San Francisco, and Boston and San Francisco.

Our premium transcontinental routes now offer seasonal menus crafted by renowned chefs and distinctive amenities inspired by these four iconic cities, so you can get a taste of your destination before you arrive. This includes both travelers in United Business® and everyone in sitting in the Economy Plus® section — Economy Plus travelers now enjoy a complimentary hot entrée, fruit and dessert, as well as complimentary alcoholic beverages.

All travelers on these flights can stay connected with United Wi-Fi℠ (available for purchase), watch TV and movies with complimentary entertainment, and keep their devices charged on the fly with power outlets at every seat (available on most aircraft).
I also hope to experience United's award winning service on this flight.
United B77W Polaris Business Class
Ah, United Polaris, the product that will single-handedly save the disaster that is, er, United. It's hard to believe that United's business class still looks like this on certain international flights:
And it's perhaps even more amazing how United has managed to create a high density business class that let it keep its dorm-style 2-4-2 seating while still giving everyone access to the aisle and a greater amount of personal privacy.
There's an understandable amount of confusion surrounding United Polaris because although the Polaris soft product has been rolled out fleet wise (bedding, meal service etc), the Polaris hard product isn't actually available on a whole lot of planes yet. Although the new Polaris seats debuted internationally on March 25, 2017, it's still only available on selected routes
SFO-HKG
EWR-TLV
SFO-NRT
SFO-TPE
SFO-PEK
SFO-FRA
IAH-"South America" (not specified on site, my guess is GRU?)
ORD/EWR/IAH- "Europe" (again, not specified, I think this 767-300 ER aircraft rotates among the airports and it's just your luck if you get it)
United estimates it will take about 5 years for the entire fleet to be refitted. Here's their overall progress tracker:
United's marketing for Polaris has been so good that some braintrust writing for Forbes flew the 787 (which is equipped with B/E Aerospace Diamond seats) and waxed lyrical about how the new Polaris seat was amazing. Noobcake.
Fortunately my flight to Narita will have Polaris, and I'm looking forward to trying this out. It's kind of weird in a way (or maybe it speaks volumes to how good United is at marketing) that this may be the product I'm most looking forward to reviewing.
United's Polaris retrofitting may be slow, but don't even get me started on United's Polaris lounge situation. The redesigned lounges look beautiful in concept renders…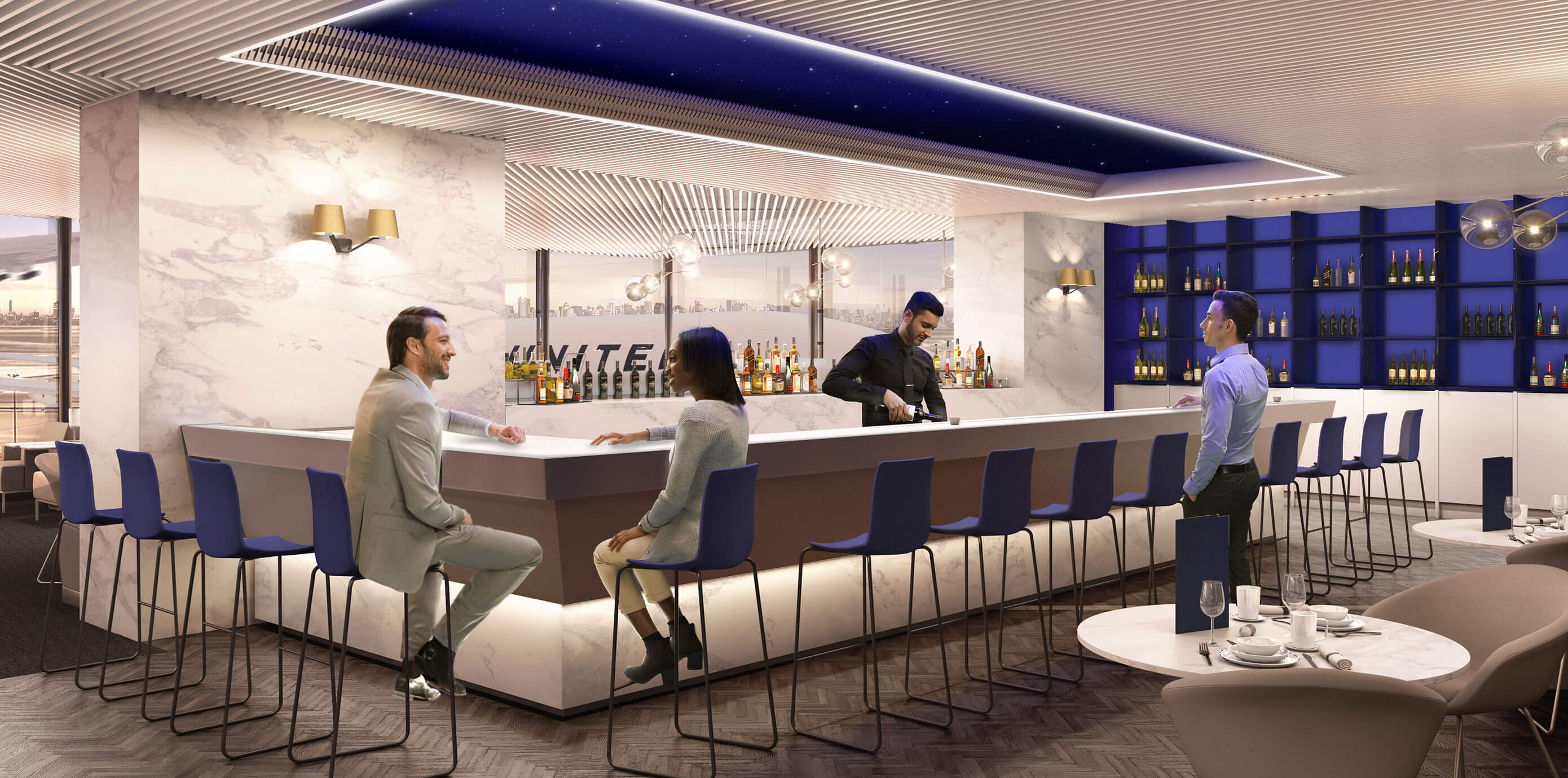 But as of today only the club in Chicago ORD is open. And United's new Polaris product doesn't even fly from ORD on a regular basis.
Therefore, even though I'm flying from United's home base in SFO, I'll be using the very underwhelming United Club. The Polaris Lounge SFO is supposed to be opening in "early 2018", but I've been told not to be surprised if that date gets pushed.
Hotels
No prizes for guessing that the hotel list will be extremely Starwood heavy, as I plod ever onwards towards Lifetime Platinum.
Unlike 2017's RTW trip where I visited quite a few destinations where only Marriotts were available, 2018's itinerary is very conducive to quick Platinum requalification.
What did surprise me was how on the ball some overseas Starwood properties are. For example, I made a booking at the Sheraton Amman and used my Your24 benefit to request a 11pm check-in and check-out (on account of my flight timings). Within 20 minutes I got an approval email. That's got to be some sort of record.
Or consider the Sheraton Kampala (I'll be at a lot of Sheratons…). Most Starwood properties will process upgrades ~24 hours out. The Sheraton Kampala has already upgraded my stay in late January to a suite, as I can see from the website.
Other potential gems include the San Cristobal Tower in Santiago…
And the Cosmo Hotel Berlin, which will be my first ever stay at a Design Hotels property.
I was pleased to find out that Starwood would have consecutive promotions for the first time in a long time. The current Explore More promotion (500/1000 bonus points per stay) ends 15 January, but from 16 January a new promotion starts that offers double Starpoints from the second stay and 500 bonus points where the stay includes a weekend night.
Conclusion
I generally don't like being away from home so long, but I can think of many worse ways to be spending it. As always, if there's anything in particular you're curious about any of the products I'm going to be reviewing feel free to reach out and I'll try to pay more attention to that particular aspect during the trip.
Being away for the whole of January means I'll need to find a stand-in for the Monthly Miles Meetup, and you can expect some details to follow on that shortly. I'd like to believe that people attend these things to share insights and knowledge, not to ogle my perfectly sculpted body, and therefore there should be no problem securing one of Fred, Jeriel or Louis to facilitate this. The meetup. Not the ogling.