The Milelion's RTW Trip 2018: Trip Planning
Singapore Airlines SilverKris Lounge T3 SIN
SWISS Intl Airlines B77W Business Class SIN-ZRH
Cosmo Hotel Berlin
Westin Grand Berlin
The Intra-Europe Business Class Experience, 2018 Edition
Turkish Airlines A330 Business Class IST-AMM
Sheraton Amman Al Nabil
Royal Jordanian Crown Lounge AMM
Egypt Air B737 Business Class AMM-CAI-NBO
Tribe Hotel Nairobi
Sheraton Kampala
Ethiopian Airlines B737 Business Class NBO-ADD
Ethiopian Airlines B787 Business Class ADD-GRU
Marriott Sao Paulo Airport
Avianca Brasil A330 Business Class GRU-SCL
San Cristobal Tower Santiago
Air Canada B77W Business Class SCL-YYZ
Air Canada Express E175 Business Class YYZ-BOS
W Boston
United Airlines B757 First Class BOS-SFO
W San Francisco
United Airlines B77W Polaris Business Class SFO-NRT
ANA B787 Business Class NRT-SIN
In the time since I've started this hobby I must have redeemed close to maybe half a million of Avianca's Lifemiles. But this would be the first time I'd ever set foot on one of their aircraft (fine, technically I took a GIG-GRU one hour flight in coach back during the On the Road Again to Rio trip report, but I'm not going to count that).
I was really looking forward to this flight ever since I found out I'd lucked out and gotten an aircraft with Avianca's new business class product. Avianca's old widebody business class is a rather sad affair, a 2-2-2 angled flat configuration with very little privacy.
The new product? As you'll see soon, the difference is night and day.
Avianca uses the all too forgettable GOL lounge in Terminal 2 of GRU (it's strange that they don't operate out of Terminal 3 where the rest of the Star Alliance carriers are, and sad because T3 is much nicer plus has the awesome Star Alliance lounge).
When boarding started, we entered through the second door and were directed to the left. Avianca actually has a very large business class cabin on these A330s, split into two sections of 16 seats each. Seatguru doesn't have a seat map for Avianca's 1-2-1 configured aircraft, so I pulled this from the KVS Tool instead.
The cabin is outfitted with full flat seats in a reverse herringbone configuration. The cabin felt modern and new, with hardly any signs of wear on the seats.
The seats are absolutely brilliant for a four hour flight. I honestly have no idea why Avianca would choose to deploy such an aircraft on a route like this instead of on a long haul jaunt, but I'm not complaining.
Seats in the middle still offer privacy from the person across- you'd have to lean forward to conduct a conversation.
The seat does not have privacy wings, though, and therefore you'd be exposed to the aisle. It didn't really matter on this flight given that the business cabin went out 4/32 full.
Waiting at my seat was a card with my name on it.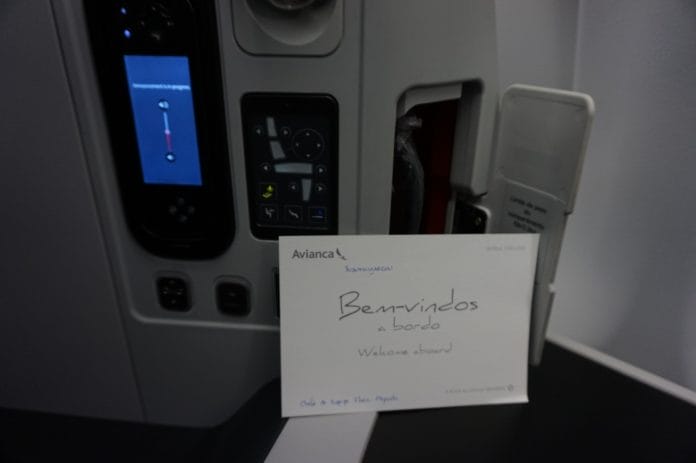 You can tell that Avianca is really proud of their new business class product and they want to highlight all the features it has. I was somewhat amused that "hook" was deemed important enough to make it to the highlight reel.
The crew came around to introduce themselves individually to each passenger. English clearly wasn't their first language, but they tried really hard and were very sincere. They also took drink orders (water or orange juice) and served it with mixed nuts. I thought it was a bit strange they served nuts on the ground but not in the air, and that people who ordered orange juice got mixed nuts too.
While we waited for boarding to be completed, I examined my surroundings more carefully. Down by your feet there's space for reading materials and the safety card.
The armrest on the side facing the aisle cannot be raised up and down. Instead, pressing down on it pops it open to reveal another storage nook.
There's a place to secure a water bottle too, on the other side of your legs.
The seat does get significantly narrower towards the front, which may be a problem for those with large feet.
Your IFE screen swings out towards you, which means it needs to be stowed for TTOL.
The most interesting thing about the screen was that it had a camera on top. I'd never seen that before in any aircraft, and I wonder what it was used for. I couldn't find any setting in the menu that used it either…
The IFE has a very wide range of movies to choose from, both recent runs and classics.
The IFE system is controlled by one of the new generation touchscreen controllers. Also in the side panel are a reading light, seat controls, the headphone jack, a single USB charging outlet and an EMpower outlet that takes Singapore plugs.
One thing that surprised me about the seat was how tiny the tray table was. Based on the size of the seat it looks like they could have easily squeezed a much larger one in, but for whatever reason decided to go with this. It was roughly the size of a tray table in domestic first class on a US airline.
Each passenger in business class gets a pair of noise cancelling headphones. You'd be surprised at how many airlines underinvest in the headphones in business class, but Avianca's were excellent.
I was surprised the crew gave out an amenities kit on this daytime four hour flight.
It wasn't stocked with lux amenities by any means, but it was still a nice gesture.
We took off right on schedule and began our cross continent flight to Santiago.
The crew distributed menus after takeoff. Here's what was available:
The catering is where I feel this flight stumbled. The meal was brought on a tray with cake and fruits to start. The crew also poured orange juice, but they were using some terrible tasting, watery brand that should probably be labelled orange juice "drink", that old disclaimer companies put for legal reasons when it's not really juice juice.
The main was then served- scrambled eggs with buffalo mozzarella and tomatoes. I didn't understand why they wouldn't just combine the cold cuts main into this one and serve it as one option, because you were essentially making people choose between a cold breakfast or a hot vegetarian breakfast. Given the low load in the cabin I could probably have asked for it if I really wanted though.
The eggs weren't good. Airline eggs are always difficult to get right (unless maybe like Cathay Pacific first class you cook them onboard) but these were cooked so through there was no flavour left.
This was a breakfast flight and therefore alcohol wasn't on the menu. However, it had still been catered for the return leg from SCL-GRU which would be a lunchtime flight. I asked the crew if they had any sparkling wine and they were gracious enough to open a bottle indented for the return leg.
A330s don't have the most advanced bathrooms in the sky- everything still needs you to touch something or other to operate. It's probably because I'm a hypochondriac, but the idea of touching anything in an airplane bathroom makes me squeamish.
Avianca did bother to put a rose in the loo, for what it's worth. A rose by any other name…
Avianca A330 bathroom amenities
I returned to my seat and started playing around with the settings. Here's the pre-set for the lounge position. I found this quite comfortable for watching movies or doing some light typing. The seat has good padding and lumbar support.
It's also equally comfortable when you put it in sleep mode. There was no mattress padding provided on this daytime flight, but Avianca's blankets are so thick and smooth that you could use them as padding if you wanted.
The cabin crew kept a low profile after meal service but occasionally went around the cabin with glasses of water and juice. Time passed quickly and before I knew it we had landed in SCL.
There was just one last bit of drama- on the way to the hotel I realised that I, genius that I am, had left my laptop on my seat. A feeling of dread washed over me as my mind ran amok with permutations of what could happen. I had travel insurance, yes, but there were some documents I had worked on the plane which hadn't had the chance to sync with the cloud (I actually wrote the entire CNA response article on the plane), and come on, what kind of moron leaves behind his laptop on a plane anyway. Long story short, after a few frantic calls to Avianca's helpdesk which went nowhere, I just headed back to the airport straight, praying the whole time that everything would be ok. And thank God, it was- the Avianca ground staff had found the laptop and delivered it to the operating office in SCL. I don't think I've said "muchas gracias" as much as I did that day.
So- when the flight crew come on the PA and ask you to check your belongings before leaving the plane, you'd best check your belongings.
Conclusion
I was really impressed by the hard product that Avianca Brasil had to offer on its A330s. I don't think I've ever had a product this comfortable for a relatively short flight, and it does puzzle me that Avianca would be ok operating 4/32 level loads on an aircraft that should be flying the flagship for their fleet. The catering was a complete disappointment, but the service was great and I would be more than willing to try the product again on a long haul route.