The Milelion's RTW Trip 2018: Trip Planning
Singapore Airlines SilverKris Lounge T3 SIN
SWISS Intl Airlines B77W Business Class SIN-ZRH
Cosmo Hotel Berlin
Westin Grand Berlin
The Intra-Europe Business Class Experience, 2018 Edition
Turkish Airlines A330 Business Class IST-AMM
Sheraton Amman Al Nabil
Royal Jordanian Crown Lounge AMM
Egypt Air B737 Business Class AMM-CAI-NBO
Tribe Hotel Nairobi
Sheraton Kampala
Ethiopian Airlines B737 Business Class NBO-ADD
Ethiopian Airlines B787 Business Class ADD-GRU
Marriott Sao Paulo Airport
Avianca Brasil A330 Business Class GRU-SCL
San Cristobal Tower Santiago
Air Canada B77W Business Class SCL-YYZ
Air Canada Express E175 Business Class YYZ-BOS
W Boston
United Airlines B757 First Class BOS-SFO
W San Francisco
United Airlines B77W Polaris Business Class SFO-NRT
ANA B787 Business Class NRT-SIN
---
I checked the aircraft type on Seatguru when I was booking my trip and confirmed that indeed the A333s had flat bed seats in a 2-2-2 configuration.
I suppose that was why I was so surprised to step on the aircraft and see this…
At first I thought we had an aircraft swap, but Flightradar24 shows the route was indeed operated by an A330-300 that day.
So I conclude that Seatguru does not have a comprehensive listing of TK's seatmaps. Have a read of this FT thread where some people complain about TK deploying this recliner seat configured A333 on medium haul routes.
It was a short flight so in the grand scheme of things it didn't really matter, although you might want to be aware that if you book a Turkish Airlines award redemption and it's on an A333, you should check the seatmap to see if you have the recliner seat configured plane or the full flat configured one.
If your seatmap shows 7 rows of business class seats, you have the recliner version (I've used the KVS Tool to generate this seatmap below. I should really get around to writing an explainer post about this…)
If it shows 5 rows of business class seats, you have the full flat version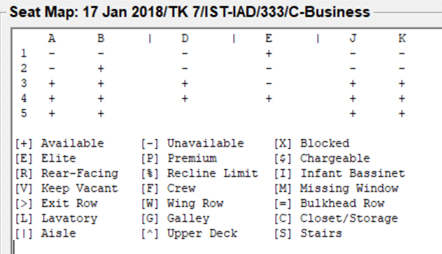 The seats have a large amount of legroom and it's not that difficult to step over your seatmate to access the aisle if you're in the window seat.
And there's quite decent recline, much more so than the recliner seat on the previous intra-Europe leg. For a two hour flight, this was more than adequate.
The crew came around with welcome drinks. I've realised Turkish Airlines doesn't serve alcohol on the ground, not even in IST. That strikes me as a bit strange, given it's their home base.
I tend to find tray tables from recliner seats to be really unstable, but fortunately the tray table was large and stable.
I don't think I've ever been on an airline that invests so heavily in marketing as TK. Before takeoff, you sit through a series of videos by various celebrities. Pffft. As if Morgan Freeman would fly business class.
They also have Dr Oz doing a series of inflight health tips. I didn't get a copy of that video exactly, but here's a clip of the collaboration.
The seat pockets are also filled with Invest in Turkey literature. Can't say they don't try hard.
The flight took off smoothly and after the seat belt sign went off I checked out the IFE. This wide body A333 has an older IFE system than the B737 I flew from IST, although the screen is still touch sensitive.
I love that TK has live TV available, something I really wish SQ would implement too. Unfortunately they weren't showing the Arsenal Chelsea league cup match, so I didn't have a chance to shout #wengerout at 30,000 feet.
Instead I watched the BBC where Trump was shouting #immigrantsout. Not quite the same.
I'm ashamed to say I didn't take a photo of the menu, but I think the meal is pretty self-explanatory. The starter was really salty smoked salmon with cream cheese. Turkish serves its meals on trays, which means you get the salad, the cheese and the dessert along with the starter.
For the main I went with chicken and roast vegetables. The chicken was really dry.
The bathroom stocked similar Molton Brown amenities as the intra Europe flight. There were also a couple of incense sticks
The best part about the flight was that there was free Wi-Fi for business class passengers. All you had to do was enter your seat number and last name and that's it. If you fly in economy, it costs US$9.99 for 1 hour and US$14.99 for 24 hours.
Conclusion
Although I was disappointed to get a recliner seat, it really didn't matter that much on a short fight like this. I certainly wouldn't consider Turkish Airlines to be one of Star Alliance's top carriers, but they're a solid tier 2 option. I'd gladly take their seats over the current Lufthansa business class, for example.
An important lesson here is that you should be certain about the type of aircraft (and seat configuration) operating your route before you book a ticket, if you're hoping for a particular type of cabin product. This can be done fairly easily for some airlines which let you see the seatmap before you pay, but if not then you might want to consider KVS or ExpertFlyer. In this case it didn't matter, but I'd have been considerably more annoyed if this were a medium haul flight like IST-DUB, which I understand the recliner A333s sometimes operate.