Airline reviews have always been my first love- I mean, the very first post on The MileLion  back in 2015 was an ANA First Class review (and my how that product has grown up!)
With border restrictions lifting and things getting back to normal in 2022, I managed to review, for the first time: 
I was also able to do updated reviews of Suites and Business Class on Singapore Airlines' A380s, First Class on Singapore Airlines' B777-300ER, and Business Class on Japan Airlines B787-9. 
2023 is shaping up to be an exciting year for reviews too. Here's the game plan.
KLM B777-200ER/300ER Business Class
KLM operates a fifth freedom flight between Singapore and Bali using its long-haul B777-200ER and B777-300ER aircraft. Both have lie-flat B/E Aerospace Diamond seats in Business Class, in a 2-2-2 layout. 
Obviously, 2-2-2 isn't competitive in this day and age (and indeed, KLM intends to replace it with a new product featuring all-aisle access and privacy doors), but KLM's Business Class fares to Bali are a fraction of Singapore Airlines', and could be an affordable "splurge" option for honeymooners. 
One-way cash fares start as low as S$508, and I can knock a further S$400 off using my AMEX Platinum Charge's Air Travel Credit. I think that's a decent price to add another review to my cap, even if the flight is just a hair over 2 hours and 30 mins. 
This will also be an opportunity to pick up one of KLM's famous Delft Blue houses (they're filled with gin, don't you know?). Each year in October, KLM celebrates its birthday by adding a new one to the collection; there are now 103 different houses, and KLM even has an app for fanatics to track their collection and progress towards catching 'em all. 
Exciting stuff.
Emirates A380-800 First Class
I've never been naked at 38,000 ft. before, but that's about to change as I review Emirates' A380-800 First Class and B777-300ER First Class on a single itinerary. 
This cost 141,250 Skywards miles + S$1,172 in taxes and fees (S$1,098 of which is fuel surcharges!). Now, I'm obviously displeased with the surcharges on this ticket, but with Emirates in the habit of springing surprise devaluations on everyone, I figure I'd better tick this off the list sooner rather than later. 
Singapore to Dubai will be operated by the A380-800, which has a total of 14 First Class suites. As you might expect, they're so over-the-top bling (even by Middle East standards) you almost have to laugh. 
The amenities list reads like an Oscars goody bag: Byredo skincare products, Bvlgari amenities kits, Bowers & Wilkins headphones, and of course, Dom Perignon 2003 Plenitude 2 champagne (Emirates, you'll remember, secured exclusive rights to serve Dom Perignon inflight at the expense of Singapore Airlines)
There's also Emirates' flagship bar, which becomes the aircraft's social epicentre once the seat belt sign goes off.
And of course, you can't talk about the Emirates A380 without bringing up its trailblazing onboard showers. Imagine taking a luxurious hot shower (OK fine, you get five minutes of running water, but you can pause it), with heated floors, plush towels, and revitalising scents. 
After a 14 hour layover in Dubai (where I'll get a complimentary hotel room, courtesy of their Dubai Connect programme), I'll then get on…
Emirates B777-300ER First Class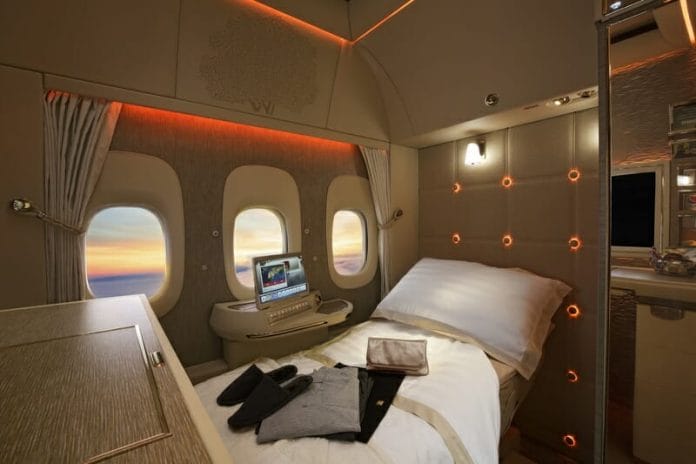 Emirates' new B777-300ER First Class isn't that new; in fact, it debuted all the way back in December 2018, making it more than four years old already!
However, it remains exceedingly rare, since it's only installed on nine of Emirates' 124 B77Ws (the long-term plan is to install them on the perpetually-delayed B777X, of which Emirates has more than 100 on order). That makes it more of a tease than anything else, since the average First Class passenger would have to go out of their way to find it. 
The nine B77Ws most frequently ply the routes between Dubai and:
Brussels
Frankfurt
Geneva
London Stansted
Nice
Riyadh
Tokyo Narita
Zurich
FlyerTalk does a great job tracking the routes and flight numbers. 
Should you actually manage to get a seat, you can look forward to a fully-enclosed suite (the walls are floor-to-ceiling) equipped with all sorts of gadgets such as individual temperature controls, mood lighting, a video call tablet, virtual windows (for the middle seats), and zero-gravity loungers. 
It's just a shame that Dubai to Geneva is only seven-hours long, because this is bound to be a lot of fun. 
Qatar Airways A350-900 Business Class
Long-time readers will know that the Qsuite is my white whale. I was all set to try it back in September 2019, only for a last-minute aircraft swap to land me with the regular reverse-herringbone configured A350-900. That was annoying to say the least, and with COVID striking soon after, the Qsuites review has been on ice ever since. 
But finally, finally I'll get it done. I managed to find Qatar Airways award space from MXP-DOH-SIN, with MXP-DOH on the B787-9 and DOH-SIN on a Qsuites-configured A350-900. This cost a very reasonable 75,000 Avios + S$280 of taxes and fees; remember, Qatar Privilege Club does not impose fuel surcharges for redemptions on its own metal. 
Qsuites launched back in 2017, so I suppose the novelty factor of a review isn't quite as strong anymore, but it's still one for my personal bucket list. The seat offers an unprecedented level of privacy (even more so than some First Class products), and I'm keen to see how big the comfort gap is with Singapore Airlines .
Qatar Airways B787-9 Business Class
Qatar Airways originally intended to fit its B787-9s with Qsuites, then realised the fuselage would not allow them to install four seats per row. Therefore, they went with a customised version of the Adient Ascent seat, which is currently only found on this aircraft type. 
It'll be interesting to see how Qatar Airways makes the most of the 787's relatively smaller cabin.  These seats are 20% lighter than the existing Qsuites, featuring a privacy door, double beds for centre seat passengers (although "double beds" is a bit of a stretch, since you're lying away from each other with only your heads joined), Bluetooth audio and wireless charging.
Singapore Airlines B737-800NG Business Class
When Singapore Airlines absorbed SilkAir, it inherited nine of its B737-800NG aircraft. With leases ending between September 2024 and January 2026, these aircraft were not deemed worthy of a cabin refit, so the airline threw some fresh upholstery on the seats and called it a day.
For obvious reasons, this is the one single aircraft that everyone flying Singapore Airlines hopes to avoid. Think old, saggy recliner seats with manual controls, no inflight Wi-Fi, and no seatback TV screens. 
And yet, I have a morbid obsession with trying it out, if only so I can say I've reviewed every Business Class seat in the Singapore Airlines fleet. 
Singapore Airlines has wisely chosen to limit the deployment of the seven remaining B737-800NGs, which means you'll only find it on the shortest of routes such as:
Kuala Lumpur (45m)
Medan (1h)
Penang (1h)
Phuket (1h 30m)
Surabaya (2h)
Bali (2h 10m)
Yangon (2h 40m)
Kathmandu (4h 30m- a relative outlier, probably deployed here because of the lack of premium demand)
I'd say a hop to Bali might be just the right length for a review. 
What else is on the list?
This doesn't represent a finalised list by any means, as I'll be looking for opportunities to review other cabin products flying out of Singapore. On the maybe list:
Air Premia B787-9 Premium Economy Class (SIN-ICN)
British Airways B777-300ER Club Suites Business Class (SIN-SYD/SIN-LHR)
Cathay Pacific A350-900 Business Class (SIN-HKG)
Finnair A350-900 AirLounge Business Class (SIN-HEL)
STARLUX A350-900 Business Class (BKK-TPE) [this seems to be the cheapest route for trying the product]
This will give me an opportunity to review the soon-to-reopen Cathay Pacific lounge at Terminal 4, as well as some overseas lounges. It really boils down to award space, or the ability to find a good value fare. 
Conclusion
2023 is shaping up to be an exciting year for airline reviews, with six already lined up and potentially more to come. If you think there's anything worth reviewing (that doesn't require an inordinate amount of repositioning please), give me a shout out too!
Any other airline cabin products you reckon are worth a review?