Singapore has no shortage of boutique hotels, and among the throng is the Hotel G Singapore, which opened its doors in January 2017. Prior to my stay, I had no idea that Hotel G was actually a multi-property chain, with outposts in Perth, San Francisco, Yangon and four other locations.
Having walked past Hotel G Singapore countless times when going from Bugis towards Dhoby Ghaut, I finally had the opportunity to have myself a well-deserved staycation after a hectic semester in school. 
Hotel G Singapore: Booking
Way back in June 2020 when STB gave the green light for staycations to resume, Trip.com launched its hotel discount vouchers sale which saw Hotel G rates going for as low as $120 nett for a 2-night stay. Since the voucher from Trip.com was refundable if unused, I decided to take the plunge and to purchase it.
Choosing your preferred stay dates is all done via the Trip.com app after purchasing the hotel discount vouchers.
This booked me into a lead-in Good Queen Room and since I redeemed the voucher before 30 Dec 2020, I scored an upgrade to a Good Room King and received a 2 p.m. checkout. 
Right now, the best rate which I can recommend is one on Trip.com for $124 nett. 
🏨 Trip.com Hotel G Singapore Rate

1-night stay in Good Queen Room

Breakfast for 2

Price

from $124 nett [SRV eligible]

Book By

30 June 2021

Stay By

30 June 2021

Cancellation Policy

Non-Refundable

Read More
Hotel G Singapore: Arrival and Check-in
Being the plebian traveller that I am, I took public transport to the hotel. If you're coming by public transport, there are a few MRT stations that are within a 10-minute walk to the hotel. The closest MRT stations to Hotel G Singapore will be that of Rochor and Bencoolen MRT stations while Bugis MRT is within a 10-minute stroll away too. 
The entrance to the hotel if you're coming by foot is between Ginett and 25 Degrees, Hotel G's two in-house restaurants. 
After scanning the obligatory SafeEntry, I had my temperature taken and headed up the stairs to the lift lobby. The reception is on the 2nd floor of the hotel. 
There were 3 lifts which were excruciatingly slow to arrive. I was in a hurry to check-in as I needed to be somewhere later that afternoon and headed towards the stairs. An arrow pointed you towards the stairs which can take you up to reception. 
I was honestly expecting a nice stairway up to the 2nd floor but what greeted me was the typical young-punk staircase which had a light smoke smell lingering. Not hipster at all.
Upon reaching the second floor, the reception is just to the left of the entrance/exit to the stairs.
When I arrived slightly past 3 p.m., there wasn't really a crowd at the lobby and I was attended to almost immediately. The lighting conditions at the lobby were terrible with spotlights lighting up the area so I do apologize for crappy photos.
As my rate was already pre-paid, all I had to do was fill in a declaration form of why I was staying and I got my keys in a jiffy. The friendly front desk staff also informed me that I could make use of the express check-out facility since my stay was pre-paid. 
If you were coming by car/Grab, Hotel G's drop off point is actually located within its carpark on the 2nd floor, which isn't free for guests unless your room rate includes it.
The room I was assigned to was on the 6th floor. Access to guestrooms requires keycard access which is something I'm always thankful for.
Exiting the lift, I was greeted with a very nicely decorated corridor. As I've mainly stayed in cookie-cutter chain hotels with boring corridors, this is certainly refreshing to see.
My initially assigned room, 0627, was at the far end of the corridor. At first, I got confused when I saw 0626, followed by 0628 and 0630 with 0627 missing but thankfully I managed to locate it.
On every floor with guestrooms of the hotel, a water dispenser and ice machine can be found near the lifts. But in line with government guidelines on self-service beverage dispensing facilities, this was not in use.
My room 0627 was at the end of the corridor tucked in a corner. 
Hotel G Singapore: Good King Room
Hotel G Singapore has 308 rooms with different room types available with the lead-in room being the Good Queen Room (as mentioned, my Trip.com rate got me upgraded to a Good King Room).
| | |
| --- | --- |
| Room | Size |
| Good Room | 11-13 sqm |
| Great Room | 15-16 sqm |
| Greater Room | 27 sqm |
| Family Room | 24 sqm |
First impressions of the room were good and the dream catcher above the bed definitely caught my eye. The room was small by most hotel standards but it did not feel cramped to me. 
As mentioned earlier, in this Good Room was a King-sized bed which was very comfortable. Hotel G Singapore advertises this as a Serta bed on the in-room 32" LG TV. 
The only drawback for this bed design was that if you needed to head to the bathroom in the middle of the night, you'd surely wake your partner up if you were sleeping nearer to the windows.
An in-room safe with a copy of the Gideons Bible and under-bed storage is available as well for your luggage.
The work desk in the Good Rooms is fairly small and it's worth noting that these are the same type of rooms being offered under Hotel G's work from hotel package.
Bottled or rather, tetra pack water and Nescafe coffee granules can be found just above the table in this room. The in-room telephone with a "G Stop" button programmed to dial the front desk can also be found on the work desk. 
Built-in USB-A charging ports can thankfully be found here although these charges your devices at terribly slow speeds. A single universal power port can be found at the work desk too.
There are a grand total of only two sockets in the room, one at the work desk and one next to the sink. 
Wi-Fi at Hotel G Singapore is complimentary for all guests and you simply logged in using your room number and last name used in the booking.
While I had no issues loading YouTube videos, speeds were some of the lowest among all the hotels reviewed so far. 
 
🔽 Download
🔼 Upload

Mandarin Orchard

273 Mbps

294 Mbps

M Social Singapore

46 Mbps

49.Mbps

YOTELAir Changi

29 Mbps

49 Mbps

W Sentosa Cove

34 Mbps

34 Mbps

The Fullerton Hotel

23 Mbps

24 Mbps

PARKROYAL Pickering

24 Mbps

23 Mbps

Shangri-La Singapore

19 Mbps

18 Mbps

InterContinental Bugis

15 Mbps

15 Mbps

The Capitol Kempinski Hotel

16 Mbps

13 Mbps

Hilton Singapore

13 Mbps

14 Mbps

Marina Bay Sands

11 Mbps

11 Mbps

Andaz Singapore

8.0 Mbps

9.5 Mbps

The Barracks Hotel

7.3 Mbps

7.7 Mbps

Hotel 81 Tristar

7.0 Mbps

6.8 Mbps

Raffles Hotel

6.9 Mbps

6.8 Mbps

Hotel Soloha

4.7 Mbps

5.1 Mbps

Hotel G Singapore
4.4 Mbps
4.8 Mbps
Internet speeds based on Speedtest.net scores
I believe I was given access to a handicap friendly room as the bathroom had handrails in it with an extra-large sliding door handle.
A rain shower was present and the water pressure was excellent. Sadly, no bidet sprays were installed. Bath amenities are from Metis, an Australian luxury skincare brand. Metis toiletries retail for A$10 for a 175ml tube of body wash which is fairly expensive to me given that I personally shower with S$5.90 for a 1L bottle of Lifebuoy.
These had a light scent reminiscent of that of the L'Occitane Bergamot range found in Shangri-La hotels and were gentle on the skin. I really loved these. 
The sink was located outside of the bathroom and although small, got the job done. Other amenities such as the dental kits and a care kit with masks and hand sanitizer were beside the sink. Water flow from the tap was slightly weak due to the presence of a thimble. 
Sadly Hotel G has opted for the A.Me toothpaste in their dental kits which is a Colgate knock off but for some reason, it did not feel as cheap as the last time I used an A.Me toothpaste. Maybe A.Me tweaked their formula to make it more Colgate-ish.
As is standard practice in most hotels these days, a care kit comprising of 2 face masks and a bottle of hand sanitizer can be found in the room as well.
A hairdryer and bedroom slippers can be found hanging beside the sink. 
I seem to have an affinity with curly hairs of unknown origins in my room which do not belong to me. As I went closer to the bed to snap some photos, I noticed a long curly hair (ew) on the duvet which was a red flag to me. 
Moreover, there was a dead fruit fly in the sink along with visible dust particles and other debris which to me, made me think that the room has not been occupied for a while. 
I went back down to the front desk and informed them of these lapses. They were very apologetic and offered me an upgrade to another room on a higher level which I took up.
Hotel G Singapore: Great King Room 
The replacement Great King Room was located on the 14th floor of the hotel. 
The room was visibly longer but had the same width as the Good Rooms. Another visible difference between the Good and Great Rooms was the length of the work desk. The ones in the Great King Room were much longer but again, had the same width.
The table in this room had a very large chip and for the life of me, I can't figure out how it got chipped so bad.
The coffee making facilities (read: kettle and Nescafe sachets) were located beside the work desk in the corner.
The windows in this room I was given were slightly narrower than the ones in the Good Room I was initially assigned but it didn't really matter to me. 
Sadly, the size of the bathroom shrunk compared to the previous room I was assigned.
The sink again is still located outside of the bathroom with the bedroom slippers and hairdryer hanging close by.
Television sets in both Good and Great rooms were 32-inch smart TVs which had a good variety of international channels. There was even an option to display flight arrival and departure times at Changi but sadly, these were empty. *sobs*
Screen mirroring from an Android device was possible but strangely not from an iPhone. 
Later that evening, I noticed that there was quite a large gap between the bed and the curtains. This sadly wasn't vacuumed but by then I was too tired to head back down to request a change of rooms again. 
For the record, those were definitely not mine as I just cut my hair before my stay to a very short length. Plus I only rolled on the bed after a long day out. 
Hotel G Singapore: Facilities
| | | |
| --- | --- | --- |
| Pool | Gym | Spa |
| No | Yes: 6 a.m to 11.30 p.m | No |
| Kids' Club | Business Centre | Others |
| No | No | No |
Given that it's a very compact hotel, Hotel G Singapore only has a gym on offer for guests. 
Gym
The gym is located on the 3rd floor of the hotel. Pre-booking is required at the front desk prior to use and a maximum of 3 guests are allowed each time in the gym. The gym access card has to be obtained from the front desk before use.
Gym slots are in 1-hour blocks with sanitization of the gym carried out by the hotel staff after every hour which takes up to 30mins. So kudos to the hotel for implementing such a measure! 
I do apologize for the terrible photos as the lightning in the gym were so bad. Spotlights are a terrible way to light an area up.
There was sufficient equipment available for a quick workout but don't expect a fully equipped gym here. Hotel G gym merchandise can also be bought here.
As the water cooler was off-limits, boxed water was available and so were additional masks packed in care kits which is quite a nice gesture since most people's masks would be soaked with sweat after a workout.
A large punching bag can also be found in the gym to vent your anger.
Hotel G Singapore: Breakfast
| | | |
| --- | --- | --- |
| Served at | Cost | Style |
| 25 Degrees | À la carte menu | À la carte menu  |
| Hours | Sparkling Wine? | Discounts? |
| 7 a.m to 11 a.m | No | None |
Breakfast is held at 25 Degrees, Hotel G Singapore's famous burger restaurant. If your room rate does not have breakfast included, you will pay normal À la carte prices for your food. No pre-booking is required.
If your room rate does come with breakfast, you can select one of the following dishes. These come with a serving of fresh fruit, and a plate of croissants along with unlimited brewed coffee or tea.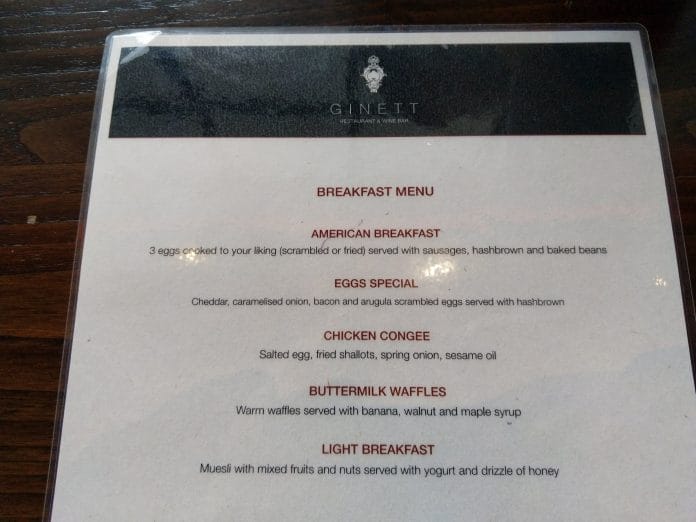 The À la carte menu for 25 Degrees can be found online at this link. Prices were very affordable and on both days of my 2-night stay, I had the local set which came in at just $2.50++ with free flow brewed coffee and tea as well. 
Note that if you order items from the Griddle Favourites section, you will not receive complimentary coffee or tea which is quite strange.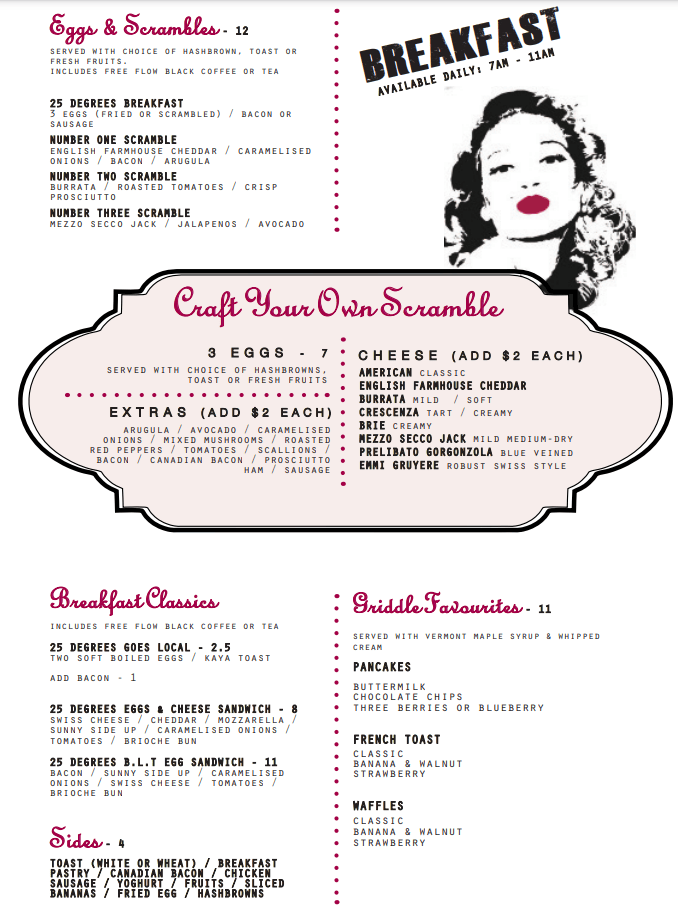 The eggs were soft boiled perfectly and had giant yolks. The kaya toast was alright for the price paid. The brewed coffee was strong and I believe one of the best I've had out of all hotel buffets I tried in my life.
I also had the 25 Degrees Breakfast with a side of hash browns and the hash browns were superb. The same thing can't be said about the sausages which were bland and strangely powdery. The eggs were scrambled American style which was acceptable.
This is probably also the first time that I do not see an omelette being a part of the breakfast menu. 
Other Dining Options
Both of Hotel G Singapore's restaurants Ginett, and 25 Degrees, are currently open. I did not dine-in at the hotel during my stay as I was out the whole day pigging out on cheap hawker food at the nearby Queen Street. (P.s the curry noodles at Queen Street is better than the one at Hong Lim, change my mind)
25 Degrees
The restaurant at 25 Degrees is actually very small so do come early if you want to indulge in their burgers which my friend told me is one of the best he tried.
The photo you see here is the entire 25 Degrees restaurant. 
Ginett
Ginett is the larger of the two restaurants at Hotel G Singapore offering French cuisine at fairly decent prices.
I've read many good things about Ginett and on weekends they do offer an unlimited mimosa add-on with every main ordered for just $15++ extra. Not too bad to get drunk in the middle of the day.
Hotel G Singapore: Service
All interactions with the staff at Hotel G Singapore were excellent. When I entered the new room I was assigned to, the front desk called to check if everything was in-order. If you require additional amenities late at night, the staff at Hotel G will bring them up to your room with no qualms when you give them a ring.
At check-in, the staff checked with all guests if this was their first time staying and explained everything in detail. From the amenities available to where breakfast will be held. I've stayed in 5-star hotels where the front desk just wants to get the job done and move on to the next guest as fast as possible, checking you in without explaining anything about the hotel.
Concluding Thoughts
I went for this stay with zero expectations and went home really impressed by Hotel G Singapore. Even though the rooms were on the small side, it did not really feel that way during my stay and I personally liked the rooms a lot. 
Give me an excellent bed and a good rain shower along with non-generic bath amenities and you will win my heart. 
With its excellent location, this is actually a very good hotel to have a staycation if you like exploring the surrounding Bugis/Haji Lane areas while pigging out at the many cafes nearby.
(Cover photo from hotel)
🏨 In Summary
Great service, decent rooms, and a fantastic location make Hotel G Singapore a very attractive staycation option for couples.
Do say: I loved Hotel G a lot
Don't say: I still couldn't find the spot