With Thailand being one of the top destinations for Singaporean travellers, I'm sure the Dusit brand is familiar to many. 
When Dusit International first announced its entrance into Singapore with the Dusit Thani Laguna Singapore way back in 2013, the hotel was slated to open at the end of 2015. Then stuff happened, and end 2015 became mid-2017, then first quarter 2019, then third quarter 2020. Finally, the property opened on 4 December 2020. And you think the Capitol Kempinski had a protracted development cycle…
I recently had the opportunity to check out Singapore's newest luxury resort, located on the grounds of Laguna Country Club. 
Dusit Thani Laguna Singapore: Booking
For this stay, I was given a complimentary stay voucher by a very generous reader. This voucher booked me into a Deluxe Laguna Pool View room inclusive of breakfast for two.
Otherwise, Dusit Thani Laguna Singapore is running a Discover Dusit opening special where rates start from S$294++ (S$346 nett).
🏨 Dusit Thani Laguna Singapore Discover Dusit Rate

30% off Best Available Rate

Complimentary Wi-Fi

Complimentary access to DFiT Fitness Centre

Complimentary Dusit Balance Minibar per stay

Complimentary Dusit Care Kit per stay

Breakfast for up to two adults at all-day dining restaurant, Greenhouse

S$30 nett dining credit per stay at all-day dining restaurant, Greenhouse

30% off signature packages, à la carte massages and body scrubs at Devarana Wellness

Price

From $294++ (S$346 nett)

Book By

Unknown

Stay By

31 March 2021

Cancellation Policy

Non-Refundable

Read More
Dusit Gold (the chain's loyalty program) supposedly helps you save a further 10%, but it's still undergoing a revamp and sign-ups are unavailable at the moment.
Dusit Thani Laguna Singapore: Arrival and Check-in
Dusit Thani Laguna is located on the grounds of Laguna Country Club, with the nearest MRT to the hotel being Expo (CG1/DT35). There are bus services available along Xilin Avenue but the walk to the hotel is rather far. 
On the day of my stay, I booked a Grab into the hotel. If you're arriving by Grab, be sure to direct the driver to the second drop off point as the first drop off point that you see is the entrance to Laguna Country Club. The hotel lobby is the drop-off point a little further up the road.
Dusit Thani Laguna Singapore provides a complimentary shuttle service for hotel guests to the hotel from Changi City Point and to Jewel Changi Airport. You will need to pre-book this shuttle by emailing the hotel before your stay as seats are very limited on the mini-bus.
If you are taking the shuttle service from Changi City Point, the pick-up/drop-off point will be at the main entrance of Changi City Point. From Jewel, the shuttle will drop and pick up guests along the T1 Driveway but on the Jewel side of the road.
If you're driving to the hotel, all hotel guests will get complimentary parking during their stay, good for one exit only.
The hotel lobby was very spacious with natural light bathing the entire lobby thanks to its floor to ceiling windows.
Check-in took quite a while but I'm guessing the staff were still familiarizing themselves with the system. My booking for the complimentary stay was for a Deluxe Laguna Pool View room but I was upgraded to a Deluxe Laguna Patio Pool View room, located on the first floor of the hotel.
I was handed my keycards and a member of staff escorted me to my room. The hotel lobby was on floor 2A and in total there are six floors at the hotel. The Dusit Club Lounge is currently closed and I was told it will be opening sometime in Q2 2021.  
The keycards were made of wood with NFC chips built-in. Pretty cool if you ask me.
Exiting the lift, the corridors of the Dusit Thani Laguna Singapore were bathed in warm yellow light.
Dusit Thani Laguna Singapore: Deluxe Laguna Patio Pool View Room
I was initially assigned Room 119 and noticed that all odd-numbered rooms face the pool while even-numbered rooms face the city.
 Initial impressions of the room were good. The room was nicely decorated had plenty of natural light filtering in thanks to the floor to ceiling windows.
The bedroom was large and had ample space to move around. A long countertop can be used to place your belongings. The TV is a Samsung 55″ Smart TV which had plenty of channels and even free movies to choose from.
The bed was very comfortable and I had a decent sleep that night. The standard-issue pillows were on the softer side but you can always order a firmer pillow from their Dusit Dream pillow menu, more on that later.
The air conditioning controls were mounted on the wall and for some reason, it kept readjusting the temperature back to 26 degrees Celsius and fan speed 2 after a period of time. 
On both sides of the bed are the light controls. Thankfully USB charging ports can be found bedside but only one side of the bed had them. On the other side of the bed, there was only a universal power socket installed.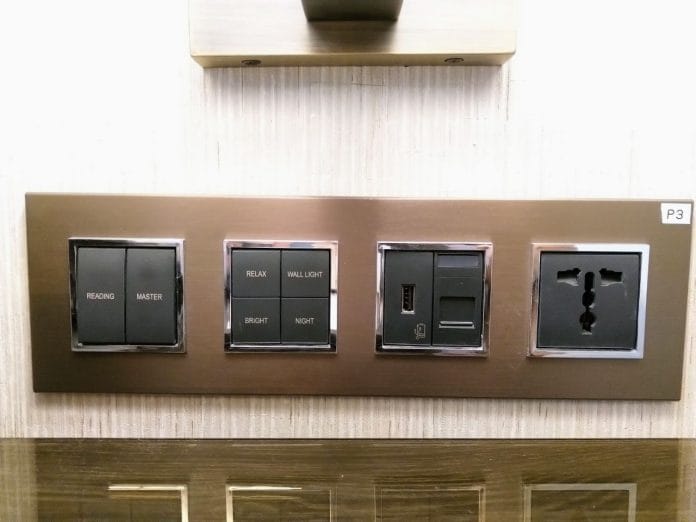 The digital clock doubled as a wireless charger (Qi standard) as well as a Bluetooth speaker.
A welcome amenity of two coconuts was in the room. These were very refreshing.
The desk chair was comfortable enough to sit on for extended periods of time but sadly lacked armrests.
A reading light, HDMI input, USB-A charging port, and more power sockets could be found by the table.
In the desk drawer, a writing kit, as well as the Dusit Dream menu, could be found. You can request different types of pillows to make your snooze a more comfortable one should you wish to. 
The bathroom was to the right of the room entrance (or left in some rooms) with the wardrobe just beside the door. A small luggage area can also be found beside the wardrobe. The safe deposit box can also be found here and for the first time, I saw a jewellery/watch box inside the safe deposit box.
The bathroom had a separate toilet and shower room and sadly no bathtubs are present in all rooms except in the Suites. The sink area was very long but the sink itself was rather narrow.
As I stepped in to snap a picture of the toilet, I was instead greeted with this:
Not gonna lie, this freaked me and my partner out a little. The last thing you want to see is a pair of handprints plastered on the shower glass. Being rational, we put this down to the couple who stayed in this room before us being kinky. *wink wink*. 
The shower area in the bathroom was quite spacious and had a platform for sitting/placing your feet there to wash.
Shower amenities in all non-suite rooms come in the form of pump bottles attached to the wall and are from the Green Potion brand.
Other amenities can be found by the sink in a two-tiered drawer. I really love the design that Dusit Thani Laguna went for here with their in-house amenities.
The mini-bar area was located just opposite the bathroom and featured a Lavazza coffee machine with 3 coffee pods given. Teabags were from Ronnefeldt.
Two complimentary bottles of St Benedetto bottled still water can be found here as well. Judging by the condensation in the bottles, these were in the room for quite some time. You can always request for more bottles of water should you need them.
A mini-fridge was present and stocked with goodies. For the time being, the Dusit Balance mini-bar (as the hotel calls it) is complimentary for all guests who make a booking under the Discover Dusit rate. The Tapping Tapir drink was amazing by the way. 
Cups and glasses can be found in the drawers above the mini-bar.
As my room was on the first floor, it came with a small patio area with a coffee table and sunbed outside. 
The table felt brand new as it had its tag still affixed to it and the sunbed was exposed to the elements as the ceiling (roof?) did not cover the entire patio area fully.
For those concerned about privacy with the room being on the first floor, you will be glad to find out that the hotel has planted plenty of bushes right outside the room. The initial room I was assigned to had me bashing through the plants to gain access to the pool area. 
The Dusit Thani Laguna Singapore has introduced a Stay Please web app where you can order amenities without having to ring up housekeeping or place your swimming pool and gym use bookings here.
This was easy to use and the QR code for this can be found on the TV. Alternatively, when you are logged in to the Dusit WiFi network, you can access this service through the Dusit app.
Wi-Fi at the Dusit Thani Laguna Singapore is complimentary for all guests and speeds were excellent. Clocking in at a respectable 18.8 Mbps.
 
🔽 Download
🔼 Upload

Mandarin Orchard

273 Mbps

294 Mbps

M Social Singapore

46 Mbps

49.Mbps

YOTELAir Changi

29 Mbps

49 Mbps

W Sentosa Cove

34 Mbps

34 Mbps

The Fullerton Hotel

23 Mbps

24 Mbps

PARKROYAL Pickering

24 Mbps

23 Mbps

Shangri-La Singapore

19 Mbps

18 Mbps

Dusit Thani Laguna Singapore

19 Mbps

19 Mbps

InterContinental Bugis

15 Mbps

15 Mbps

The Capitol Kempinski Hotel

16 Mbps

13 Mbps

Hilton Singapore

13 Mbps

14 Mbps

Marina Bay Sands

11 Mbps

11 Mbps

Andaz Singapore

8.0 Mbps

9.5 Mbps

The Barracks Hotel

7.3 Mbps

7.7 Mbps

Hotel 81 Tristar

7.0 Mbps

6.8 Mbps

Raffles Hotel

6.9 Mbps

6.8 Mbps

Hotel Soloha

4.7 Mbps

5.1 Mbps

Hotel G Singapore

4.4 Mbps

4.8 Mbps

Internet speeds based on Speedtest.net scores
One last thing to note about the rooms is that the soundproofing isn't really good. As Laguna Country Club is directly below one of the landing approach paths of planes landing at Changi Airport, it is pretty noisy at night when you are trying to sleep. 
I was pretty thankful that the majority of planes landing and taking off were Boeing 787s and Airbus A350s with slightly quieter engines, but the occasional Boeing 747-400Fs are mega noisy. Lovely to hear if you're on the plane, irritating when you're trying to sleep.
Dusit Thani Laguna Singapore: Room Issues
At the time of my stay, the hotel had opened for staycation guests for just over a week. I had expected some teething issues during my stay, and well, there were teething issues. 
First off was the handprints in the bathroom. When the duty manager came to inspect the room, she too was horrified at what she saw. Moreover, there were obvious coffee stains on the tabletop below the TV which is a clear sign that the room was not wiped down. 
The duty manager was deeply apologetic and offered me a change of room. I was reassigned to a room two doors down, with a clean tag hanging on the door handle- something which was missing when I first came to my initial room.
Walking into the room with my mask, everything felt okay until I removed my mask. As my nose is extremely sensitive to dust, I started sniffling badly and my partner informed me that her hands were covered in construction dust when she turned on the wardrobe lights.
The dust here was probably leftover from renovation/construction as I recognized from having previously interned at a construction project. What's worse was the layer of mould covering the cupboard which was frankly something I have never expected to see at a Dusit Thani or any 5-star establishment for that matter.
Again, the duty manager came to the room and offered yet another room change. This time, we waited close to 30-minutes for our new room to be ready and we were again walked two doors down to our new room.
Thankfully, there were no cleanliness issues here with everything wiped spotless. The new room, however, smelled like a disinfectant bomb had gone off inside it. Sadly, there was again another issue that popped up. When I was washing my legs, the water in the showers did not drain and a little pond was formed. 
The patio area outside the latest room I was assigned was also rather dirty with construction debris, and the sunbed was awkwardly positioned- half of it was covered by a leaf from what I think is a banana tree. Great if you want some natural shelter I guess.
This whole room change fiasco took well over 2 hours and the duty manager extended my checkout to 5 p.m. the next day. 
Dusit Thani Laguna Singapore: Facilities
| | | |
| --- | --- | --- |
| Pool | Gym | Spa |
| Yes: 8 a.m. to 8 p.m. | Yes: 24-hours | Yes: 10 a.m. to 8 p.m. |
| Kids' Club | Business Centre | Others |
| No | No | Golf Course, Tennis Courts (not open yet) |
Being a golf resort, the Dusit Thani Laguna Singapore has all the facilities you can think of- swimming pools, tennis courts and a huge gym. Since it's on the grounds of the Laguna Country Club, you will also have access to the golf course but I am unsure of how this will price out as it is not included in the room rate.
Note that Laguna Country Club members have shared access to all the facilities as hotel guests, so it might get rather crowded on some days.
Swimming Pool
The swimming pool at the Dusit Thani Laguna Singapore is open from 8 a.m. to 8 p.m. daily and there are three timeslots guests can book:
🏊‍♂️ Dusit Thani Laguna Singapore Pool Timings
0800-1100
1200-1500
1600-2000
The swimming pool at the Dusit Thani Laguna Singapore is gorgeous. There are three different pools available for use but everyone was mainly at the main pool. 
The first of the three pools can't really be considered a pool but rather, a children's play area where there are fountains for the young ones.
The second pool was the main pool of the hotel and it was gorgeous. It was 1.2m at its deepest and was long enough to do some laps. 
The last of the three pools, located furthest from the Tee Deck, is a 0.10m shallow wading pool with plastic deck chairs for that Instagram shot.
There was an abundance of sunbeds and cabanas for guests to use and although they mentioned you'll be assigned to a sunbed, it turned out to be a first come first served affair.
At check-in, I was given a welcome drink that can be redeemed either at Greenhouse, the hotel's main restaurant, or at Tee Deck which is located next to the pool. It was a refreshing pandan lemongrass drink that I thoroughly enjoyed while lazing on the sunbed.
Sadly, the pool area still felt like a work-in-progress. There was exposed cabling lying around the pool area which rather spoiled the aesthetics- weird anywhere, let alone at a Dusit Thani.
Gym 
The gym at the Dusit Thani Laguna Singapore is open for use 24/7. Bookings are required through the StayPlease web app, but past 6 p.m. there is no one manning the gym.
🏋️ Dusit Thani Laguna Singapore Gym Timings

0000-0100

1200-1300

0100-0200

1300-1400

0300-0400

1400-1500

0400-0500

1500-1600

0500-0600

1600-1700

0600-0700

1700-1800

0700-0800

1800-1900

0800-0900

1900-2000

0900-1000

2000-2100

1000-1100

2100-2200

1100-1200

2200-2300
Each gym slot is 1-hour long but I was told you are able to book 2-hour slots if you so wished. 
At the back of the gym is where all the heavy lifting happens. A barbell rack, dumbbells, and kettlebells can all be found here.
Disinfectant wipes in tubs can be found on the walls of the gym to wipe down equipment after use. 
Strangely, there were no towels available for use inside the gym itself past 6 p.m. and no bottled water/water coolers were to be found inside here as well. So remember to BYOB and BYOT (bring your own towel).
Spa
Devarana Spa is located just next to the swimming pool and gym. It looked pretty nice from the outside. Spa packages are priced on the high side though. As part of its opening special from 1 Dec 2020 – 31 March 2021, guests will enjoy a 30% discount on selected spa packages. 
I don't know about you, but the thought of having a Cendol body scrub lathered on my body kind of gets me excited.
Other facilities
At the moment, the hotel's sauna and tennis courts are still closed. From what I heard, these will be opening from Q1 2021 onward. A stay and play package where guests will get access to the golfing facilities will be offered in the near future but there is no time frame given by the hotel as of now.
Dusit Thani Laguna Singapore: Breakfast
Served at
Cost
Style

Greenhouse

$35++

À la carte Buffet

Hours
Sparkling Wine?
Discounts?
Weekdays: 6.30 to 10.30 a.m
Weekends: 6.30 to 11.00 a.m

No

None
Breakfast is served at Greenhouse, Dusit Thani Laguna Singapore's all-day dining restaurant. When booking directly on the hotel's website under the Discover Dusit rate, you will receive complimentary breakfast for your stay. Should you wish to add on breakfast for another person, this will cost you S$35++ (S$41 nett). 
The restaurant itself was gorgeous and makes for a great Instagram photo. 
In the day, you will enjoy great views of the Masters Course (I believe) of Laguna Country Club.
Breakfast at the Dusit Thani Laguna Singapore is done a la carte buffet style with unlimited orders off their breakfast menu. 
After getting seated, a breadbasket and a plate of fruits are brought to your table. The pastries in this breadbasket were amazing and the croissant and pain au chocolat were flaky and buttery. A bottle of detox juice, with the ingredients being apple, orange, tumeric, and ginger, was also brought to every table, and coffee and juice orders were taken. 
Freshly squeezed juices are on offer at Greenhouse and these were amazing. Sadly, the same can't be said about coffee as my cappuccino was machine-made (and not the good kind).
For starters, I ordered the Eggs Benedict with Parma Ham along with the Matcha Pancakes. I also got a side of sausages and hash browns. These were of good quality although the pancakes were a little too dense to my liking.
Condiments were from Bonne Maman and  Beerenberg. I overheard a guest asking for normal chilli sauce (i.e the local ones) and these can be brought to you as well.
I also had the Spicy Thai Omelette, which was alright. In it were some herbs, minced meat, and onions. Sadly, my stomach failed me that morning and I was not able to try all of the cooked food that was on offer.
Dusit Thani Laguna Singapore: Dining Options
Tee Deck
Tee Deck is the hotel's poolside alfresco restaurant. It wasn't a very large restaurant with most guests consuming their meals by the poolside. 
The selection of food available here is quite decent with a mix of Western and Thai cuisine available. 
Legends Bar
The Legends Bar is still currently closed and is slated to open in Q1 2021. It's located right next to Greenhouse but as of now, the area where Legends Bar is supposed to occupy feels like a part of Green House.
Dusit Gourmet
Dusit Gourmet is not open yet but it is currently used as a space to sell Christmas goodies. It is located just beside Greenhouse and when it opens, pastries and sandwiches can be bought here.
Dusit Thani Laguna Singapore Service
The staff at the hotel were all excellent, with a mix of Singaporeans and Thai staff located all around the hotel. At many touchpoints within the hotel (e.g restaurants, front porch), Thai staff will be situated there and you'll be greeted with "Sawadeeka/krap", making me feel at times like I was in a resort in Thailand instead. 
Service at breakfast was not consistent sadly. My order for the Spicy Thai Omelette and extra hash browns got mixed up and a second serving of Matcha Pancakes arrived instead. When the Thai Omelette did arrive, it came with a side of porridge of which I did not order. My hashbrowns were still missing after more than 10 minutes. 
Concluding Thoughts
The Dusit Thani Laguna Singapore is one of the newest luxury hotels in Singapore and I strongly believe it has the potential to be Singapore's best staycation getaway- even beating the hotels in Sentosa. 
During my stay at the Dusit Thani, there were some moments when I really felt I wasn't in Singapore anymore while lazing at the sunbeds by the pool watching planes fly overhead. 
The hardware at the hotel is excellent with good sized rooms, a wide range of facilities, and excellent service from most staff members. If not for the issues with the room, I'd give this stay a high rating .
🏨 In Summary
Modern, isolated and expansive, the Dusit Thani Laguna Singapore could be one of Singapore's best resort hotels- provided it sorts out the teething issues. 
Do say:  " Khop Khun kha/khap" for the amazing dinner
Don't say: Where do I buy elephant pants here