Introduction: It's the most wonderful time of the year
A Tale of Two Lounges: SATS Premier T2 and the Qantas SIN Lounge
Malaysia Airlines B737 Business Class SIN-KUL
Malaysia Airlines Business Class Golden Lounge KUL
Malaysia Airlines A330  Business Class KUL-NRT
Japan Airlines Business Class Sakura Lounge NRT
Japan Airlines B77W Business Class NRT-LAX
The Westin LAX
The Westin Westminster
Aloft Boston Seaport
The Consolidated AA Domestic First Class Experience
American Airlines Flagship Lounge JFK
American Airlines B772 Business Class JFK-LHR
American Airlines Arrivals Lounge LHR
The Great Northern Hotel, London
Sheraton Grand Park Lane, London
Westin Paris Vendome
Courtyard by Marriott Madrid Princesa
Four Points by Sheraton Barcelona Diagonal
The Consolidated Intra-Europe Business Class Experience
Sheraton Casablanca
Royal Air Maroc Business Class Lounge CMN
Royal Air Maroc B737 Business Class CMN-ACC
Ethiopian Airlines B787 Business Class ACC-ADD
Ethiopian Airlines Cloud 9 Business Class Lounge ADD
Ethiopian Airlines Q400 Business Class ADD-DAR
Protea Hotel by Marriott Dar Es Salaam Courtyard
Qatar Airways A320 Business Class DAR-DOH
Qatar Airways Al Safwa First Class Lounge DOH
Qatar Airways A330 "First" Class DOH-MCT
Oman Air Business Class Lounge, MCT
Oman Air E175 Business Class MCT-DXB
The Grosvenor House Dubai
W Doha
Qatar Airways Business Class Lounge DOH
Qatar Airways B772 Business Class DOH-BLR
The Ritz Carlton Bangalore
Vistara A320 Business Class BLR-DEL
Cathay Pacific A330 Business Class DEL-HKG
Cathay Pacific Arrivals Lounge HKG
W Hong Kong
Touring Cathay Pacific's HKG Lounges
Cathay Pacific A350 Business Class HKG-SIN
---
Given the bad press that a lot of American carriers get, it's understandable if you don't have high expectations going in. I mean, you half expect to get beaten up and dragged off, shouted at by some union-protected crew member or suffer permanent circulatory damage after being compressed by a seatmate of size. It's grim, I know.
But US carriers are investing heavily in their hard products.
We've seen United's new Polaris seat, which unfortunately won't be mainstream for a very, very long time, and we've seen Delta's new BusinessFirst suites, which beat everyone else to the title of "first business class seat with a door"
Whether or not that leads to a commensurate improvement in the quality of the soft product is up for debate, but if nothing else you'll at least be able to get a good night's sleep after the cabin crew make the pagro announcement that "we're here primarily for your safety".
American Airlines hasn't been slacking off either, installing new full flat seats across their long-haul fleet. It can be a bit confusing knowing what you'll get when you fly long haul AA because they offer several different types of seats in business class. But this article will hopefully set you straight.
Today I was going with the Zodiac business class seats, found aboard select 777-200 aircraft and all 787-8s. As you can see from the Seatguru map above, they're a bit odd in that you have one seat facing forward alternating with one seat facing backwards. I'm not clear on what benefits this design has- it's presumably not to optimize privacy, since you will occasionally make eye contact with the person facing backwards especially during takeoff and landing when your seat isn't reclined. Perhaps it's then to maiximize the number of seats they can squeeze into the cabin? Again, that doesn't sound right to me, given that each seat's footprint is roughly the size of your standard reverse herringbone.
Whatever the case my first impressions of the seat were favorable. Occasional eye contact with the opposite-facing passenger aside, the ears around the seat gave it good privacy from the aisle. The seat is on the narrow side, but that's not a problem for fun-sized Asians like us.
Here's my seat, 3L
Note the potential for awkwardness with the person in the seat infront of you when you stand up.
Where seat controls are concerned, you can either adjust your seat from the side digital panel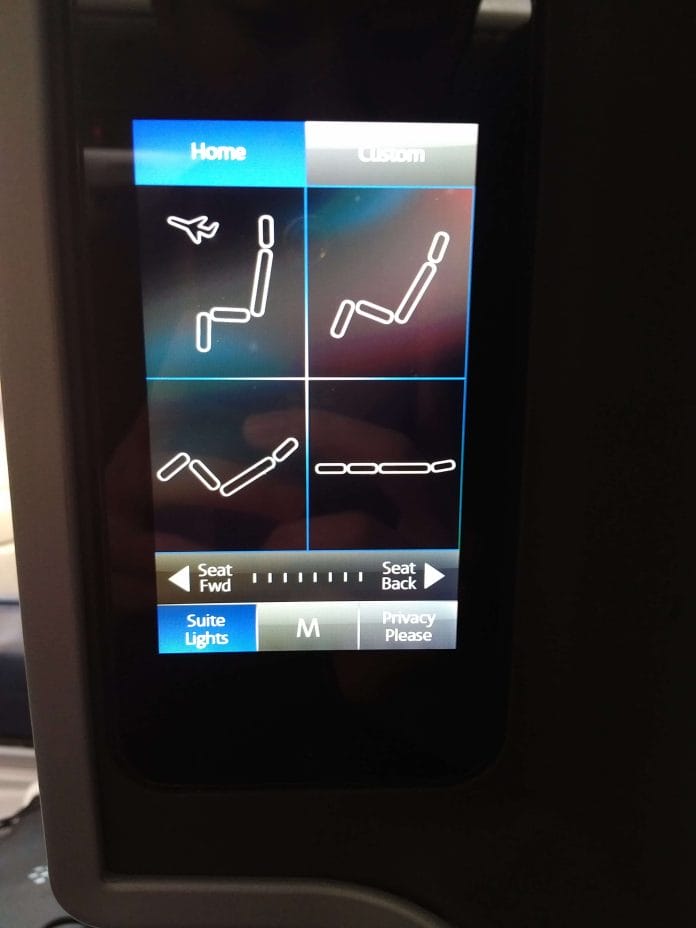 Or from the side panel (see those two small buttons in the right hand corner with full upright and full flat icons on them)
On the side panel was also where you'd find the entertainment system controller and a reading light. I'm not the biggest fan of this type of control system because I normally find it prone to hanging, but it worked ok for me this time.
Each seat had a little storage nook with 2 USB ports and 2 power outlets.
American Airlines offers Cole Haan amenities kits in business class. These bags have a nicely woven texture to them at the base, which reminded me (slightly) of Bottega.
The contents- headphone covers, socks, CO Bigelow hand cream, a single-serve of (sadly non-alcohol free) mouthwash, facial tissues, a sleep mask, a dental kit and a $75 off a $250 or more purchase at Cole Haan. I can't decide if that's a good deal or not.
American also offers Bose QC-15 headphones in business class. That's much better than what a lot of other airlines offer in first. I do hope airlines switch to QC-35s soon because wireless headphones would be a nice innovation for most carriers. No more wires to get tangled up in or knock over your drinks. And you could always hardwire them so they'd only work with IFE systems to dissuade theft. Or you could even collect them before landing. I normally get annoyed when that happens, but if it means wireless headphones…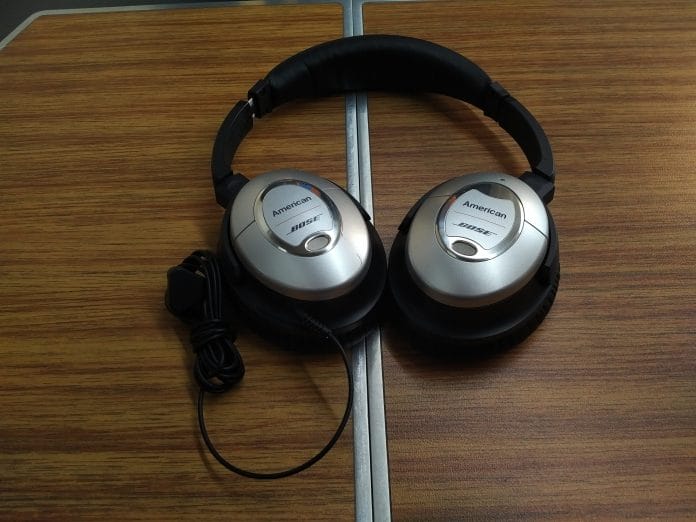 Pre-departure drink orders were taken, and thankfully, served in proper glasses. I could be wrong, but I think American Airlines serves the same stuff on the ground (Nicolas Feuillatte) and in the air. If so, kudos for them for not going cheap (although that said, Nicolas Feuillatte isn't what I'd call top tier)
Menus were distributed by the crew. I've come to notice that it's Asian airlines that give out really thick, multi-page menus (where most of the length is contributed by the drinks list) in premium cabins. Western airlines, on the other hand, tend to give out slimmer, thinner menus. Gotta save fuel everywhere, I suppose.
I honestly wasn't feeling any of the meal selections for dinner. It was only one week into my RTW trip and I was already missing Chinese food. It was going to be a long 5 more weeks…
A short breakfast would be served before landing, but I decided against it because of the American Airlines arrival lounge in LHR, which I was keen to explore.
Champagne on offer was Nicolas Feuillatte Brut Reserve, nothing special. It's a bit of a let down, considering AA offers Bollinger in the Flagship lounge.
(Side note: has anyone ever done a hierarchy of champagne? I tried searching online for one but can't find anything. I know that within a champagne house you can have cheap and expensive offerings, but I'm curious if there's a generalized ranking in the way you could potentially rank luxury watch houses. If there were, I think houses like Cattier, Nicolas Feuillatte, Duval Leroy,  Canard-Duchene would be near the base of the pyramid. I say this purely based on their airline associations- you don't see any of the 4.5/5 Star airlines serving these brands…)
I think this is where a lot of padding happens in SQ's menu. I remember SQ having a few pages for teas, coffees, spirits, juices etc. American crams them on one page.
Straight after takeoff, the crew came around to take dinner orders and check if we wanted to be awoken for breakfast. They didn't address any of the passengers by name, but it wasn't because they were surly or anything. It was more of a folksy service, with plenty of "y'all"s to be heard.
While awaiting the festivities, I pawed through the IFE. There was a good selection of recent movies. Airplane time is my catch up with movie time.
The IFE system also lets you order food and drinks
Keep in mind that I was on a red-eye JFK-LHR flight. On these business-heavy routes, sleep is everything. I was very interested to see how fast the crew would finish meal service, and I wasn't disappointed…
Within 20 minute after the seatbelt sign had been turned off, the crew came around with table cloths. American's table cloths are a bit undersized, if you see what I mean.
After 30 minutes, drinks were served along with warmed nuts
At the 40 minute mark, dinner was served. I opted for the prawns for dinner. The entire meal, starter, salad and main, came on one tray.
At first I thought "ah, lazy American service". And then paused and thought about it a bit. On SQ's supper flights, they'd serve drinks and nuts first, then the starter, then the main, then desert, then bring around the fruits and cheese. By the time you're done with eating and waiting between courses, that's easily 90+ min of rest gone. And on a red-eye, barely 7 hour flight, that's not insignificant.
So the one tray concept makes sense. Serving everything on one tray just makes sense for late night flights. People get everything at once, the crew can focus on quickly clearing trays and getting desert out to those who want it.
Here's the prawns- they're breaded in something or other and came with a sweet sauce. I discarded the exterior and went for the goodness within.
The salad was a mixture of kalette (that's a real thing now?) and saffron orzo. It had Kalamata olives, pomegranate seeds and crumbled feta. I did not partake.
The "small plate" was melon manchego carpaccio with lime.
I ate quickly, and the crew patrolled the aisles regularly to clear away anyone who finished quickly so that they could get to bed. I was done with my meal by the 50 minute mark but that's because I didn't really fancy it.
After my main plate was cleared, I was asked if I wanted desert. I said yes, and B&J's strawberry cheesecake ice cream materialized.
Finished ice cream. Plate cleared. Barely 60 minutes on the clock since seatbelt sign switched off. I was impressed.
Last thing to do before lights out- check out the loo.
I quite like the sink that AA has installed on their aircraft. I wish SQ could have nice sinks too.
I think I've figured it out. Outie sinks- classy. Innie sinks- not classy. Look at SQ's suites sink. Innie. Pffffttt.
The loo had nice wood finishings, but it looked like someone forgot to put the amenities inside. 
I mean, there were facial tissues. But where's the aftershave etc?
Keeping in line with what's on the ground, CO Bigelow hand soap is the order of the day in the loo.
I turned my own bed down and got ready to rest.
And here's my main problem with the seat- it rocks. Let me explain. AA's new seats are paired, in the sense that seats are physically connected to each other. So 2A and 3A are paired, 1L and 2L are paired etc. It's been documented elsewhere that the paired design of AA's new business class seats mean that if your seat partner is the rocking sort, you're going to feel it in your seat. And my seat partner in 4L was indeed a rocker. It boggles the mind that this problem wasn't spotted in the testing phase. Won't call it a deal breaker, but still…
Rocking aside, I slept very well and woke up just 30 minutes before landing. What I like about AA (as opposed to SQ) is that they're serious about maximising rest. Those who wanted a light breakfast could get up really close to landing, unlike SQ which insists on turning on the cabin lights full blast at the 2 hour mark. Why, I don't understand. Those who didn't, weren't disturbed until absolutely the last minute.
Before landing, immigration cards, an ad for the arrivals lounge and most importantly, a fast track immigration pass, were distributed (LHR immigration had crazy long lines when I landed).
Overall, AA's new business class seat is a great product- not in the league of an SQ/ANA/EVA Air but definitely more than what I was expecting of a US airline. The seat rocking thing is really annoying, but it is what it is. And it could be a good way to meet chiobu.
I'm sorry you don't get to see what breakfast offerings there were on the plane, but when you see what the arrivals lounge has to offer you might also decide against eating onboard…