Here's a question I've often wondered about: Is the giant "13" adorning the façade of the Conrad Centennial just another example of numeric pareidolia, or something more deliberate? 
After all, while slapping "13" on a building might alarm some Westerners with triskaidekaphobia (yes, that's a real word), the number has quite the opposite significance in Chinese culture. In fact, it's considered lucky, on account of sounding like "perennial growth." 
After staying here, I'm starting to lean towards the latter. The Conrad Centennial, after all, is a place where few things happen by accident.
It's not an accident that the hotel has done away with its drab and dreary rooms, updating them with refreshing contemporary design. It's not an accident that the club lounge delivers warm hospitality and impeccable service (even if it's likewise no accident that the champagne has disappeared). It's not an accident that a kid's club has popped up in response to increased demand from families. And it's certainly not an accident that it serves up one of the best breakfasts I've had on staycation.
While there's still the odd mishap, it's safe to say I was very impressed with my Conrad Centennial stay. 
Booking a Conrad Centennial Staycation
One of the perks of holding an AMEX KrisFlyer Ascend card is its annual Hilton free night voucher. Used judiciously, it can help recoup a significant portion of the card's non-waivable S$337.05 annual fee.
Historically, the only Singapore property available for redemption with this voucher was the not-so-spectacular Hilton Garden Inn Serangoon, but in light of ongoing travel restrictions, American Express has added two local options to the list of participating hotels: Hilton Singapore and the Conrad Centennial. These are available for stays booked and completed by 31 March 2021. 
The sore spot for Hilton Honors elites is that neither the Conrad Centennial nor Hilton Singapore are honoring status benefits on these AMEX stays. In other words, Diamond members won't get lounge access, and Diamond/Gold members won't get free breakfast. Having previously redeemed my free night voucher at the Conrad Bangkok and enjoying full benefits, this came as a rather unpleasant surprise. 
But a free stay's a free stay, and I certainly wasn't about to blow my voucher at the Hilton Singapore. 
Conrad Centennial: Arrival & Check-in
The Conrad Centennial is located at 2 Temasek Boulevard, right next to the Millenia Walk shopping mall. The nearest MRT station is Promenade, and you'll be completely sheltered as you make the brief walk from the station to the hotel. 
Parking is complimentary for hotel guests, in a shared space with Millenia Walk. Unlimited in/out privileges are accorded, but you'll need to get a new carpark pass from the concierge each time.
I arrived at the hotel around 2 p.m on a Tuesday (the hotel practices staggered check-in, and a pre-arrival email informed me I could check-in from 12 p.m onwards). The attentive doormen helped me with my luggage and ushered me inside to do the customary SafeEntry and temperature screening. 
The Conrad's lobby, as the hotel takes pains to point out, is rich in feng shui. Each of the five elements is represented in some form (the key word being "represented"; building codes probably preclude having an actual fire), and while I can't say I'm an adherent, I can appreciate the aesthetics for what they are. 
The centerpiece of the lobby is a sculpture by Rafael Barrios called "Turbulence", a two-part installation that derives its name from the concentric rings emanating out like ripples from the ceiling-mounted golden stalactite.
While the Conrad Centennial is packed during the weekends, it's relatively quiet during weekdays. There were absolutely no queues at check-in, and I was attended to immediately.
I normally like to browse the available rooms beforehand on the Hilton app (and see if any upgrades are available), but I wasn't able to do so with this particular booking. Anyway, the front desk reiterated that my voucher was for the lead-in Deluxe Room category, and none of my Hilton Diamond benefits were applicable. 
While pre-arrival upgrades are available for purchase on the Hilton app and website, you'll want to hold your fire until check-in for a better rate. I was offered the following options:
S$30++ per person for breakfast (usual: S$40++)
S$90++ for an upgrade to an Executive Room including breakfast, afternoon tea and evening cocktails (the app/website asked for S$98++)
S$140++ for an upgrade to a Centennial Suite with the same perks as above
I took a look at the Centennial Suite (see below), but decided in the end that the Executive Room was the sweet spot. For S$35 more than the breakfast-only option (remember, the breakfast rate is per person, the upgrade rate is per room), you get a higher floor room, plus afternoon tea and alcohol in the evenings. 
A 4 p.m check-out was granted for the following day, and I was presented with a letter detailing the entitlements for executive floor guests.
As an aside, I was surprised that the hotel returned the free night voucher to me. This means you should take care if you're buying one on Carousell or elsewhere- visit this site to check if the voucher code has already been used.
Conrad Centennial: Executive Room
The Conrad Centennial has 512 guest rooms and suites, split into the following categories:
| | | |
| --- | --- | --- |
| Room Type | Number of Rooms | Size |
| Deluxe  | 133 | 40 sqm |
| Grand Deluxe | 95 | 40 sqm |
| Premium | 114 | 40 sqm |
| Executive | 145 | 40 sqm |
| Centennial King Suite | 24 | 63 sqm |
| Conrad Suite | 1 | 143 sqm |
With only 25 suites available (24 of which are realistically in the upgrade pool), Diamond members shouldn't get their hopes up about an upgrade. But interestingly enough, all the non-suite rooms measure in at the same 40 sqm. The main difference I can discern is the floor and view (someone chime in if you're aware of any other differences).
As part of Hilton's CleanStay initiative, all rooms are sealed with a sticker after cleaning. This is meant to reassure guests that no one has entered since then, and creates the psychological illusion of newness, like you're the first to "break the seal". 
It's a nice idea, but the sticker just came clean off the door when I opened it. Amused, I stuck it back and opened the door again, trying to see what it'd take to break the seal. Incredibly, the seal stayed intact during my multiple entrances and exits throughout the day, finally breaking in the evening. Methinks they want to invest in better sticker glue, otherwise the whole thing's just an act of hygiene theater. 
I'm not one to mince my words, so I'm just going to tell you that the previous rooms at the Conrad Singapore were hideous. Yes, style changes over time, but egads man, how did the old room design ever pass muster? 
Thankfully, the hotel completed a major renovation in February 2018, overseen by the late Jaya Ibrahim (he of Capella Singapore fame). The refreshed rooms bear all his hallmarks, like clean lines and neutral palettes. Windows coverings are made from natural jute fiber, the customized carpets have contemporary Peranakan-inspired patterns, and the walls are decorated with black and white photos by Gene Nemeth, commissioned specially for the hotel. It's a stunning new design, and I'm a fan. 
My Executive Room was part of the -26 series (room 2526), which are located at the corners of the building. This meant a little additional space, and the TV console and full-length settee merging together in a harmonious L-shape. 
Protip: Not all rooms have a built-in full length settee. Some rooms just have a sofa by the window, which isn't nearly as nice. Be sure to request the long sofa room- the stock image below is labelled "-king-room-short-sofa", so I'm sure the hotel is aware of the difference.
From my window, I had a partial view of the CBD plus Marina Bay Sands (blocked in parts by the Pan Pacific building). 
As expected, the Conrad's bed is of impeccable quality. It's a Simmons Beautyrest mattress (Simmons, incidentally, is also behind the Westin's Heavenly Bed), and while they don't sell the exact same model in stores, you can find something very similar by mentioning the hotel name to a sales associate. 
When Louis visited the Conrad Singapore back in 2018, the hotel offered a pillow menu with no fewer than 14 choices. Sadly, that's no longer available- I found the default pillow a tad too soft, but had to make do. 
That cute little fella on the bed is the Conrad Singapore's mascot (every Conrad property worldwide has their own animal; at the Conrad Koh Samui it's a turtle for instance), and yes, he's yours to take home. There have been various editions of Conrad teddy bears over the years, creating a "catch 'em all" feel.
Both bedsides have a single universal power plug and a USB-A charging port. While the privacy light can be switched on from either side, only the person on the left can control the curtains. 
On the bedside table was a hygiene kit, consisting of wet wipes, hand sanitizer and two masks.
Somewhat surprisingly for a business-focused hotel, the Executive Room lacks a proper desk. A conscious decision was made to remove it, in the belief that the last thing work-weary travelers would want to see was another office desk. Instead, a more casual round table can be used to the same end. It does hamper the room's work-friendly credentials though, and I'd recommend the lounge as the seating is much more comfortable. 
Two power plugs and USB-A ports are located near the coffee table, under a flap in the TV console. 
Wi-Fi connectivity here was blazing fast, probably due to the fact that executive floor guests can access the faster premium Wi-Fi network. It ranked as the third fastest of all the hotels I've reviewed so far. 
 
🔽Download
🔼 Upload

Mandarin Orchard

273 Mbps

294 Mbps

M Social Singapore

46 Mbps

49 Mbps

Conrad Centennial

40 Mbps

44 Mbps

YOTELAir Changi

29 Mbps

49 Mbps

W Sentosa Cove

34 Mbps

34 Mbps

Duxton Reserve

28 Mbps

29 M

bps

Mandarin Oriental

28 Mbps

28

Mbps

The Fullerton Hotel

23 Mbps

24 Mbps

PARKROYAL Pickering

24 Mbps

23 Mbps

Shangri-La Singapore

19 Mbps

18 Mbps

Pan Pacific Singapore

19 Mbps

19 Mbps

Dusit Thani Laguna Singapore

19 Mbps

19

Mbps

InterContinental Bugis

15 Mbps

15 Mbps

The Capitol Kempinski Hotel

16 Mbps

13 Mbps

Hilton Singapore

13 Mbps

14 Mbps

Marina Bay Sands

11 Mbps

11 Mbps

Andaz Singapore

8.0 Mbps

9.5 Mbps

Four Seasons Singapore

6.7 Mbps

9.8 Mbps

The Barracks Hotel

7.3 Mbps

7.7 Mbps

Hotel 81 Tristar

7.0 Mbps

6.8 Mbps

Raffles Hotel

6.9 Mbps

6.8 Mbps

Hotel Soloha

4.7 Mbps

5.1 Mbps

Hotel G Singapore

4.4 Mbps

4.8 Mbps

Internet speeds based on Speedtest.net scores
On first glance, the positioning of the 55-inch HDTV looks odd (I was having Duxton Reserve flashbacks again), as it's parallel to the bed.
Fortunately, common sense prevails here, and the designers saw fit to build a swivel mount that allows the screen to pivot outwards towards the bed. Alas, the TV doesn't support streaming of personal media, and the hotel had run out of HDMI cables. 
The minibar area near the entrance had a Nespresso machine (previously an Executive Room-only perk, now standard across the hotel), kettle and ice bucket, plus four bottles of mineral water. Ronnefeldt teabags and Nespresso capsules were in the drawer below.
I was confused about the hotel's minibar policy. As per the website, drinks and snacks are complimentary for those in Premium Rooms. However, no similar verbiage is included for Executive Rooms, which is weird- you'd think these should be getting every perk the Premium Rooms enjoy (since guests could get free soft drinks all day in the lounge anyway).
I decided to err on the side of caution, and later learned that my instinct was correct: Executive Rooms don't enjoy a complimentary minibar. Who needs all those junk calories, anyway? 
Opposite the minibar area was the wardrobe, with the in-room safe and bathrobes. The safe is wider than most traditional hotel safes, allowing you to fit a laptop inside. 
The bathroom is decked out in marble, and its two long mirrors (three, if you include the one on the door) add to the overall sense of spaciousness. 
You'll find double vanity sinks and plenty of countertop space for your items. 
The sunken bathtub (single capacity only) comes with bath salts, and a Conrad rubber duck. Like the bear, he's yours to take home. 
The shower cubicle has both a hand shower and overhead rain shower. Water pressure was excellent, although there wasn't any place to sit and wash your feet. 
Sadly, the toilet doesn't have a bidet seat or hose. I must sound like a broken record on this topic, but for a 5-Star hotel (especially one that supposedly attracts a lot of Japanese guests), this needs to be the standard.
Bathroom amenities are by Shanghai Tang. Apparently, it's possible to request alternative amenities from Temple Spa or The Refinery, but I didn't test this out. 
Conrad Centennial: Centennial Suite
The Executive Room was actually the second room I saw during my stay. I was initially about to pay the S$140++ top-up for a Centennial Suite, but changed my mind after visiting it. 
It's not that there's anything wrong with the suite per se; it's plenty spacious, and I imagine families would appreciate having a separate living room area and bedroom. 
The main reason I chose the Executive Room was because I preferred the layout of its bedroom. That long settee by the window really has a way of bringing the room together, and I liked that the bedside tables were wider (I'm weird that way). In contrast, the Centennial Suite's bedroom felt a little…empty.
As a matter of fact, you'd be hard-pressed to tell the bathrooms apart. You still get the same dual sink, sunken bathtub (and no bidet) setup in the suite as you do the regular room.
On the whole, I was more than satisfied with the regular Executive Room. It was modern, bright and space enough for two people. 
Conrad Centennial: Club Lounge
Opening Hours

Meals

Kids Permitted?

3 p.m to 10 p.m

Tea: 3 p.m to 5 p.m




Cocktails: 6 p.m to 8 p.m

For afternoon tea only
The Conrad Centennial has the distinction of being one of the few hotels to have two club lounges. One is at the top of the hotel on the 31st floor, the other is by the swimming pool on level 4. The latter has been converted into a temporary kid's club (see facilities section), so for now you only have one option.
Sadly, the lounge currently has limited operating hours. It's open daily from 3 p.m to 10 p.m, which means executive floor guests will have to take breakfast downstairs at Oscar's. There are two food presentations per day:
Afternoon tea: 3 p.m to 5 p.m
Evening drinks: 6 p.m to 8 p.m
*Kids aged 12 and below will only be admitted for afternoon tea.
It's highly recommended that you pre-book a slot, which can be done at check-in. Each guest is entitled to a one hour slot for tea and evening drinks, but they only enforce the time limit if overcrowding becomes an issue. 
The 31st floor lounge isn't particularly big (I can see why they felt the need to build two of them), but it feels homely enough. The interior received an overhaul in 2018 to bring the aesthetic more in line with the rest of the hotel.
The menu rotates on alternate days. When I visited, the following options were available:
Tea is served in a traditional three-tier set, with a good mix of savory and sweet items. The highlights for me were the golden baked banana friand, as well as the prosciutto. 
Like afternoon tea, the evening cocktails and canapes also follow an alternating menu:
My persona favourites were the chicken wings (don't be afraid to ask for a reheat if needed) and chili crab pie. All items, of course, are free flow. 
The Conrad lounge used to serve Laurent Perrier champagne during happy hour, but that has unfortunately been replaced by Chandon brut instead (yes, I'm aware you could previously get champagne on request, but even that option has since been removed). The staff will also make you a cocktail, and I'd say the L31 Sunset is well worth a taste.
Do note that if you're granted late check-out on the second day, you won't be able to revisit the lounge for a second afternoon tea. That may come as a bit of a surprise to those who have stayed at the Pan Pacific or Shangri-La Valley Wing, where the staff generally close one eye to such things (or even actively invite you to come back). 
Conrad Centennial: Facilities
Pool

Gym

Spa

Yes: 7 a.m to 10 p.m


Yes: 7 a.m to 10 p.m

Yes: 11 a.m to 8 p.m


Kids' Club

Business Centre

Others

Yes: 10 a.m to 6 p.m
(Sat, Sun & PH open at 9 a.m)

No

N/A
Swimming Pool
The Conrad Singapore's swimming pool is located on the 4th floor, and is open from 7 a.m to 10 p.m daily. A maximum of 20 guests can use it at any one time, and each guest is limited to 60 minutes per day (just like the lounge, enforcement is lax when occupancy permits). Reservations need to be made beforehand via this link, and can be done at most 48 hours before arrival.
The 20-meter pool is rectangular in shape (maximum depth: 1.3m), making for easy lap swimming. While the pool isn't particularly elevated, you'll still have partial views of the Singapore Flyer and the downtown district. For those afraid of the sun, do note that the pool is bathed in sunlight all the way from morning till about 6 p.m, so take a later slot if you don't want sunburn. 
Pool staff were on hand to give out glasses of iced water, although I did notice that used towels and cups occasionally took a while to be cleared. 
Gym
The Conrad Singapore's gym is located on the 4th floor (just next to the pool), and is open from 7 a.m to 10 p.m daily. A maximum of 15 guests can use it at any one time, and each guest is limited to 60 minutes per day. Reservations need to be made beforehand via this link, and can be done at most 48 hours before arrival.
Treadmills and cross trainers are separated by the now ubtiquous plexiglass screens, with alternate machines blocked off for social distancing. 
Further in you'll find a separate area for free weights and strength training. 
Equipment like medicine and yoga balls are also available. 
For hygiene purposes, towels are now distributed at the front desk instead of laid out in the cubby holes. However, you can still help yourself to bottled water as needed.
As an added bonus, the gym has one of those body fat analysis gizmos, which either inspires you to greater effort or demoralises you to double helpings of ice cream at the buffet. 
Spa
The Conrad Spa is open daily from 11 a.m to 8 p.m. Reservations can be made through this page, and expect to pay S$140++ for a 60 minute treatment, and S$190++ for 90 minutes. 
Kid's Club
Conrad Singapore didn't originally have a kid's club, but because of the downturn in business travel brought about by COVID-19, they've decided there's little value in operating two executive lounges. 
Hence, the Lounge by the Pool (yes, that's actually the official name) has been temporarily converted into a kid's club, with padded floors, beanbags, arts and crafts areas and Conrad bears. It looks the part, and the main giveaway this place is pulling double duty is the fully-stocked bar at the entrance (useful if the kids won't quiet down).
The kid's club is open Monday to Friday from 10 a.m to 6 p.m, and Saturday, Sunday & public holidays from 9 a.m to 6 p.m. Access costs S$15++ per child per activity, except for the free-to-join scavenger hunt. Kids should be aged 3-10 years old, and reservation slots will be opened 2 days prior to arrival.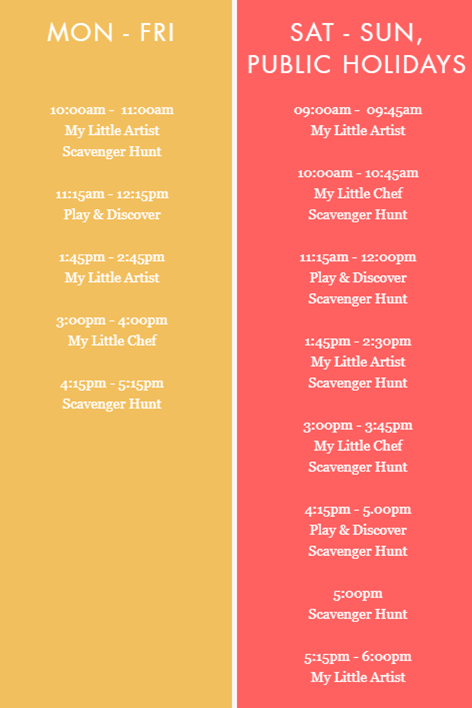 The only thing I know about kids is how to make them, so if you're really interested in the kid's club experience, you're better off looking for a few mommy blogger reviews (I tried to find some, but keep in mind this is a relatively recent development and there won't be many out there).
Since the conversion is only meant to be temporary, you can spot traces of the old lounge around the edges. Actually, this feels like an altogether pleasant place to have a drink while soaking in the natural light from the pool, and I hope it returns to regular service soon.
Conrad Centennial: Breakfast
Served at

Cost

Style

Oscar's

Adult: S$40++
Child (5-12): S$20++

A la carte buffet

Hours

Sparkling Wine?

Discounts?

Mon-Fri: 7 a.m to 10.30 a.m
Sat, Sun, PH: 7.30 a.m to 11 a.m

No

None
Breakfast is served at Oscar's in the lobby from 7 a.m to 10.30 a.m Monday to Friday, and 7.30 a.m to 11 a.m on weekends and public holidays. Since the executive lounge only opens at 3 p.m, this is the breakfast venue for both regular and executive floor guests. 
Here's the breakfast menu. Even though the Mains and Local Favourites say "select one", in practice there's no restriction on the number of items you can order (I suspect that wording is there for peak periods, so YMMV). 
While there were a couple of misses, I'll say the Conrad Singapore's breakfast experience is easily be among my top few so far (I knew it was a good sign when they started by pouring Aqua Panna). I'd rank it just after Kempinski, Raffles, and the Shangri-La Valley Wing. 
The smashed avocado toast, served with a poached egg and smoked paprika, was a delight and definitely worth a second serving. 
I'd also consider the breakfast tacos a must-try (it's refreshing when a hotel tries to offer something other than the usual tried-and-tested breakfast classics). These came with grilled flour tortillas, scrambled egg and shrimp creole, and a tangy topping of pickles and sour cream. 
It's not very often you get served a seafood nasi lemak at breakfast, but this one didn't skimp on the ingredients. A whole fried mackerel, prawns, squid, even mussels. The rice could have used a little more coconut fragrance, but you don't want to fill up on carbs anyway.
Another home run was the waffle with ice cream. The waffle was crispy on the outside, moist on the inside, and topped with good quality vanilla ice cream (no ice crystals, only smooth butterfat).
The sliced fish porridge was rather muted in its flavor, and I wouldn't consider this essential to order.
Also avoid the dim sum. Even though the chicken siew mai basket had a "signature" chef's hat icon next to it, I'm convinced that must be a typo. These had a weird texture and a gristly taste, and I'd much rather order the excellent homemade chawanmushi instead as a side.  
A kid's menu is available, but it's basically the same items from the regular menu, plated differently. 
Another plus is that the Conrad serves freshly-squeezed juice at breakfast, with a choice of green apple, orange or watermelon. The only thing that would make this complete would be some bubbly, but otherwise, I went away very satisfied with breakfast indeed. 
Other Dining Options
Restaurant

Opening Hours

Oscar's

All day: 7 a.m to 10.30 p.m

Golden Peony

Lunch: 11.30 a.m to 2.30 p.m
Dinner: 6.30 p.m to 10.30 p.m

Lobby Lounge

Mon-Fri: 8 a.m to 10.30 p.m
Sat-Sun: 11 a.m to 10.30 p.m
I didn't have the opportunity to try any of the other restaurants at the hotel, but AMEX Platinum cardholders should have a field day. All three concepts participate in Love Dining and/or Chillax, with the following perks:
Oscar's: Up to 50% off a la carte buffet lunch & dinner
Golden Peony: Up to 50% off food
Lobby Lounge: 1-for-1 gin experience, up to 50% off food
Conrad Centennial: Service
While service interactions at the Conrad were generally good everywhere, they were particularly outstanding in the executive lounge. The staff here were warm and personable, always ready to swoop in with a refill or insist on serving another portion of nibbles. The lounge leader (I think her name is Michelle) was fantastic, working hard along with the rest of her team, but always finding the time to make conversation too. 
If I had to think of a couple of things that could be done better, I'd say that handling miscellaneous requests would be one of them. As I mentioned in the room section, the hotel isn't offering a pillow menu at the moment. Fair enough, but if I received a call from a guest who wanted a different pillow, I'd make some effort to understand the problem and think of alternative ways to help (maybe additional pillows, repurpose cushions from elsewhere, or even offer painkillers if neck soreness were the reason for the request). Likewise, they didn't have a HDMI cable handy when I called, but "no, we'll let you know the minute we get our hands on one" would be a much better response than simply "no". 
Conclusion
When I look at pre-2018 reviews of the Conrad Centennial, I'm staggered by the metamorphosis the hotel has undergone. Stylistically, it's night and day, and the property finally has the hardware to match its historically impressive soft product.
The club lounge and breakfast were the highlights for me, and those with families will appreciate the addition of a dedicated kid's club. While I dislike the policy of not honoring benefits on voucher stays, the cost of an executive room upgrade is not unreasonable. 
Bring back the champagne in the lounge and I'd go again. 
For those who have stayed at the Conrad Centennial before and after the renovation- your thoughts?
Overall Staycation Rankings
Conrad Centennial Singapore
*Andaz Singapore ranking is as per my 1 October 2020 visit; the experience has notably declined since then. 
🏨 In Summary
A fantastic breakfast, great lounge (bring back the champagne please) and gorgeous rooms make the Conrad Centennial an easy recommendation. 
Do say: I got a bear at the Conrad  
Don't say: No, not that kind of bear