There's a sense of déjà vu surrounding the Duxton Reserve. 
In 2016, Starwood announced their plans to launch The Duxton Club, a two-building, one hotel concept spread across Duxton House and Duxton Terrace. Both would occupy pre-war colonial heritage buildings in Tanjong Pagar, and mark the debut of the Luxury Collection brand in Singapore. 
But then Marriott decided to acquire Starwood, and Satinder Garcha (the hotel's owner), spooked by the idea of being under the thumb of a monolithic mega-company, exercised his option to terminate the agreement. A chance meeting with a Six Senses executive led to the signing of a new management deal (it speaks volumes that Garcha had never stayed in a Six Senses, yet felt more comfortable with them than Marriott), and in April 2018, the doors opened at the 49-room Six Senses Duxton. Its 138-room sister property in Maxwell began operations later that year.
As the Six Senses' first urban property, there was a marked sense of excitement surrounding the opening. At the media launch, the hotel's GM spoke about how refreshing it was to break away from the chain's traditional roots in far-flung destinations and isolated hermitages. The Six Senses Singapore, he declared, would chart a new course. 
That course, unfortunately, did not last long. No sooner had the COVID-19 pandemic begun that Six Senses announced it would be exiting the Singapore market completely, barely two years after entering. The new management? Why, Marriott, of course. It's Final Destination, only the hospitality edition. 
And so the Six Senses Duxton and Maxwell became the Duxton Reserve and Maxwell Reserve, with the former soft-launching in December 2020 and the latter due to open in April 2021. Both hotels operate under the Autograph Collection brand, a catch-all bucket for independent properties that don't fall neatly into a specific brand identity. 
I recently stayed at the Duxton Reserve, to see if the hotel could measure up to its Six Senses legacy. But in the same way the Sixth Sense cast a looming spectre over Haley Joel Osment's career, so does the Six Senses over the Duxton Reserve- a performance it just can't repeat. 
Booking a Duxton Reserve staycation
Back in January, Marriott Bonvoy announced a 10% discount for off-peak award night redemptions worldwide. This promotion is no longer available (reservations had to be made by 21 February), but I managed to snag the Duxton Reserve for 27,000 points instead of the usual 30,000. Room-only rates at this hotel cost about S$324 nett, so I was getting ~0.9 US cents per point, well above what the experts say is kosher. 
In terms of paid packages, the situation is a bit confusing. Duxton Reserve's stand-alone website lists four different packages; Duxton Reserve's Marriott.com website lists only two; but when you actually try to make a booking, three of them appear:
Package

Price (From)

Inclusions

Anouska's Staycation

S$309++




(S$364 nett)

Breakfast

Snack platter

2 cocktails

1,000 bonus points

Experience Yellow Pot

S$382++




(S$450 nett)

Breakfast

Yellow Pot set dinner for 2

2 cocktails

Experience Tanjong Pagar with Jane's SG Tours

S$441++




(S$519 nett)

Breakfast

2-hour walking tour
Duxton Reserve staycation packages can also be found on Klook, so you can use your S$100 SingaporeRediscovers Vouchers (SRV) if you so wish. 
Duxton Reserve: Arrival & Check-in
The Duxton Reserve is located at 83 Duxton Road, in the heart of the too-cool-for-you Keong Saik district. Within walking distance are excellent eating and drinking venues, such as Binomio, Burnt Ends, and Potato Head Singapore. 
Parking is available along the road, or next door at the Duxton Hill carpark (entrance on Duxton Hill Road). Parking costs 4 cents per minute on Monday to Saturday from 7 a.m to 5 p.m, and 2 cents per minute at all other times. 
If you're taking public transport, the closest MRT station would be Tanjong Pagar, but it's a 6-7 minute walk along a mostly uncovered stretch.
For those bringing a heavy bag or requiring wheelchair assistance, do note that there's no ramp to the entrance; you'll have to climb four brief steps after alighting from the vehicle. There were no porters or doormen to provide assistance. 
The Duxton Reserve is housed in a terrace of eight adjoining three-storey colonial buildings, built back in early 1900. The building was converted into a hotel in the 1990s and managed by the Berjaya Group until it was sold in 2013. 
Interestingly enough, Satinder Garcha was not the buyer; at least not originally. The property changed hands twice in the same day, as the original seller flipped it immediately for a profit of S$2 million (IKEA Lego scalpers ain't got nothing on this guy). Garcha made the decision to buy in the middle of a polo match, as one does. 
While the hotel may have been an impulse buy, every other aspect of its renovation was meticulously planned. It had to be, given the building's heritage status and the URA's general lack of good humour towards code violations. This also explains why there have been minimal architectural changes to the hotel, even though the name on the marquee now reads "Duxton Reserve" instead of "Six Senses Duxton". 
I arrived at the hotel around lunchtime on a Tuesday, and although the Yellow Pot restaurant had a decent lunch crowd, the lobby was otherwise empty. 
The interior is awash in black and gold, decorated with lacquered pots, glossy ebony wall panels and Chinese bamboo screens. Large golden fans and calligraphy wallpaper adorn the walls- designer Anouska Hempel (formerly a Bond Girl, as the publicity materials like to emphasize) is "no doyenne of understatement", in the words of the Financial Times. 
While there's no shortage of settees or recliners, most of them are blocked off with social distancing placards, probably a byproduct of density restrictions in the lobby. 
Check-in was fairly uneventful, although the staff seemed uncertain of how to process a points reservation (and also made no mention of Marriott Gold benefits like 2 p.m late check-out or the welcome gift of points). I was issued an unmarked white keycard, and proceeded to my room. 
Duxton Reserve: Opium Room
The Duxton Reserve's 49 rooms are split as follows:
| | | |
| --- | --- | --- |
| Room Type | Number of Rooms | Size |
| Shophouse Room | 19 | 20 sqm |
| Opium  Room | 7 | 26 sqm |
| Opium Suite | 8 | 32 sqm |
| Duxton Duplex Suite | 2 | 41 sqm |
| Pearl Suite | 3 | 36 sqm |
| Skylight Suite | 9 | 41 sqm |
| Montgomerie Suite | 1 | 51 sqm |
When the hotel's reopening was first announced, all but the Shophouse rooms had an "executive club" label tagged to their name, which led me to believe that 30 out of 49 rooms would have some sort of club privileges. That was quietly removed at some point, and there's no club lounge at the moment- one for the future, perhaps. 
My room was on the second floor of the hotel, and the musty-smelling elevator disgorges guests into a wallpaper-lined corridor embossed with 18th century indentures (a trinket from Hempel's private collection). 
I'd been assigned to Room 20, at the far end of the hallway down a small flight of steps (again, take note those with mobility issues). 
No one mentioned this at check-in, but I'd been upgraded from the lead-in Shophouse Room to an Opium Room, which meant 6 additional square metres of space and a radically different design palette. 
Opium Rooms, as the name suggests, are meant to evoke the opium dens of yesteryear, not so much in their aroma (that would indeed be something) but in their dark and cozy interiors. 
Immediately beyond the entrance is a small foyer area, where you can store your shoes and luggage. Also in this area is a set of movable panels, behind which is tucked the wardrobe and in-room safe. 
But wait, behind a third panel lurks the ornate minibar, decked out with William Yeoward glassware and all manner of premium snacks. It's a stunner to behold, but while its illuminated libations beckon you with an Alice-in-Wonderland "drink me" allure, a glance at the pricelist will quickly sober you up. 
Expect to pay S$98+ for a half bottle of Tattinger champagne, S$14+ for mixed nuts, and S$6+ for a can of Pepsi (it's the first time I've seen Pepsi listed as an "artisanal beverage"). 
Beyond the foyer, the rest of the space is basically the bedroom. 
The Opium Room eschews curtains in favor of sliding blackout panels, but in general the pillbox-like windows don't let in a lot of light in the first place (Opium dens weren't exactly known for their natural light). 
While the four poster bed looks impressive, it's decidedly impractical. The bedframe's raised sides wrap around the entire mattress, save a single point of entry/egress. This makes it impossible to get up in the middle of the night and use the bathroom without waking your partner (the frame creaks when you move, for good measure). 
Second, I can't understand the decision to not install a headboard. This makes it very difficult to do anything in bed except sleep and, er, play Monopoly Deal (certain game-winning moves would benefit from a headboard actually, come to think of it). Forget about sitting up and reading, watching a movie or using your laptop. 
Third, the intricate patterns in the canopy of the bedframe may look pretty, but they're also a dust magnet. I can't imagine housekeeping pays too much attention to this area, and indeed, there were threads of dust clinging to the gaps. Those with sensitive noses will want to be careful about rocking the frame too much, lest the dust drops down. 
The bed had a notable sag towards the middle, which meant your feet would invariably follow the contours. It wasn't as bad as an angled-flat business class seat (where you start to slide to the ground after a while), but you'll definitely notice the depression.
While investigating the sag, I found some traces of the hotel's Six Senses past. Perhaps it's for the best they kept these; Naturalmat mattresses get some serious engineering before they're deployed. Sleep quality was pretty good, even with the sagging. 
I don't often say this, but this is one of those rooms which may have benefitted from a smaller bed. The sheer dimensions of the King-sized mattress meant there was precious little space left for maneuvering. The toilet is accessed through a perilously narrow passageway and if you're not staying solo, you're bound to get into each other's way. Unfortunately, the bedframe also exceeds knee level, meaning you're liable to get a nasty knock on the shin when it's dark. 
While both sides of the bed have power outlets and USB ports, the odd decision to exclude a bedside table on the left (see above) means the person sleeping there will need to run his/her wires across the passageway and place devices on the bed itself. This was in contrast to the other bedside (see below), which had a narrow side table for placing things. 
On this table was a Bose wireless speaker for pairing your own device. The charger occupies the only power port, but the speaker has an internal battery so you could unplug it and continue listening. 
The (non-smart) TV is mounted on a fixed wall bracket, which unfortunately makes it a complete white elephant. 
It's practically impossible to watch TV from the bed, unless you move the pillows and lie perpendicular to the mattress (in which case your feet would dangle off the edge). I can't for the life of me figure out why they placed the TV there, or why they didn't at least install  a swivel bracket. 
The room has a work desk, but I wasn't able to get a lot of work done here. The bench is extremely uncomfortable for prolonged periods of sitting, because it has no backrest and the cushion isn't secured, sliding around at the slightest provocation. 
While there are universal power outlets and USB ports here, I found the placement to be very strange. Instead of being built into the desk, or the wall opposite the bench, they're instead hidden behind the coffee machine. This presents a challenge for shorter laptop chargers or USB cables.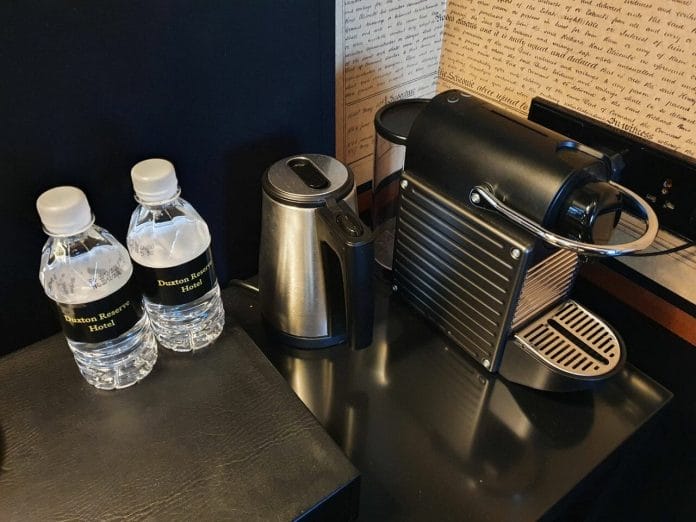 Speaking of coffee, the room's free refreshments consist of four TWG teabags and four Nespresso capsules, tucked away in a small chest of drawers on the table. 
Wi-Fi speeds were lightning fast, although that could also be because of the low occupancy during mid-week.
 
🔽Download
🔼 Upload

Mandarin Orchard

273 Mbps

294 Mbps

M Social Singapore

46 Mbps

49.Mbps

YOTELAir Changi

29 Mbps

49 Mbps

W Sentosa Cove

34 Mbps

34 Mbps

Duxton Reserve

28 Mbps

29 Mbps

Mandarin Oriental

28 Mbps

28

Mbps

The Fullerton Hotel

23 Mbps

24 Mbps

PARKROYAL Pickering

24 Mbps

23 Mbps

Shangri-La Singapore

19 Mbps

18 Mbps

Pan Pacific Singapore

19 Mbps

19 Mbps

Dusit Thani Laguna Singapore

19 Mbps

19

Mbps

InterContinental Bugis

15 Mbps

15 Mbps

The Capitol Kempinski Hotel

16 Mbps

13 Mbps

Hilton Singapore

13 Mbps

14 Mbps

Marina Bay Sands

11 Mbps

11 Mbps

Andaz Singapore

8.0 Mbps

9.5 Mbps

The Barracks Hotel

7.3 Mbps

7.7 Mbps

Hotel 81 Tristar

7.0 Mbps

6.8 Mbps

Raffles Hotel

6.9 Mbps

6.8 Mbps

Hotel Soloha

4.7 Mbps

5.1 Mbps

Hotel G Singapore

4.4 Mbps

4.8 Mbps

Internet speeds based on Speedtest.net scores
The Opium Room's bathroom adopts a jet black motif, with a partially-open shower and trough sink (only a single tap though). Two bathrobes hung from the walls, with towels stacked neatly under the sink. 
The rain shower didn't have the best water pressure, but at least the coverage area was fairly large. Although there's a slight barrier at the base to keep water in, the placement of the glass panel means the floor's liable to get wet if you're not careful. 
The hotel claims that bathroom amenities are by Etro, but since they're in unlabeled dispensers you'll have to take their word for it. For what it's worth, they felt and smelled the part- the hand soap had a lovely jasmine scent, and the shampoo a pleasant vanilla fragrance.
Disappointingly for a high-end hotel, the toilet lacked even a bidet hose. You'll need to get used to doing things the old fashioned way.
I've already mentioned some puzzling design decisions, like the terrible placement of the TV and the impractical location of the power outlets. But nothing is more confounding than the decision to place a ceiling speaker in each room, through which piped-in pop music plays, all day. It's soft, but definitely audible when the room is quiet, like when you're trying to sleep. 
I first noticed its presence late at night when I was about to turn in. At first I thought someone was playing music in the corridor, but on closer inspection, found the culprit was inside my room. 
Here's the thing: you can't actually turn off the speaker yourself. I had to call the front desk and wait about 30 minutes while they figured out what to do. In the end, they had to switch off the music on the entire floor, something I'm sure no one minded.
Why on earth was there even a speaker in the room in the first place, I asked.
"Oh, some guests like to listen to music."
I don't doubt that, but I imagine (1) they'd want to listen to their own music and (2) they'd want to be able to turn it off and on as they pleased. A ceiling speaker playing non-stop music sounds like something more suited for Abu Ghraib than a luxury hotel. 
On the whole, I'd say the room looks better than it works. Four-poster beds with dramatic canopies, backless benches overlaid with striking gold cushions and piped-in music may have sounded fantastic on the drawing board, but they all combine in a way that's utterly impractical here. That's not to mention the illogical placement of power outlets and televisions, making the Opium Room less than the sum of its parts. 
Duxton Reserve: Facilities
Facilities are something that guests at the Duxton Reserve will have to do without, at least for now. 
Back when both Six Senses were open, guests at the Duxton could make the five-minute walk to Maxwell and use its 25-meter pool, spa, gym, and club lounge. My understanding is that this arrangement will resume when the Maxwell Reserve opens in April 2021, but in the meantime, there's nothing doing here. 
Duxton Reserve: Breakfast
Served at

Cost

Style

Yellow Pot

S$44++ (adult)
S$22++ (child 5-12)

A la carte buffet

Hours

Sparkling Wine?

Discounts?

7 a.m to 10.30 a.m

No

None
Breakfast is served at Yellow Pot in the lobby from 7 a.m to 10.30 a.m daily. There's no need to reserve a slot in advance. It costs either S$44++ (S$52 nett) for all-you can-eat, or you can pick individual items and pay the a la carte price, which is what I did. 
Want it delivered to your room? Better not. There's a jaw-dropping 35% service charge imposed on all room service orders. No, that's not a typo. Factor in the 7% GST, and every item on the menu basically has a mark up of 44%. It's daylight robbery, especially when you consider the prices this place is charging, and its microhotel status- you don't have to walk very far to deliver the odd order. 
But perhaps you shouldn't be surprised by the extortive pricing, because it seems very much in line with the rest of the menu. S$8++ for soft boiled eggs and toast. S$18++ for a basket of dim sum. S$28++ for a fry-up. Now, you can go ahead and charge whatever price you want; it's a free market. But great prices create great expectations, and the execution here was underwhelming to say the least. 
Above is the "signature" chili crab omelette. For S$26++, you get an unappetizing-looking platter of eggs, two mantou (which the menu misspells as "man tao"), some nondescript veggies and a tiny portion of oily chili crab sauce, with minute pieces of crab lurking inside. It's shockingly bad value. 
For comparison, here's how the chili crab omelette used to be served back in 2018, courtesy of Secret Life of Fatbacks. It looks messier, but a lot more like legit chili crab sauce (and at least they served a proper side of greens too). 
Equally bewildering is the Avocado Toast (S$18++), which looks like someone dropped a salad on it. I added poached eggs (S$6++) to my order, but only one egg (singular) appeared. "Isn't this supposed to be two eggs?" I asked the waiter. "No, it's just meant to be one." he replied. "But I can get you another if you like". 
I pointed out that the menu said eggs, and perhaps more importantly, were they really expecting people to pay S$6++ for a single egg? Another egg materialized shortly after. 
Juices cost S$8++, but aren't freshly squeezed. A latte will set you back S$7++, and a pot of tea S$12++. At least Yellow Pot no longer charges S$3.50++ per person for drinking water like it used to in the past- yes, 50% of it went to support clean water access around the region, but why not charge S$1.75++ and call it even? 
With so many decent cafes within walking distance (Populus, The Lokal), there's simply no reason why you should shell out for breakfast at Duxton Reserve. 
Other Dining Options
| | |
| --- | --- |
| Restaurant | Status as of 25 Feb 2021 |
| Anouska's | Open |
| Yellow Pot | Open |
The Duxton Reserve hosts Anouska's Bar and modern Chinese restaurant Yellow Pot. While both venues were originally offering 10-20% off for Marriott Bonvoy members, they quietly ended their participation recently. This means you'll pay full price, and prices are steep.
As such, I didn't try any of their offerings. I'll just briefly run down the expected damage for those who are interested. 
At Anouska's Bar, expect to pay S$20++ for salted egg yolk fish skins, S$15++ for Sichuan Thunder fries, S$16++ for spring rolls. More substantial offerings are available, but with commensurate increases in price (when fried rice costs S$30++ a portion, it'd better be life-changing). 
Drinks are steep too: S$24++ for a cocktail, and S$29++ for a glass of champagne. Even cava will cost S$19++. 
Yellow Pot is currently serving its CNY menu (which starts at S$58++ per person), although you can also order the bites off Anouska's menu. 
Duxton Reserve: Service
Let's lay out a couple of things first. The Duxton Reserve has just 49 rooms, making it one of the smallest hotels in Singapore. It's also positioning itself as a premium, 5-Star property. Therefore, it's not unreasonable for guests to expect intimate, personalised service, especially when the hotel is almost completely empty- just four rooms were occupied during my stay. 
Unfortunately, I found the service at Duxton Reserve to be completely impersonal and anonymous. 
After check-in, the front desk associate escorted me to my room. That's always a nice touch, and can serve as an opportunity to inform guests about hotel policies, facilities, and activities. Better hotels will try and suss out guests' preferences and needs in order to create surprise and delight moments later on. 
But that requires you actually converse with the guest. In my case, we shared an awkward elevator ride, then a brief walk to the room where she opened the door, wished me a good stay and left. It felt more cursory than anything else, almost as if "walk guest to the room" is stipulated in the manual somewhere, and everyone's got to do it.
What really got to me though was that I returned to the front desk barely 15 minutes later to ask about the price of breakfast. The same associate, who had just checked me in and walked me to the room, asked "are you an in-house guest?"
That might be understandable if we were in a 2,500 room Marina Bay Sands or 1,100 room Mandarin Orchard, where they check in hundreds of people every hour. But we're talking about a 49 room property, of which only four rooms were occupied. Surely it's not too much to expect more?
You might write this off as an isolated incident, but this whole "not knowing the guests" thing repeated itself later on. I was standing around in the lobby looking up directions on my phone, when another associate approached me and asked for my room number. I gave it to her, she said OK, and nothing more happened. It was very random. 
Back when the hotel was under Six Senses, it tried to make up for the lack of facilities by offering access to nearby gyms (including cycling classes at the nearby studio), yoga sessions on the lawn and complimentary bike rentals. Other fun little things included complimentary TCM consultations and tea appreciation workshops.
I asked at the front desk if the hotel had any activities, only to be met with a blank look. "What sort of activities?" she asked.
I gave some examples. "No, we don't do those," she said, and that was that. I can't help but think that a better hotel might have taken the initiative to enquire about what the guest might like to do, and offer suggestions of nearby alternatives. 
One of the highlights of the erstwhile Six Senses was its nightly turndown service, where guests could look forward to complimentary tinctures and a wellness bag with Tiger Balm, Po Chai pills, brain-teaser puzzles, coloring books and other goodies. 
I was eager to see if that would be replicated in some form here, but although the Duxton Reserve's website still advertises turndown service, my room was left entirely untouched, without so much as fresh towels (no, I didn't hang the DND on my door).
I suppose you won't miss what you didn't know you had, but anyone who stayed at the hotel in the past will be sorely disappointed at what it's become now. 
Conclusion
I'm not so much concerned about the tight quarters or lack of facilities at the Duxton Reserve. The former comes with the territory, the latter will be resolved when the Maxwell Reserve opens in a few months time. 
What's more of an issue is the indifferent service (a far cry from the attentive and almost fawning care one could expect at a Six Senses), and the possibility of getting an impractically-designed room like mine (I say possibility, because each room is unique and I may have just drawn the short straw). Breakfast will go down as one of the worst I've had in terms of value, and the imposition of a 35% service charge for room service is unprecedented.
I just can't think of why anyone would want to stay at the Duxton Reserve. If you want the boutique feel, there are many other places that can provide that for much less (e.g Hotel Soloha). If you want facilities, you'd go to a larger hotel (like the Shangri-La). If you want personalised service, you'd visit the Capitol Kempinski. 
Any way you look at it, the Duxton Reserve fails to take advantage of its positioning as a boutique microhotel. It could partner with neighborhood businesses to offer unique experiences and activities. It could provide a level of attention to guests that would only be possible in a 49-room property. It could disable all those annoying speakers in its rooms, because what kind of psychopath puts them there in the first place. 
But it doesn't, and that makes no sense.
Let alone six. 
Been to the Duxton Reserve, either before or after? What's your take?
Overall Staycation Rankings
Duxton Reserve
*Andaz Singapore ranking is as per my 1 October 2020 visit; the experience has notably declined since then. 
🏨 In Summary
The Duxton Reserve shoots for style over substance, and unless you're particularly enamored with its East meets West aesthetic, it's tough to recommend. The indifferent service and overpriced breakfast don't help either. 
Do say: It'd be difficult to expense an Opium Room
Don't say: But since when has that stopped me?