The Milelion's RTW Trip 2016: Trip Planning
Introduction: Around the world in 28 days
EVA Air B77W Business Class Singapore to Taipei
EVA Air B77W Business Class Taipei to Los Angeles
Silvercar LAX
Avenue of the Arts Costa Mesa
Sheraton Gateway Los Angeles
United A319 First Class Los Angeles to Mexico City
Le Meridien Mexico City
United A319 First Class Mexico City to Houston
United B767 Business Class Houston to Sao Paulo
Sheraton Sao Paulo WTC
South African Airways A330  Business Class Sao Paulo to Johannesburg
Hilton Sandton
Ten Bompas Johannesburg
Turkish Airlines A330 Business Class Johannesburg to Istanbul
Turkish Airlines A319 Business Class Istanbul to Zagreb
Westin Zagreb
Croatia Airlines A319 Business Class Zagreb to Frankfurt
Lufthansa First Class Terminal Frankfurt
Lufthansa A330 First Class Frankfurt to Riyadh
Four Points Riyadh
Air India B77W Business Class Riyadh to Mumbai
St Regis Mumbai
ANA B787 Business Class Mumbai to Tokyo
Asiana A330 Business Class Tokyo to Seoul
Westin Chosun Seoul
W Walkerhill Seoul
Asiana B744 Business Class Seoul to Tokyo
ANA B787 Business Class Tokyo to Singapore
---
EVA BR 226
Singapore (SIN)- Taipei (TPE)
Saturday, May 21
Depart: 1:10PM
Arrive: 5:45PM
Duration:  4H35Mins
Aircraft: B777-300ER
Seat: 2A (Business Class)
I last flew with EVA back in early 2014 and had a really great experience, so I was looking forward to trying them again 2 years later to see whether they had maintained that standard.
EVA Air operates out of T3 in Singapore, and check in was at Row 8.
The check-in agent took one look at my itineary and her jaw-dropped (I booked a single RTW ticket so anyone with the PNR can see all 14+ legs at once).
"Going places sir?"
"And how!"
Boarding passes were printed as well as lounge invitations. Fortunately, because I was travelling in Business I was invited to SQ's Silverkris lounge, sparing me a visit to the Krisflyer Gold lounge (which, if you'll recall has no toilet, showers, champagne or happiness).
There are countless reviews of the business class section of the Silverkris lounge so I won't repeat them, suffice to say it was a solid if unspectacular place to kill the 30 mins prior to boarding. Here are some photos I snapped in case anyone's interested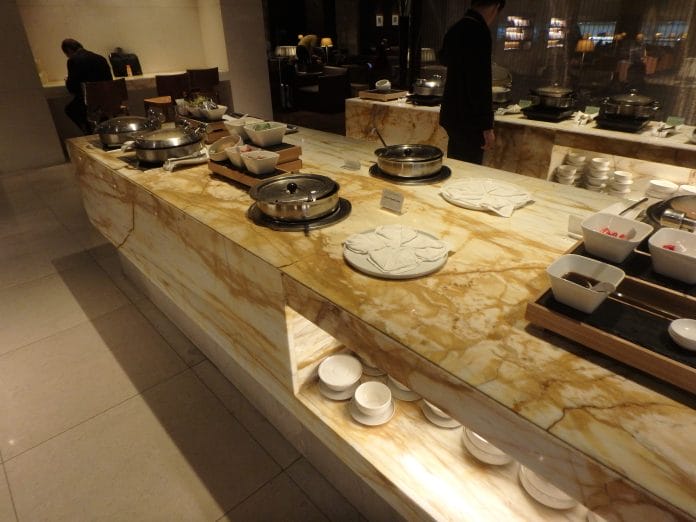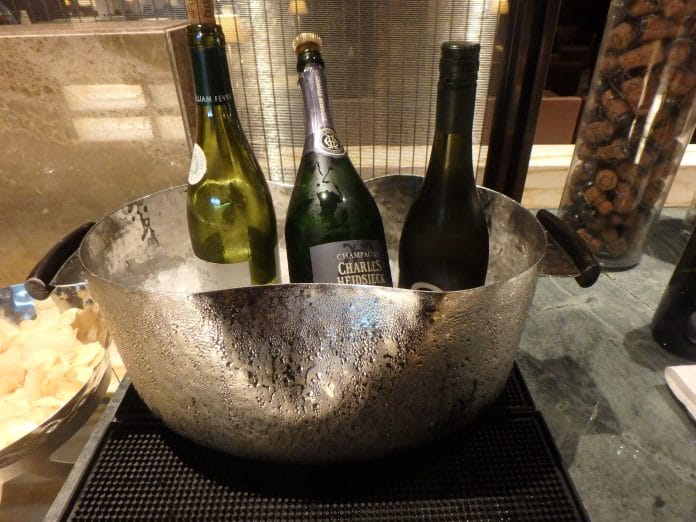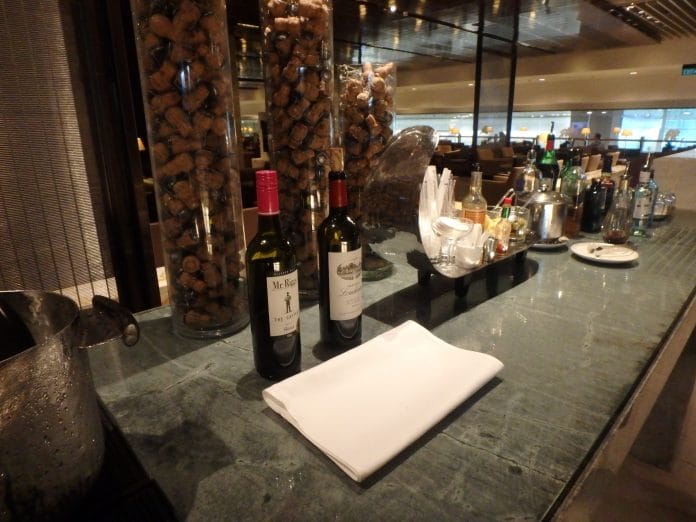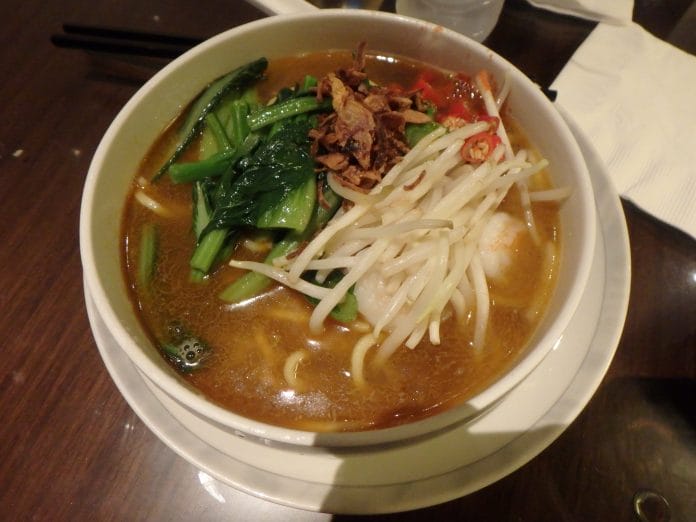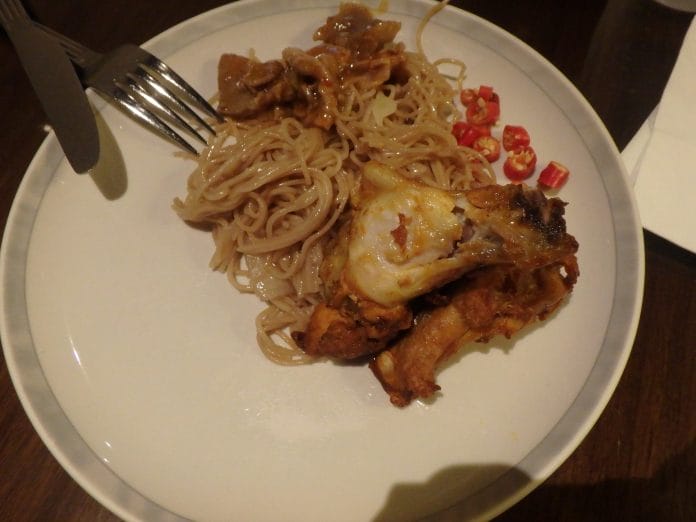 The most interesting thing I noted is that SQ has downsized its mineral water bottles from 500ml to 350ml. It doesn't really bother me because Changi's security setup doesn't allow you to bring water from the lounge onto the plane anyway, but it was interesting that SQ's bean counters had done the math and figured that it was better to serve more small bottles than fewer big bottles.
BR226 departed from gate A13, where I was met with what was the longest security queue I've ever seen at Changi. A downside about Changi's style of security is that they don't have priority lanes for frequent flyers/premium cabin travellers. It took about 10 mins to clear.
I was surprised that there was no stewardess at the door to do the usual greet and seat escort. If anything, I thought that it was SOP to do one last (completely unnecessary)  check of the boarding passes to ensure you were getting on the right plane. In any case I guessed at which aisle to go down and guessed right, arriving at seat 2A.
EVA has what I think is one of the best business class seats around- reverse herringbone. I would even go as far as to say I prefer it over SQ's flip-style seat, simply because you can pick a whole range of angles to recline at (as opposed to SQ's upright with minimal recline vs full flat mode)
That said, the nature of the seat's design means it is not as private as SQ's. Also, there is no additional padding or linen given for the bed (but this could be because it is a day flight)
The seat controls were conveniently located, and there were the usual assortment of power, USB and AV plugs as well.
I liked the small storage area where I could put my passport and other barang barang. It said no stowage during taxi takeoff and landing but the stewardesses didn't really care.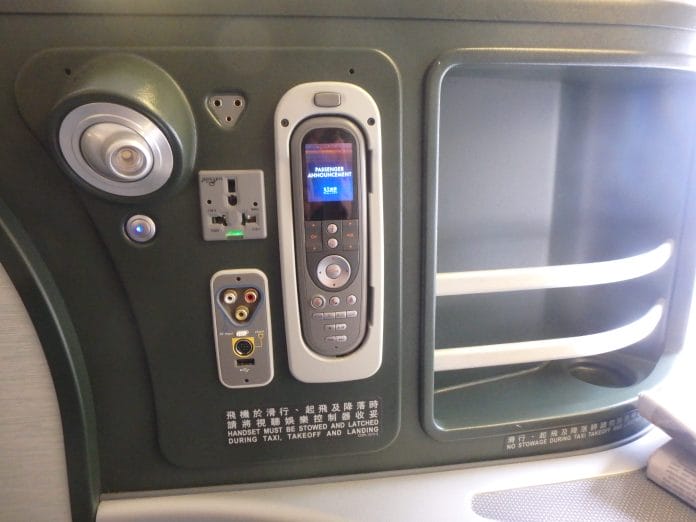 I was also looking forward to collecting another Rimowa amenities kit to accompany my existing one from 2014, but unfortunately it seems that they don't give them out on daytime flights. Only a pair of slippers was offered. I still held out hope I'd get a Rimowa kit on the TPE-LAX leg.
The menu was distributed and I thought the design was absolutely stunning.
This was the menu from SIN-TPE
EVA's catering is undoubtedly better out of TPE, where they have Din Tai Fung meals available. More on that in the report of the second leg.
As for the drinks- EVA used to serve Dom Perignon a while back, but that's been replaced by Veuve Clicquot La Grande Dame, which is still an excellent vintage champagne. In contrast, SQ does not serve vintage champagne in business class.
On the ground EVA only serves sparking wine. I believe some airlines do this because there are duty implications if they open the expensive stuff on ground. The sparking wine was overly sweet and I didn't finish most of it. A hot towel accompanied the pre-departure beverage.
You've got to love the style of EVA's flight safety video.
The flight ended up departing about 20 minutes late due to the big hold up at security, but after a long take-off roll we were on our way!
The strange thing is that the captain didn't turn off the seatbelt sign until well after 1 our of takeoff, but everyone was moving around the cabin like normal.
Freed from my constraints, I visited the bathroom to snap a few photos.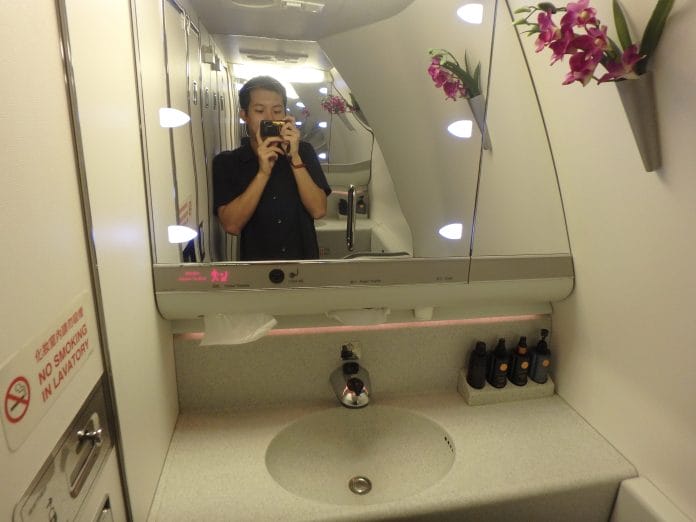 Nothing to write home about here- no amenities drawer, just some nice toiletries and an orchid.
After that it was on to lunch. Note to self: should I really arrange the meal photos and the bathroom ones so close to each other? Ah, no one cares.
The starter was a single scallop and some smoked salmon. Garlic bread (not pictured) was served.
For the main, I had the
Wok Fried Chicken with Dried Chili in BBQ Sauce, Mixed Vegetables, Steamed Rice with Black Sesame
The main was quite disappointing and closer to something you'd expect in economy.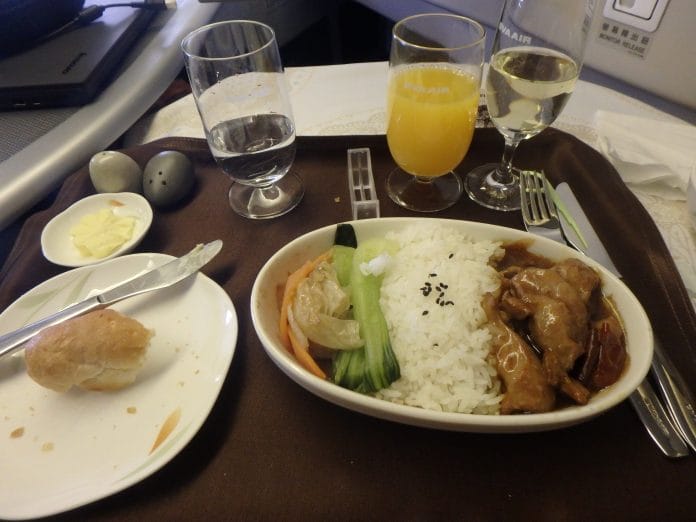 Likewise, desert was very basic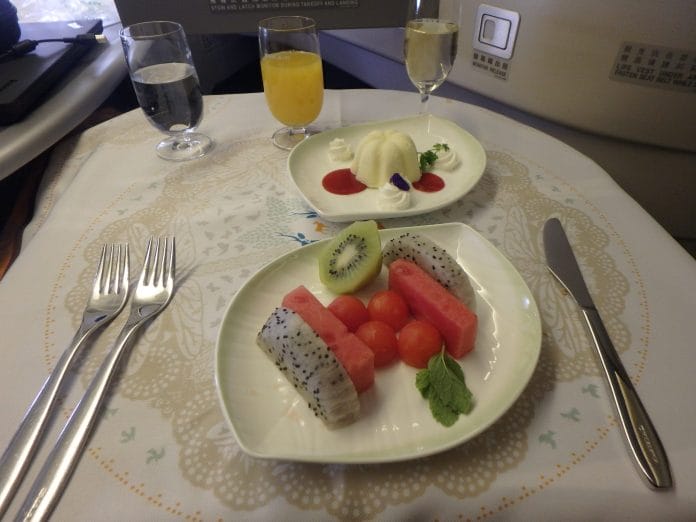 So minus points for the catering, but how about the entertainment?
EVA's inflight entertainment is called "Star Gallery". Some of the newer movies onboard included
Deadpool
Kung Fu Panda 3
The 5th Wave
The Hateful Eight
Spotlight
It was at this point I realised that headphones had not been provided. Whether that was by design or accident I wasn't sure, but a quick request got that sorted out
EVA uses Thunder-brand headphones. Either that or they make their own and put "Thunder" on it. They certainly weren't QC15s, but they fit well and had good audio quality.
There was WiFi on board, and I was pleased to know that EVA uses the T-Mobile time-based system as opposed to SQ's horrible OnAir volume-based system (at least on their A380s- I know some of SQ's planes have T-Mobile). A 24 hour unlimited use pass cost US$21.95.
I worked through the flight and didn't have time to test out the bed (got to save something for the second leg, right?). But overall I thought the flight was good, but certainly not spectacular. The hard product is no doubt solid but the crew aren't anywhere as personable as SQ's. It's the little things, really, like addressing you by name or making frequent passes through the cabin after meal service to check on passengers where SQ excels. That was missing from this experience.
That said, I realised my only other point of comparison for EVA was a long haul flight from TPE-SFO, so decided to reserve final judgment until my long haul segment was completed.
It was going to be a tight connection to my LAX flight, but I wanted to rush to the delightfully named "The Infinity" lounge and snap photos. As soon as the doors opened I grabbed my roll-on and ran.