The Milelion's RTW Trip 2016: Trip Planning
Introduction: Around the world in 28 days
EVA Air B77W Business Class Singapore to Taipei
EVA Air B77W Business Class Taipei to Los Angeles
Silvercar LAX
Avenue of the Arts Costa Mesa
Sheraton Gateway Los Angeles
United A319 First Class Los Angeles to Mexico City
Le Meridien Mexico City
United A319 First Class Mexico City to Houston
United B767 Business Class Houston to Sao Paulo
Sheraton Sao Paulo WTC
South African Airways A330  Business Class Sao Paulo to Johannesburg
Hilton Sandton
Ten Bompas Johannesburg
Turkish Airlines A330 Business Class Johannesburg to Istanbul
Turkish Airlines A319 Business Class Istanbul to Zagreb
Westin Zagreb
Croatia Airlines A319 Business Class Zagreb to Frankfurt
Lufthansa First Class Terminal Frankfurt
Lufthansa A330 First Class Frankfurt to Riyadh
Four Points Riyadh
Air India B77W Business Class Riyadh to Mumbai
St Regis Mumbai
ANA B787 Business Class Mumbai to Tokyo
Asiana A330 Business Class Tokyo to Seoul
Westin Chosun Seoul
W Walkerhill Seoul
Asiana B744 Business Class Seoul to Tokyo
ANA B787 Business Class Tokyo to Singapore
---
This would be my first time in Mexico and unfortunately my knowledge of the country was limited to what I'd seen on Breaking Bad. And heard from Donald Trump. And various other poorly-informed stereotypes on American television. But as Mark Twain said,
"Travel is fatal to prejudice, bigotry, and narrow-mindedness, and many of our people need it sorely on these accounts. Broad, wholesome, charitable views of men and things cannot be acquired by vegetating in one little corner of the earth all one's lifetime."
There were no fewer than 11 Starwood options available in Mexico City, although only 8 of them were in suitable locations. Price ruled out another 6 options until it was just the four Points and the Le Meridien, at which point the choice was clear.
The Le Meridien Mexico City brands itself as an all-suite property and I can understand why. Although it is "only" a Cat 4 property (and yes, I understand that SPG Categories have nothing to do with quality per se but rather occupancy but explain to me why all the uberluxe properties are Cat 7s), each room is huge and has a separate bedroom and living room, as shown in this publicity photo below
On paper, the Le Meridien Mexico City is 15-20 minutes from the airport, but if you haven't seen Mexico City traffic, well. I've been in Mumbai traffic, I've been in Sao Paulo traffic and I'll say both of them put together have nothing on Mexico City. To add to the fun, the day we arrived there was a big teachers' protest around our hotel, so a lot of roads were closed and there were cops everywhere. Mexico City teachers must be the most badass teachers ever to warrant that type of response (but then again the mall cops were all packing, so maybe it's a Mexico thing)
We got to the hotel after 90 minutes in traffic. In the end we weren't able to get past the police blockade so the bellmen from the hotel had to come out about 200m down the road through the blockade and escort us through.
The Le Meridien lobby is on the second floor, up a flight of stairs (or a lift, if you're in a holiday mood)
The usual formalities were done- the property gives both the 500 welcome points and the complimentary breakfast to Platinum members, which I appreciate. I know a lot of properties in the USA which will make you choose, and if you pick breakfast they're careful to stick to the letter of the T&C, giving you a very small continental breakfast instead of the full breakfast option.
My 7th floor room was huge. And this is why I love SPG. Because (outside of the States) they always delight their elite members with upgrades like this. Here's the view from the entrance
And the sitting area infront of the TV
There was a fully stocked wet bar
There was also a microwave oven, because why not
Hopefully this gives you some idea as to how big the room was- up two stairs on a small wooden platform there was a corridor from the sitting room that leads to the bedroom (with the bathroom through the door to the left)
The bedroom was similarly fantastic. I appreciated the fact the windows were double-glazed because we were infront of a major traffic junction. I'm a light sleeper and still slept like a baby. My absolute favourite feature was that there were 2 USB plugs next to the bed. I am amazed at how many hotels miss out this simple step in this day and age.
There was a big work desk in the bedroom too
And a cupboard with the usual iron and safe. The safe is built into the wall, apparently because portal safes have been stolen en bloc from rooms in other hotels in the past.
There were two sinks for whatever reason. One outside the bathroom
And then another sink inside the bathroom.
The bathroom was spacious with plenty of counter space, a nice change after my airport Sheraton. The toiletries were standard issue Le Meridien stuff, but still light years ahead of Sheraton's "Shine" brand
10 minutes later there was a knock on the door and someone brought me my SPG Platinum welcome gift, which was a nice gesture even though I didn't eat it.
There was a handwritten card that went with the gift. The cynic in me thinks that this is all codified into the SPG service manual, but I still appreciate the time taken to do it.
What I loved the most was that on all the SPG floors they had this little setup with water and snacks. It's a small gesture but it was so convenient to have as much water as I needed. How many places could engender so much goodwill by paying a few bucks for bottled water?
There was an indoor pool but since I was recovering from a very nasty canker sore I didn't want to risk swimming (the excuses to forestall exercise keep growing)
I never saw a single other person at the pool during my 3 days at the Le Meridien, but this hotel didn't exactly scream getaway resort either
On the first night I had dinner in the hotel because work didn't leave me any time to explore. The menu was, I suppose, a passable interpretation of Mexican cuisine. But keep in mind that my baseline for comparison is Chipotle.
I am rather proud of myself that I did not cave and order the pasta (which I am sure would be underwhelming and teflon cut) because I was going to Eataly in Sao Paulo anyway (more on that anon).  In the end, tacos were the order of the day.
A small amuse bouche was served, which was cute considering I wasn't exactly in a place that screamed haute cuisine. It was a parma ham wrapped melon with some balsamic vinegar.
A bread basket accompanied the proceedings. This bread basket was already better than 95% of bread baskets out there because they bothered to heat up the bread. I cannot believe that so many expensive restaurants fail to do this simple step. The next time you're in a restaurant and they bring you room temperature bread, ask them to heat it up. Trust me, you'll know the difference.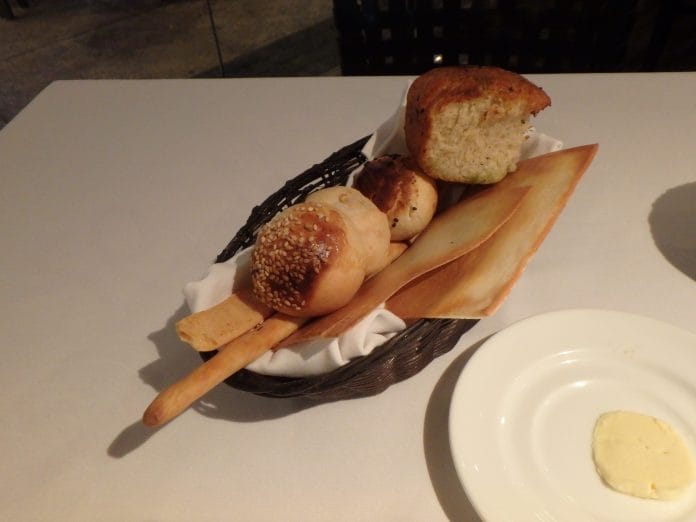 The main event was tacos with flank steak, as well as guacamole, peppers and onions. I'm almost afraid to say I thought it was delicious for fear that the hipster community (which I am very much trying to court) will despise me for declaring hotel tacos "good".
Breakfast on the other hand, was a very basic affair. I think I've been spoiled by all the amazing buffet spreads you'll find in Asia, where you'll get everything from champagne to ice cream at a breakfast buffet.
Over here it was more along the lines of yoghurt
Cereal with hot or cold milk
And a Mexican selection of hot items. This had meats, veggies and eggs
There was also fruit
And something trying very hard to convince me that it was a waffle.
I've enjoyed most of my Le Meridien stays, and this was no exception. With the Starwood-Marriott merger there are whispers that the Le Meridien brand may be one of those on the chopping block (after all, it's not feasible to manage a portfolio of 30+ brands).  Le Meridien has come out swinging though, announcing a $300M renovation and expansion plan and its intention to focus more on North America. I do like the Le Meridien brand and hope it stays as a stand-alone brand, because let's face it, the world doesn't need another Courtyard by Marriott.
I'm just thinking back to what I opened with, about travel being fatal to prejudice and bigotry. I think if more Americans simply visited Mexico and interacted with the people there they'd realise how far off base many of the things that have been said about the Mexicans are. Service in the hotel was gracious to a fault. When my first room had a really noisy A/C unit, they shifted me to another one and when I got there 2 technicians were fiddling with the A/C unit in the new room to ensure it wasn't also rattling. The concierge was full of great dining ideas and even volunteered to send a bellboy to a pharmacy in the middle of the night when I needed some chapstick.
Outside the hotel, the people I met on my site visits and meetings were amazing, warm and wonderful. During one site visit to a school the kids made my colleague and I this diorama to take home.
And all the kids said "I love you" and for a brief moment I stopped being angry at every kid I ever saw on a plane. But only for a brief moment.
I'll be the first to admit that I did have a curated view of Mexico. I only saw the airport, the hotel and whatever sites our handlers wanted us to see. But every local I met was warm and hospitable, and at no point did I feel unsafe or unwelcome. If given a choice I'd be more than glad to come back again in the future.
Provided President Trump hasn't annexed it, of course.