The Milelion's RTW Trip 2016: Trip Planning
Introduction: Around the world in 28 days
EVA Air B77W Business Class Singapore to Taipei
EVA Air B77W Business Class Taipei to Los Angeles
Silvercar LAX
Avenue of the Arts Costa Mesa
Sheraton Gateway Los Angeles
United A319 First Class Los Angeles to Mexico City
Le Meridien Mexico City
United A319 First Class Mexico City to Houston
United B767 Business Class Houston to Sao Paulo
Sheraton Sao Paulo WTC
South African Airways A330  Business Class Sao Paulo to Johannesburg
Hilton Sandton
Ten Bompas Johannesburg
Turkish Airlines A330 Business Class Johannesburg to Istanbul
Turkish Airlines A319 Business Class Istanbul to Zagreb
Westin Zagreb
Croatia Airlines A319 Business Class Zagreb to Frankfurt
Lufthansa First Class Terminal Frankfurt
Lufthansa A330 First Class Frankfurt to Riyadh
Four Points Riyadh
Air India B77W Business Class Riyadh to Mumbai
St Regis Mumbai
ANA B787 Business Class Mumbai to Tokyo
Asiana A330 Business Class Tokyo to Seoul
Westin Chosun Seoul
W Walkerhill Seoul
Asiana B744 Business Class Seoul to Tokyo
ANA B787 Business Class Tokyo to Singapore
---
After an amazing 3 hours in the FCT, it was time to sober up and head for Riyadh. Our driver had taken us right to the A330 on the tarmac, and after taking an elevator up to the aerobridge level we boarded the plane.
I've only flown first class with two airlines before, SQ and ANA. But based on those experiences I can already see why people would be willing to pay a premium over business class (or at least a miles premium, if not a cash one). The seat is definitely an upgrade over business class, as is the catering and service. I think the case is even stronger when the airline has a less competitive business class, as is the case of Lufthansa and its 2-2-2 business class.
Lufthansa recently finished installing its new first class on all its aircraft, which was more than overdue given how uncompetitive its old first class seat was.
Its new first class is a much more modern offering, with lovely wood finishes and a less dense seating configuration. The 747-400 version even features a separate bed in the upper deck, whereas on other aircraft the seat converts into a bed.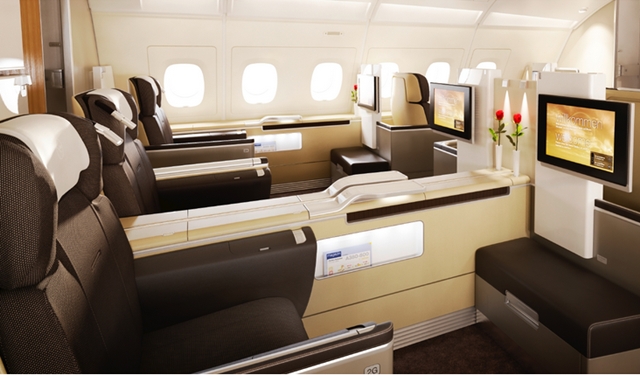 I was very intrigued to see how the Lufthansa first class experience compared to SIA's. Would they be able to display the same level of obsessive attention to detail? How would cold German efficiency meld with the need to exude warmth and not rush the passenger? And would the catering in the air match that on the ground? I was about to find out.
We were greeted by the chief stewardess Astrid at the door. "Good afternoon Mr Wong! We've been expecting you!" Presumably the FCT calls ahead to let the aircraft know the passengers is on the way, but it was a nice touch nonetheless.
My colleague was spirited away to the relative squalor of business class where she would be tormented by 2-2-2 seating and non-vintage champagne. I'm a bit divided about Lufthansa's business class- it's a (relatively) new product but 2-2-2 just doesn't cut it in today's environment.
Plus, the design of the product is such that some seats will have footsie opportunities.
It's a bit telling that Lufthansa has only just finished retrofitting all its aircraft with the new business class, yet they're already thinking ahead to 2020 when they're replacing the current generation of product. Hopefully they'll go with a 1-2-1 configuration then.
Anyway, that wasn't my problem today.
Astrid showed me to 1A and said "You're the only passenger in First Class today so feel free to sit wherever you want"
I was delighted because this meant easier photo taking. It's always difficult to take photos in a crowded cabin, because our post 911 paranoia has made it such that anyone taking photos of the seat power sockets must surely be a security risk.
Lufthansa makes a point of labeling each of its cabins with a sign upfront, so no one can make the excuse that they didn't know they were in the wrong cabin. Presumably.
The configuration in First Class was two rows of 1-2-1. Lufthansa is progressively downsizing First Class capacity in its fleet- 32 of its 106 aircraft currently do not offer First Class, and the A350s replacing the A340s in its fleet will not offer First Class cabins. Such is the way of things, sadly (SQ downsized first class from 8 seats to 4 on its newest 77Ws), and I suspect this will mean it becomes progressively harder to redeem First Class awards.
The cabin doesn't look very private on first glance, because of the open nature of the seats (versus SQ's first class design where it's hard to take a cross cabin shot like this because of the high walls of each seat) However, the seats all have individual privacy dividers that can be raised which makes it much better.
Each suite has a foot locker that provides adequate storage for shoes or a small bag (mine had a bit of an ugly discoloration as you can see in the photo)
In one armrest was the seat controller, which has an optical trackpad but for some reason lacks fast forward buttons.
The other armrest had the seat controls
Each seat had 2 USB charging ports and 2 power plugs. Quite impressive considering I've never seen more than 1 power plug in an airline seat (or had need for more than 1)
The amenities kit was by a German brand called Bogner. I liked the weighty, high quality feel to the bag. The contents were rather lacking though- socks, eyeshades, comb, earplugs and toothbrush kit. It's still much better than SQ's disappointing amenities kits though, which only have cologne, lip balm, moisturizer and a wet tissue (yes, I know you can get toothbrushes in the loo)
Even though this was a day flight, PJs were offered. That's a definite plus, I can't remember if SQ offers PJs on daytime first class flights but i suspect they do not.
Here's what the PJs look like on a very well-toned man.
Headphones are Bose QC-15, the gold standard for any airline. SQ has the same offering (although Finnair has QC-25s in their business class cabin)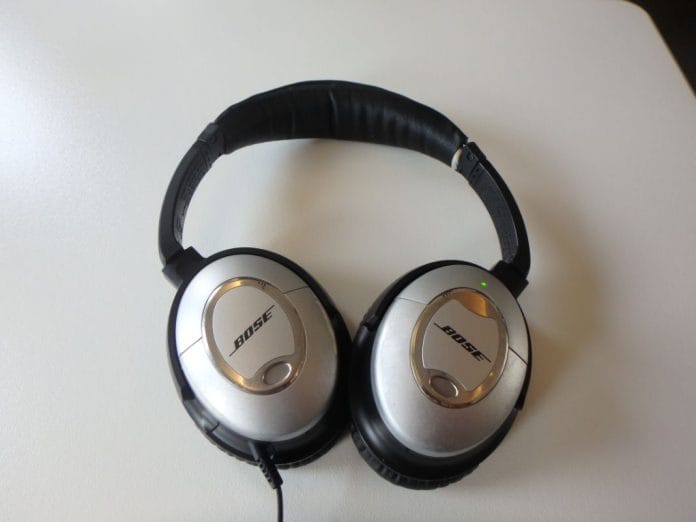 Pre-departure drinks were served. The champagne on offer was a vintage Tattinger, 2007. This is of course nowhere near the Krug or Dom that is standard in SQ's first class, but I honestly think if I tasted them all blind my palate isn't sophisticated enough to tell the difference. They served warm nuts while still on the ground, another nice touch.
I believe SQ doesn't serve anything to eat until you're in the air.
The inflight catalogue was brought around. I'm a big fan of German design but most of the items were way out of my price range sadly. Apparently there are some good deals to be found on Rimowa luggage if you're into that sort of thing.
A choice of magazines was offered too.
In Bloomberg Businessweek there was a piece on the hilarious feud between Delta and Qatar Airways. No one trolls like Akbar Al Baker.
They would be serving a late lunch on this flight, although you have the option to dine any time you want.
Our captain came on the PA to apologise for a delay with the pushback because of some late-loading luggage. It really didn't bother me because Astrid was liberally refilling my champagne glass.
While we waited we chatted about going to Saudi. It was the first time I'd been there and I'd heard the usual litany of horror stories about people getting arrested for having prescription drugs or mouthwash that had alcohol in it or bibles.
She assured me it was nothing like that, though the female flight crew would pretty much just shack up in the hotel during their turnarounds and wait for it to be over. No gym for them, no swimming pool, certainly no runs to the mall. She also advised me that they might check random people's phones for, shall we say, intimate photos, and it would be a good idea to ensure such material did not exist. I still cannot decide if she was giving that as generic advice or she saw something in me.
We eventually pushed back and taxied about a 20 minute delay. It was surprisingly light traffic for FRA and we were airborne within another 10 minutes.
Immediately after takeoff Astrid came around and asked me when I would like to dine. I was really feeling those many glasses of champagne so decided to take a nap first.
She had the bed behind my seat set up in less than 5 minutes, complete with duvet and a big thick blanket.
She also brought around a bottle of water as well.
The bed was excellent. I still think the best bed I ever had on an aircraft is the SQ Suites one, but this ran a very close second. It's always going to be hard for a seat that converts into a bed (Lufthansa) to compete against a purpose-built bed (SQ Suites), but I still had a very comfortable 2 hour nap.
After waking I went to the bathroom to freshen up. The bathroom isn't particularly big, although this is a fault common to many airline's first class. I get that there are space constraints, but when you see what Emirate/Etihad do for their first class bathrooms you wonder why other airlines can't do something similar.
There was quite the bounty of toiletries inside, which I used to supplement my already full amenities kit. Those Evian sprays are lovely.
Astrid came around to take my meal order.  She asked me what garnishes I'd like with my caviar. I honestly didn't know what garnishes go with caviar, but I was not about to expose my uncultured ways. "Surprise me!" I said.
A small serving of what I think was guacamole and salmon tartare was served before the caviar.
Then the table was set up. The butter had a little first class stamp on it, which made it taste superior to butter with a business class stamp on it.
Then came a very generous portion of caviar, together with white onion, lemon, egg yolk, egg white and creme fraiche.  So this is what people eat with caviar, I thought to myself as I used the wrong spoon to shovel it into my mouth.
I do enjoy the flavor of caviar. I mean, I'm not going to pay silly money to eat it outside of an aircraft, but I can appreciate it for what it is- overpriced fish eggs.
My reading of other first class trip reports has led me to believe that all caviar must be served with a mother of pearl spoon. That was lacking here, but for the life of me I can't remember if SQ has one either. It certainly didn't diminish the experience for me, but I might just be a philistine that way.
Sadly the meal went downhill from there. I requested for the beef, which was described as
Tenderloin of Beef with Eggplant Ragout and spiced Potato Mash
Could we get a perfect medium rare, in first class, out of Lufthansa's homebase with DO&CO support?
No, no we could not.
The steak was tough and chewy. The sauce tasted like someone had dumped a whole lot of red wine into the marinade. I gave up after a few bites and asked for the fish instead.
Fried Turbot with Cherry Tomato Confit, grilled Leek, marinated Bell Pepper and Orange Rice
The fish was similarly unappetizing. The rice was hard, the fish was way overcooked and the vegetables were limp. Something just seemed wrong about the two meals, and then it struck me- the plating was nowhere near the standards of SQ (see below)
See how much of a difference plating and color can add? The Lufthansa meals just looked very unappetizing from the get go. And the flavor wasn't great either. Really disappointing, considering the DO&CO connection.
Desert was
First Harvest Strawberries, Barvarian Cream and Strawberries in various Textures
This was slightly better. I get the whole "strawberries in various textures" thing (there was a fresh strawberry, strawberry sorbet, strawberry jam, strawberry whatchamacallit) but I'd have been a lot happier with just fresh strawberries. The solid barvarian cream was interesting though, it reminded me of white chocolate.
A chocolate menu was presented to me after desert
It was time to check out the IFE. Lufthansa has an extensive selection of entertainment but it was nowhere as large as Krisworld. However, they do have Live TV (it wasn't working on this flight) which is an innovation I'd like to see very soon on SIA. I believe during the 2014 World Cup it was indeed possible to watch Sport 24 and various live matches on SQ, but that hasn't become a permanent thing.
None of the movies or TV programs really appealed to me, but I was happy to see they had the Fairly Oddparents under the kids section. I love the Fairly Oddparents, it's probably second only to Spongebob Squarepants for subversive humour and subtle adult jokes. Unfortunately, this was entirely dubbed in German.
I ended up seeing out the flight staring at this awesome spherical thing while I sipped champagne glass number 25 (I lost count at this point in time)
Before long we were approaching the bright lights of that cosmopolitan metropolis called Riyadh. Ah, the wonders of oil wealth.
We landed slightly behind schedule because of our delayed pushback. One thing to note about Riyadh, for the benefit of those of you who will have the distinct privilege of visiting, is that the immigration queues are a joke. When I arrived the queue was easily 200+ people long. The trick is that there really are two lines- one for migrant workers and one for everyone else (read: white people). Just go for the white people line, even if it's your first time entering the country (the line is labeled: re-entry only but there is zero semblance of a system). There is no priority queue for first/business class passengers, at least officially, but showing your boarding pass to the immigration people quells any objections. I'm glad that for the first time in my Singaporean life I did not follow the signs, because that queue was just insane.
My overall thoughts? In the air, Lufthansa First Class, as good as the hard product is, will not be challenging SQ anytime soon. SQ's hard product is still much superior, as is its catering (both alcohol and food). I would say service was as good as SQ's. Lufthansa has a clearly superior ground product to SQ, however. Its FCT is something that SQ can never hope to (and I believe doesn't want to) imitate, and that really elevates the entire experience. I would strongly encourage everyone to try and experience it at least once in their lives. If you collect SQ miles, flying FRA-DXB for 35,000 miles in F can't be beat.
While we were waiting for the aerobridge to open, the passengers from the business class cabin moved forward into first class (the nerve of some people, I say!) to deplane. A really cute girl in an abaya chatted me up.
"Wow, you were the only passenger in first class? Does everyone get a rose?" (she gestured to the roses in the vases next to each seat- see this photo taken earlier)
The baller thing to do would have been to take out the rose and give it to her. But because no cute girl had ever spoken to me (voluntarily) before, I was convinced that this was a sting operation by the Saudi religious police, probably looking to entrap gullible hormonal men. Nice try, Committee for the Promotion of Virtue and Prevention of Vice!
So instead I stared at my shoes and mumbled something along the lines of "meet to please you".
And on that high note, we shuffled off the plane into the 40 degree night heat of Riyadh.