The Milelion's RTW Trip 2016: Trip Planning
Introduction: Around the world in 28 days
EVA Air B77W Business Class Singapore to Taipei
EVA Air B77W Business Class Taipei to Los Angeles
Silvercar LAX
Avenue of the Arts Costa Mesa
Sheraton Gateway Los Angeles
United A319 First Class Los Angeles to Mexico City
Le Meridien Mexico City
United A319 First Class Mexico City to Houston
United B767 Business Class Houston to Sao Paulo
Sheraton Sao Paulo WTC
South African Airways A330  Business Class Sao Paulo to Johannesburg
Hilton Sandton
Ten Bompas Johannesburg
Turkish Airlines A330 Business Class Johannesburg to Istanbul
Turkish Airlines A319 Business Class Istanbul to Zagreb
Westin Zagreb
Croatia Airlines A319 Business Class Zagreb to Frankfurt
Lufthansa First Class Terminal Frankfurt
Lufthansa A330 First Class Frankfurt to Riyadh
Four Points Riyadh
Air India B77W Business Class Riyadh to Mumbai
St Regis Mumbai
ANA B787 Business Class Mumbai to Tokyo
Asiana A330 Business Class Tokyo to Seoul
Westin Chosun Seoul
W Walkerhill Seoul
Asiana B744 Business Class Seoul to Tokyo
ANA B787 Business Class Tokyo to Singapore
---
I knew beforehand that getting to Seoul via Tokyo and ANA instead of directly via Asiana would involve a 4.5 hour layover in Narita. I rationalised this saying I'd rather have a proper night's sleep on a full flat bed than to go with Asiana's angled flat product on their A330. But as I hauled my groggy, 3 hours sleep torso from the 787 and headed towards the transit area I started wondering if that was the right call. A 4.5 hour layover in a lounge with no real sleep facilities was probably inferior to the possibility of being in a taxi right now headed for my hotel in Seoul.
I realised just as I landed that I didn't actually have my boarding pass for OZ101 that would take me onwards from NRT-ICN. I was so flustered about my crashed SD card that I forgot to tell the staff at BOM check-in about it (I had purchased a separate roundtrip ticket from NRT-ICN and back because I was over the 39,000 mile limit on my RTW fare). Fortunately, I was able to do an online check-in from my phone as the plane was taxing to the gate and got my boarding pass instantly. This allowed me to go through the transit security straight away instead of having to leave the secure area and check in again.
As you might expect, ANA operates numerous lounge facilities in Narita. I had visited all of them before and found them to be uniformly average. Even ANA's Suite Lounge, its flagship in its home base, didn't quite make the cut. ANA is sort of like SQ in that respect- excellent hard product in the sky but decidedly middling product on the ground.
As a business class passenger (and Star Gold member) I had access to the ANA Lounge on the 2nd floor.
ANA has some sort of marketing tie-up with Star Wars and they're certainly getting the most out of it. They've painted several of their aircraft in Star Wars livery for one
And they've installed this totally badass game machine in their lounge. More on that anon.
ANA has 2 business class/ Star Gold facilities at Narita, on opposite ends of the terminal. The catering and amenities are similar so there's really no reason to venture to one over the other. The lounge was pretty empty when we got in but progressively filled up towards late morning.
The food selection is surprisingly small in the lounge though. They had some Japanese pastries (?)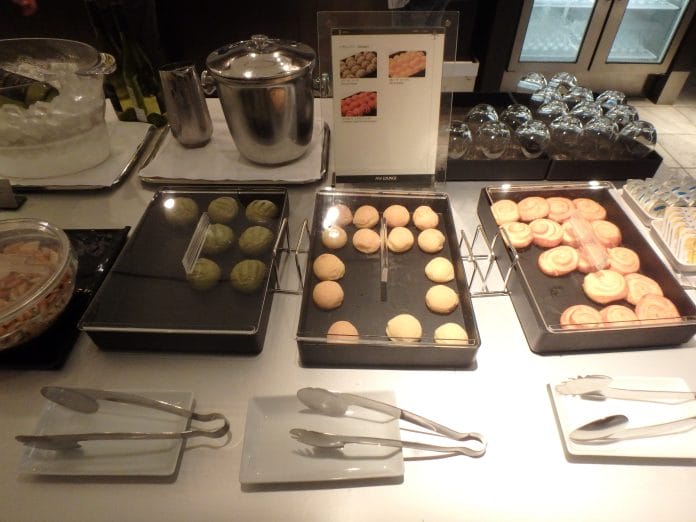 Some maki and beancurd wraps
Some remnants of a salad and sandwiches
There were a few food warmers with a mix of fried rice and some sort of tofu
And two types of soup which I didn't bother to investigate
Fortunately there was a separate dining area with made-to-order hot items. Ramen, udon and Japanese chicken curry were available. You would order you food, get a little plastic tag with a number on it and come back to collect it later. Waiting time was never more than 5 minutes.
My ramen was the epitome of average. Noodles were overdone, soup was way too salty and egg was overcooked.
My colleague had the Japanese curry, which looked, well.
In terms of drinks they had soft drink dispensers
The usual range of libations (alas no champagne).
And one heck of a sake bar. It's a shame I don't drink sake because I can imagine the sake connoisseur  having quite the fun time here.
I decided a post breakfast shower would shake off those cobwebs. ANA has individual shower suites in its business class lounge with toilets.
The loo has your essential Japanese bidet function (and heated seat too, classy)
The toiletries are by Shiseido and come in small single use packets (if I recall correctly passengers in the First class lounge get small Shiseido toiletries kits instead)
I know from past experience that waits for showers can get very long during peak periods but I was pleasantly surprised to get a shower straight away.
Elsewhere around the lounge is a business center is located at the back of the lounge
Complimentary printing is provided through some complicated system I couldn't quite figure out
There are numerous individual work cubicles too
I went back to the lobby to check out the Star Wars game.
This is the Star Wars Battle Pod, described in the PR materials as
Star Wars™: Battle Pod™ is a experiential arcade game that features a dome-shaped screen, transporting players into heated battles in a galaxy far, far away. In iconic locations like the Death Star, players will be able to take control of some of the most memorable vehicles and moments in the Star Wars universe and pilot them to victory.
The Battle Pod features
I'm amused that the PR on ANA's website includes additional little tidbits like this but it's still helpful to know how much you'd pay if you broke it.
Width: 1,880 mm / Depth: 1,700 mm / Height: 2,400 mm
Weight : 365 kg
Price: 4,650,000 JPY (Approx 60,000 SGD)
Here's the trailer for the game
You need to get a token from the front desk to play each time, which makes sense because it limits the ability of one player to hog the machine.
There are different missions you can select, each with variable difficulty
I played the Hoth mission, took down a few AT-ATs and became a hero of the rebellion.
Well sort of. In my defence, medium difficulty is pretty high.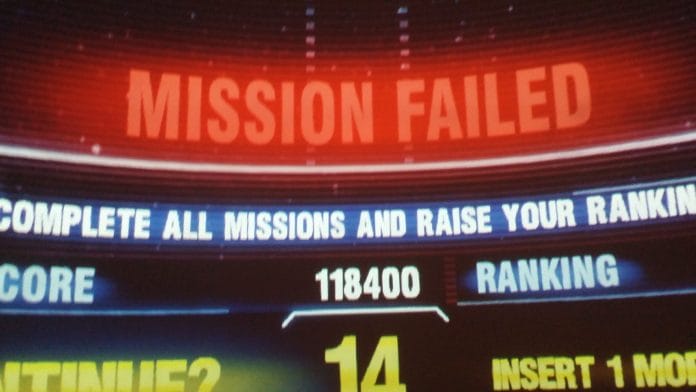 It was still three hours from boarding and that shower hadn't helped at all. I was feeling really sleepy, so I retired to the darkened rest area at the back of the lounge. There are several lounge chairs here which can recline. It's not overnight friendly, but it should be good enough for a quick shut eye.
That is, unless there's some loudmouth using his phone in the rest area. 5 cubicles down was a man with an obnoxious American accent talking at the top of his voice with some other idiot (not prejudiced, some of my best friends etc etc).
I did not discount the possibility that this man was in deep discussions with a potential organ donor who would provide the transplant that would save his wife who works in rural Ghana driving orphaned kids to school through warlord-controlled areas in the hope that one of them would one day rise above his own estate and be the change that he wanted to see in the world and unlock the potential of his homeland and usher in a period of unprecedented economic growth and spiritual happiness. But I did question his need to hold such a conversation in the rest area of the lounge.
I then thought about whether I should confront him. Maybe he would see reason. Maybe he would understand that although little Dembélé needed to get home from school before the bad men came back to his village to steal what was left of his goats, there were more appropriate places to conduct a full volume conversation.
With great justice on my side, I got up to walk over to his cubicle. Then noticed he was ripped. Then bravely turned around quickly and walked back.
It was apparent that the original course of action was no longer tenable. "If only I had big muscles," I marveled. "I would use them in a socially responsible way to make this situation right. I would never abuse them for frivolous purposes like bodybuilding contests, courtship, and carrying shopping for women." The more I thought about it, the more I decided I was indeed worthy of wielding such power. Dembélé would approve.
So I closed my eyes and wished for big muscles, the type that would make men weep and women swoon.  I promised that I would use this gift in a noble manner, that great responsibility would accompany this great power, that I would be a defender of the one and true path. I opened my eyes and was decidedly still scrawny.
After this revelation I decided to leave the lounge and pay a visit to the other big Star Alliance lounge in Narita- United's. Narita is a huge hub for United and important enough for them to operate a lounge of their own.
For a United-operated lounge it's surprisingly not terrible. There's a fair amount of seating
A limited selection of wines and sake. Free of charge, which needs to be mentioned because United charges for alcohol in their domestic lounges.
There was a selection of cold cuts and stale bread
Maki and more cold cuts
Fruit and salad
Beans
Miso soup
Soft drink dispensers
Some token Japanese art
I concluded that the ANA lounge probably edged the United lounge because it had made to order items. Neither lounge had anything sparkling, although in the case of the United lounge that might just be because of time of day (I've been to the ANA lounge in the afternoon and evening and the alcohol options don't change).
It was time to board. Everyone was surprisingly well-behaved at the boarding gate. After seeing the absolute scrum that is US-style boarding (to be fair, the equation is a lot different on a wide-bodied aircraft where there's plenty of overhead storage space and no bag fees) this was a relief.
Out the window I could see the Asiana A330 that would take us to ICN.
Priority boarding was called and my colleague and I were the first onboard.
Asiana has a 2-2-2 configuration on its A330 aircraft with tired, angled flat seats. I realise that SQ has a similar arrangement on its A330s, but those are only used for regional flights of at most 5-6 hours. Asiana uses this same seat on many of its long haul routes, which is quite unacceptable for a supposedly 5 star airline
Its much superior Smartium seat is only available on 2 aircraft types- the A380 and the B777-200ER. That said, I don't even think its anywhere near the best business class seat out there. This is the same product that Thai has, and if you're travelling by yourself best to hope you don't get those awkward 2 seats in the middle which are almost next to each other.
But for a 2 hour hop to ICN an angled flat seat was more than sufficient. The seats have clearly seen better days as the fabric is faded and stained in some parts (nowhere as bad as Air India's angled flat seats though)
I had seat 1A, the bulkhead. The cabin was more than half empty so everyone had an empty seat next to them.
One of my first concerns when I saw the cabin was how much of a lack of privacy there was. I think this is a universal problem with many angled flat configurations. Fortunately there was a privacy divider that you could extend between the seats.
Seat controls were on the side panel.
Seats had the usual power and USB charging outlets. The placement of the power plug was really inconvenient- if you have to use an adapter for whatever reason (the plug is universal but it didn't fit my India-issued charger) good luck getting the whole thing to fit in there. Fortunately the stewardess seemed to know this was a common issue and provided me with a much smaller adapter.
I was hoping that the safety briefing might be in the form of a Korean music video but was sorely disappointed.
The pilot came on the PA to announce the flight time to Incheon. He had a reassuring ABK accent, the likes of which you could imagine hearing at many a west coast university.
After takeoff, menus were distributed. Lunch would be served on this short flight to Tokyo
The champagne on offer was Cattier Brut. I amazingly did not partake, preferring a clear mind to clear my backlog of emails.
When the time came to order I went for the bibimbap, described poetically as
Mixing and Harmonizing

A famous Korean cuisine Bibimbap

Steamed rice, various kinds of vegetables and minced beef, mixed with red pepper paste "Gochujang", sesame oil, accompanied by assorted side dishes and soup
I said before that I wasn't the biggest fan of Korean food, but I found this bibimbap to be pretty good. I think the Koreans can give the Japanese a run for their money when it comes to high quality rice too.
The bathroom had a window (which I thought only 787s had) and L'occitane toiletries.
After lunch I went ahead and reclined the seat all the way. Then took a step back to look at it. Yeah, probably not the best choice for a red eye flight.
No blankets were provided by default but you could ask for them. I got a one and took a nap and found the seat to be surprisingly serviceable. I didn't find myself sliding towards the floor, if that counts for anything. Still not my ideal choice for a redeye though.
We landed on a rainy afternoon at ICN. As we taxied I got the chance to do some airplane spotting, including this Korean and Asiana A380
Overall the flight was unmemorable- I certainly do not think Asiana is anywhere near the 5 Star rating that it boasts from Skytrax. In fact, on the Skytrax list the only truly world class carriers I'd consider would be Cathay ,SQ, ANA and possibly EVA. Asiana is, at best a 4, 4.5 star operation.
I had finally reached Seoul and now it was time to head over to the Westin Chosun.