The Milelion's RTW Trip 2016: Trip Planning
Introduction: Around the world in 28 days
EVA Air B77W Business Class Singapore to Taipei
EVA Air B77W Business Class Taipei to Los Angeles
Silvercar LAX
Avenue of the Arts Costa Mesa
Sheraton Gateway Los Angeles
United A319 First Class Los Angeles to Mexico City
Le Meridien Mexico City
United A319 First Class Mexico City to Houston
United B767 Business Class Houston to Sao Paulo
Sheraton Sao Paulo WTC
South African Airways A330  Business Class Sao Paulo to Johannesburg
Hilton Sandton
Ten Bompas Johannesburg
Turkish Airlines A330 Business Class Johannesburg to Istanbul
Turkish Airlines A319 Business Class Istanbul to Zagreb
Westin Zagreb
Croatia Airlines A319 Business Class Zagreb to Frankfurt
Lufthansa First Class Terminal Frankfurt
Lufthansa A330 First Class Frankfurt to Riyadh
Four Points Riyadh
Air India B77W Business Class Riyadh to Mumbai
St Regis Mumbai
ANA B787 Business Class Mumbai to Tokyo
Asiana A330 Business Class Tokyo to Seoul
Westin Chosun Seoul
W Walkerhill Seoul
Asiana B744 Business Class Seoul to Tokyo
ANA B787 Business Class Tokyo to Singapore
---
Despite a fantastic stay at the Westin Chosun, I was feeling like exploring a different part of Seoul as my RTW trip drew to a close. I spotted a fantastic weekend rate for the W Seoul and decided to relocate there for my last night.
I know that the W Seoul was in a quieter part of Seoul called Walkerhill and on the map it looked a little out of the way. Little did I know that the W in Seoul is located wayyyyyy out of the way. It took almost an hour to get there from the Westin Chosun in light to moderate traffic.
The property is located on top of a hill, I'm going to take an educated guess and say that the hill is its namesake Walkerhill. The W is also located next to the Sheraton Grande Walkerhill. Although the Sheraton Grande is supposed to be the more atas tier of Sheratons, this one looked decidedly dumpy.
Enter the lobby and you realise that W Hotels are meant to be photographed. Every aspect of their architecture is Instagram friendly, which would be great if I knew how to use Instagram.
I'm sure if I knew how to use Instagram, I could make this directional pillar cool.
Similarly, this kinetic wooden flip wall would look amazing with a filter.
And these egg chairs in front of a faux fireplace would look stunning with a blur out of focus filter.
The lobby had lemon mint water because apparently hipsters love that sort of thing. Also somehow Instagramable.
Otherwise, the lobby was pretty empty when I arrived in the mid-afternoon from the Westin.
The signature Woobar is located in the lobby with prices that bring tears to your eyes.
After identifying I was a platinum member, I was ushered to the Whatever/Whenever desk for check-in, in lieu of a lounge. The main benefit of this is that you can sit down while the clerk processes your details.
Surprisingly, I had to choose between breakfast and 500 points here. I'd become so used to many Asia properties giving both. I chose the points because I'd be departing really early the next day (around 9am, factoring in a 1.5 hour drive to the airport) and probably wouldn't have time to eat.
On the plus side, I was given an upgrade to a Marvelous Suite without having to burn a SNA.
The property is 14 floors in total. I had the top floor. You can also see that the usual array of W stalwarts like the Away Spa and Wet are available.
You know its a W Hotel when the lift has gymnast rings.
1451 was waiting for me.
The Marvelous Suite is far from the biggest of all suites. On the floor plan below (my room in red) you can see that there are 3 other, largest Suites on my floor (I would assume these are the WOW and E-WOW suites). That hurt me, because I am a small, petty man.
Nonetheless, seeing the Marvelous Suite for the first time did offset some of that suite envy
The whole room had a red theme going on. The sun was blazing into the room when I entered so it was quite warm, but turning on the A/C full blast quickly resolved that.
There were many high-end furnishings in the room, including a Bose music player that you could connect your own device to
In the wardrobe was this rather fetching ensemble of red bathrobes.
The writing table mocked me with a list of the super hip happenings around town, knowing full well that I was too pathologically shy to participate in any of them.
There was a grand total of two complimentary bottles of water in the room (another in the bathroom), a bit stingy if you ask me considering the St Regis Mumbai had 10+ bottles freely available.
But they certainly didn't hold back with loading the minibar. This had to be the best stocked minibar I had ever seen
Intrigued by the sheer variety of items, I laid them out carefully to document the spread
Some of the more interesting items
4 pairs of boxer shorts
Bvlgari perfume
A phone case
A facial mask (but then again it is Korea)
Condoms by United Colors of Benetton. The condoms weren't so much the surprise as was the manufacturer
A melting bubble ball. I suppose this was what you put in the tub
2 pairs of socks
The fridge contents were much more ordinary (but just as overpriced)
And your usual tea and coffee making facilities
A welcome drink and platter of snacks was waiting for me. Unfortunately I don't drink wine. I wish someone could put on my SPG profile that I'd rather a cheap sparkling wine than a cheap bottle of red. In fact I'm sure I can have that put on my profile. Let's see what happens. A cheap bottle of sparkling wine should cost the same as a cheap bottle of red right?
Bathrooms are a highlight of W hotels and this one was no different
The centerpiece of the bathroom is this giant red tub. It easily fits two, and I believe that is sort of the idea.
Be warned, the tub takes 45 minutes to fill, so you might want to build in some lead time. I later timed it and found it the 45 min window to be accurate.
There's also a regular shower if you're in the standing mood.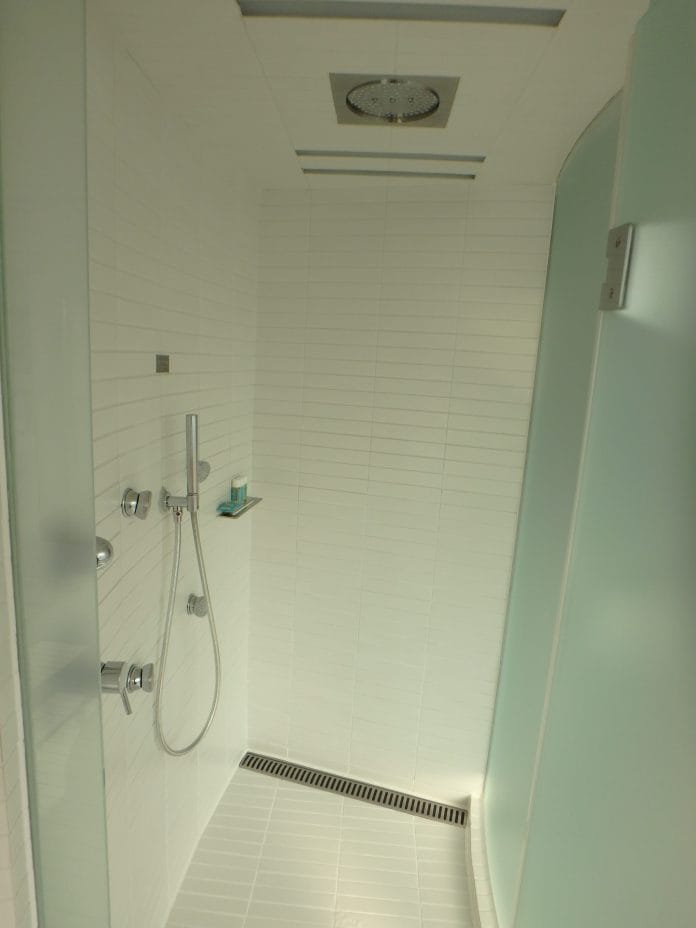 Surprisingly the bathroom didn't come with full-sized bliss amenities like the W Singapore does in its suites. I only got the travel sized bottles.
There was a well-stocked amenities tray, but again nowhere as generous as what the St Regis Mumbai had. Toothpaste was generic branded.
There were 2 large his-and-hers sinks and another set of bliss toiletries.
One sneaky trick I thought they did was put this bottle near the sink. Because it doesn't look like expensive water (eg Evian, Fiji) one might be tempted to think it's the free bottled water that comes with the room. But if you open it up and use it to brush your teeth, you'll be paying a hefty $5.30 for the privilege.
There is a space-age looking pod toilet that gets ridiculously hot in the daytime sun. There are blinds fortunately which you can draw so you don't give all of Walkerhill a free show.  Although the loo looks space-age, it's not particularly high tech. No auto-bidet function, for one.
The room overlooked the entrance, but you could also see the Sheraton nextdoor.
Room tour done, I decided to explore the rest of the property. There was a gift shop in the lobby with all sorts of overpriced nick nacks. Visually pleasing but overpriced, I think that summed up the W brand in a nutshell.
There was an adorable bunny in the shop though.
The three main dining options in the W Seoul are Tonic, Namu and Kitchen. Kitchen is their all-day restaurant, Namu is their upmarket (read: expensive) Japanese restaurant. Tonic does local Korean food and cocktail.
I dined at Kitchen that night and was decidedly unimpressed by the lobster bolognese and asparagus.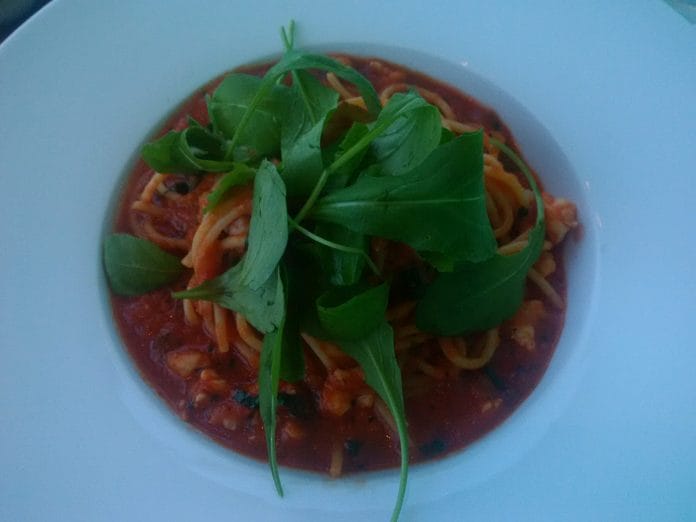 The restaurant overlooked the highway. Not exactly cocktail views.
Dissatisfied with dinner, I caught a cab to the nearby mall where I was able to load up on some last minute groceries and small bites. Later that evening to celebrate an workplace promotion I decided to get some fruit and liquid fruit (well it is liquid fruit) and soak while listening to a mix of Mezzanine de l'Alcazar. That's suitably hipster, right?
And that brought me to the end of my Seoul trip and the final destination on my RTW trip. In the end, to afford myself some additional sleep I switched over to OZ104 which departed at 10am, instead of my original OZ102 with its 9am departure. That proved to be a great choice from a AV geek (AV= aviation, for avoidance of doubt…) because it let me reunite with an old friend…