The Milelion's RTW Trip 2016: Trip Planning
Introduction: Around the world in 28 days
EVA Air B77W Business Class Singapore to Taipei
EVA Air B77W Business Class Taipei to Los Angeles
Silvercar LAX
Avenue of the Arts Costa Mesa
Sheraton Gateway Los Angeles
United A319 First Class Los Angeles to Mexico City
Le Meridien Mexico City
United A319 First Class Mexico City to Houston
United B767 Business Class Houston to Sao Paulo
Sheraton Sao Paulo WTC
South African Airways A330  Business Class Sao Paulo to Johannesburg
Hilton Sandton
Ten Bompas Johannesburg
Turkish Airlines A330 Business Class Johannesburg to Istanbul
Turkish Airlines A319 Business Class Istanbul to Zagreb
Westin Zagreb
Croatia Airlines A319 Business Class Zagreb to Frankfurt
Lufthansa First Class Terminal Frankfurt
Lufthansa A330 First Class Frankfurt to Riyadh
Four Points Riyadh
Air India B77W Business Class Riyadh to Mumbai
St Regis Mumbai
ANA B787 Business Class Mumbai to Tokyo
Asiana A330 Business Class Tokyo to Seoul
Westin Chosun Seoul
W Walkerhill Seoul
Asiana B744 Business Class Seoul to Tokyo
ANA B787 Business Class Tokyo to Singapore
---
After my very long adventure with Air India, I was so relieved to finally be back in Mumbai. It was already after midnight and the plan was to get to the hotel as soon as possible. Fortunately, traffic after midnight in Mumbai is nowhere as bad as during the day, and we got from the airport to the St Regis Mumbai within 30 minutes.
For those of you unfamiliar with the geography of Mumbai, the St Regis is located at that nice sweet spot roughly halfway between the airport and the southern tip. Nariman Point, where a lot of companies have offices, is all the way down South. BKC, another big office area,  is to the north of the St Regis. Lower Parel, where the ST Regis is, is near a lot of nice hipster cafes and bars. You also have the largest mall in metropolitan Mumbai next to the hotel. And you've got easy access to the Bandra-Worli sealink which will save you a lot of time during rush hour.
The St Regis Mumbai occupies the building that used to be known as the Palladium Hotel, before which it was known as the Shangri-la Mumbai. The building has a prime location and the interior is gorgeously done, meaning only the accountants know why Shangri-la abandoned its management agreement only 9 months into a 20 year contract (well ok they had really bad occupancy, like 50%).
The property has 395 rooms including 42 suites and rates are on average INR 12,000 a night, about 40% higher than the average price of a 5 star hotel in Mumbai. Fortunately, I had a corporate rate of INR 8,000, which I thought was a fantastic deal. It should also be noted that the St Regis Mumbai is a Cat 4 SPG property, which makes it one of the cheapest St Regi to redeem in the world (the cheapest St Regis is Cat 3- The St Regis Tianjin)
The lobby of the property is up on the 8th floor, and it is beautiful. The 8th and 9th floors are connected through a big curving staircase, with the restaurants on the 9th floor and check in on the 8th.
Check-in is just off the main atrium. There are about 5 different check in positions so waiting time should be minimal.
The check-in staff were really cheerful for 1 in the morning. Upon hearing about our epic delay, she asked which airline we were flying.
"Air India"
She started giggling before composing herself and apologising for laughing at our predicament. I didn't mind; I think Air India was a common punchline around these parts.
As Platinum members, in addition to complimentary breakfast we'd receive 500 points and happy hour in the bar on the 39th floor (which I sadly never had the time to partake of). The St Regis Mumbai has really good dining options, including what I'll say is the best Chinese restaurant in all of Mumbai (although the bar has been set really low for that). If you're ever in town, visit Mekong on the 37th floor of the St Regis. You're paying double to triple what you'd pay back home, but just to have jasmine rice again is certainly worth it. One large bowl of jasmine rice costs about S$8, by the way. Although if you've lived in Mumbai you'll understand that jasmine rice is near impossible to find, everyone there goes with Basmati. Which is the worst thing you can put in Chinese food. I digress.
I was upgraded to a St Regis suite on the 23rd floor. The suites are really awesome as you'll soon see.
The entrance foyer has its own bathroom and leads into the living room
That's supposed to be the bathroom in the photo above on the right. I don't know why I didn't snap a bathroom photo. Must be getting old.
Tea and coffee area in the foyer.
There was a full set of stationery in the desk pouch. Never underestimate how useful paperclips can be when you need to swap out your SIM card.
A large seating area and sofa
Later on I found a welcome note from the St Regis butler. The gift is a luggage tag, nothing fancy but I'm always a sucker for a handwritten note.
A set of sliding doors separates the bedroom from the living room. The bed was one of the most comfortable I've ever had, and I think would give the Westin Heavenly bed a run for its money.
The bathroom has a marble bathtub and separate shower, 2 sinks  and a TV with a waterproof remote control. It floats in water too. The joys of the 21st century.
The bathroom (and room in general) was generously stocked with bottled water. I'm not sure whether you actually need to brush your teeth with bottled water in places with non-potable water but I certainly didn't want to find out.
The bathroom also has a generously-stocked amenities holder. It annoys me so much when hotels keep the amenities down at housekeeping and you need to call for everything. The best part was that the hotel's toothbrush kit had little 40ml tubes of Colgate in them. That really means something, because I imagine whatever company supplies these things to hotels has a catalog and there's the option to get the toothbrush kit with generic brand toothpaste for a cheaper price. I've invariably found a correlation between hotels who opt for the branded toothpaste and good quality. It's quite telling- a place that's willing to pay a few more cents for better quality toothpaste is probably one that will pay more attention to detail.
The bathroom toiletries are by Laboratoire Remede. I am told that this is atas.
There was a separate shower as well.
And a separate vanity table
Note that you can also access the bathroom from the entrance foyer through your walk-in closet.
Breakfast is served on the 9th floor at Seven Kitchens and is one of the biggest spreads I've ever seen (and this coming from a man who has seen Asian hotel buffets, which generally tend to be really over the top (ice cream at breakfast, anyone?))
The host shows you to your seat and gives you a table number tag for the "live stations" (which really just means cooked to order dishes, like eggs and noodles)
Here's the runthrough
The food quality is really quite good (except for the dim sum, which was dry and underwhelming). I love the hash browns but they weren't available on the spread every day. No problem though, I simply asked the staff and they were more than happy to do a couple of fresh ones, just for me. It's a far cry from the Westin Singapore where a similar request was met with "cannot."
There is an outdoor open air pool which was too crowded the first time I went, but on the weekday was pretty empty.
An outdoor bar was available. I did not partake. Alcohol prices in Mumbai are ridiculously expensive. A bottle of Moet and Chandon would cost about S$90+ (I'm giving you duty free prices, not inflated hotel prices). In Singapore you could find the same bottle for as low as S$55.
In any case, the view from the pool is somewhat uninspiring. Not the kind of place you'd like to sip a drink.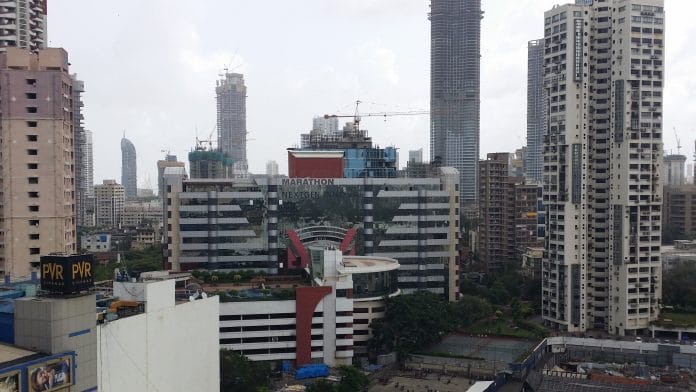 Remember that Chinese food I alluded to at the start of the post? Well here are some photos of my visit to Mekong.
The menu- prices are in INR, divide them by 50 to get SGD.
Check out that $8 jasmine rice! When I worked in Mumbai I'd bring my own rice over and cook it rather than pay the ridiculous prices that restaurants charged for it (or risk not finding any at all).
I am not a food photographer. I cannot make this food look any better. But trust me, after being away from Singapore for so long it was so nice to have proper Chinese.  I know it looks like ordinary Chinese food, but the shrimp was particularly well done. A very black peppery sauce that reminded me of our black pepper crab.
I ended up ordering from Mekong again for room service later on. I'm a creature of habit, I know.
So to sum it up, the St Regis Mumbai delivered on the usual impeccable standards you'd expect from a St Regis property. I can't imagine why any of you would go to Mumbai for a holiday (it's really a business city, not a tourism one) but if you are then at 10,000 points a night it's good value (assuming you get at least 2 US cents per Starpoint, check what the revenue rates are before you book).
As an interesting side note, apart from the St Regis there is another Starwood property in the Lower Parel area- the ITC Grand Central (part of the Luxury Collection). At some point in the future, the W Mumbai will open in the same district. The W Mumbai has been chronically delayed. It was supposed to open in April 2015 and has been pushed to  October 2017. I bet you all the rupees I have (5,000 at last count) that this will not happen. It's a pity though because the photos look gorgeous.
But hey, if Air Indiabuilt it it'd probably get delayed even more.