The Milelion's RTW Trip 2016: Trip Planning
Introduction: Around the world in 28 days
EVA Air B77W Business Class Singapore to Taipei
EVA Air B77W Business Class Taipei to Los Angeles
Silvercar LAX
Avenue of the Arts Costa Mesa
Sheraton Gateway Los Angeles
United A319 First Class Los Angeles to Mexico City
Le Meridien Mexico City
United A319 First Class Mexico City to Houston
United B767 Business Class Houston to Sao Paulo
Sheraton Sao Paulo WTC
South African Airways A330  Business Class Sao Paulo to Johannesburg
Hilton Sandton
Ten Bompas Johannesburg
Turkish Airlines A330 Business Class Johannesburg to Istanbul
Turkish Airlines A319 Business Class Istanbul to Zagreb
Westin Zagreb
Croatia Airlines A319 Business Class Zagreb to Frankfurt
Lufthansa First Class Terminal Frankfurt
Lufthansa A330 First Class Frankfurt to Riyadh
Four Points Riyadh
Air India B77W Business Class Riyadh to Mumbai
St Regis Mumbai
ANA B787 Business Class Mumbai to Tokyo
Asiana A330 Business Class Tokyo to Seoul
Westin Chosun Seoul
W Walkerhill Seoul
Asiana B744 Business Class Seoul to Tokyo
ANA B787 Business Class Tokyo to Singapore
---
A lot has been written about the Turkish Airways lounge in Istanbul by both travel bloggers and the mainstream media. And for good reason- the place can be a destination unto itself. Don't get me wrong, there are certainly better lounges out there. But experiences like TPR and the FCT are only for first class passengers. I struggle to think of a better business class lounge experience than with Turkish (perhaps Virgin's Clubhouses).
I had visited the lounge before but that was way back in 2014, and I understand they'd done some improvement work since then. We had landed in IST around 0500 and had a 90 minute layover till our flight to ZGB.
Entry to the lounge is via an automated gate. You just scan your boarding pass and go through. There's really no checking of boarding passes versus name and you don't scan your pass again when you exit, so in theory someone could just make copies of his or her boarding pass and get more guests inside. Unless the system flags the rapid re-entry of the same person. Something to test for next time maybe.
After you enter you can store your bags in this massive baggage store area. I really like the transparent vibe of the lockers, although the purpose is really more security than aesthetics.
About the lounge: It's really, really big. And it needs to be, because Turkish flies more than 38 million passengers through IST each year. This map fails to give you a sense of just how large the lounge is, but that's supposed to be two floors summarized there
This giant orb is at the heart of the lounge and envelops the staircase that connects the two floors.
So where to start? The Turkish Airlines lounge is unparalleled for entertainment options. What would you like to do?
Perform on the grand piano?
Play a round of FIFA?
Do a few laps on a race car track?
Play a game of pool?
Play a round of golf?
Watch a movie in the theater, with popcorn? (and very poor camera lighting?)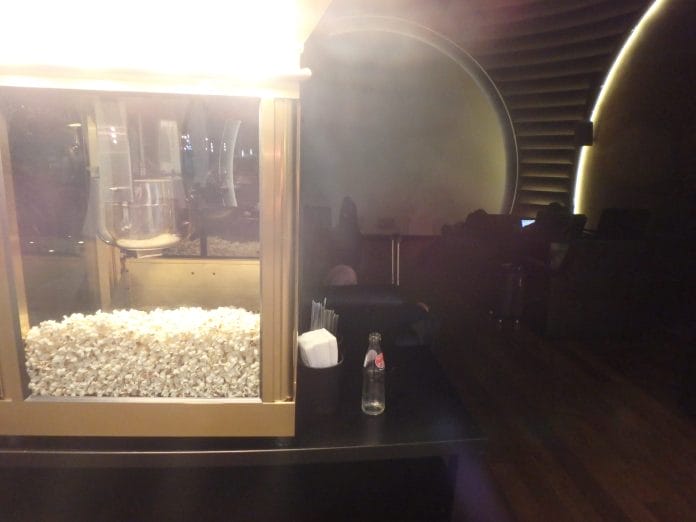 Pose with a big cardboard standee of two otherwise talented actors who set their careers back decades with a poorly-conceived slugfest?
If you want to wine and dine, your options are similarly extensive. The way the lounge is structured is that there are numerous similar food stations scattered around. However there are some unique items like nuts and tea that can only be found in certain areas. You can get made to order items as well at the hot food stations.
In addition to the regular spread there are also chefs doing made to order items.
I thought the quality of the food was really good, but then again it's by DO&CO, so I really shouldn't be surprised.
Elsewhere there were plenty of computer terminals
As well as showers. Turkish has day rooms and shower suites available, but the wait time was 3 hours. That should give you an idea as to how big a hub this is for Star Alliance or how many people connect through IST.
There was also a big TV wall, although I'm not sure what the purpose was. All of them were showing different channels on mute.
My only complaint about the lounge was how crowded it is. I suppose that's sort of unavoidable given how busy IST is in general, but I hope they look at building an extension (or even a separate facility) to help them cope during peak periods.
It was soon time to head over to Zagreb. Boarding was in a new wing of the IST airport, so new it still had new airport smell and scaffolding up
Out the window was our plane. I could see the DO&CO catering truck was loading up the meals…
I've written previously about intra-Europe business class and how it's a radically different product from what we're used to intra-Asia. So I wasn't surprised to see this
Although a group of Chinese tourists who entered after me certainly were. One of them asked the other "wait, we paid $500 extra for this?" This would have been a great time to pass out Milelion business cards if I had them.
So that's intra-Europe business class, where paying more means you get this great armrest between you and your seatmate's economy class seat.
There isn't an awful lot to comment about a standard economy class seat. So I turned my camera skywards and took photos of the individual air vents this aircraft had
And then rummaged in my seatback pocket for a pair of noise cancelling headphones.
And then took a photo of the empty seat next to me
And of the fascinating tray table cum cupholder
The armrest had curious buttons built into them. I pressed them and nothing happened. Maybe one day I will know what they were for
The seat pocket had various literature on safety and shopping
I was impressed to know that even on this short 2 hour flight, Turkish had 2 chefs onboard. My favourite lemonade was available
Menus were distributed. On this short flight it was really just a starter and a main
Unfortunately, neither of the two chefs could do much with the food that had been loaded. It was bland and unappetizing, and made me wonder why Turkish would go through the expense of staffing chefs on short haul flights where there wasn't sufficient time or equipment to do a proper meal.
No fancy  toiletries were available on this short haul flight
We landed at Zagreb on time. Buses were waiting but again there was no separate bus for Business Class. This proved a problem because there were only 3 immigration counters open, and clearing took slightly under an hour.
So to summarize- Turkish Airlines has an excellent lounge in IST, probably one of the best in the world. However its shorthaul experience is very average. I wouldn't say it was bad, but it does teach you that there is absolutely no point in paying a premium for business class on intra-Europe routes. Save your money and get a nicer hotel.