The Milelion's RTW Trip 2016: Trip Planning
Introduction: Around the world in 28 days
EVA Air B77W Business Class Singapore to Taipei
EVA Air B77W Business Class Taipei to Los Angeles
Silvercar LAX
Avenue of the Arts Costa Mesa
Sheraton Gateway Los Angeles
United A319 First Class Los Angeles to Mexico City
Le Meridien Mexico City
United A319 First Class Mexico City to Houston
United B767 Business Class Houston to Sao Paulo
Sheraton Sao Paulo WTC
South African Airways A330  Business Class Sao Paulo to Johannesburg
Hilton Sandton
Ten Bompas Johannesburg
Turkish Airlines A330 Business Class Johannesburg to Istanbul
Turkish Airlines A319 Business Class Istanbul to Zagreb
Westin Zagreb
Croatia Airlines A319 Business Class Zagreb to Frankfurt
Lufthansa First Class Terminal Frankfurt
Lufthansa A330 First Class Frankfurt to Riyadh
Four Points Riyadh
Air India B77W Business Class Riyadh to Mumbai
St Regis Mumbai
ANA B787 Business Class Mumbai to Tokyo
Asiana A330 Business Class Tokyo to Seoul
Westin Chosun Seoul
W Walkerhill Seoul
Asiana B744 Business Class Seoul to Tokyo
ANA B787 Business Class Tokyo to Singapore
---
There comes a point for every frequent business traveller when you can only sleep in so many Heavenly Beds, use so many Shine toiletries or hear so many Le Meridien 24 Hour compositions in the lift. Sometimes you want something slightly different.
But what if you're a chain(ed) man? What if you're building up to something big, like that magic 500 night mark for Lifetime SPG Platinum status? How do you satisfy that craving for variety while still inching towards that?
In mid 2014 Starwood took a controlling stake in Design Hotels and in late 2015 announced how they were going to integrate the brand with the rest of the SPG portfolio.  I was delighted to hear this because it meant an opportunity to try many of their unique properties and not have that regret of missing out on a night that could have gone towards my 500 tally.
The Ten Bompas, a Design Hotel, was available at an affordable rate for the weekend in Joburg and I jumped on it immediately (also to chalk up a Design Hotel in my quest to fulfill the SPG Stay 11 Brands Get 11,000 points challenge. Only Element hotels left!)
The Ten Bompas hotel is located at Number 10 Bompas Road and only has 10 rooms. To supplement operating revenue, the property also runs the very highly rated Ten Bompas Winehouse restaurant (more on that later).
I need to be honest, I didn't think much of the hotel when I first arrived. It had a very nondescript exterior, with the usual defensive fencing you find on most Joburg houses, hotels, places of business, everything. There's a reason why all the publicity photos show the interior rather than the exterior.
The first thing you see when you enter is a set of 3 figurines greeting you.
And around the corner to check-in. The bar area doubled up as the check-in counter. The rooms were managed on the same screen that waiters punched in orders.
The check-in took about 5 minutes to complete, even though SPG's systems are not yet talking to any of the Design Hotels and my SPG number had to be fed in manually.
I was assigned Suite 5 and a gentleman from reception walked me to my room, which gave me a chance to see some of the grounds
We got to Suite 5. The room was amazing, but not because  it was super modern or high tech. It just had so much character that repeated stays in Westins, Sheratons and Le Meridiens had drilled out of me.
First view-
There is a separate guest toilet near the entrance too.
The gentleman from reception started the tour.
"Here's the minibar. Everything here is complimentary."
"Everything?"
"Yes sir"
"Including the full-sized bottles?"
"Yes sir. We will top it up daily"
I paused. This place would be a recovering alcoholic's nightmare.
"Here's the fireplace. Just let us know if you need someone to start it up"
Nights in Joburg can go as low as 5 degrees in winter and I found myself using this on the second night.
He mentioned to the basket at the foot of the cupboard.
"Here's the basket for your laundry. All your laundry is complimentary, dry cleaning costs extra"
I blinked. All those words individually made sense, but I wasn't sure they could be used in that order in a sentence.
"All laundry is free?"
"Yes sir"
This hotel was fast becoming a cheapskate's wet dream come true.
The bedroom was next, on the other side of the wall that segmented the bedroom from the living room.
The bathroom was another highlight.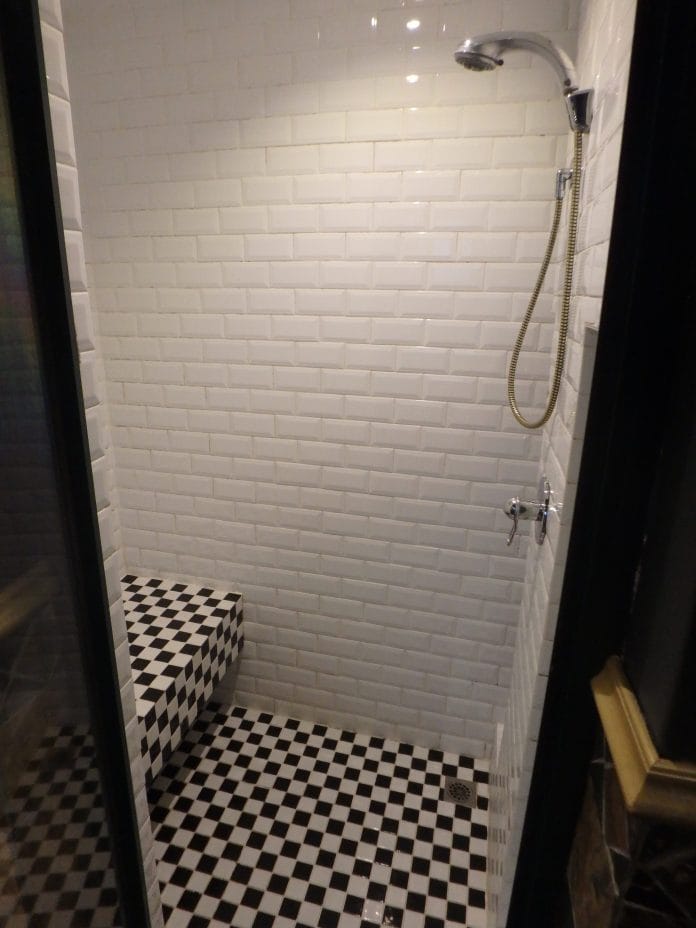 There was a heater just beneath the sink so you wouldn't get cold feet while you brushed your teeth after bathing.
L'Occitane toiletries were available as well
There were other random useful touches in the room, like a DVD player (they've got a selection of DVDs you can borrow)
The TV was on a rolling platform so you could either angle it to watch from the bed or from the sofa in the living room.
Also welcome was the addition of USB charging ports in the room. Why can't more hotels do this simple step.
Finally there was an outdoor seating area which I didn't use
Tour complete, the gentleman left. I giggled a very manly giggle. Then popped open the minibar, sent a week's worth of dirty clothes off for cleaning (they came back slightly over an hour later, tumble dried and neatly folded) and turned on the TV, munching some nuts from the minibar.
No sooner had I settled down then a knock came on the door and the welcome wagon brought a hot appetizer and a bottle of sparkling South African wine.
It was the easiest to drink of all the sparkling wines I ever tasted. I polished it off in an evening while watching the French Open. Life was good. Unless you're a Nadal fan. Which I am.
I hadn't had lunch yet so I decided to try out some of the fabled Ten Bompas Winehouse food.
The first time round I ordered a beef soup that lets you believe you put it together yourself by putting the ingredients and the soup separately. It was hot and excellent on a cold day.
I would subsequently order room service again the following night, this time for the full 3 course tasting menu.
The appetizer was braised trout with lemon, cucumber, salmon roe and almond.
Followed by Mauritian sea bass, with sourdough, fennel, citrus and herb butter
The sourdough was served separately, but I'm not sure how I feel about raw sourdough
This was served with a side salad and crispy potatoes
Desert was caramel, almond and white chocolate.
I have to say the quality of the food was exquisite. It certainly beat any run-of-the-mill Sheraton's room service menu.
There were other amazing small touches that made the stay all the better. When the maids came to do turndown service, they placed this under the sheets.
I only realized it when I crawled into bed later that night, very cold, and wondered why the sheets were warm. At first I thought I had an electric blanket. But I'm a sucker for small touches like this.
During the second night the maids left cookies by the bedside too
Breakfast is served in the Ten Bompas Winehouse. I didn't see a single other soul at the restaurant (you can have breakfast served to you in the room, free of charge)
The menu read as follows
They served a fruit cup to start.
And then the blueberry pancakes came. I wasn't a fan of the thick yogurt they smothered all over it but I suppose I could have asked them to put it on the side.
But the fry up was amazing. I know what you're thinking, how good can it be? I can't explain it to you, but every item on the dish felt like it was made with care. The potatoes were crispy, the tomatoes gushed juices when you bit into them, the mushrooms had been seasoned with just the right amount of sea salt, the bacon and sausage had the right amount of grill on them, the baked beans were homemade and not something out of a can and the eggs didn't have those annoying burnt ends you usually get with sunny side.
After breakfast I walked the grounds a bit. There was a very small, shallow pool
On Sunday a band came and set up in this outdoor courtyard, playing jazz for the brunch crowd. This hotel is a very popular destination for brunch.
Service was uniformly great. Clothes sent off for cleaning came back after an hour at most. I loved the little touches they did with the hot water bottle and the snacks during the day. They even gave me a 4pm checkout, which they're not obliged to under SPG rules (Plat 4pm checkout benefit doesn't apply to Design Hotels).
The Ten Bompas made me realise that the boutique hotels business model is indeed alive and well. And that all the corporatized hospitality in the world can't beat a hot water bottle in your bed.
It was now time to get back on the road again, this time for Zagreb…