The Milelion's RTW Trip 2016: Trip Planning
Introduction: Around the world in 28 days
EVA Air B77W Business Class Singapore to Taipei
EVA Air B77W Business Class Taipei to Los Angeles
Silvercar LAX
Avenue of the Arts Costa Mesa
Sheraton Gateway Los Angeles
United A319 First Class Los Angeles to Mexico City
Le Meridien Mexico City
United A319 First Class Mexico City to Houston
United B767 Business Class Houston to Sao Paulo
Sheraton Sao Paulo WTC
South African Airways A330  Business Class Sao Paulo to Johannesburg
Hilton Sandton
Ten Bompas Johannesburg
Turkish Airlines A330 Business Class Johannesburg to Istanbul
Turkish Airlines A319 Business Class Istanbul to Zagreb
Westin Zagreb
Croatia Airlines A319 Business Class Zagreb to Frankfurt
Lufthansa First Class Terminal Frankfurt
Lufthansa A330 First Class Frankfurt to Riyadh
Four Points Riyadh
Air India B77W Business Class Riyadh to Mumbai
St Regis Mumbai
ANA B787 Business Class Mumbai to Tokyo
Asiana A330 Business Class Tokyo to Seoul
Westin Chosun Seoul
W Walkerhill Seoul
Asiana B744 Business Class Seoul to Tokyo
ANA B787 Business Class Tokyo to Singapore
---
One of the policies for Star Alliance RTW tickets is that if an airline does not have a business class cabin, your ticket is automatically upgraded to first class (if you're on a premium economy RTW ticket on an aircraft without premium economy, you get downgraded to economy). Don't get too excited though, because this policy really only applies in the case of US domestic/central America flights.
Before I go any further, I think it's important to contextualise the reader (at least those who don't have much experience flying in North America/Europe) to the difference between the premium cabin experience in Asia versus the USA.
In Singapore we're quite blessed that SQ operates an all wide-body fleet, and even on a short SIN-BKK hop (~2 hours) you can expect an A330 with angled flat 2-2-2 seating in business class. You also get frills like champagne, a proper meal service, IFE and lounge access.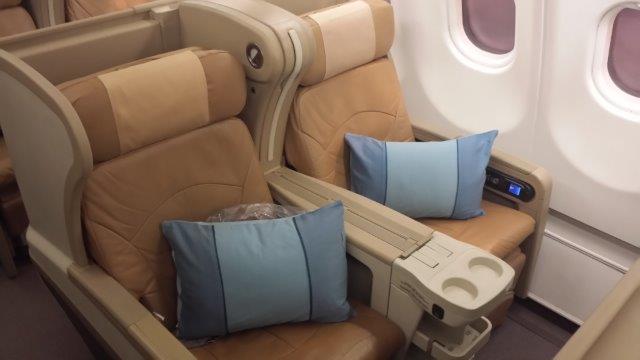 Compare this with the experience of domestic US first class flights (or flights to Central America) where you're basically flying in a narrowbody B737 or A320, the same aircraft used for short 45 min hops as it is for 5+ hour jaunts (the exception would be special routes like JFK/EWR-LAX/SFO where United's p.s configured aircraft/Jetblue's Mint Service have lie flat beds in business). You do get different seats from economy, but they're just big recliners, the type you might laze in at a foot massage in Bangkok
The same goes for intra- Europe business class (they don't call it first class), which is exactly the same seat as economy class with a blocked off middle seat. The only difference is that you get a meal and maybe champagne.
So the point I'm trying to make is that expectations shouldn't be so high, despite the "first class" moniker. Add that to the fact that I was flying the United Airlines. The same airline that engenders so much goodwill it leads to specialised fan sites like
etc, etc.
I arrived LAX's Terminal 7 bright and early for an 820am departure. LAX may have a spanking new international terminal (I hear the StarAlliance lounge there is world class), but its domestic terminals are like something out of a triage unit.
There were construction boardings up everywhere. The check out desks were entirely outside the terminal, by the curb. And they weren't even desks. They were kiosks with a handful of roaming agents to deal with troubleshooting. I lost my photo, but it looked something like this, only a lot more crowded. And outdoor. On the kerb.
And then there was the usual security theater. I wondered briefly how the TSA knew the difference between someone with a firearm in his pants and a particularly well-endowed gentleman. Fortunately, neither issue was a concern for me.
The first sign of the lowered expectations I spoke about previously comes when you get to the lounge. United Clubs will sell access to just about anyone. Last I checked, the following groups of people had access
United Global First Passengers
United Business First Passengers
First Class Passengers on Star Alliance Partners
Business Class Passengers on Star Alliance Partners
Domestic United Passengers travelling on P.S service routes
Star Alliance Gold card holders
United Club Membership holders
One time United Club pass holders (staring at US$59)
I don't see why anyone would bother paying for access, given that the clubs aren't that much less crowded than the main terminal, the F&B layout is basic and you'd be much better off spending that $59 on a nice meal at an airport restaurant.
But still, the lounge was completely packed at 7am on a Wednesday morning. Presumably this is peak time for domestic departures
It was almost impossible to find a seat, but my colleague and I eventually found some really uncomfortable stools near the pay bar.
United clearly recognises the urgent need to upgrade the facilities at LAX, despite the fact they already operate 2 clubs in the same terminal
There was a buffet spread, but again remember that you're talking about a United Club, not the Private Room.
Let's get this over with shall we? First up- fruit.
Next, illy-brand coffee (one of United's much vaunted improvements). I don't drink coffee so you'll have to tell me whether it's worth the press
Tea was available
As was oatmeal (the sole hot item) and pastries
Fighting for attention was some trail mix and granola
And that's it. Apart from a cash bar, there wasn't anything else. United Clubs aren't lounges you go to hungry. They aren't places you go to for a haircut, for a spa treatment, for sit down dining service, for a golf simulator. They're places you go to wait out time between flights. If you can accept that, the experience becomes much less painful.
I really couldn't get out of the lounge and onto the plane quickly enough. United's boarding system splits people into different groups based on your seat location and status.
I was part of Boarding Group 1, but that was by virtue of my class of travel rather than Star Alliance status. As per FT, here's the order of boarding
Group 1: Premier 1K, Premier Platinum, BusinessFirst, and First.
Group 2: Premier Gold, Star Gold, Premier Silver*, MileagePlus Presidential Plus, Club, Explorer and Awards, purchased Premier Access
Group 3 – Window Seats
Group 4 – Middle Seats (Aisle Seats on UA Express)
Group 5 – Aisle Seats
Boarding order actually matters in the States because of bag fees. Everyone tries to get on board as soon as possible to secure valuable overhead bin space. Those who can't get any have to gate check their bags (which is free of charge, but can still mess up your plans a bit). So people queue up really early…
Here's the seat. No glamour shots. No multiple angle photos. No different position commentaries. Because really, it's just a tired leather recliner. It's comfortable for sitting. It's not good for red-eyes.
United's next generation of domestic first class seats is on the way, and it's a bit telling that the changes are incremental rather than revolutionary
It's a bit telling when "granite cocktail table" and "side seat storage" are two of the key selling features of the new seat
But back to the present. It is highly unlikely you will get an empty seat next to you, or any empty seats at all in domestic first class. This is because of United's upgrade policy, which offers unlimited upgrades to United's elite members on certain routes
So for you to have an empty seat in First class, there'd need to be a strange confluence of factors including
No United Premier Silvers, Golds, Platinums, 1Ks or GS on your flight
No one buying an upgrade that United aggressively sells during the check in process
No members of the military/pilots/United employees who will otherwise occupy the seat
Our cabin was 8/8 full. I had seat 1A, which on most Asian carriers is the dream seat to occupy, and on this one meant I had the best view of the flight attendant jumpseats and no floor storage space.
Given all the horror stories I had heard about United flight attendants, I was genuinely surprised that the attendant serving me was pleasant enough. No small talk, no addressing by name, but let's face it I was happy enough not to be snapped at.
And I got a pre-departure beverage. Given all the hoo-hah that's been written about it on FT (74 pages on this thread alone!) I thought that was especially monumental. Again, those of us who have been spoiled by Asian carrier service may be wondering what the big deal is.
Here's the TL;DR version- Flight attendants in the USA get paid by the hour. They are only paid for hours flying. (starting pay for an FA in the USA can be as low as US$14K a year) So everything that happens during boarding is "free time" (technically there is an hourly per diem but it's really small so we'll ignore it). Flight attendants are understandably cheesed off about this, but some of them go one step further and say "because I'm not getting paid, like hell I'm going to offer you a drink before the flight".  So when you get a PDB (yes, it's been acronymized), you're lucky.
On of the few remaining perks of domestic/central America first class travel is that you get a hot meal (again there are a lot of exceptions to these rules, all based on flight timings) There was also a choice of french toast or cereal. I noticed the attendant didn't go in sequence, she went to specific people to ask them what they wanted to eat. I'm guessing this has to do with United status, but I was asked second despite having SQ status only so I'm not sure.
The meal was perfectly edible, although the hot croissant was probably the highlight. No champagne is served on United's domestic/central America flights.
The other nice thing about United is that all their aircraft are WiFi-equipped.
The WiFi pricing actually makes sense, based on duration rather than volume (are you listening, SQ?). WiFi for the entire flight cost US$6.99, with the following options
Because I was running out of things to comment on, I paid the bathroom a visit. Standing before the toilet, I wondered aloud- "everyone knows what a toilet looks like. Do I really need to take a photo of it?"
"Yes," I decided. "The people have a right to know".
A similar thought process went through my mind before I snapped a photo of the sink.
And that was that, really. We landed on time. No one got hurt. And those are probably the two most important things about any flight.
I think if there's one phrase that can sum up this review, it's "lowered expectations". I didn't expect great service. Or a gourmet meal. Or a luxurious seat. Or a memorable lounge. And I got just that. Short haul first class travel in the USA is not intended to rival international premium cabin travel. It can't.
It's certainly not like short haul first class from SIN-CGK, where passengers can expect this on a flight under 2 hours. Seriously, go read this guy's trip report for SIN-CGK and you'll be amazed at what short haul first class can be (albeit at a huge price differential)
Of course it's not a fair comparison. The American airlines need to connect hundreds of cities a day, smaller aircraft allow for better capacity adjustment. Domestic first class costs a fraction of what SQ charges.  I know.
I'm just saying.