The Milelion's RTW Trip 2016: Trip Planning
Introduction: Around the world in 28 days
EVA Air B77W Business Class Singapore to Taipei
EVA Air B77W Business Class Taipei to Los Angeles
Silvercar LAX
Avenue of the Arts Costa Mesa
Sheraton Gateway Los Angeles
United A319 First Class Los Angeles to Mexico City
Le Meridien Mexico City
United A319 First Class Mexico City to Houston
United B767 Business Class Houston to Sao Paulo
Sheraton Sao Paulo WTC
South African Airways A330  Business Class Sao Paulo to Johannesburg
Hilton Sandton
Ten Bompas Johannesburg
Turkish Airlines A330 Business Class Johannesburg to Istanbul
Turkish Airlines A319 Business Class Istanbul to Zagreb
Westin Zagreb
Croatia Airlines A319 Business Class Zagreb to Frankfurt
Lufthansa First Class Terminal Frankfurt
Lufthansa A330 First Class Frankfurt to Riyadh
Four Points Riyadh
Air India B77W Business Class Riyadh to Mumbai
St Regis Mumbai
ANA B787 Business Class Mumbai to Tokyo
Asiana A330 Business Class Tokyo to Seoul
Westin Chosun Seoul
W Walkerhill Seoul
Asiana B744 Business Class Seoul to Tokyo
ANA B787 Business Class Tokyo to Singapore
---
I am quite certain that 10,000 years from now when the world is a radioactive wasteland, alien archaeologists who visit Earth to excavate its remains will be baffled by this concept our civilization called "hotel loyalty".
Allow me to explain.
Starwood's sole offering in Sao Paulo is the Sheraton Sao Paulo WTC.
I've stayed here on 2 separate occasions, totaling about 30 nights. On both occasions, the power (and the all important air conditioning) would cut out randomly during the night for a few hours.  The swimming pool had a healthy layer of algae growing on top. The breakfast spread in the lounge was tiny and never changed in 30 nights. The toilet overflowed when you put anything more than 3 pieces of toilet paper into it.
5 minutes down the road from the Sheraton Sao Paulo is the Grand Hyatt Sao Paulo. It's bright and cheery, the restaurants are excellent and  it is for all intents and purposes a marvelous place to stay. With a corporate rate of ~US$200 it won't burn through my budget by any means.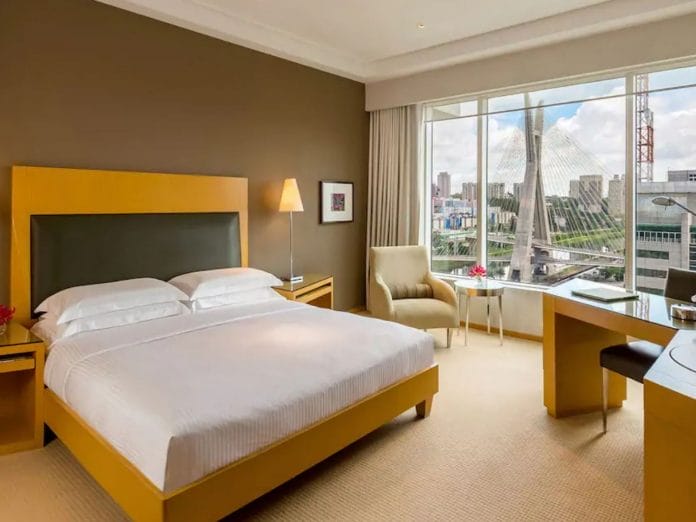 (yes I know these are management's photoshopped pictures but having visited it personally you'll just have to take my word that it is much better)
And yet I'm back again. I'm here because of the SPG Triple Up promotion where I earn 3X points at Sheratons (2X at all other Starwood) and 1,000 points for a stay including Friday or Saturday night.
At my base rate of US$173 a night for a Saturday to Wednesday stay, this means…
| | | |
| --- | --- | --- |
| | Points | Remarks |
| Base | 1,384 | $173*2 points*4 nights |
| Elite Bonus | 692 | 50% elite bonus |
| Welcome Gift | 500 | SPG Platinum welcome gift |
| Triple Point Bonus | 4,152 | For stays at Sheraton brands (Triple Up) |
| 1,000 Point Bonus | 1,000 | For stays involving a Friday or Saturday night (Triple Up) |
| MACG | 750 | Make-a-green-choice has been devalued to 250 points from 500 in South America sadly. 3 nights (Sat, Sun and Mon) |
| Total | 8,478 | |
That's a heck of a return for a 4 night stay.
And then there's the other dangling carrot of lifetime status. Assuming Marriott's takeover of Starwood doesn't epicly mess things up (and it will), then Lifetime status with Starwood is something I'd really find valuable.
I am 1 year and 4 nights away from getting Lifetime Gold. At this point I'm quite confident I'll get it- the 4 nights will be more than covered on this trip after which it's a matter of getting 10 stays/25 nights in 2017 to complete the requirements.
It's the Lifetime Platinum that I really want though- and that will require a whopping 500 nights and 10 years of Platinum status (need not be continuous). Assuming Marriott doesn't do away with this, I still need to keep building towards that 500 night mark.
Such are the chains of loyalty, and so I find myself back at the Sheraton Sao Paulo WTC once again.
On first glance the hotel isn't anything particularly unique. The lobby is the usual gloomy Sheraton (in fact, the entire property is part of the mixed-used WTC complex with offices and a small mall), with its dull tiled floors and office standard furniture
But this Sheraton tries to be special. The gimmick behind the Sheraton Sao Paulo WTC is that each of the design rooms on the 3rd, 4th and 16th floors is unique. The idea behind the hotel was to bring in well-known local architects to put their signature spin on some of the rooms.
If you believe the publicity photos, you could end up with rooms like this
It's a delightful bit of Russian roulette, really, and a welcome change from the usual predictability of Sheratons. I was assigned Suite 317. What would I find?
317 is the brainchild of Andre Alf. Although I have never heard of Andre Alf nor know him personally, I am convinced that he is at heart a goth kid. Because 317 is dark. Even with all the lights on and the windows open, this is the maximum brightness I could garner. After all, darkness hides the pain.
Space wise it's fairly adequate. All the design rooms are all fairly egalitarian in terms of size (my room is the blue one here), although the bigger design suites are on the 16th floor.
Although the room had been designed as per the designer's unique vision, the bathroom was your standard gloomy Sheraton.
They were using a mixture of Shine toiletries and some local brand, which was at least better than all Shine toiletries
The bathtub held the potential for relaxing afternoon soaks, or catching syphilis.
And at least counter space wasn't at a premium. Numerous bottles of bottled water were also available.
There was a well-stocked minibar (I have looked back at all my previous trip reports and concluded that I have never used any term other than "well-stocked" to describe a minibar. Some changes may be in order)
And finally, something that is inexcusable for a business hotel- no USB outlets or power plugs by the bedside table.
Away from the room and onto the breakfast. I get that breakfast isn't a big thing in Brazil (or at least breakfast as westerners know it), but I was quite bummed out that in every single morning of the cumulative 30+ nights I've stayed at the Sheraton WTC the breakfast spread has been exactly the same
There is bread, pre-made waffles, bacon and cheeseballs
More bread
An array of cut and whole fruit
Three hot items- scrambled eggs (made with a lot of cream and cheese), some sausages with that weird metallic taste and soggy potatoes
So this is the same meal I've had every morning, for the 30+ nights I've stayed here
Offtopic: Maybe it's a central/latin America thing but everyone seems to be bent on cooking the life out of eggs. Here are the eggs I got at what is supposed to be one of Mexico's best breakfast places…
Elsewhere I was pleased to report that the pool was now completely algae free. The power cut out like clockwork on one of the nights but was otherwise alright. There are no decent dining options in the hotel or in the attached D&D mall (unless you like really suspicious looking sushi) but Eataly is only a 5-10 min Uber away. What's Eataly, you ask? Stay tuned.
So- overall thoughts. The Sheraton WTC is a classic case study in the loyalty trap. Even though I have Hyatt Diamond status from their status match earlier this year when they were just giving it out like candy, I've not made a single stay at a Hyatt since then. I'm not sure what it'll take for me to actually stay at a Hyatt (probably if I end up in a town without a Starwood property, or if I'm going to a resort destination and need a guaranteed suite), but so long as I haven't hit the 500 night mark for Starwood, I will continue to be unquestioningly loyal to any and all Sheraton properties, no matter where they be.
Only ~250 nights left to go…