Built at a cost of S$23.5 million (S$52.7 million in 2019 dollars) and opened in July 1978, the Shangri-La's Garden Wing was an architectural marvel at the time. Featuring 44,819 plants (someone counted, apparently), bougainvillea-draped balconies and a three-storey rock garden, it challenged the conventional notion of resort hotels being confined to beachfronts or secluded hillsides. 
Visitors to the Garden Wing were greeted by a sea of lush palms, shrubs, ferns and vines. The open-air corridors outside each room formed a quadrangle around the garden atrium, quite literally providing a breath of fresh air the minute guests stepped outside. A cascading creek meandered through the rock garden, plunging 30 feet down to form a waterfall. Unsurprisingly, "Garden of Eden", and "Hanging Gardens of Babylon" were liberally used in the press releases. 
Not content to leave it at that, Shangri-La also opened the first squash and tennis courts in any hotel in Singapore, and for a time, even operated a three-hole golf course. Together with its two swimming pools, comprehensive fitness suite and croquet lawn, it truly was an urban resort like none other. 
Fast forward to 2021, and while other hotels have replicated the "garden hotel" concept with varying degrees of success, the Garden Wing retains its atmospheric charm.
I'd walked through this place numerous times, but never actually stayed there before. It was time to change that, and curiously enough, it all started with a Valley Wing booking. 
Booking a Shangri-La Garden Wing staycation
While my first-ever stay at the Shangri-La's Valley Wing was by no means perfect, it was still good enough to warrant a return visit. 
The problem, as always, was price. While Shangri-La has been positively pimping out the Valley Wing of late, the cheapest package would still cost S$457 nett- not something I was prepared to spend. But thanks to a pretty spectacular Luxury Circle rate, I had an opportunity to return to the Valley Wing, without imperiling my financial future. 
For the uninitiated, Luxury Circle is Shangri-La's preferred booking program. These bookings enjoy additional benefits such as:
Room upgrade, at time of booking (subject to availability)
Free breakfast
US$100 hotel credit for dining or spa
Early check-in/late check-out (subject to availability)
That room upgrade is key. Shangri-La was offering some deep discount rates in January for its Garden Wing Pool View Rooms. A one-category upgrade normally puts you in a Tower Wing Horizon Club Room, but because the Tower Wing is closed for SHNs, you get the Valley Wing instead. 
⚠️Note: Shangri-La Singapore has since revised its policy, and upgrades from the Garden Wing to Valley Wing will no longer be possible.
I booked a S$280++ (S$330 nett) rate through HoteLux, and sure enough, was upgraded to the Valley Wing within 72 hours of booking. 
Shangri-La uses a rather generous rate of US$100= S$139 for the hotel credit, meaning my effective cost was just S$191 nett for a Valley Wing room with all the associated benefits.
But just because I got a Valley Wing room didn't mean I'd be staying there…
Shangri-La Singapore: Arrival & Check-In
Here's where it gets a little complicated, narratively speaking.
This will be a hybrid review. While I was booked into a Valley Wing room, I figured I might as well use the opportunity to review a new part of the Shangri-La. So after arriving and checking in at the Valley Wing, I asked the manager whether it might be possible to put me in a Garden Wing room instead. 
If he thought me mad, he certainly didn't show it. After a quick check, he confirmed that there indeed was a room available in the Garden Wing, but it'd only be ready at 4 p.m. Since my Valley Wing room was already prepared, he suggested I stay there in the meantime and move over later. I'd retain all my other Valley Wing entitlements, of course. 
But since the focus of this review is meant to be on the Garden Wing, I'll walk you through what the reception experience would be like for those staying here. 
The Shangri-La Singapore has two separate entrances. If you're staying in the Valley Wing, you'll take a private off-ramp at Anderson Road and drive up a hill to reach the reception. If you're staying in the Garden or Tower Wings, you'll go by Orange Grove Road to the Tower Wing reception area (the Garden Wing does not have a reception of its own). 
The sheltered drop-off area is attentively manned by staff waiting to open doors and assist with luggage. 
After the usual SafeEntry declaration and temperature screening, you'll step into the magnificent Tower Wing lobby. 
It's hard to overstate how gorgeous the place looks. The Tower Wing received a major makeover in 2017, its first since 1998. The naturally-lit lobby sports a reflecting pool and a 9-meter tall basalt rock feature wall (with real mosses and ferns growing out of it). Fresh hues of white and cream replaced the old beige palette and gratuitous chandeliers- a stylistic choice I really hope diffuses to the Valley Wing eventually.
Scattered throughout the lobby are contemporary pieces of furniture made from sustainable materials sourced throughout Southeast Asia- parchment and shagreen from Thailand, rattan and wood from the Philippines. The interior design was overseen by Ryoichi Niwata of Bond Design Studio, the agency behind the Rosewood Hotels in Yangon and Phnom Penh, as well as the Shangri-La Colombo.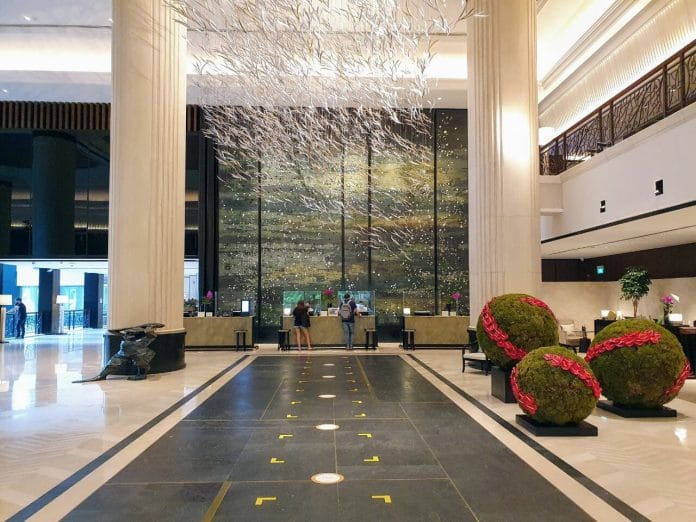 There are a total of six check-in counters in the main lobby, although only two were manned when I arrived. This was presumably built with high throughput in mind (there's further check-in capacity in the Horizon Club), and it's like the whole building is on standby mode, waiting for the return of travellers. 
In the lobby are two dining concepts: The Lobby Lounge, and Shophouse. The former is where afternoon tea is served, the latter is where tourists get ripped off. Seriously, they're charging 2-3X the price for kaya and prawn crackers, compared to what you'd pay for the exact same products in the supermarket. 
If you don't want to work in your room, the lobby area also has a few communal work tables with charging ports built into the counter top.
Shangri-La Singapore Garden Wing: Deluxe Room
The Shangri-La Singapore has a total of 792 guestrooms and suites across three wings, split as follows: 
Tower Wing

Room

Rooms

Size

Tower Deluxe

358

38m2

Horizon Deluxe

81

38m2

Grand Premier

34

67m2

One Bedroom Suite

5

82m2

Family Deluxe

19

38m2

Family Themed Suite

5

72m2

Grand Suite

1

250m2
Garden Wing

Room

Rooms

Size

Deluxe

146

50m2

1 Bedroom Suite

9

81m2

Premier Balcony Suite

3

137m2
Valley Wing

Room

Rooms

Size

Deluxe

105

57m2

1 Bedroom Suite

11

79m2

Deluxe Suite

12

110m2

Singapore Suite

2

238m2

Shangri-La Suite

1

348m2
The Garden Wing is the smallest of all three with just 158 rooms, which is proving to be something of a problem with the Tower Wing's continued closure. Thanks to this, Shangri-La is offering some Garden Wing guests "upgrades" to the Valley Wing, without any of the privileges.
You can access the Garden Wing through a side exit from the Tower Wing. 
The Garden Wing isn't as new as the Tower Wing, but got a S$66 million refresh of its own in 2012. Among the changes were the opening of Singapore's first CHI spa and a new dining venue called the Waterfall Cafe (now the Waterfall Italian Restaurant), plus a complete refitting of all guestrooms and suites. 
The open-air corridors are a distinctive feature of the Valley Wing, helping to cut electricity costs (think: how long do you spend in the corridor anyway?). 
I was assigned to room 590, a pool-facing room on the North East side of the building. 
Garden Wing Deluxe Rooms measure in at 50 square meters, which is a whopping 30% larger than their entry-level equivalent in the Tower Wing. Granted, some of that comes from the balcony, but you'll definitely have more space to stretch out. 
First impressions of the room were good. The tall sliding panels leading to the balcony allowed natural sunlight to stream in, and the ceiling fans plus rattan furniture created a villa vibe. 
The King-sized mattress had a pleasant firmness, and a thick comforter that meant I could happily crank the air conditioning down to 18°C with nary a complaint from the Milelioness. 
There were no power points or USB outlets by either bedside, a strange omission for a room renovated well after these things became ubiquitous. The only thing available were light switches, as well as electronic controls for the the curtains. 
If you want to charge your devices, you'll have to do it at the small dining table, which replaces the work desk (if you want business-focused rooms, the Tower Wing is more your pace). Nearby is a media hub with USB ports, HDMI/VGA connections and a power outlet. 
Two amenities pouches had been left on the table. One was a gorgeously-designed beauty kit with Bvlgari cologne, lip balm and hand cream, eye shades and makeup remover. The other was the Shangri-La Cares hygiene kit, with wet wipes, masks and hand sanitizer. 
In terms of presentation, I much preferred this over the one they had in the Valley Wing the last time I visited! 
Opposite the dining area is another sitting area, with a couch, coffee table and an armchair. Unfortunately, it's not particularly conducive for watching TV, given their off-centre positioning and the TV's relatively small size.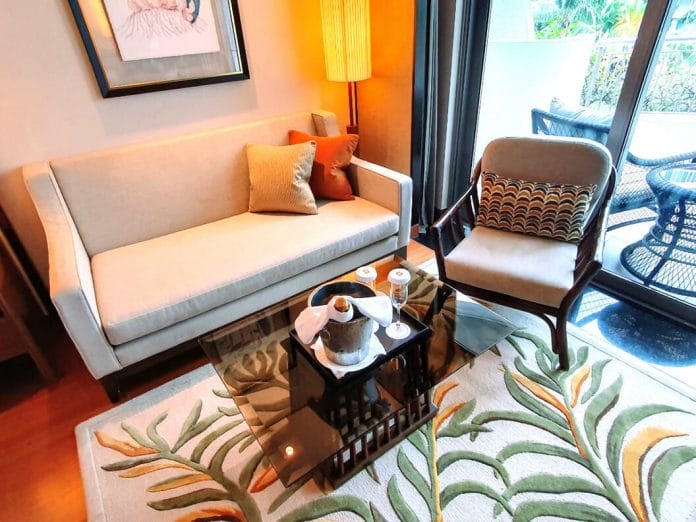 Although the Garden Wing is relatively more modern, it didn't receive smart TVs during its 2012 renovation, and the only to watch your own content on the screen is to request a HDMI cable from the front desk. The TV quality isn't the best either; it gets washed out easily in bright light. 
Nespresso pods, teabags and assorted paraphernalia were in a drawer by the mini-bar area. The mini-bar had been emptied out, but that was just fine with me. I used the space to store the anniversary cake we'd received. 
Inside the wardrobe was an ironing board, umbrella and safe. 
The Garden Wing's bathrooms are spacious, with double sinks and a sunken tub. 
There's a set of wooden shutters that can be opened out to the bedroom, should you be feeling particularly exhibitionistic. 
While double sinks usually mean sacrificing counter-top space, Shangri-La overcomes this by adding an overhanging ledge. 
The TOTO toilet, thank goodness, at least had a manual bidet spray, and even a small shelf to put whatever it is you bring with you to the loo. 
While the bathtub was clean and clear of rust circles (I can't say the same about the tub in the Valley Wing), it was more suited for a single person. I do wish more hotels would build their tubs with the tap in the middle, so that two people can lie on opposite sides, but it's a non-starter if the tub is narrow in the first place. 
The shower cubicle has both a rain shower and a hand-held one. Water pressure was excellent, although a bench would have been appreciated (it makes it so much easier to wash your feet).
Unlike the Valley Wing, toiletries in the Garden Wing are a lot more ordinary. Shangri-La uses some forgettable house brand stuff, which wasn't even worth taking home. 
Other bathroom amenities included a pair of toothbrush kits, a comb, some cotton buds, a shower cap, body lotion and a hair scrunchie. 
The outdoor semicircular balcony made for a lovely spot to sip some wine and take in the greenery, and the pool noise wasn't nearly as disruptive as I feared. 
As we were celebrating our anniversary, the hotel gave us a bottle of Veuve Clicquot champagne (the same thing they pour over at the Valley Wing). 
That evening, they also decorated the bed with some balloons and rose petals (the bouquet is my own contribution, charmer that I am). 
Shangri-La Singapore: Facilities
| | | |
| --- | --- | --- |
| Pool | Gym | Spa |
| Yes: 6 a.m to 8 p.m | Yes: 6 a.m to 10 p.m | Yes: 10 a.m to 7 p.m |
| Kids' Club | Business Centre | Others |
| Yes: 8 a.m to 7.30 p.m | Valley Wing only | Tennis Courts, Water park |
⚠️ I'll be reusing some material from the previous Valley Wing review here, since that stay was fairly recent (November 2020). Updates have been made where necessary
The Shangri-La Singapore has excellent facilities, possibly the best among any hotel in Singapore. It's not just the usual pool, gym and spa. This place packs a kids' club, water park, and tennis courts. There's something for everyone.
Swimming Pool
The freeform swimming pool at the Shangri-La is open from 6 a.m to 8 p.m daily. It's a sizable one, measuring in at 912 cubic meters (for comparison, Marina Bay Sands' massive swimming pool holds 1,425 cubic metres, so the Shang's is almost two thirds the size). The depth of the pool ranges from 1.2M to 2.5M, although the deep end is cordoned off to prevent kids from wading in. 
 For some strange reason, the hotel has set up chain barricades around the perimeter of the pool, which no one seemed to care about. You could step over them and jump in, and they became tripping hazards more than anything else. 
I counted a good number of sun loungers in the pool area, although I suspect you may have issues snagging one on a crowded weekend. 
The pool area has a few roving waiters to take food and drink orders, and every once in a while they bring around some free mini juice shots for guests.
Splash Zone
🏊‍♂️ Shangri-La Splash Zone Timings

0800-0930

1400-1530

1000-1130

1600-1730

1200-1330

1800-1900
Pool not enough to amuse the kids? Try Splash Zone, a mini water park built just for younglings. Even better, it's completely free for all guests, although you will need to make a pre-booking. 
Splash Zone is only accessible to adults if they're accompanying a child, and since I don't have any progeny (that I'm aware of), I tried to lift my camera over the bushes to snap a few photos. I stopped when it dawned on me this looked distinctly Amos Yee-ish. 
So here's the publicity photos from the website instead. Expect lazy rivers, water slides, water sprouts and jet cannons, with shallow wading pools for smaller children. 
Tennis Courts
What else can I say about the Shangri-La's wonderful tennis courts? There's three of them in the hotel, with astroturf surfaces, and they're available for rent at a jaw-dropping S$10.40 per hour. There are public tennis courts in Singapore which charge more than that. 
This time round the three courts were all booked, but I got to play instead at the Shangri-La serviced apartments. The surface is similar, but unlike the courts at the hotel, this one lacks a water cooler. 
buds Kids Club
🧒 Shangri-La buds Kids Club Timings

0800-0930

1400-1530

1000-1130

1600-1730

1200-1330

1800-1930
For parents who want to offload the kids for a few hours, buds Kids Club is a godsend. This 1,872m2 indoor and outdoor play area is for children aged up to 12 years, with attentive staff and a host of activities to participate in.
Admission costs S$18 per child for 90 minutes. Separate areas with age-appropriate play equipment are available for toddlers, while older children can perform in a music studio, get messy with painting, or even take a baking class. 
I'm obviously not the best person to ask about this, so I'll link you to a few reviews you might find useful:
Gym
The gym is open daily from 6 a.m to 10 p.m, and pre-reservations are not required. As you'd expect for a hotel of this size, the gym is humongous, measuring in at just over 850 m2. Floor-to-ceiling windows let in abundant natural light during the day, and give guests a view of the lush gardens outside. 
Guests can help themselves to chilled bottled water, and wet wipes for cleaning the machines are provided. 
Inside the changing rooms are sauna, steam room and whirlpool bath facilities, but these are temporarily closed due to COVID-19.
Shangri-La Singapore: Summit Room Breakfast
Served at

Cost

Style

Summit Room or The Line

All Valley Wing rooms come with breakfast

Valley Wing: 2 main courses
The Line: A la carte buffet

Hours

Sparkling Wine?

Discounts?

0700-1030 (Mon-Sat)
0700-1100 (Sun)

Yes (Summit Room)

None
As mentioned earlier, I retained my full Valley Wing privileges even though I was staying in the Garden wing, and that included breakfast at The Summit Room. 
There's no need to make prior reservations, and guests can choose to be seated inside or on the outside patio (be warned that if you choose the latter, you might get some cigarette smoke wafting over from the garden). 
The main change that's happened since I last visited is that you're (officially) capped at two hot dishes. If you ask me, that's weak for a place like the Valley Wing, and it's not even enforced consistently. Some guests can easily get additional servings, others will be met with a template "no cannot". The inconsistency is going to bother people to no end, and distracts from what should be a drama-free, enjoyable morning. 
Otherwise, the menu was the same as before. 
Guests can also pick and choose whatever they like from the continental breakfast buffet near the entrance. Due to hygiene reasons, hotel staff will do all the scooping and plating.
In terms of selection, expect yoghurt, fruits, cold cuts, pastries, cereal and cheese. 
For a detailed review of the Valley Wing breakfast options, refer to my previous post. I'll just reiterate that the must-orders are the bikini sandwich, crispy egg confit, and Valley Wing soft boiled eggs. 
In case you were wondering, champagne is still poured during breakfast, although I suspect this may be a YMMV thing. Some guests have been told that it's only available from 11 a.m, others get it without any issues. 
Conclusion
I'm not going to add the Garden Wing to my overall staycation rankings, because my experience was a unique hybrid of the Valley and Garden Wing that won't be typical of most people's visits. 
On the whole however, I'd say the Garden Wing offers something you won't find in a lot of Singapore hotels. Staying in a low-rise building with open-air corridors amidst acres of greenery provides a much-needed mental break from the high rise glass and steel hotels downtown, which all too often can feel like just an office building with beds. The Shangri-La Singapore is also a fantastic venue for family staycations, thanks to its wide range of facilities and kids' club. 
Garden Wing weekday rates can start at just below S$300 nett, well worth considering if you're looking for a different staycation experience.