The PARKROYAL on Beach Road has quite the interesting history. It began life on 2 November 1971 as the Hotel Merlin, a joint development by the Singapore government and the Merlin Hotel Group based in Malaysia and Hong Kong. 
After around 10 years operating under the Hotel Merlin name, it got absorbed completely by the UOL Group in 1978, and the hotel was rebranded as the Hotel Plaza in 1982. Sometime after, the hotel underwent another  rebranding exercise to be known as the Plaza Parkroyal (which up to this day, is what the bus stop in front of the hotel is named), and finally to its current name as the PARKROYAL on Beach Road. 
The PARKROYAL on Beach Road completed its room renovations sometime in 2018, with its lobby finishing its revamp in early 2021. Its buffet restaurant Ginger, formerly the Plaza Brasserie, reopened to the public on 15 October 2020 after renovations, and Club 5 later reopened in February 2021. 
While the exterior has more or less remained unchanged in the last 50 years, I was curious to know how the interior of the hotel would be like post-renovation.
Booking a PARKROYAL on Beach Road Staycation
Back in April, Traveloka was running its insane EPIC Sale where they were offering huge discounts on hotels in Singapore with very attractive promo codes. Before the sale began, Traveloka was running a referral campaign where the top referrer daily could earn a S$75 hotel voucher that can be used during the EPIC sale period. 
Guess who came out tops on the final day of the EPIC Referral game? *drumroll*. 
With the S$75 hotel voucher, I came across a pretty decent rate for a Club Deluxe Room at the PARKROYAL on Beach Road coming in at S$223.71, hardly the cheapest rate that was available during the EPIC Sales promotion period but I was alright with it. After some insane promo code stacking, I paid a total of S$48.71 for my stay.
Officially, bookings made via Online Travel Agencies (OTAs) such as Traveloka will not get you any of the perks of being an elite member of the hotel's loyalty program. I reached out to the hotel to try my luck and they graciously honoured my DISCOVERY Black status for my stay and granted me a 9 a.m early check-in, 6 p.m late check-out, plus a room upgrade to the Club Premier room.  This is not 100% guaranteed as the hotel is within its rights to not extend elite benefits for OTA bookings so, YMMV. 
At the moment, PARKROYAL on Beach Road is offering its Staycay Everyday rates that start from $136.80++ (S$161 nett) for a Superior Room.
The Staycay Everyday package gets you:
Additional 5% savings for stays on weekdays and Sundays
Early check-in and late check-out (subject to availability)
15% savings on Food and Beverage at hotel-operated dining outlets
20% savings on spa treatments at St. Gregory spa
"Pan Pacific Cares" pack upon arrival
Easy access to hotel gym, swimming pool and other recreation facilities
Pan Pacific DISCOVERY members and healthcare professionals (ID needed) enjoy additional 10% savings.
If you are booked into a Club Room, here are the additional benefits you will get to enjoy:
Exclusive Lounge with dedicated service daily from 11:00am to 8:00pm
Personalised check-in and check-out
Daily breakfast served at Ginger from 6:00am to 10:30am
Complimentary daily refreshments from 11:00am to 5:00pm
Complimentary evening cocktails with hors d'oeuvres will be served during these two staggered time from 5:00pm to 6:30pm or 6:30pm to 8:00pm
Guests below the age of 12 years old are welcome at PARKROYAL Club daily from 11:00am to 5:00pm. 
Unlimited usage of in-room broadband internet
Two pieces of laundry per person on a daily non-accumulative basis (excluding dry cleaning and express services)
20% savings on all Business Centre services
20% savings on the a-la-carte menu at Si Chuan Dou Hua Restaurant, not applicable in conjunction with any other promotion or offer. 
PARKROYAL on Beach Road: Check-in and arrival
PARKROYAL on Beach Road is located at 7500 Beach Rd. If you are coming by MRT, the closest MRT stations are either Nicoll Highway (CC5) or Bugis (EW12/DT14). It takes about 10 minutes to walk from either of these MRT stations and the walk is unsheltered. 
If you are coming by taxi or private hire car, the entrance to the hotel's lobby is further down the driveway. Parking is available at the hotel and is complimentary for in-house guests. 
I arrived at the hotel at around 11 a.m proceeded into the lobby where you perform the usual SafeEntry check-in ritual. The SafeEntry gateway box has been installed at the entrance so if you are using the SafeEntry token, you will be able to check-in by tapping on the SafeEntry gateway box. Alternatively, the SafeEntry QR code for the hotel is placed on the desk of the concierge.
As I was only carrying a backpack, I was not offered any assistance with my bags but I'm sure if you do have luggage the staff will be happy to help. 
The newly renovated lobby, which reopened early this year, is so much more cheerful than what I had been seeing on past reviews. Here's a picture of the old lobby: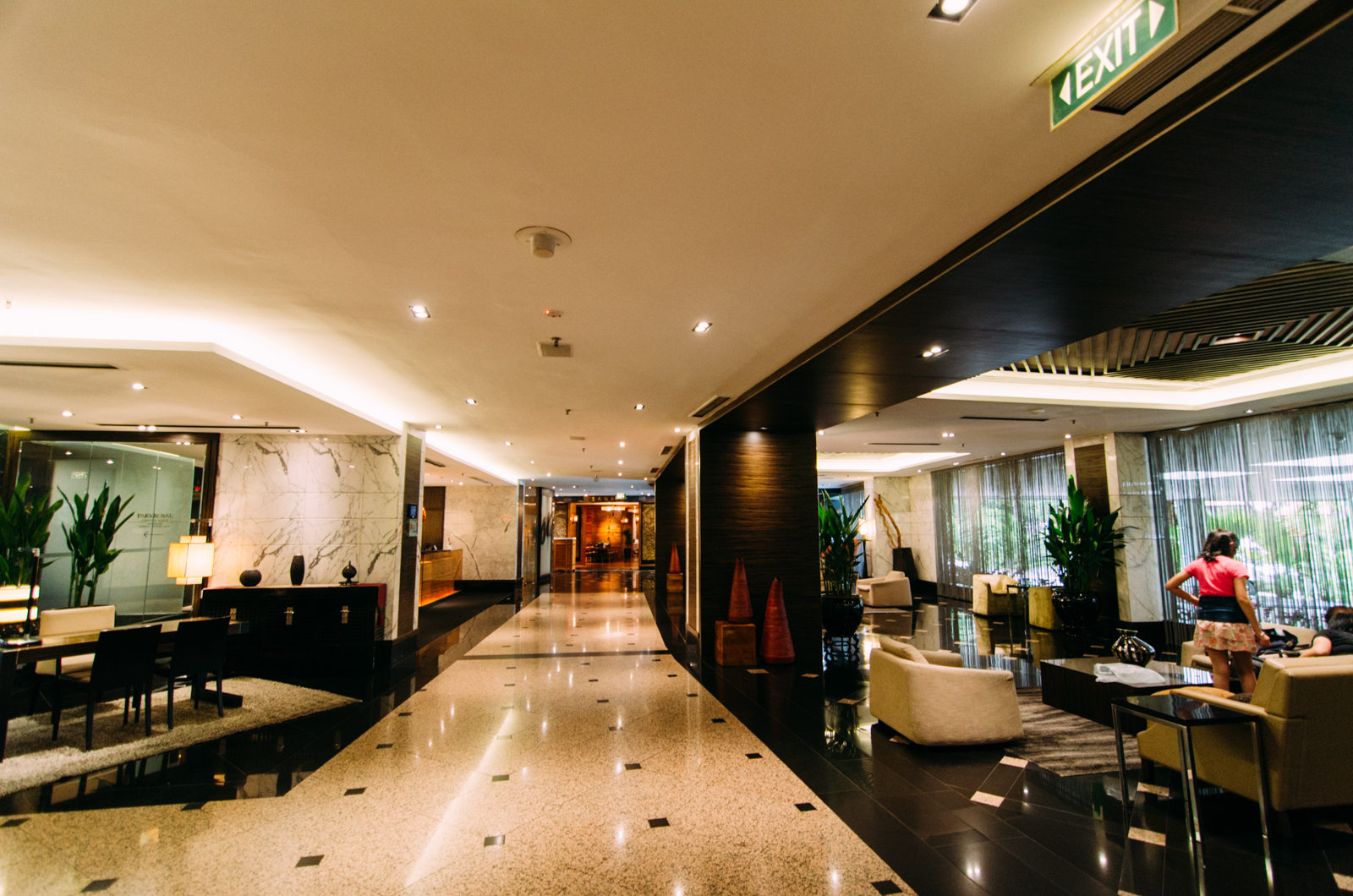 Here's what the lobby looks like now:
The dark depressing colour scheme of the old lobby has been replaced with bright pastel colours. Along with chic furniture, millennial-approved ceiling lamps, and child-size teddy bears at almost every sofa.
Given the current COVID-19 situation, I was rather surprised that there were so many teddy bears lying around in the lobby. I guess they did double up as a seat blocker for three-seater sofas in the lobby for the purpose of safe distancing in place of an ugly duct tape cross.
There was only a total of three check-in counters at the hotel with a dedicated DISCOVERY desk, which was never manned, tucked away in a corner hidden from view. Around the check-in area were also several desks with power outlets and USB-A charging ports built-in. 
After a short wait for a few guests to settle their check-out formalities, I was promptly checked in and issued my room keys. The staff confirmed my DISCOVERY Black benefits of a 6 p.m. check-out the next day as well as a one-category upgrade to the Club Premier Room. I also booked my slot for the evening cocktails at the Club Lounge at check-in. Strangely, there was no letter given detailing the benefits that I would have received as a Club Room guest. 
The PARKROYAL on Beach Road only has three suites available in the entire hotel and I was told that Club Premier Rooms are the highest room category you can be upgraded to. If you are a DISCOVERY Black member who books a Superior Room for example, you can be upgraded to a Club Deluxe room but this will not come with Club Benefits. 
PARKROYAL on Beach Road: Club Premier Room
The PARKROYAL on Beach Road has a total of 346 rooms split over 6 levels. The breakdown of rooms at the hotel are as follows:
Room Type
Number of Rooms
Size

Superior Room

185

35 sqm

Deluxe Room

68

35 sqm

Club Deluxe Room

61

35 sqm

Club Premier Room

29

42 sqm

Executive Suite

1

104 sqm

The Junior Suite (1) and Premier Suite (1) is not on sale at the moment
At the PARKROYAL on Beach Road, only the Club Premier rooms and the Executive Suites have a bathtub. All other rooms do not feature bathtubs and are only fitted with standing showers. Club Deluxe Rooms have a slightly larger shower area as compared to Superior and Deluxe Rooms. 
Club rooms can be found on levels 6 and 7. All Club Premier rooms come with a balcony and they are all on the 7th floor of the hotel which is the highest level of the hotel. 
The corridors of the hotel were very calming, with diffused natural light streaming in from the outside through floor-to-ceiling frosted windows.
I was assigned to room 747 for my stay and the room was located just a short stroll from the lift lobby. 
A Pan Pacific Cares cleanliness tag can be found on almost every door, this is the hotel's way of informing you that your room had been cleaned and disinfected. Unfortunately, there were a few cleanliness issues with my room that I only discovered in the middle of my stay which made me question the use of this door tag.
Entering the room, there is a large raised platform for your luggage to be placed at and the bathroom was to the right of the entrance. The wardrobe is also located by the door, opposite the bathroom (as with most other hotels).
Inside you will find the bathrobes, bedroom slippers, iron, and ironing board. A hairdryer can be found in the drawers of the wardrobe. 
The mini-bar is located to the right of the wardrobe and a Nespresso machine is thankfully present. Teabags are from Dilmah which is not too bad. Instant coffee sachets of both the caffeinated and decaffeinated choices from Nescafe can also be found in the drawer. 
The mini-bar fridge was emptied out save for a few coffee creamers, empty mini-bar fridges are always a good thing especially if the mini-bar items are not complimentary to begin with. Leaving you more space to store your self-bought drinks. Cups and glassware can be found in the pull-out small drawer beside the mini-bar. 
Also, while picking up a cup I chuckled a little as I took a look at the coaster. I was amused as to how these ended up here. 
The hotel completed renovations to its rooms sometime in 2018 and the room looked amazing in my opinion- much modern. 
The room was very well lit and the floor-to-ceiling sliding doors let in a good amount of natural light. A proper work desk is sadly missing and is instead replaced by a rather comfortable sofa and an irregular-shaped marble table. A small platter of goodies, of which I assume was the local amenity provided by the hotel to DISCOVERY elite members, was left on the table. 
The sofa was sturdy and was actually rather comfortable to sit in for an extended period of time, with the table height perfect for working. I'd still prefer a proper working desk over this and I was a little sad that the Herman Miller Sayl chairs, which can be found in the Superior and Deluxe rooms, are missing from all Club category rooms. 
A Samsung Smart TV can be found in the room and there was a good variety of high definition channels on offer. It does have a spare HDMI port available and it is possible to hook up an HDMI cable to a Chromecast device or your laptop. The TV also supports screen sharing.  
The Pan Pacific Cares pack containing face masks, a bottle of hand sanitizer, and antiseptic wipes was placed on the countertop. I found it odd that the masks weren't wrapped in plastic and I can only pray the person packing these wore gloves.
A power socket is conveniently located below the television counter to power your Chromecast or a connected laptop.
Be warned when you pull back the television to plug in your HDMI cable though, it looks like the back of the television has not been cleaned in years.
Club Premier rooms come with a small balcony with a very partial sea view. On the day of check-in, it was raining quite heavily and the entire balcony was wet, rendering it unusable until it dried out completely. 
The walls of the balcony are quite low and I imagine if you tried, you could peek into the neighbouring rooms. When the sun was out, the balcony was actually a pretty good place to just chill with a drink in hand.
On the left of the bed was where the in-room telephone, clock, and room lighting controls were located. The clock doubles up as a pretty capable Bluetooth speaker and is capable of wireless charging and can power any Qi-compatible device. A USB-A port can be found behind the iHome device as well. The only universal power sockets in the room can be found behind the telephone. 
On the right side of the bed were more power sockets and built-in USB-A charging ports alongside lighting controls.
Moving on to the bathroom, it was a pretty large bathroom with a separate shower area and a free-standing bathtub. As mentioned earlier, only Club Premier Rooms and Executive Suites have bathtubs, all other rooms only get a standing shower.
The sink had a tap for "premium filtered drinking water" and no single-use plastic water bottles were provided. 
The bathtub was really nice and deep, perfect for soaking with the faucet located in the middle, meaning you could lie in the tub on either side. 
A bidet is installed on the toilet which is always welcome. It even had cute drawings to help you figure out which way to turn the knob.
Toiletries are Vanity Group branded and toothpaste purists would be happy to know that Colgate is provided here. The irony of the hotel doing away with single-use plastic bottles in a move to be more polar bear friendly is that the toothpaste was separately wrapped from the toothbrush…in plastic. 
The shower room has a small ledge for you to wash your feet, or for you to sit and ponder about the meaning of life as the water from the rain shower cascades down your body. The water pressure from the rain shower was sadly not as strong as other hotels that I have been to. The handheld shower had excellent water pressure and I used that more than the rain shower. 
Fun fact, only Club Rooms have rain showers installed while all other rooms (Superior and Deluxe) only have handheld showers.
From my understanding, all rooms are fitted with wall-mounted bath amenities but only Club rooms receive the Metis branded bottled amenities as extra. I quite like the Metis brand, having first encountered them during my staycation at the Hotel G. 
The room looked clean at first glance, but it wasn't until much later during my stay that I started noticing that some things weren't cleaned at all. The first thing that caught my eye was the coffee stain left on the Nespresso machine when I wanted to make a cup of coffee. Clearly, this was not cleaned when the room was being turned over. 
The nail in the coffin would be the brown stain that I found right next to the toilet bowl. You could barely notice it due to the design of the marble countertop at first glance. This was highly disturbing.
I'll discuss more on what happened later in this review but the tl;dr was that I wiped the entire countertop with the antiseptic wipes provided in the cares pack myself.  
Wi-Fi at the hotel is complimentary for all guests and the speeds were more than sufficient for all your streaming needs. 
 
🔽Download
🔼 Upload

Mandarin Orchard

273 Mbps

294 Mbps

Villa Samadhi

62 Mbps

53 Mbps

M Social Singapore

46 Mbps

49 Mbps

Conrad Centenni

al

40 Mbps

44 Mbps

YOTELAir Changi

29 Mbps

49 Mbps

W Sentosa Cove

34 Mbps

34 Mbps

Ascott Orchard

29

Mbps

29 Mbps

Duxton Reserve

28 Mbps

29 M

bps

PARKROYAL Beach Road

28 Mbps

29 Mbps

Mandarin Oriental

28 Mbps

28

Mbps

The Fullerton Hotel

23 Mbps

24 Mbps

PARKROYAL Pickering

24 Mbps

23 Mbps

Shangri-La Singapore

19 Mbps

18 Mbps

Pan Pacific Singapore

19 Mbps

19 Mbps

Dusit Thani Laguna Singapore

19 Mbps

19

Mbps

InterContinental Bugis

15 Mbps

15 Mbps

The Capitol Kempinski Hotel

16 Mbps

13 Mbps

Grand Hyatt Singapore

14 Mbps

13

Mb

ps

Hilton Singapore

13 Mbps

14 Mbps

Marina Bay Sands

11 Mbps

11 Mbps

The Clan Hotel

9.6 Mbps

9.6 Mbps

Andaz Singapore

8.0 Mbps

9.5 Mbps

Four Seasons Singapore

6.7 Mbps

9.8 Mbps

The Barracks Hotel

7.3 Mbps

7.7 Mbps

Hotel 81 Tristar

7.0 Mbps

6.8 Mbps

Raffles Hotel

6.9 Mbps

6.8 Mbps

Hotel Soloha

4.7 Mbps

5.1 Mbps

Hotel G Singapore

4.4 Mbps

4.8 Mbps

Internet speeds based on Speedtest.net scores
PARKROYAL on Beach Road: PARKROYAL Club Lounge
Having booked a Club Room, I was entitled to Club Lounge benefits. At the PARKROYAL on Beach Road, the Club Lounge is located on level 6 is currently open from 11 a.m. to 8 p.m. daily with only one meal session, evening cocktails happening between 5 p.m to 8 p.m. Pre-booking of evening cocktail slots is required and can only be done after check-in.
At the time of writing, the evening cocktail slots you can choose from are:
5 p.m to 6.30 p.m
6.30 p.m to 8 p.m 
The lounge was renovated back in 2018 as well and the new space looks stunning. Once again, child-sized teddy bear seat blockers make an appearance here. 
Power sockets are dotted around the lounge so this can be a nice working space if you need to do some work. The standard selection of soft drinks and packaged juices are on offer outside of the evening cocktails hours but these are not self-serve. The lounge staff will assist you if you need any beverages or biscuits. 
Now, about evening cocktails. Prior to my stay when the Club Lounge was closed, evening cocktails were served in-room with staff coming around with a bar trolley for drink refills. Based on some YouTube reviews that I watched, the food that was on offer looked amazing.
Here's an Instagram post from Follow Us with a picture of what was served during evening cocktails when it was served in-room. (Pictures 8 and 9). It was a full 3-course meal that could have passed off for a light dinner. 
Sadly at the end of April, the Club Lounge reopened and evening cocktails are no longer served in-room. A standard selection of beers (Tiger and Heineken), hard liquor, soft drinks, and juices were available. Neither champagne nor sparkling wine was available.  The red wine served was a 2017 Cora Shiraz while the white wine was a Miranda Somerton Chardonnay 2018.
At the PARKROYAL on Beach Road, there is no evening cocktail menu available as the staff informed me that it's a rotating menu with no fixed choices. All guests will receive one bento set and no extras are provided.
Before we get to what I was served, I really must talk about the service. I arrived at around 6.45 p.m. and after being seated, drink orders were taken and drinks arrived promptly.
Between the drinks arriving and the food being served, it was a 20-minute wait. The lounge was half empty and no one seemed to be getting their food. When a guest from another table who arrived at the same time as me checked on what was holding the food up, the staff sheepishly apologized and just told them it was arriving soon. That "soon" turned out to be an extra 10 minutes. 
Imagine my disappointment when after a 20-minute wait, this showed up:
Waiting 20-minutes only to be given a bento box with cold items left a bad taste in my mouth, literally. The deep-fried beancurd rolls came cold and had the disgusting old oil taste, and the whole bento box had more greens than food items.
Although the avocado salad with smoked salmon were decent, this was overall a huge downgrade compared to what was being served to guests prior to the reopening of the Club Lounge. The ondeh-ondeh cake was the saving grace of the bento set for me. 
The 20-minute wait in a lounge which was not busy, compounded with the quality of food served made for a really disappointing experience and I simply cannot recommend anyone to book a Club Room right now at the PARKROYAL on Beach Road given the current standard of the evening cocktails.
You are better off booking a normal room, or the Stay and Feast package, and spending the extra cash saved on a good meal around the Haji Lane/Kampong Glam area. 
PARKROYAL on Beach Road: Facilities
Pool
Gym
Spa

Yes: 7 a.m to 8 p.m

Yes: 7 a.m to 8 p.m 

Yes:




Wkdays 11 a.m to 8 p.m




Wkends/PH 10 a.m to 8 p.m

Kids' Club
Business Centre
Others

No

No

No
Gym and pool slots are 1 hour 30 minutes long and the first slot starts at 7 a.m. (e.g 7 a.m to 8.30 a.m, 8.30 a.m to 10.00 a.m etc.) However, the last slot for both the gym and pool is only an hour-long between 7 p.m to 8 p.m. Pre-booking of slots via the chatbot or hotel operator is required and can only be done after check-in. 
Swimming Pool
The swimming pool, spa, and gym are all located on the 4th floor of the hotel. From the lift landing, enter through the set of doors and follow the signs. 
The swimming pool is open daily from 7 a.m to 8 p.m. 
If you are planning to saunter down to swim in your bathing suit, just be warned that level 4 is a common area where there are meeting rooms just before the fork to the gym/swimming pool/spa and there is an unsecured lobby connecting to the office block just past the fork to the pool area. 
To access the facilities , it's a short walk down this dark corridor, and further on to a short walkway before you're in the pool building itself.
Scanning of the SafeEntry QR is mandatory before you are allowed to collect your pool towels. The pool bar is only opened on weekends and public holidays between 3 p.m to 8 p.m.
The swimming pool isn't anything spectacular, just your larger-than-average hotel swimming pool.
The pool is made up of two pools joined together, a wading pool and the main pool. The main pool here is deep, really deep. 2.90m at its deepest to be exact. There are no lifeguards present by the pool and if you are going with children, or do not know how to swim, it's best to stick to the side of the pool with the water feature where it is only 1.2m deep. 
The views from the pool are alright with the office buildings at Suntec and the condos at Tanjong Rhu being the main views. 
Around the swimming pool area, there was a total of around 30 deck chairs available for use. This was not an issue during my stay as the pool was never crowded the few times I popped over to try and take a clearer picture. I was not able to find a jacuzzi around the pool area so the next best alternative would be the white water features spitting out water. 
Gym
The gym is also located on the 4th floor and is adjacent to the swimming pool. When I stayed, it was open from 7 a.m to 8 p.m but due to new COVID regulations, the gym is now closed from 8-30 May 2021. There was no one manning the gym when I was there although you officially have to book a slot before coming. 
The gym had all the necessary equipment you would need for a good workout with the treadmills facing the pool. It was just your ordinary hotel gym, nothing too fancy over here.
As the hotel offers fitness club memberships to the public, you might be sharing the gym and pool with other fitness club members who are not hotel guests. I did not manage to take a picture of the showers near the gym area but there are showers available should you need to use them. 
Spa
The St. Gregory's Spa, a staple at almost every Pan Pacific Hotel Group hotel, is also found on level 4 right next to the swimming pool and gym. It is open from 11 a.m to 8 p.m on weekdays and 10 a.m to 8 p.m on weekends and public holidays. 
Body and scalp treatments rates start from S$175 nett and the full spa menu can also be found online. I did not manage to check out what's inside the spa but the hotel has a video walkthrough of the treatment rooms on its website.
The hotel also offers fitness classes that are conducted in the evenings. If doing calisthenics on a human-sized float in the pool is your cup of tea, then you'd be glad to know it is available at a cost of S$35 per session.
PARKROYAL on Beach Road: Breakfast
Served at
Cost
Style

Ginger

S$35++ (Adults)




S$17.50++ (Child aged 6-12)

A la Carte Buffet

Hours
Sparkling Wine?
Discounts?

6.00 a.m to 10.30 a.m

No

No
Breakfast is served at Ginger on level 1, PARKROYAL on Beach Road's all-day dining restaurant. For guests staying in Club Rooms, the Club Lounge is not opened for breakfast for now and breakfast is all served at Ginger. Club Room guests enjoy the same offerings as everyone else at breakfast. 
Pre-booking of breakfast slots is required although I'm not sure if they are strictly enforced as I turned up slightly earlier and was let in. I'm expecting the dining timings to be enforced on weekends when it gets a little more crowded. 
Here are the time slots available for breakfast:
6 a.m to 7 a.m 
7.15 a.m to 8.15 a.m 
8.30 a.m to 9.30 a.m
9.30 a.m to 10.30 a.m 
From past reviews, breakfast was served in-room for quite some time, even after the reopening of Ginger and the choices looked amazing. Think lobster nasi lemak, big prawn noodles, and steak and eggs with waffles.
Based on what I saw from the YouTube review, I had very high hopes of what was going to being served. Sadly, once again I was left underwhelmed by the breakfast offerings at the hotel. They weren't bad, they were actually very nice – your typical hotel breakfast fare. However, having watched reviews of what was being served prior to breakfast relocating to Ginger, I honestly can't help but feel a little shortchanged. 
Here is the breakfast menu:
The good thing was that you were able to order multiple dishes off the menu and my partner and I had some pastries, the Big Breakfast, Egg White Omelette, Nasi Lemak, and Waffles with Berries. Juices were not freshly squeezed but were of the packaged kind. Thankfully the orange juice that I had didn't taste like battery fluid. 
Only black coffee and tea were served at breakfast with no options for machine-made cappuccinos or lattes. On the table were two small tubs of jam from Beerenburg, two cubes of Lescure butter, and some coffee creamers.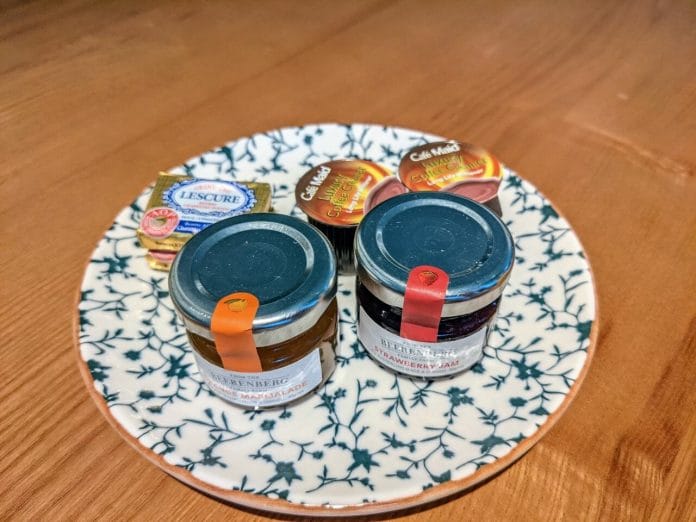 The bread basket came first with two croissants and a few Danish pastries. These were alright and the croissant was slightly flakey. The cinnamon roll needed a little more oomph as I felt it was light on the cinnamon taste, but the apple pecan Danish hit the spot for me.
The Big Breakfast was presented in an interesting way, with the scrambled eggs and sausages served in between two English muffins. This did cause the muffins to turn slightly soggy, but I was alright with that.
The sausages were your standard hotel breakfast sausages. Nothing too gourmet but at least it had a tinge of rosemary in it. The hashbrowns were amazing, served hot and crispy. So good that I ordered a separate side of hashbrowns to munch on in between the main meals. The baked beans tasted like how you'd imagine it to be – out of a can. 
If I had a complaint about the Egg White Omelette, it would be that there was no option to customize the omelette to have some ingredients inside it. The mushroom fricassee was amazingly done up and very fragrant. The potato bread, however, felt out of place. The smoked salmon was pretty ordinary, tasted like what smoked salmon should taste like, and was not too fishy. 
I had high hopes for the Nasi Lemak which was previously served with a side of rock lobster. The rock lobster has thankfully remained on the menu and was smothered with sambal. The rice was cooked with blue pea flowers and had a good aroma to it, although the rice grains themselves were just a tad undercooked. 
The waffles were rather disappointing to me as I'm a lover of crispy waffles. The waffle was limp and was not helped by the dollop of berry compote over it. The syrup reminded me strongly of the ones served at McDonald's. 
Overall, PARKROYAL on Beach Road serves up a pretty good breakfast for its overall hotel price point. Although I was slightly disappointed that the steak and eggs were gone from the menu, the quality of food here was more than acceptable. Comparing this to the Pan Pacific Singapore, the PARKROYAL on Beach Road wins the Pan Pacific Singapore hands down in terms of the number of dishes available. 
If your rate does not come with breakfast, paying S$35++ might not be that bad of an idea if you are lazy to head out to the surrounding areas for food. 
 Other Dining Options
I did not dine at any of the hotel restaurants during my stay but if you are planning a stay, you will be glad to know that all of the hotel operated restaurants are now open.
DISCOVERY Gold, Platinum, and Black members get to enjoy a 15%, 20%, and 25% discount respectively off the total bill (excluding alcoholic beverages) at all hotel operated restaurants at the PARKROYAL on Beach Road.
Restaurant
Opening Hours

Club 5

Tues – Sat: 11.30 a.m – 10.30 p.m

Si Chuan Dou Hua

Lunch: 11.30 a.m – 2.30 p.m
Dinner: 6.30 p.m – 10.30 p.m

Tian Fu Tea Room

Daily: 11.30 a.m – 10.30 p.m

Poolside Cafe & Bar

Weekends and Public Holidays: 3.00 p.m – 8.00 p.m
Club 5
Club 5 is the hotel's bar and it recently reopened its doors to the public early this year. It is located at level 1 right next to the entrance to the hotel. It is open from Tuesdays to Saturdays from 11.30 a.m to 10.30 p.m. 
It's a pretty nice space but what makes it even prettier is that it participates in the American Express Chillax! program. At Club 5, the benefit of Amex Chillax! is that you will get a 1-for-1 on your first drink. 
The food and beverage menus for Club 5 can be found on the hotel's website here.
Si Chuan Dou Hua
Si Chuan Dou Hua is located on level 1 of the hotel and it is open daily for lunch between 11.30 a.m to 2.30 p.m and dinner between 6.30 p.m to 10.30 p.m.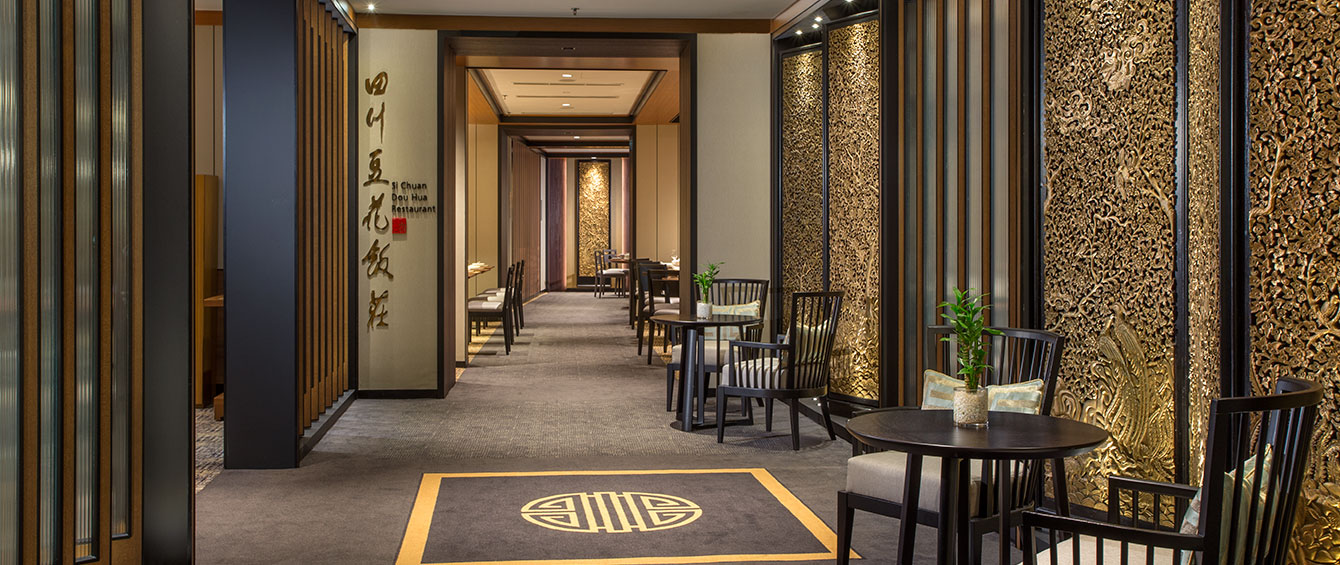 Si Chuan Dou Hua is synonymous with excellent Chinese cuisine, specifically Sichuan cuisine. There are a total of 3 Si Chuan Dou Hua's in Singapore:
Top of UOB Plaza
PARKROYAL on Beach Road
PARKROYAL on Kitchener Road
I've personally dined at the Si Chuan Dou Hua at the PARKROYAL on Kitchener Road a few years back and was blown away by the quality of dim sum that was on offer. The restaurant is also famous for dishes such as the "Chong Qing" Diced Chicken with Dried Chilli which is definitely the crowd favourite at the Si Chuan Dou Hua. 
If you have booked the Member's Staycay Everyday rate, you will get to enjoy a 15% saving off the a la carte menu when dining at Si Chuan Dou Hua. If you are staying in a Club category room, you will enjoy a 20% saving on the a la carte menu. 
You can view the menu for Si Chuan Dou Hua here.
Tian Fu Tea Room
The Tian Fu Tea Room is located within the Si Chuan Dou Hua restaurant and is open daily from 11.30 a.m to 10.30 p.m. From the website, Tian Fu Tea Room serves up Chinese tea pairings with dim sum and they offer an afternoon tea set menu.
PARKROYAL on Beach Road: Service
As mentioned earlier, I found some foreign brown stains by the toilet bowl and informed the front desk about it. The front desk agent told me that she will send someone up to do a cleaning of the room, but this never happened. When I got back to the room 15-minutes later, everything was still where it was and no one ever came to clean the room. The do-not-disturb light was off from the time I left my room up until midnight so there was no way that I could have missed them coming. 
PARKROYAL on Beach Road has adopted a chatbot similar to its sister properties where you can request for additional amenities, book your breakfast slots, pool, and gym slots all on the app. If you are requesting extra amenities, it's faster to just ring up the hotel operator via the in-room phone. 
On the chatbot, there was an option to rate your stay during the stay itself. I gave it the 2nd lowest emoji rating and the next morning, the duty manager called to check on what's wrong. I was a little surprised he wasn't briefed on what happened the night before as I saw that the front desk agent had entered some comments into my guest file.
The staff at Ginger during breakfast were attentive and they proactively offered coffee/tea refills whenever they saw that your cup was getting low on java. 
Concluding Thoughts
Overall, I enjoyed my staycation at the PARKROYAL on Beach Road. The rooms are a huge step up from what they were pre-renovations and the facilities available were adequate. Couple that with a decent breakfast spread, the PARKROYAL on Beach Road is definitely trading blows with other hotels in its price range.
If I were to return, I'll probably avoid booking the Club rooms and just spring for a normal room with breakfast. 
🏨 In Summary
The new-and-improved PARKROYAL on Beach Road is a competitive option for an affordable staycation. The club lounge, however, disappoints.
Do say: Merlin really worked his magic with this place 

Don't say: What in Merlin's beard happened last night.