While Far East Hospitality is perhaps better known for their mid-range brands like Rendezvous, Oasia, and Village, they've been making a concerted effort of late to go upscale. 
The first shot was fired with the launch of The Barracks Hotel in 2019, a 40-room colonial villa on Sentosa with ornate rooms, bespoke service and prices in more rarefied territory. Now comes The Clan, a 324-room luxury hotel at the heart of the Telok Ayer and Amoy heritage district. 
The Clan Hotel was originally supposed to debut in Q2 2020, but COVID saw the soft launch getting pushed to mid-February 2021, with the property officially opening its doors on 1 March 2021. 
I considered visiting during the pre-opening phase to take advantage of the hotel's (quite spectacular) launch special, but decided instead to delay my visit and give it a little more room to find its feet. 
So is this property ready for prime time? In terms of hardware, most certainly. In terms of service, there's still some fine tuning required. Oh, and you probably shouldn't be shelling out more for a Master Series room, no matter what the media reviews say. 
Booking a Clan Hotel staycation
As part of their opening blitz, The Clan Hotel has been farming out the following corporate rate to a wide range of partners, such as members of the SMU Alumni Association. 
That's the rate I booked, and it's actually quite decent, all things considered. You can enjoy two nights with breakfast from as low as S$292 nett (1 pax), with flexible cancellation up to 24 hours before arrival. 
Rate for 2 nights
 

1 adult

2 adults

Deluxe Room

S$292 nett

S$315 nett

Premier Room

S$386 nett

S$421 nett

All rates include breakfast and can be cancelled up to 24 hours before arrival.
Book by 31 May 2021, stay by 31 August 2021.
If you don't have access to this rate, then from now till 31 May 2021, the hotel is offering a 2-night stay in a Premier Room for S$588 nett, inclusive of breakfast and a one-way limo transfer. Guests will also receive a S$100 voucher for a future stay at the Oasia Hotel Downtown, Orchard Rendezvous Hotel or The Barracks Hotel. 
I decided to go with the Premier Room because it's larger (31 sqm vs 24 sqm for a Deluxe), and because all Premier Rooms are part of the so-called "Master Series", enjoying additional benefits such as: 
Customised in-room refreshments (choice of 5 items)
Handmade soap selection
Turndown service
All-day breakfast
The Clan Daily Special
The Clan Keeper Service (precinct tour, complimentary garment pressing)
Home/airport limousine transfer (unclear if this is still included)
Here's the thing though: having completed the stay, my take is that the Master Series perks aren't worth paying for. In fact, I feel the hotel misrepresents the benefits, because quite a few of them involve a further upcharge. I'll discuss this more in a separate section. 
Clan Hotel: Arrival & Check-in
The Clan Hotel is located at 10 Cross Street, part of the Far East Square complex. It occupies a newly-built 30-storey bronze skyscraper; not tall by CBD standards, but strategically positioned to give guests unobstructed views. 
The hotel is just across the road from the Telok Ayer MRT station on the Downtown Line (it's not directly connected to the station though). Alternatively, the Raffles Place MRT is a five minute (unsheltered) walk away. 
Complimentary onsite parking at Far East Square is available for in-house guests (one single entry coupon per night). If you're taking a cab, ask the driver to keep right on Cross Street as you approach the hotel. Cross Street is a one-way stretch, and you'll have to make a big loop if you miss the turn. 
I arrived around 12 p.m on a Wednesday. The Clan Hotel staff greeted me on the ground floor and offered assistance with luggage. 
After completing the usual Safe Entry and temperature screening procedure, I was ushered into the hotel proper, through a set of dark frosted automatic doors. These will be locked at night, and you'll need your keycard to gain access. Be careful to bring it when you head out, because I'm not sure if the reception counter on the ground floor is manned 24/7.
Reception is on the second floor, and guests wait for the lift in a darkened, quiet entrance foyer. This forms a calming contrast to the hustle and bustle of the streets outside, almost like a peaceful loading screen as you transition from one location to another. 
The dramatic architecture draws your attention to a barely-visible inscription on the wall- the Clan Hotel's mantra. It's a lovely sentiment, but the unfortunate placement of a CCTV camera directly below lends a somewhat authoritarian reading to the text. 
Take the lift one floor up and you'll enter the hotel reception, which is quite simply gorgeous. Japanese interior design firm KKS International (who Far East have taken a shine to, engaging them for their triumvirate of hotels on Sentosa) have created soaring ceilings with full height windows for sunlight to stream in, bathing the open-shelf display cabinets and plush furniture in a warm glow.
Oriental artifacts fill the shelves, while a collection of ornate umbrellas (apparently on sale at four digit prices) line the walls. 
It's not just visually arresting; your other senses will be engaged too. In fact, the first thing that might catch your attention is a distinctive scent called "Kindred Spirit." A mix of earl grey, long jing and tie guan yin blended with sandalwood and white musk, this fragrance was created specially for The Clan Hotel by local perfumer Scent by SIX. 
Suspended above the check-in counters are 150 painted aluminum panels folded in a variety of geometric forms and hung at different heights. This art installation by Grace Tan is called "The Pact", and is meant to symbolize the close ties and bonds formed between early immigrants who settled in Singapore in the early 1800s. 
For those who shun human interaction, self check-in counters are available as well. 
In a corner of the lobby was a tea parlour, where the welcome tea ceremony takes place. 
Guests at The Clan Hotel are greeted with a tea ritual, prepared by affable tea master Alex Choi. Alex worked as a tea specialist with Singapore Airlines prior to joining The Clan, and suffice to say, this man has forgotten more about tea than I'll ever know. His face turned to abject horror when I told him I didn't partake, and he insisted I at least try some of the Ritual cold brew. It turned out to be very refreshing. 
In addition to the Ritual cold brew, a Nanyang Ritual tea is served. All teas at the Clan Hotel are supplied by Pryce, one of those atas tea companies I'd probably know about if I were into the stuff. Tea is served along with a cold towel and a bite-sized tau sar piah that's flaky and sweet. 
Check-in formalities took a couple of minutes, and I was escorted to the room after that. 
Clan Hotel: Premier Room
The Clan Hotel has 324 rooms, split into the following categories:
| | | |
| --- | --- | --- |
| Room Type | Number of Rooms | Size |
| Deluxe | 246 | 24 sqm |
| Premier | 60 | 31 sqm |
| Grand Premier | 18 | 36 sqm |
Grand Premier rooms are the only category that come with a bathtub, but are not open for bookings yet. I did manage to get a look inside one of them, which I'll briefly discuss in the next section.
I stayed in room 1701, a Premier Room on the 17th floor.
Premier Rooms are located at the corners of each floor and have wraparound views of the neighbouring districts. They are only available in a King/Queen configuration, so those who want twin beds will need to pick a Deluxe Room instead (all rooms take a maximum of two people). 
The Premier Room strikes a decidedly modern business tone, but that's not necessarily a bad thing. The décor plays it safe with a soothing color palette of muted tones and warm lighting, and the L-shaped layout provides extra space for lounging by the windows. 
The window bay opposite the bed features a long settee that runs the full length, interrupted only by the desk. 
Another seating area has been created at the window next to the bed. 
The King-sized bed was firm and extremely comfortable. The sheets do a good job of retaining heat, allowing me to set the air conditioning to artic chill with nary a complaint from The Milelioness. Speaking of air conditioning, I might just have been unlucky but I found the vent rattled loudly when it was set on low. The noise disappeared only when I cranked it up to high. 
The Clan Hotel has a pillow menu for all guests, with the following options:
Comfort-U Body Pillow

Full body support. Enables muscles & joints to truly relax. Multi-functional body pillow

Sidesleeper Pillow

Extra comfort for side sleepers. Reduces strain on neck & upper back

Latex Pillow

Made with 100% natural latex. Reduces head & neck pressure. Breathable interior cell structure provides shape retention

Micro-Gel Pillow

Hypoallergenic. An alternative to goose down feather, Micro-Gel fibre emulates the lightness and air-trapping abilities of natural down and is supremely comfortable
Trust me, you haven't lived until you try a U Body pillow. I'd never heard of it before, but it supports your neck and shoulders in a way unimaginable. 
One bedside table had the room phone and hygiene kit. 
The other bedside table had a Audio Pro BT5 Bluetooth speaker. This provided crisp music playback, and connecting was simple. 
Both bedsides have a full range of lighting controls, as well as one USB charging port and one universal power outlet. Do note that one of the power outlets is occupied by the Bluetooth speaker. 
The room had a large desk that can be used for work or as a dressing area (there's no flip up mirror, so you'll need to bring the portable one from the bathroom). The stool is backless, however, so it's not good for prolonged periods. 
A UV light box was on the desk, giving you a nifty way to sanitize your phone and other small devices (the jury's still out as to whether these really work though). 
Two universal power outlets and USB ports were built into the top left of the desk, as well as an ethernet port. 
Wi-Fi speeds were fast enough, but still towards the bottom third of all hotels I've stayed in. This could be more of an issue during peak occupancy periods. 
 
🔽Download
🔼 Upload

Mandarin Orchard

273 Mbps

294 Mbps

Villa Samadhi

62 Mbps

53 Mbps

M Social Singapore

46 Mbps

49 Mbps

Conrad Centenni

al

40 Mbps

44 Mbps

YOTELAir Changi

29 Mbps

49 Mbps

W Sentosa Cove

34 Mbps

34 Mbps

Ascott Orchard

29

Mbps

29 Mbps

Duxton Reserve

28 Mbps

29 M

bps

Mandarin Oriental

28 Mbps

28

Mbps

The Fullerton Hotel

23 Mbps

24 Mbps

PARKROYAL Pickering

24 Mbps

23 Mbps

Shangri-La Singapore

19 Mbps

18 Mbps

Pan Pacific Singapore

19 Mbps

19 Mbps

Dusit Thani Laguna Singapore

19 Mbps

19

Mbps

InterContinental Bugis

15 Mbps

15 Mbps

The Capitol Kempinski Hotel

16 Mbps

13 Mbps

Hilton Singapore

13 Mbps

14 Mbps

Marina Bay Sands

11 Mbps

11 Mbps

The Clan Hotel

9.6 Mbps

9.6 Mbps

Andaz Singapore

8.0 Mbps

9.5 Mbps

Four Seasons Singapore

6.7 Mbps

9.8 Mbps

The Barracks Hotel

7.3 Mbps

7.7 Mbps

Hotel 81 Tristar

7.0 Mbps

6.8 Mbps

Raffles Hotel

6.9 Mbps

6.8 Mbps

Hotel Soloha

4.7 Mbps

5.1 Mbps

Hotel G Singapore

4.4 Mbps

4.8 Mbps

Internet speeds based on Speedtest.net scores
The 55-inch TV was mounted on the wall, with the option to pull it out and swivel for easier viewing in bed. While it's not possible to connect your own HDMI cable (the system is locked down, preventing you from changing input source), there's a Chromecast already attached for streaming media content. Setting up the Chromecast was a bit clunky, but once it was done it worked like a charm.
Prior to arrival, Master Series guests are invited to select up to five items for their in-room refreshment basket. This is a one-time benefit given on the first day, and not replenished subsequently. You should obviously choose based on preference rather than price, but if you really want to know, I've included the list prices of each item below: 
I'm pleased that the snacks on offer were the premium stuff. I love Oreos as much as the next guy, but they would be pretty off-brand considering the hotel's positioning. 
Here's my basket:
A tea set was placed on the settee, with a bundled up welcome gift of Nanyang Ritual tea plus some bak kut teh cookies. Oddly enough, housekeeping replaced the tea pot on the second day with a transparent glass one instead. 
Further refreshments were found at the mini-bar area, in the form of a Nespresso machine and tea selection.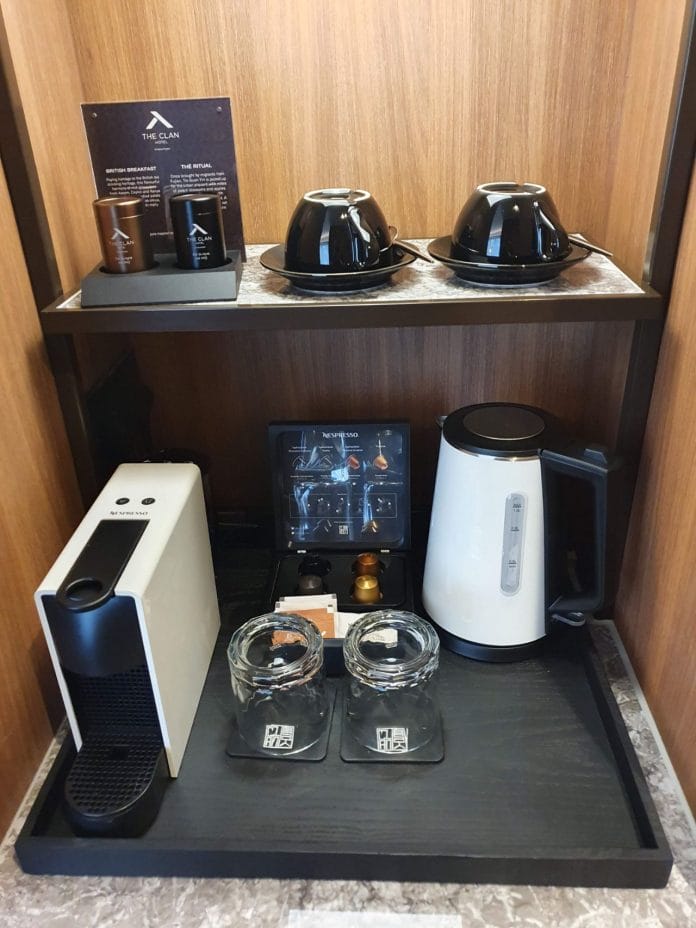 Tea is a common motif across Far East properties, and just like The Outpost and Barracks Hotels, two canisters of tea were available at the minibar: British Breakfast and The Ritual blends by Pryce tea. The canisters have been glued to the base to prevent guests from "accidentally" bring them home.
The mini-fridge is empty, so you can store your own items here. 
As we were staying close to my birthday, the staff had prepared a small cake, which was delivered to the room later. 
The open-concept wardrobe at the entrance of the room provided space for luggage storage, as well as an ironing board. Master Series guests get complimentary pressing for two items per day (non-cumulative). I sent a shirt and got it back within 20 minutes. 
Inside the wardrobe drawers were a built-in safe and a hairdryer. 
The bathroom was a mixture of grey marble and stone tiles. It's not large enough for dual vanities, but the backlit mirror and TOTO washlet still gave it a contemporary and luxurious feel. The washlet is a tad oversensitive though- it would light up and mist itself whenever it detected the slightest movement in the bathroom.
As part of the hotel's environmental policies, plastic water bottles are not provided. Instead, a special tap has been installed for filtered water (although there's absolutely nothing wrong with drinking straight from the faucet- it's Singapore, people). 
Premier Rooms don't come with bathtubs, but the shower area was plenty spacious, with a rain shower and handheld showerhead. A bench at the rear provided a space for feet washing. 
Bathroom amenities were by Vuudh, a line from the Thai skincare brand Harnn. They had a lotus & osmanthus scent- perhaps to match the hotel's tea selection. 
As a Master Series guest, you're also entitled to a series of handcrafted soap- relaxing lavender, refreshing peppermint, exfoliating lemongrass and eucalyptus. 
This was slightly confusing at first because the associate who escorted me to my room asked which of the three I preferred, which led me to think they'd take away the other two. Fortunately, that didn't happen, and I was able to try them all. 
Other bathroom amenities include two dental kits (with mini Colgate tubes), a shower cap, sanitary bag, shaving kit, comb and vanity kit. 
On the whole, I found the room quite to my liking. No doubt it's down to how new it is, and the fact that the interior design matches my preference for modern luxury, but even those whose tastes veer different will appreciate the premium touches and finishings. 
Clan Hotel: Grand Premier Room
Grand Premier Rooms are the largest the hotel has to offer at 36 sqm (vs 31 sqm for the Premier and 27 sqm for the Deluxe). However, this category is not yet open for sale, and the staff couldn't provide a timeframe for when it would be. 
I did manage to get a peek inside one of them, and what struck me the most was how similar it was to the Premier Room. The only meaningful difference, as far as the bedroom is concerned, is that the color tone is darker, with grey finishings for the settee and area behind the bed. A small partition has been built around the side of the bed closer to the door, providing a smidgen more privacy. 
The additional 5 sqm goes to the bathroom, where both a bathtub and shower cubicle are available. The bathtub has a nice bath pillow, but it's quite narrow and is definitely single occupancy only. The shower area is noticeably larger than the Premier Room, and is rectangular shaped with a long bench. 
Since these rooms aren't up for sale yet, we don't know how The Clan Hotel intends to price them. If you absolutely must have a bathtub then I suppose this is the room for you, but remember- there's a lovely jacuzzi on the 30th floor with heated water and stunning views. 
Clan Hotel: Facilities
| | | |
| --- | --- | --- |
| Pool | Gym | Spa |
| Yes: 7 a.m to 11 p.m | Yes: 24 hours | No |
| Kids' Club | Business Centre | Others |
| No | No | N/A |
Swimming Pool
The Clan Hotel's swimming pool is located on the 30th floor, and is open from 7 a.m to 11 p.m daily. The pool has a maximum capacity of eight guests, and usage is limited to 60 minutes per day, although this isn't strictly enforced if occupancy permits. In fact, when I visited on Wednesday and Thursday there wasn't any staff member at the pool area; it was only on Friday that they stationed someone there to check bookings (presumably in anticipation of the weekend crowd). 
Thanks to its rooftop location, the infinity pool boasts commanding views of the surrounding CBD and gets plenty of sunlight during the day. There are exactly eight partially submerged pool loungers, so every guest is guaranteed one. 
In the evenings you can catch the sunset too, clouds permitting. I'd highly recommend booking the sunset slot where you can witness the day turn to night, and watch the buildings illuminate around you. 
As lovely as the pool is, the real hero for me is the heated jacuzzi. This takes a maximum of two people at a time, so be considerate to other guests, but what pure bliss it is while it lasts. 
Gym
The Clan Hotel's gym is located on the 30th floor (just next to the pool), and is open 24 hours a day. Guests can book 60 minute slots, but again, it's probably unnecessary unless you're staying during a period of high occupancy. A maximum of 10 people can use the gym at any one time. 
I'm no fitness buff, but I can tell you this is one of the most impressive gyms I've seen in a hotel. It's done up like a dojo, with an extensive range of equipment. Beyond the usual treadmills and free weights, there's also a trampoline, punching bags and even a Wing Chun wooden dummy. Exercise mats and medicine balls are stacked on racks, and everything is in pristine condition. 
The gym enjoys plenty of natural light, with sweeping views of the surrounding buildings. 
The cycling machines face inwards, pointed at a large series of LCD screens. A tablet on the wall allows users to select an exercise program to follow. 
Some of the other stations have their own integrated iPads with instructional videos too. 
Outside the gym are lockers and shower facilities, which leads me to suspect the hotel may soon be offering gym memberships to non-resident guests. These would be equally useful in the future for guests with early arrivals or late departures who want to freshen up. 
The Clan Hotel: Breakfast
Served at

Cost

Style

QIN

S$36++

Set menu

Hours

Sparkling Wine?

Discounts?

6.30 a.m to 10.30 a.m
(until 11.30 a.m on Sat, Sun & PH)

No

N/A
Breakfast is served at QIN restaurant, which occupies the 4th and 5th floors. Confusingly, the elevator floor guide shows QIN on the 5th floor, but you'll actually need to head to the 4th for access- the 5th floor area is closed for now. 
Breakfast is served daily from 6.30 a.m till 10.30 a.m (11.30 a.m on weekends and public holidays). 
Here's the breakfast menu. Guests can each choose one of the six items available; the local porridge and chef's special rotate daily. A free flow of coffee/tea and (bottled) juice is also served. 
All breakfast sets come with kaya toast and a fruit bowl. Hainanese kaya fans be advised, QIN serves the green Nonya pandan version (which I found quite bland, despite its deep color). It would also have been nice if they'd reheated the toast before bringing it to the table. 
On the first day, we tried the pancakes and the chef's special, which was five spice pork belly tacos.
The pancakes were presented beautifully, but the taste was off, almost like McDonald's hotcakes. I suspect they used margarine or some other shortening instead of butter. Also, the menu description mentioned maple syrup, but it was so thick I got suspicious. One giveaway of artificial maple syrup (referred to euphemistically as "pancake syrup") is its viscosity. Its thick, sticky body comes from corn syrup and added coloring, whereas maple syrup is naturally thin. 
The pork tacos looked messy, but were actually quite delicious. The toppings were an interesting mix of mustard, pomegranate seeds, corn and cherry tomatoes. 
On the second day, I opted for the QIN Breakfast, which is really just a traditional English fry-up. What was nice is that the staff (or at least the manager who served us) weren't too by-the-book; I was able to request additional sides of smoked salmon and avocado without any charge. 
The Milelioness had the porridge of the day, which turned out to be fish porridge. 
She enjoyed the flavor, but later found that a couple of fish slices were undercooked. We flagged this to the manager, who apologised and offered a substitute dish. We went for the daily chef's special, which was seafood mie goreng. 
The noodles were tasty and the egg yolk was runny. The prawns were sweet, but the kitchen should really be deveining them before sending them out.
On the whole I'd say breakfast was good quality, with presentation and ambiance well ahead of most Singapore hotels. I'd be curious to see how the kitchen performs during peak periods though, as most of the dishes look rather labor intensive to prepare and plate. 
The Clan Hotel: Other Dining
I visited QIN for lunch on the first day, where diners can choose from two set menus priced at S$39++ or S$49++. A further S$12++ gets you soup and coffee/tea, but that feels a bit too steep in my book. The full a la carte menu can be found here. 
I went with Set A, and wasn't disappointed. 
The starter was QIN's slaw, which the staff told me was a play on yu sheng. Fresh greens were topped with peanuts, citrus and plum dressing, creating a crunchy, tangy mouthfeel. 
Chicken rice without rice may sound sacrilegious, but the intriguingly-named Hainan, No Rice Please was paradigm shifting. Rice was replaced with barley grain balls (still infused with chicken fat and pandan fragrance, of course). A free-range organic chicken was neatly divided into breast meat atop broccolini and thigh meat formed into roulades. The breast meat was topped with a sliver of crispy chicken skin, and the thigh meat was dotted with garlic chili aioli. Shoyu jus was poured into the bowl to finish it, bringing all the elements together in a beautiful harmony. 
The theatrics were impressive enough, and the flavor was every bit its equal. Purists may scoff, but it takes cojones to reinvent the classics, and this was Hainanese chicken rice like I'd never experienced it before. 
QIN's take on strawberries and cream features candied chili, compressed strawberries, peanut streusel and soft vanilla cream cheese. It's a deconstructed strawberry cheesecake, and it's utterly divine. 
I was very surprised to learn later that QIN is a concept by Tung Lok. Yes, that Tung Lok, who you'd associate more with traditional Chinese banquets than bold experimentation. It's a testament to the culinary prowess of their chefs that they'd be able to bang out Chinese classics on the one hand, then turn around and do something like this. 
If you do visit the restaurant, try to do set lunch as the a la carte prices are very steep (S$28-S$68++ for mains). 
Clan Hotel: Activities
The Clan Hotel's website lists an exciting range of activities, such as a brewery & tasting tour by 1925 Brewing Co., a workshop on Chinese music or sandal making, and a walking tour documenting the lives of Samsui women.
The thing is- none of these are included in the room rate. They're organized and run by outside companies, and unless these are exclusively available to in-house guests, I don't see why you couldn't just cut out the middle man and book direct. 
What is included is the Precinct Tour, which happens every Wednesday and Friday at 4 p.m. Tours are limited to seven guests, and pre-bookings are highly recommended. In theory, this is only open to Master Series guests, but in practice they'll roster in other guests if capacity permits. It's nice that they'd do that, but another reason why I don't think it's worth shelling out for a Master Series room (at least on weekdays). 
The tour lasts 90 minutes, and brings you around the Amoy and Telok Ayer areas, with pitstops at the Singapore City Gallery in the URA Centre and Maxwell Food Centre (where the guide bought us all some lovely sugar cane juice). 
The Clan Hotel: Service
Service at the Clan Hotel is a bit of a mixed bag. The lady who checked me in could not have been more helpful and cheerful. She helped arrange pool and gym bookings, arranged for me to view the Grand Premier Room, and remembered my name throughout the stay. Likewise, our guide for the Precinct Tour was awesome, and talking to Alex about tea never gets old. 
The rest of the experiences were more uneven. 
One of the supposed perks of staying in a Master Series room is access to the Clan Keeper, a sort of butler service to take care of whatever needs you have. The idea is personalised attention, but the experience was completely anonymous. There was no pre-arrival introduction email, no on arrival meet and greet, not even a business card left on the desk in the room. I went through my entire stay not knowing who my Clan Keeper was, much less having a single interaction with him/her. 
Turndown service (again, only for Master Series rooms) was haphazard. We received it on the first night, but not on the second (yes, the DND sign was off). On the night our room was turned down, some Pulse Point oil was placed on the bed, but that was the only indication that someone had been there. Bathroom amenities, towels and coffee wasn't replenished, curtains weren't drawn, and it's almost like they abandoned the room halfway through. 
That seemed par the course for housekeeping, which appeared to be done in a rush. For example, the room was made up on the second day, but pillows were left in an untidy stack on the settee. Other hotels would neatly arrange guest items like cables, bags and shoes; there was nothing of the sort here. 
So I'd say The Clan Hotel excels at informal guest interactions, but falls short with the behind-the-scenes stuff. Putting in some additional structures and SOPs (e.g a personal introduction by the Clan Keeper, a detailed letter of Master Series room benefits on arrival, a note under the door if turndown service was missed) would go a long way. 
Are Master Series rooms worth paying for?
While early media previews have waxed lyrical about the perks of a Master Series room, I remain unconvinced about its value. 
As a reminder, here's what Master Series guest can expect:
Customised in-room refreshments (choice of 5 items)
Handmade soap selection
Turndown service
All-day breakfast
The Clan Daily Special
The Clan Keeper Service (precinct tour, complimentary garment pressing)
Home/airport limousine transfer (unclear if this is still included)
I've already highlighted the issues with the turndown service and Clan Keeper in the previous section, so I won't repeat them here. 
All-day breakfast isn't much of a perk. It just means that if you want to sleep in, they'll serve you a limited breakfast selection all the way till 4 p.m. It's hard to get excited about that, frankly. 
The Clan Daily Special almost feels like false advertising. In theory, this is an opportunity for guests to sample local hawker fare through a curated selection of dishes.
Savour the gastronomic delights of Singapore's favourite local hawker fares perfected through generations of master culinary skills. Select your choice from the distinguished curation by Dr Leslie Tay who is the champion advocator for Singapore's hawker heritage, and we will arrange for your in-room dining pleasure.
Master Series rooms can place orders between 5-7 p.m daily, but it's not free. Your options are S$30 for 15 pieces of satay or king prawn laksa, S$31 for nasi lemak, S$33 for fishball noodles and S$36 for bak kut teh.
Needless to say, these are tourist trap prices, and I don't see why this is advertised as a Master Series benefit when it's not really "included". Heck, most of the vendors they work with (Legendary Bak Ku Teh, Ponggol Nasi Lemak, Li Xin Fishball) offer delivery, so you could order the same items for yourself and spend much less. 
Then there's the complimentary home/airport limousine transfers, which are supposedly a perk of Master Series rooms based on the press release and various media stays. However, I was given no such option, and the only information I could find on the hotel's website listed this as a paid (S$81 nett) service. 
So what does the extra money get you? A larger room, some snacks and handmade soap. Unless you really need the additional space, I'm doubtful this really enhances your Clan Hotel experience. 
What would make a Master Series room worth paying for, in my opinion, is the inclusion of executive lounge style benefits like afternoon tea and evening cocktails. I really did want to try more of the bites and tipples at QIN, but the steep prices (S$30 for a cocktail) scared me off. Given how new the hotel is, wouldn't it make sense to let premium guests sample their wares and perhaps become repeat customers down the road? 
Verdict
The Clan Hotel boasts lovely design and a unique vibe, but what tarnished my stay was the buyer's remorse. I think I'd have enjoyed it much more had I just booked a Deluxe Room, as the inability to justify the extra money paid for Master Series perks kept weighing on my mind. 
Deluxe Room guests will still get access to the same excellent pool and gym, a breakfast that's a refreshing change from the paint-by-numbers approach at other hotels, and maybe even a spot on the heritage tour, capacity permitting. That's certainly good enough for me, and anyone else in the value-seeking clan. 
Visited The Clan Hotel yet? What's your take?
🏨 In Summary
Excellent facilities, good food and lovely design make The Clan Hotel a great choice for a staycation, although there's a nagging feeling the Master Series isn't worth the premium. 
Do say: I'm a clansman

Don't say: That's, er, spelled with a 'C'

Milelion Staycation Ratings