If there's one thing the Grand Hyatt Singapore has going for it, it's nostalgia. 
Who'd have thought that a hotel heralded by the nondescript headline "New hotel opens for business" (also in that day's edition: "Government minister says things") would become so indelibly etched into the fabric of Singapore society?
The Singapore Hyatt Hotel (as it was then known) fast became a mecca for socialites, hosting dinner & dance functions, conferences, and pageants of all kinds. So popular was the venue that guests' cars would sometimes spill over into neighbouring residential areas, leading to a high-profile incident where attendees of the Singapore Institute of Planners' annual dinner found their tires slashed and bonnets defaced by disgruntled residents. "Can't you read, stupid?" was scribbled on one of them- fairly tame by the standards of today's online discourse.
Hugo's Grill, advertised as "the finest restaurant in the far east", was the place to see and be seen (you know you've made it when you host the Singapore University Trishaw Pageant). So reputable was the brand that Singapore Airlines even deigned to serve it on board, engaging a chef from Hugo's to serve up  "Hugo's in the Sky" for its First Class passengers. 
The Blue Star Sisters held court over in Hugo's Bar, while disco fans boogied to Wild Wild West at theme parties by Chinoiserie, awarded best entertainment spot of the year by the Singapore Tourist Promotion Board (humblebragged the PR manager, "we didn't even know we were in the running"). So well-oiled were the hotel's operations that Bernd Chorengel, its general manager, went on to become the youngest-ever president of the Hyatt chain.
Fast forward to today, and the general consensus is the Grand Hyatt's lost a bit of that pizzazz. It's no dump, but neither is it the epicenter of yesteryear. It speaks volumes that before COVID-19 shut it down, Hyatt's nightclub BRIX was known more for its ladies of the night than trishaw pageants. 
But nostalgia isn't just for the Merdeka Generation folks. In fact, it's the main reason why I made the Grand Hyatt my next staycation destination. For you see, just over two years ago, in what can only be described as an act of wanton folly, The Milelioness agreed to form a pride with me. 
Our wedding lunch was held at the Grand Hyatt, where we stayed two nights before jetting off to Bali to start The Mileymoon. The frenetic pace of the wedding meant we didn't have time to fully appreciate the hotel, so I figured it warranted a do-over (the hotel, not the wedding). And besides, part of me wanted to revisit the scene of the greatest heist in history- wherein I stole The Milelioness' heart. 
I can just feel her rolling her eyes right now. 
Booking a Grand Hyatt Singapore Staycation
The first order of business was figuring out how I could get a Grand Duplex Suite, the same room type we had during our wedding. 
Unfortunately, the price tag of nostalgia was high. Mid-week rates for this category would cost S$725++ (S$855 nett), or 40,000 points if I wanted to go the redemption route. For perspective, that amount of cash or points be enough for a night at Capella Sentosa or Ventana Big Sur, and then some. 
But then came along a very kind member of The Milelion's Telegram Community, who offered to make a Guest of Honor booking.
Guest of Honor bookings, for the uninitiated, are a special feature of the World of Hyatt program. These come with Globalist benefits, without requiring the Globalist member to be present. They're intended for friends or family, and can only be made for redemptions (there's no option to do a Guest of Honor booking on a cash or cash + points reservation).
That got me thinking: while I wasn't too hot on the idea of staying in a regular room, the equation would be substantially different with Globalist benefits- free breakfast, club lounge access, and a guaranteed 4 p.m check-out. More importantly, I'd also be eligible for a room upgrade to at least a Standard Suite. The Grand Duplex I was eyeing was technically a Premium Suite, but with a mid-week stay I fancied my chances…
If you don't have suite dreams, the Grand Hyatt Singapore is offering some decent staycation packages on Klook:
1 night in a Deluxe Room for S$200 nett (S$260 nett with breakfast for two)
2 nights in a Deluxe Room for S$360 nett (S$468 nett with breakfast for two)
It's not bad, given how Deluxe Rooms at the Grand Hyatt are the equivalent of a junior suite at other hotels, measuring in at 54 sqm with a separate living and bedroom area. These packages can be stacked with SingapoRediscovers Vouchers, and any further Klook promo codes. 
Grand Hyatt Singapore: Arrival and Check-in
The Grand Hyatt is located at 10 Scotts Road, at the heart of the busy Orchard Road shopping district. The closest MRT is Orchard station, and your path to the hotel is sheltered all the way until the very last bit, where you need to dash between the Marriott Hotel and Scotts Square, and again from Scotts Square to the Grand Hyatt's driveway. 
Parking is available at the hotel itself and is complimentary for in-house guests. One exit pass is issued per day, which means those staying one night will enjoy two passes. 
I arrived at the hotel just before 12 p.m on a Thursday, having checked-in via the World of Hyatt app in the morning and noting happily that my upgrade to a Grand Duplex Suite had come through. 
Luggage assistance was offered as soon as our Grab pulled up to the driveway, and we were ushered into the hotel after doing the usual SafeEntry and temperature screening. 
The hotel first opened in 1971, and at the time was the largest Hyatt hotel outside the USA. It was later rebranded to the Grand Hyatt Singapore in 1988, but despite a few renovations, there's no hiding its age. 
The lobby is somewhat unexciting. There's no big statement piece waiting to greet arriving guests; in fact, it feels kind of bare. Perhaps there was more furniture and seating here pre-COVID, but at the moment it's a lonely, empty space. 
Grand Hyatt Singapore lobby
It's quite clear the hotel was built for much higher capacity, judging from the many positions at the reception area. In normal times, club room guests could also check-in at the Grand Club on the 21st floor, but the facility is closed right now (see lounge section).
While hotels do a roaring staycation trade on the weekends, they're virtually empty during mid-week. The reception area was deserted, and there wasn't even a need to check in at the  Hyatt elite member counter (a lifesaver during peak period, so I hear).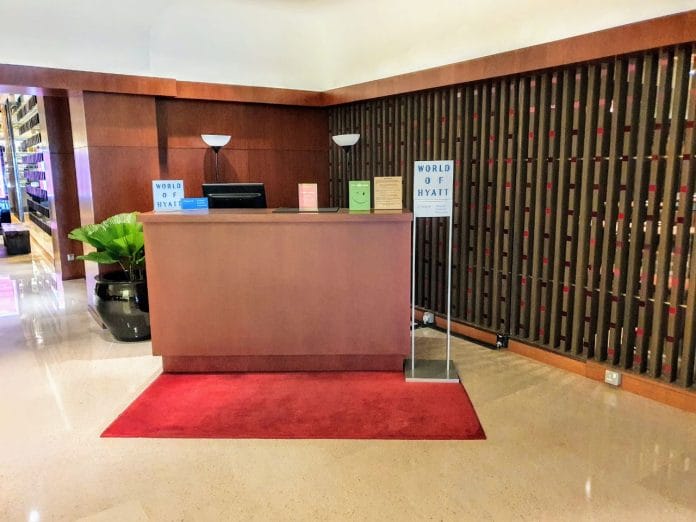 The check-in associate noted my Guest of Honor booking, and confirmed the upgrade to a Grand Duplex Suite plus a 4 p.m check-out. I received a letter outlining the Grand Club benefits:
Grand Hyatt Singapore: Grand Duplex Suite
I'll talk about the room in a minute, but first, a brief lay of the land may be helpful. The Grand Hyatt is deceptively large. You couldn't tell if you strolled past its entrance on Scotts Road; walking the façade will take you maybe 10-15 seconds. 
But it's not so much wide as it is long (oh, grow up). What you see from Scotts Road is the Grand Wing, the original building that houses 395 rooms. Behind that is the Terrace Wing, completed in 1985 with 282 rooms. 
The Terrace Wing is currently housing SHN guests and is closed to the general public. All staycation guests are therefore funneled to the Grand Wing, where the rooms are older but also larger. 
The 677 rooms are split into the following categories:
Room Type

Number of Rooms

Size

Economy

635

29 sqm

Standard*

42 sqm

Deluxe

54 sqm

Grand Deluxe

72 sqm

Grand Suite

42

83 sqm

Grand Corporate Suite

108 sqm

Premier Suite

126 sqm

Grand Duplex Suite

128 sqm

Presidential Suite

252 sqm

*You won't actually find a category called "Standard"; the hotel simply labels it 1 King Bed or 2 Twin Beds. But basically, it's the category above Economy and below Deluxe
Most, if not all of the Economy and Standard rooms are being used for SHNs, so your odds of an upgrade to at least a Deluxe room are good. 
As mentioned, I was upgraded to a Grand Duplex Suite, a 128 sqm behemoth that spans two floors. You can either enter via the 20th floor (living room) or 21st floor (bedroom), although the lift only goes up to the 20th. If you're bringing luggage, you'll need to carry it up at least one flight of stairs. 
Now, I didn't get exactly the same room as we had for our wedding; that one faced the garden, this one faced Orchard Road. It meant the layout was basically a mirror image. 
Let's start on the 21st floor, where the bedroom is. The room has a distinct mid-2000s vibe about it, with light-colored carpets and heavy wood accents. I hope you like wood (heh), because this hotel loves it- from the bedframe to the wall panels to the furniture, it's a termite's wet dream.
The King-sized bed was decently comfortable, though it definitely can't compare to the amazing ones at the Raffles Hotel, Kempinski and Clan. The pillows are on the small side, and I only discovered after checking out that there's actually a pillow menu. Guests can choose from five different options, including a buckwheat pillow, memory foam pillow and pressure relieving pillow. 
While the room's décor is generally dated, there are thankfully some modern conveniences in the form of bedside universal power outlets and two USB ports. 
One bedside even offers wireless charging, courtesy of a digital alarm clock.
Opposite the bed was a very small flat screen TV, perhaps 32 inches at most. No streaming capability was available, but you could plug in a HDMI cable for your own media content. Given the small size and relative distance from the bed, however, it didn't make for great viewing.
On the same level is a nook for a dressing room, with plenty of storage space and a view of Orchard Road. This would really have benefitted from a flip-up mirror, but divas will have to settle for a small portable one (fortunately it's backlit).
The master bathroom is very poorly lit, either by accident or design. The dim lighting and copious use of dark marble makes it feel smaller than it really is.
Despite all the space, the hotel decided against installing a second sink (what's interesting is that the lower category, smaller-sized Grand Suite boasts dual sinks). A single vanity adorns the countertop, and I can't quite understand why they chose a metal finish. It might be a bold attempt at making a statement, but it just sticks out like a sore thumb compared to the rest of the aesthetic. 
The sunken bathtub got the job done, but because of the way the tap is positioned, you can only really lie at one end. More bathtubs need to get with the "faucet in the center" program. There's also a hand shower, but the lever to toggle between faucet and shower was jammed and I had to call someone to fix it. 
A separate shower cubicle had rain and hand showers, both of which can be operated independently. Water pressure was excellent; with the water on full blast you could barely hear yourself singing. For those who like to brush their teeth or floss in the shower (guilty), a wall-mounted mirror makes things easy. 
Shower amenities were by Balmain. While they're known more for their clothes than their fragrances, I found them pleasant.
While I appreciated the inclusion of a bidet hose in the toilet, it sprayed water in such a wide and uncontrolled pattern that it was effectively useless. 
An open foyer looks down to the living room on the 20th floor.
Access between both floors is via a narrow staircase. If your luggage is particularly wide, you may be better off taking the staircase in the corridor instead.
The living room area is expansive, although the couches look like they'd benefit from a deep steam cleaning. 
Two cakes from the mezza9 shop were left on the coffee table later that day as a welcome amenity.
What's funny is that they didn't seem to know which cake to give, so ended up giving both. We were wished Happy Honeymoon and Happy Anniversary at the same time…I suppose those aren't necessarily mutually exclusive. 
You probably won't even use it, but a second TV (slightly larger at 42 inches) is in the living room. In a testament to the room's vintage, it even has a Blu-Ray player. I didn't ask the hotel if they had a movie selection, but perhaps I should have.
The rest of the ground floor is used for a work and dining area. 
Short of the InterContinental Singapore Ambassador Suite (which had a study outfitted with a 32-inch monitor), I don't think I've seen a room with such a work-friendly setup before. You can be boring and use the work desk…
…but who needs one when you have an entire conference table (plus built in power points) at your disposal. 
The room even came with an automatic projection screen, even though there was no projector in sight. I assume the hotel must have some available for loan, allowing you to have quite the movie night. 
And if you're watching movies, why not have the audio played through a handsome-looking B&O speaker. There's a B&O store down in the lobby, which I assume supplies these as part of a partnership. 
The Grand Hyatt's Wi-Fi chugs along at a stately pace. It's not the fastest, but good enough for video calls and streaming. Connectivity is more patchy near the pool, and I had to tether to my cell phone at times. 
 
🔽Download
🔼 Upload

Mandarin Orchard

273 Mbps

294 Mbps

Villa Samadhi

62 Mbps

53 Mbps

M Social Singapore

46 Mbps

49 Mbps

Conrad Centenni

al

40 Mbps

44 Mbps

YOTELAir Changi

29 Mbps

49 Mbps

W Sentosa Cove

34 Mbps

34 Mbps

Ascott Orchard

29

Mbps

29 Mbps

Duxton Reserve

28 Mbps

29 M

bps

Mandarin Oriental

28 Mbps

28

Mbps

The Fullerton Hotel

23 Mbps

24 Mbps

PARKROYAL Pickering

24 Mbps

23 Mbps

Shangri-La Singapore

19 Mbps

18 Mbps

Pan Pacific Singapore

19 Mbps

19 Mbps

Dusit Thani Laguna Singapore

19 Mbps

19

Mbps

InterContinental Bugis

15 Mbps

15 Mbps

The Capitol Kempinski Hotel

16 Mbps

13 Mbps

Grand Hyatt Singapore

14 Mbps

13 Mbps

Hilton Singapore

13 Mbps

14 Mbps

Marina Bay Sands

11 Mbps

11 Mbps

The Clan Hotel

9.6 Mbps

9.6 Mbps

Andaz Singapore

8.0 Mbps

9.5 Mbps

Four Seasons Singapore

6.7 Mbps

9.8 Mbps

The Barracks Hotel

7.3 Mbps

7.7 Mbps

Hotel 81 Tristar

7.0 Mbps

6.8 Mbps

Raffles Hotel

6.9 Mbps

6.8 Mbps

Hotel Soloha

4.7 Mbps

5.1 Mbps

Hotel G Singapore

4.4 Mbps

4.8 Mbps

Internet speeds based on Speedtest.net scores
The mini-bar area has four bottles of water, plus a tea set reminding me of the one I used for my tea ceremony. 
The drawers beneath had Torres chips, mixed nuts, chocolate and a bottle of red wine. Monogram teabags were also available.
There's no complimentary mini-bar at this hotel, and while I can understand the snacks not being free, I thought the drinks at least should have been. After all, you could go down to the lounge area and get exactly the same thing; what does it hurt if guests want to enjoy it in their rooms? But no, you'll pay S$8++ for a Coca Cola and S$12++ for a Tiger Beer.
Speaking of snacks, the Grand Duplex Suite even has space for a kitchenette, which, strangely enough, leads to the guest bathroom. One hopes the smells don't intermingle. 
I highly doubt that any guest would do anything resembling serious cooking here, but there's a dual induction hob, and crockery can presumably be requested from the hotel. The room's Nespresso machine (plus four capsules) was located here too. 
Beneath the counter was an empty fridge, which can be used to store your personal items. 
Apart from its unexpected location, the guest bathroom was unspectacular. Its bidet hose suffered from the same "spray and pray" problems as the one in the master bathroom, so I'm guessing this is a design issue more than a wear and tear one. 
I won't lie, my overall take on the Grand Duplex Suite is indelibly colored by the fact I spent my wedding night here. That said, I'd be the first to caution you about splurging the points or money required to book this. 
It's huge, and there's a certain giddy thrill to having two floors in your hotel room (there was a particularly surreal moment when the doorbell rang, and I wondered which door I should open). But after the first 10 minutes of wowing at the space, you'll start to get annoyed by the small TVs, dim bathrooms, dated décor, and the unshakable feeling that for the same price you could be at Capella or some equally jaw-dropping resort. 
Grand Hyatt Singapore: Grand Club Lounge 
The Grand Club Lounge was located on the 21st floor of the hotel, but the facility has been closed, apparently for good. 
Guests are instead directed to the Party Room located within Mezza9, which is open daily from 11 a.m to 8 p.m (9 p.m on weekends and public holidays). It's currently a smaller space than the former facility, but my understanding is that the hotel plans to double the size and make it the permanent lounge. 
In the meantime, though, the lack of capacity means that cocktail hours may be split into two seatings, depending on when you stay:
Monday to Thursday: 6 p.m to 8 p.m
Fridays to Sundays & PH: 6 p.m to 7.30 p.m or 7.30 p.m to 9 p.m
For days with two seatings, bookings can be made at the reception desk. It's probably a better idea to book the first seating, since they may let you stay on if the second isn't maxed out. 
Soft drinks and light snacks (chips, cakes) are served from 11 a.m to 6 p.m daily. You could come here in the day to do work, but the chairs are meant for lounging, not working. It's extremely uncomfortable to sit up for prolonged periods of time. 
In the evenings, the food gets serious. How's this for a spread:
Seriously, it's good enough to be a dinner replacement. My particular favourites were the Thai style chicken wings and the cheeseburger. I was surprised they served a full-sized burger too; I'd have been happy with just sliders. 
Hyatt has been progressively adding plant-based meat alternatives across its dining outlets, but my advice is to avoid the Beyond Burger. It looks and tastes weird, with an awful synthetic flavor that reminds us how far we are from a true vegan meat substitute. 
While there's no champagne, the lounge pours a passable Chandon brut. Other wines include:
Babich 'Black Label' Sauvignon Blanc, Marlborough, New Zealand 2019
Vasse Felix 'Filius' Chardonnay, Margaret River, Australia 2018/2019
Chateau Clairac, Merlot & Cabernet Sauvignon, Blaye-cotes De Bordeaux, France 2016
Clos Henri Vineyard, 'Petit Clos', Pinot Noir, Marlborough, New Zealand 2019
Mitolo 'Jester', Shiraz, Mclaren Vale, Australia 2017
A limited selection of spirits and Tiger/Heineken beer are also available. 
The Grand Club gets full marks for variety; I don't think I've visited a club lounge in Singapore with quite as many options as here. While I preferred the 21st floor setting (at least from what I can recall during my wedding, where we ate a 20 minute breakfast before rushing off to the airport), I'm hopeful the renovated lounge will add a much-needed burst of modernity. 
Grand Hyatt Singapore: Facilities
| | | |
| --- | --- | --- |
| Pool | Gym | Spa |
| Yes: 7 a.m to 9 p.m | Yes: 24 hours | Yes: 10 a.m to 10 p.m |
| Kids' Club | Business Centre | Others |
| No | Yes: 12 p.m to 5 p.m | Tennis courts, badminton hall |
Swimming Pool
The Grand Hyatt's swimming pool is located on the 4th floor, and is open 7 a.m to 9 p.m daily. 
Getting there will be a bit of a hike for most guests, because it's located at the Terrace Wing which is closed for SHNs. My advice is that you go down to the lobby and ask the staff where the pool lift is (it's near the carpark entrance); going via the 4th floor involves a winding route through the hotel's garden. 
Pool reservations aren't required for stays between Monday to Thursday- just show up and swim. From Friday to Sunday, reservations are required and each guest gets one hour. You can book in advance by calling the hotel, or upon arrival. 
The T-shaped swimming pool has a tropical resort feel, set amidst lush green gardens and a smattering of palm trees. Although the hotel doesn't claim to have a saltwater pool, the water is nonetheless salty; I'll leave it to your imagination as to why. At 1.2m deep it's suitable for both lap swimming or general frolicking, and it gets direct sunlight throughout the afternoon. 
A curious feature was this "pool within a pool". I thought it was a jacuzzi, but the water here is the same temperature as outside, and there's no jet function (or if there was, it wasn't working). 
Lounge chairs are scattered around the area, with some partially immersed in the water, and others laid out by the poolside. 
The cushions looked dirty though, and some of them were caked with dried-up bird poo. I've seen other hotels drape velcro towels on each chair, and change them between guests. That would have been a lot more ideal, not to mention sanitary. But staff were virtually absent at the pool, and guests had to walk over to the Oasis restaurant to place drinks orders.
There are three cabanas on the far side of the pool, with their own fans and curtains for privacy. However, the design of the mattress is decidedly impractical. The lack of a backrest makes it hard to sit up for, and this is better thought of as a place to nap. 
One feature you might easily miss is the sunken pool, nestled in a shaded corner. Again, it's hard to see what the appeal of this is- the water is frigidly cold, and there's no jets function. 
Gym
The fitness centre at the Grand Hyatt Singapore is open 24 hours for in-house guests. It's a sizeable facility, outfitted with Technogym equipment for cardio and strength training. 
Foam rollers, medicine balls, yoga mats and other gym equipment are available for rental too.
If you're planning to work out in the morning, do note that outside guests with memberships are able to access the gym from 5 a.m to 11 p.m (6 a.m to 10 p.m on weekends). The facility gets rather crowded on weekday mornings as members sneak in a quick work out en route to office. 
Spacious changing areas with showers are available. 
Spa
The Damai Spa is open from 10 a.m to 10 p.m daily. Body treatments start at S$165++ for 60 minutes (spa menu), and while Maybank and UOB cardholders used to enjoy discounts of 10-20%, those lapsed at the end of March and haven't been renewed yet. 
I managed to pop my head into a couple of the treatment rooms, which looked pleasant enough. 
Hotel guests are entitled to access the wet facilities, which include a sauna, steam room and whirlpool jacuzzi with hot and cold areas. Be warned, the hot area is really hot, so hot I decided I couldn't take it for more than a few seconds. I'm probably just a wuss that way. 
Tennis Courts
The Grand Hyatt has two astroturf tennis courts, located near the swimming pool. Unfortunately, they cost a hefty S$40++ per hour, even as an in-house guest (ah, for the S$10.40/hour courts at the Shangri-La…)
These facilities are also open to members of Hyatt's own club, so there may be competition for prime time slots even when the occupancy is relatively low.
Grand Hyatt Singapore: Breakfast
Served at

Cost

Style

Straits Kitchen

S$40++ (Adults)
S$20++ (Child aged 4-12)

Buffet

Hours

Sparkling Wine?

Discounts?

Seating 1
7.30 a.m to 8.45 a.m


Seating 2


9.15 a.m to 10.30 a.m

No

N/A
Breakfast is served at Straits Kitchen for all guests, regardless of whether you have Grand Club access. There are two seatings per day, one from 7.30 a.m to 8.45 a.m, and a second from 9.15 a.m to 10.30 a.m. I imagine they'd have no issues letting you stay on if the second seating has space, though I didn't get to test this theory, arriving promptly at 9.15 a.m.
Gourmands will be delighted to know that effective April 12, hotels have been given the green light to resume buffets. It's not quite the same as before- the food must be covered with plastic shields, the staff will handle all the plating, and each guest must queue with 1 meter distancing. But these are just minor annoyances, really, and there's a certain catharsis about partaking in a buffet for the first time in more than a year. 
More importantly, a buffet means a much bigger variety. Straits Kitchen has a commendable spread, with a handful of live cooking stations thrown in for good measure. 
In terms of selection, expect cold cuts, pastries, a range of hot Asian items like carrot cake and fried rice (served with organic rice, ooh la la), an egg station with the usual accompaniments, an Indian section with fresh prata, laksa made-to-order and a pancake station. 
The pancakes were surprisingly decent (it helps that they serve real maple syrup), but the laksa and roti prata were the stars for me. Fresh orange, carrot and watermelon juice is served, although strangely not apple (that will cost you extra). 
It's interesting to see how different hotels adapted breakfast routines in light of COVID-19. Some switched to bento sets, others adopted a la carte buffets, and a small minority went a la minute, preparing each item to order. While the Capitol Kempinski, Raffles Hotel and Shangri-La Valley Wing show how amazing the a la minute model can be, it's clear that not every hotel has the budget nor manpower to do that.
My hope then is that these will switch back to buffet style breakfasts- the food quality may not be top notch, but at least there'll be more choice. For what it's worth, Straits Kitchen strikes a good balance between quality and quantity. 
Other Dining Options
Restaurant

Opening Hours

mezza9

Lunch: 12 p.m – 2.30 p.m
Dinner: 6 p.m- 10.00 p.m

StraitsKitchen

Breakfast: 7.30 a.m- 10.30 a.m
Lunch: 12 p.m- 2.00 p.m
Dinner: 6.30 p.m- 9.30 p.m

10 SCOTTS

Afternoon tea: 12 p.m- 5 p.m

Oasis Restaurant

All day: 11 a.m – 8.30 p.m

Pete's Place

Lunch:

12 p.m – 2.30 p.m


Dinner:

6 p.m- 9.30 p.m

Martini bar at mezza9

Temporarily Closed

BRIX

Temporarily Closed
I didn't have a chance to try any of the restaurants during my stay, but having visited Pete's Place a couple of times in the past year, I can safely say it's one to avoid. A long time ago, I'd have considered this to be one of the better Italian joints in Singapore. Now, it's painfully mediocre. 
Pete's Place proudly serves Barilla pasta, displaying it prominently throughout its open kitchen. I'm going to repeat what I said in my review of Waterfall Ristorante:
Off-topic: Here's a simple protip if you want to know whether an Italian restaurant is serving up the good stuff- just ask what brand of dry pasta (pasta secca) they're using. If they reply "Barilla", you probably shouldn't come back (if they say "San Remo", flee the restaurant immediately). 
It's not that Barilla is bad or anything- it's a genuine Italian product. But it is a supermarket brand, made in bulk, dried quickly, and extruded through teflon dies. As such, it will never be as good as artisanal brands like Rustichella D'Abruzzo or Pasta Mancini, which are made in small batches from higher quality wheat, extruded through bronze dies (which help the pasta cling to sauce better), and dried slowly (allowing for better toasting, which yields a more flavorful product). Trust me, it makes a world of difference- I cook with the good stuff at home, and I can't go back to the old ways. 
But you'd be surprised how some supposedly high-end Italian places in Singapore (Pete's Place, I'm calling you out) go cheap on the pasta, hoping people can't tell the difference.
To learn more about the differences between artisanal and mass-produced pasta, have a read of this explainer. 
Call me a snob, but I'll have you know I learned the brand after I tasted the pasta. It was bland and overcooked, with the sauce sliding off its teflon cut surface. I mean, Barilla is fine for PastaMania, but not for a place charging S$46++ for Spaghetti Cioppino.
So do yourself a favor and give Pete's Place a miss. I dare say I can make better pasta than this. 
Grand Hyatt Singapore: Service
I didn't have many opportunities to interact with the staff during this stay, but from the few I had I'd say it's pretty unmemorable. The club lounge manager was avuncular and cheerful, but his subordinates seemed frazzled and even curt at times.
It could be because of the staffing situation, which was even more apparent at the pool area where guests had to retrieve their own towels from the gym, and vacated chairs went uncleaned for long periods.
This is probably more a housekeeping issue than service per se, but some parts of the room had not been cleaned properly. We found trash under the coffee table, which suggested that area hadn't been vacuumed. 
Verdict
I've heard that the Grand Hyatt is due to go under the knife soon, and that really can't happen soon enough. As it stands, the hotel is a mish-mash of styles now. The rooms are right out of the early noughties, but the ballrooms and mezza9 are a refreshing vision of what the hotel could be. 
Bring the rooms up to that level, and I think the Grand Hyatt could be quite a force to be reckoned with. 
Otherwise, the breakfast selection is solid, as are the food options in the club lounge. It has a wide range of facilities, and I'd consider it a good staycation candidate for those who want to be at the heart of Orchard Road.
Or maybe it's just the nostalgia talking.
Hyatt loyalists: Andaz or Grand Hyatt Singapore?
🏨 In Summary
The Grand Hyatt Singapore is badly in need of some modernization, but has just enough to hold the fort till then. 
Do say: What's a trishaw pageant, anyway?

Don't say: Nostalgia ain't what it used to be

Milelion Staycation Ratings