With the completion of my recent Oakwood Premier AMTD staycation, I've now reviewed 24 different hotels since staycations resumed on 9 July 2020, after the circuit breaker. That's close to a month away from home (some of these stays were for two nights), and the full reviews can be found below:
🏨 Staycations Since End of Circuit Breaker
The above list excludes reviews done by other Milelion contributors, which can be read here and here
I don't have any further staycations planned at the moment (and staycations may not be a good idea during Phase 2 (HA) anyway), so I figured it'd be a good opportunity to pause and take stock. 
Here's my take on which of the 24 hotels have hit all the right notes. 
Best Room: Andaz Singapore Studio Suite
It's a shame that the service and cleanliness standards at the Andaz Singapore later tanked, because when I stayed in early October, it was easily one of the best staycations I had so far.
A big part of that was the 76 sqm Studio Suite, for which I paid a mere S$245 nett (a combination of reopening rates plus an AMEX staycation credit offer). This Andre Fu-designed room was, in a word, sensational. It's not just the spacious bedroom and living room, with their warm color palettes and panoramic views…
…it's the bathroom, which was a showstopper. I'm not kidding when I say I could spend hours there just admiring its design. It reminded me of something you'd find in a high-end spa, what with its backlit mirrors, abundant countertop space, luxurious fittings and a tub with a view. 
To date, I haven't experienced a room which made me go "wow" as much in the first few minutes. 
Honorable mentions
Given the Four Seasons' vintage, I was pleasantly surprised to find freshly-renovated rooms with modern design, plenty of natural light and high tech touches. FYI: The renovations were overseen by HBA, the same firm engaged by Singapore Airlines to makeover their Terminal 3 lounges at Changi. 
And if you're a GHA Black member, your odds of a Stamford Suite upgrade at the Capitol Kempinski are always good. This 60 sqm suite is divided into thirds, with separate sections for the bathroom, living room and bedroom. 
Best Breakfast: 15 Stamford at Capitol Kempinski
There's no two ways about it. The Capitol Kempinski serves the best hotel breakfast in Singapore, both in terms of quality and variety. One look at the extensive (and unlimited) menu confirms this is worlds away from the paint-by-numbers approach other hotels take to breakfast.
If you don't see anything that tickles your fancy, you can even request the chef to whip up something special, at no additional charge.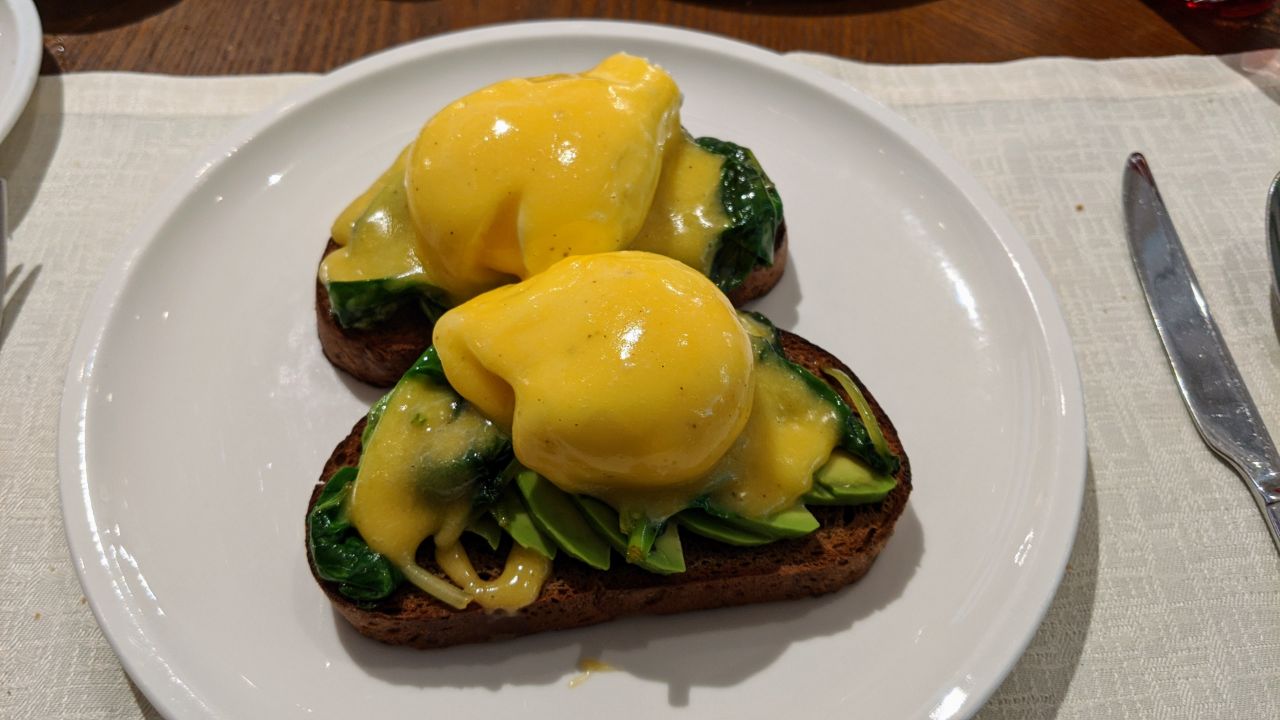 Breakfast costs S$45++ per adult, and it's worth every penny. 
Honorable mentions
The Shangri-La Valley Wing serves up one of the fanciest hotel breakfasts I've had, with caviar-topped eggs, steak, and a transcendent bikini sandwich with truffle butter. In fact, the main reason why this isn't occupying top spot is because they've cut the allowance to two hot items per person, and the champagne service during breakfast is hit and miss- some guests get it, others are told that they have to wait till 11 a.m. 
I didn't come to the Conrad Centennial expecting a great breakfast, which is probably why I was so impressed.  Smashed avocado toast, breakfast tacos and a crispy waffle with ice cream were all winners- it didn't hurt that they served Aqua Panna water too. 
As a side note, what I've come to realise is that hotels with champagne breakfasts tend to skimp on the food quality (ignore the Valley Wing, since the champagne at breakfast situation is hit and miss). Granted, I only have two data points in the form of the Pan Pacific and PARKROYAL COLLECTION Pickering, but both were terrible when it came to the grub. Perhaps the champagne is meant to make up for something?
Best Club Lounge: Shangri-La Valley Wing
As far as club lounges are concerned, it's hard to beat the all-day champagne and cocktails at the Valley Wing (technically, they only start from 11 a.m). There's nothing quite like knocking back glass after glass of Veuve Clicquot, or experimenting with the many concoctions from Origin Bar. 
But it's not just for booze hounds; the afternoon tea and evening canapes are mighty tasty too. What I appreciated was the staff actively invited guests with late check-out to join in even on the day of departure (versus the Conrad where I was turned away for afternoon tea). 
Honorable mentions
I'd read exciting things about the Pan Pacific club lounge pre-CB, and even though my actual experience didn't manage to scale those heights, it was still quite impressive. Made-to-order cocktails, a free-flow of champagne, afternoon tea and canapes you actually wanted to eat, and lovely service all round. 
Special mention should also go to the Grand Hyatt, which offers an evening canapes spread so wide that it can practically replace dinner. 
Best Service: Capitol Kempinski
This is a tough call between the Kempinski and Raffles Hotel, but I'd say the former just about shades it. From start to finish, they were the best at anticipating needs and looking for little surprise and delight moments. Housekeeping timed their rounds when guests were at breakfast, staff members remembered personal preferences, and the Lady in Red service isn't just branding- she knows how to get stuff done. 
Honorable mentions
Of course the Raffles Hotel is no slouch when it comes to service, with staff members obsessively memorizing the names of guests, and personable guides who loved sharing the history of the hotel. It wasn't perfect, but it was close. 
Best Bed: Raffles Hotel
There is something magical about the Raffles Hotel bed, a special Sealy Posturepedic mattress that isn't for sale to the general public (although a sales representative will be able to help you find a similar one). Words don't do it justice- you have to experience it for yourself. 
Honorable mentions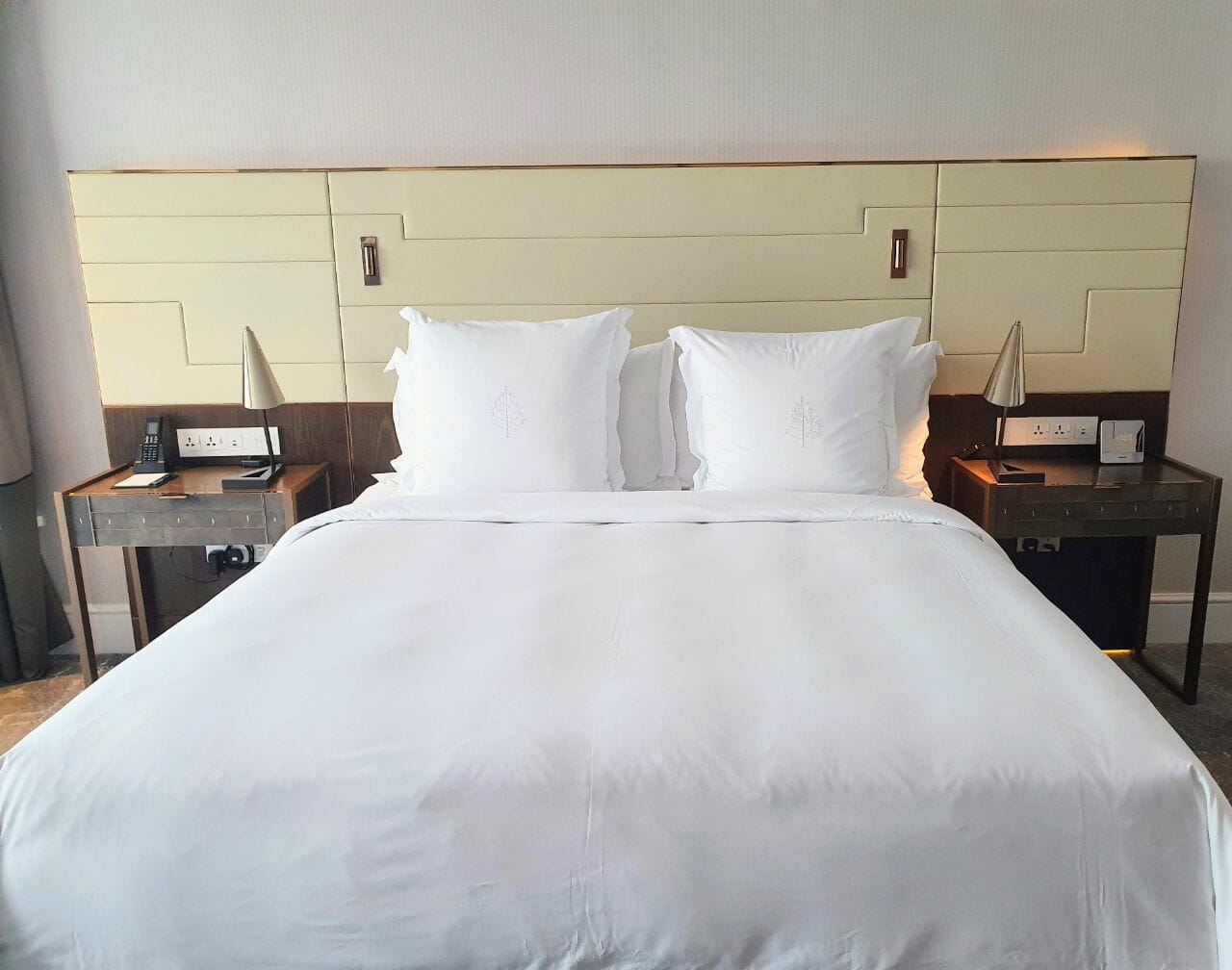 The Raffles Hotel may set the standard, but the Four Seasons isn't far behind. Plush sheets, good support and one of the best sleeps I've had in a hotel. 
I also loved the bed at the Clan Hotel, and it certainly takes the cake for the most unique pillow menu. You've not lived until you try a U-Body pillow. 
Best Tub: Capitol Kempinski
Protip: Just because the hotel advertises a bathtub, doesn't mean it's good for soaking. I've learned that the hard way with a variety of tubs that were too cramped or too icky to use. 
There are a handful of bright spots though, one of which is at the Capitol Kempinski. The tub easily accommodates two people, and the faucet is thoughtfully positioned in the middle, allowing one person to lie at each end. There's even a television built into the mirror.  
Honorable mentions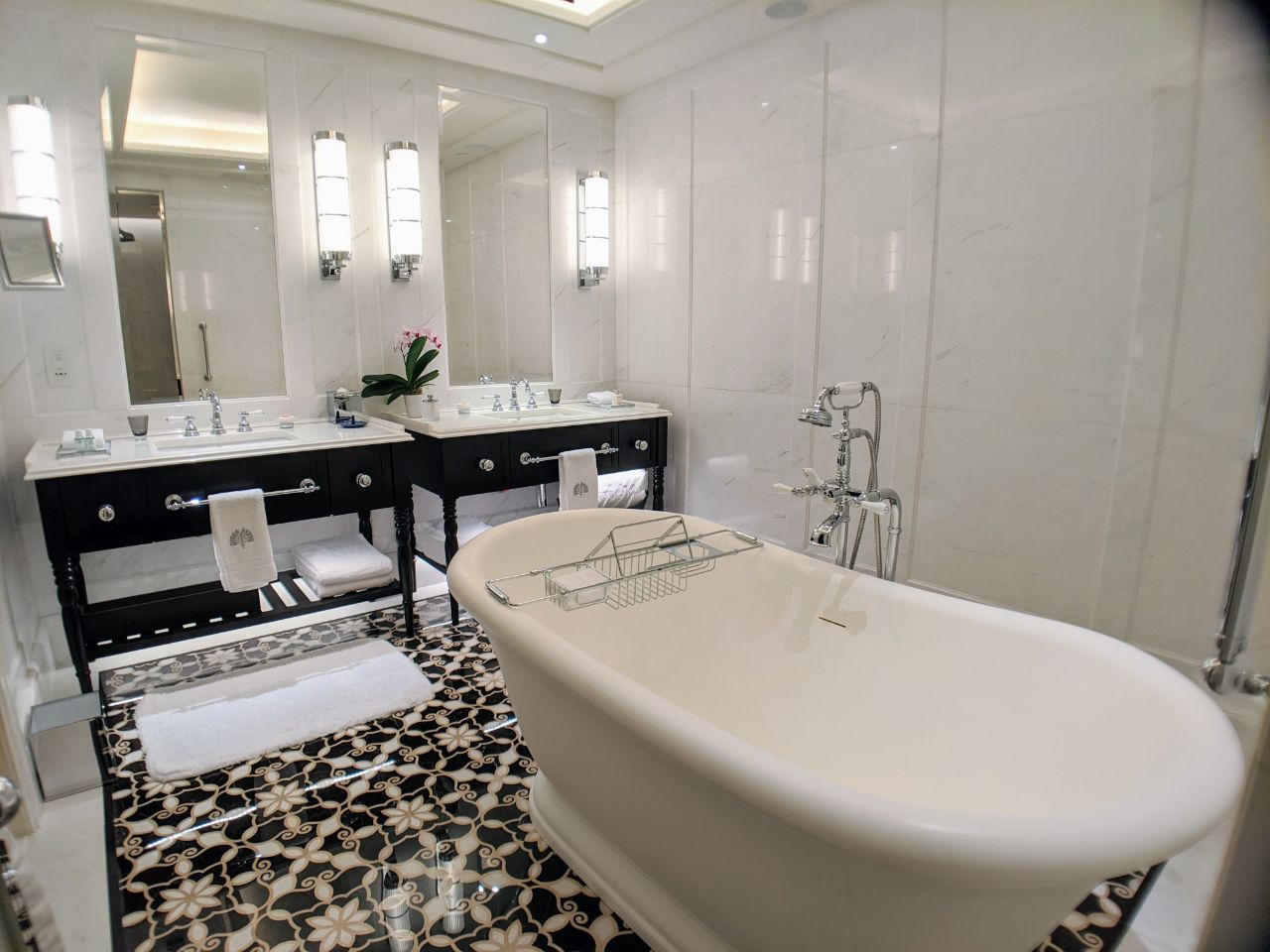 While not as large as the tub at the Kempinski, the Raffles Hotel has a pleasant setup too, and the butler can draw a bubble bath on demand. 
I technically didn't review this post-CB, but I will say the tub at the Barracks Hotel would also be a strong contender. It's a striking black model from Apaiser, fits two, and well-insulated. 
Best Swimming Pool: Marina Bay Sands Infinity Pool
Let's be clear: there's very little to like about Marina Bay Sands. The rooms are dirty and rundown, the breakfast is abject, and with a few thousand guests on an average night, you never feel more than just another cog in the machine. 
But loyalists will no doubt take issue with this, saying that nobody goes to MBS for the rooms, nobody goes to MBS for the breakfast, nobody goes to MBS for the service (yes, I'm channeling Pete Wells' Peter Luger review). What draws people is the pool, and yes, it is every bit as good as the hype.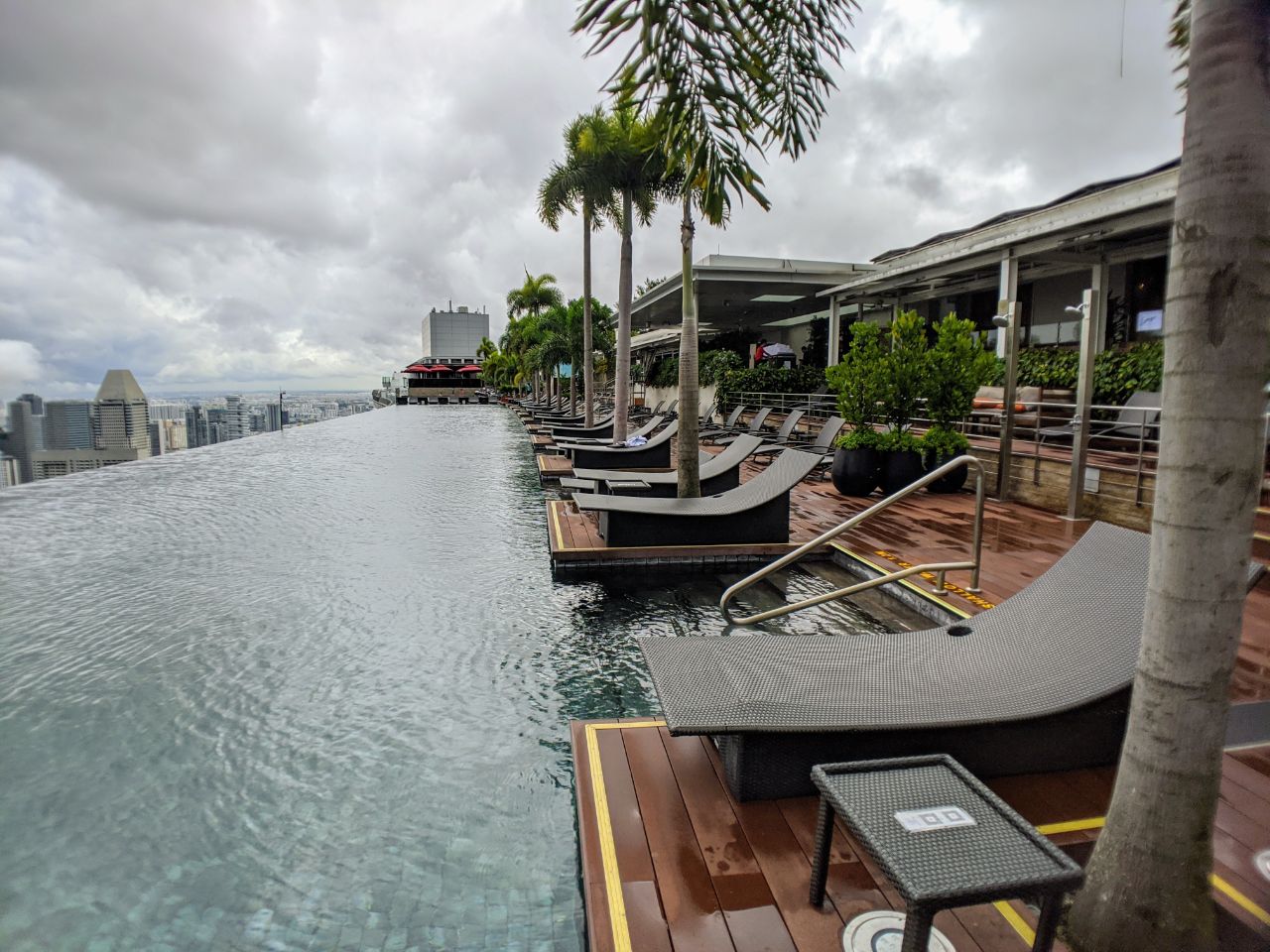 If nothing else, COVID-19 has been good for the pool situation at MBS, because they've been forced to limit the maximum number of guests per hour. This makes it much easier to get a pool chair, or a drink, or take those obligatory selfies without random limbs in your way. The main regret is that you're limited to one hour, but that's completely understandable. 
Put it another way: if there were a way to just pay for the pool, I'd go back in a heartbeat.
Honorable mentions
If you're looking for a resort-style pool, it's hard to beat the W Sentosa Cove and its sprawling 1,338 sqm footprint, complete with waterslide and swim-up bar (temporarily closed). It's a nightmare on the weekends, but go during a Monday or Tuesday and you might get lucky.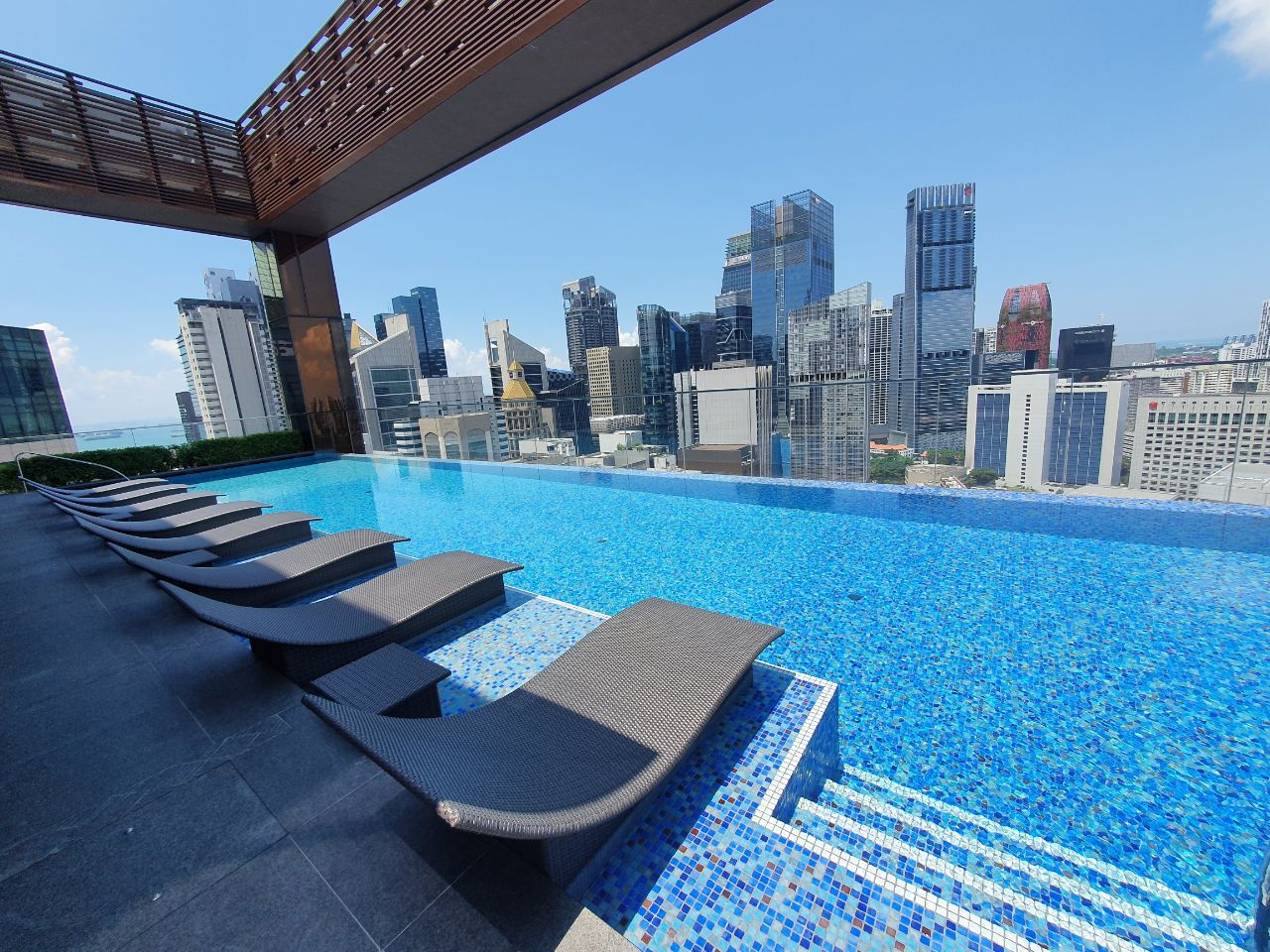 But for those who want an MBS-lite experience, I'd heartily recommend the Clan Hotel. There's a maximum capacity of eight guests, and you enjoy excellent views of the CBD area (plus a heated jacuzzi). 
Best Gym: Clan Hotel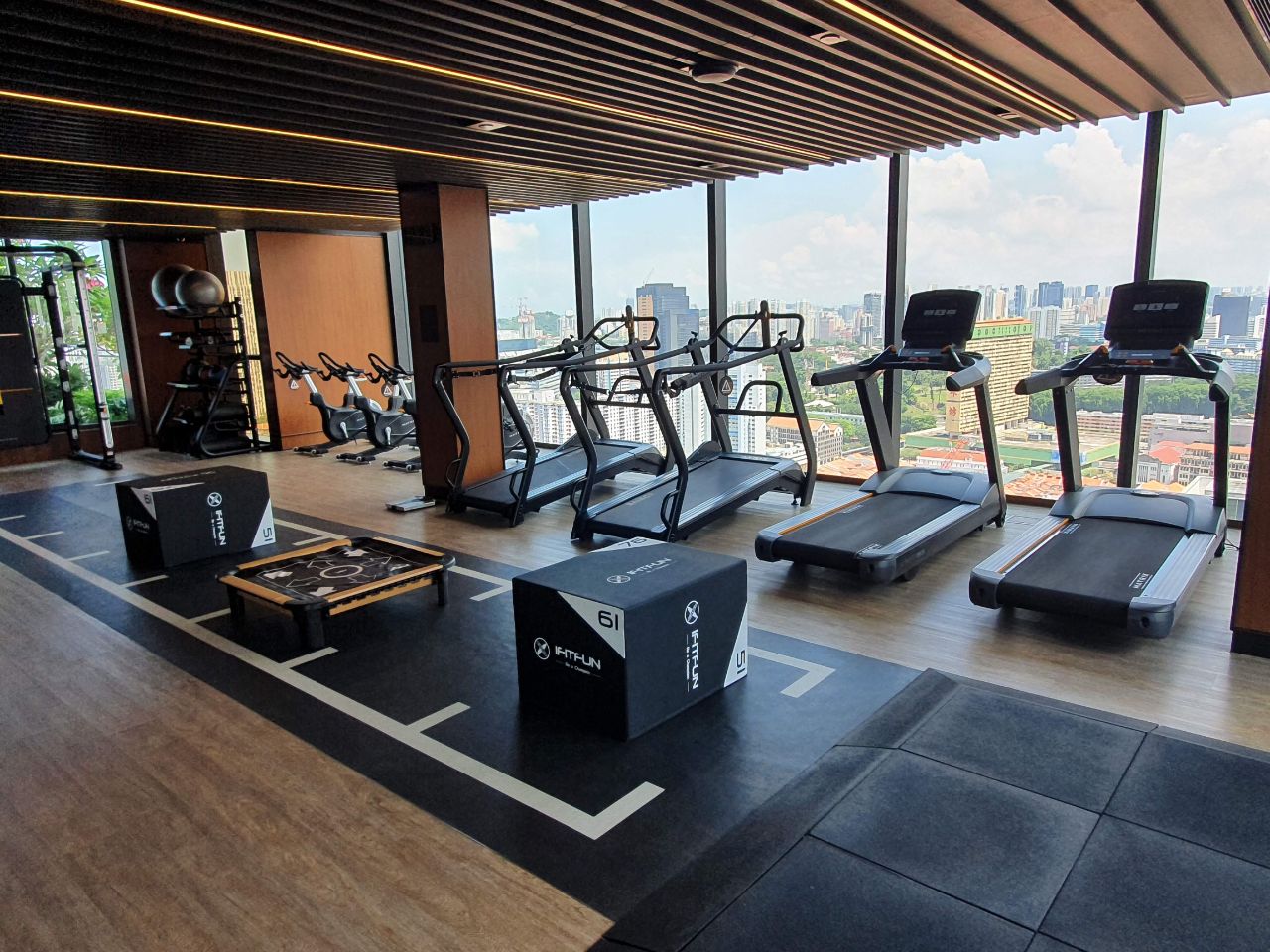 I'm not much of a fitness buff, but I know an impressive gym when I see one. The Clan Hotel's fitness centre is done up like a dojo, with an extensive range of equipment.  Beyond the usual treadmills and free weights, there's also a trampoline, punching bags and even a Wing Chun wooden dummy. Exercise mats and medicine balls are stacked on racks, and everything is in pristine condition.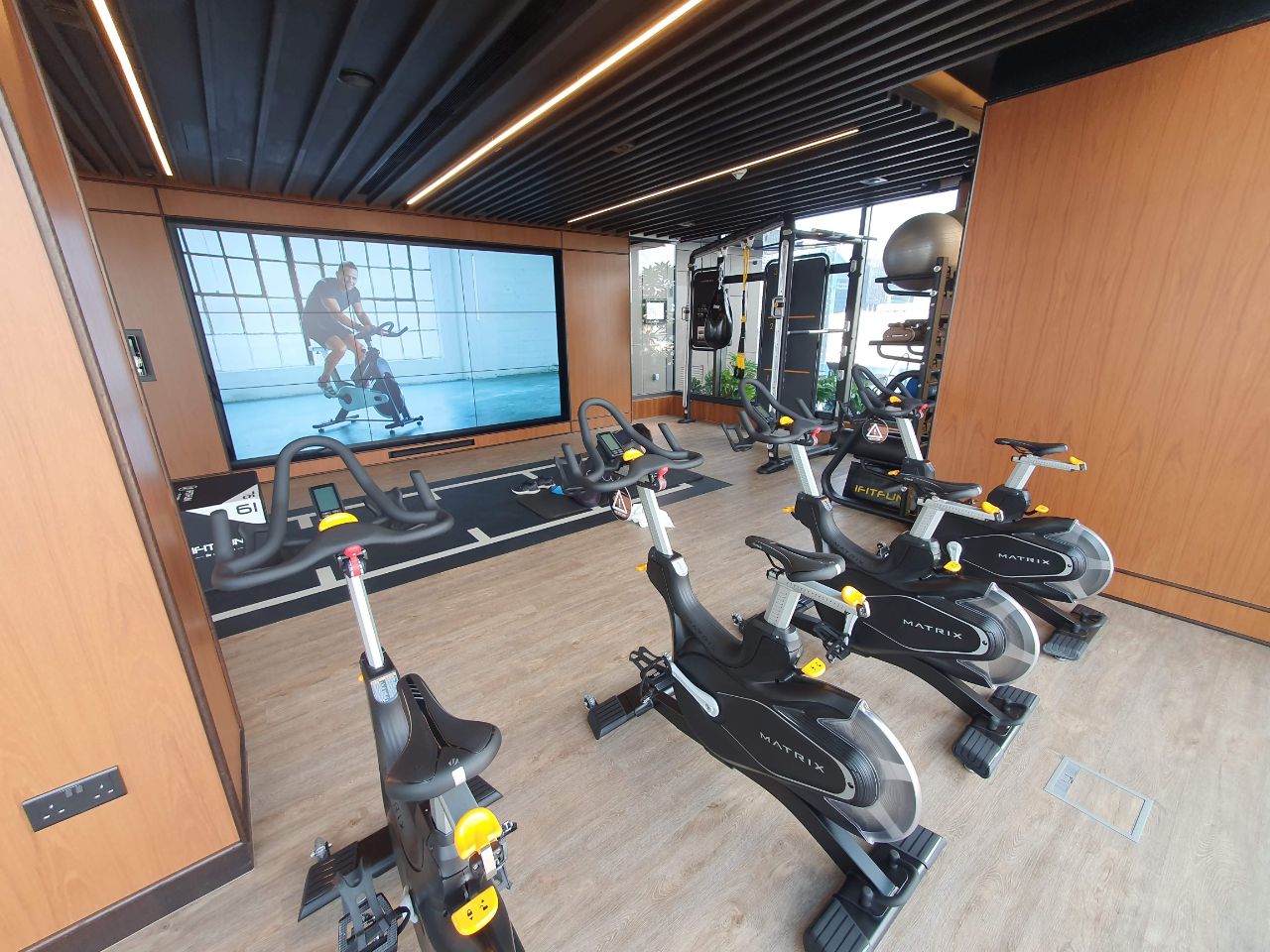 There's even an LCD wall with a tablet that lets users select an exercise program to follow. Other stations have integrated iPads with instructional videos. Outside the gym is a series of well-equipped showers, great for freshening up if you're arriving early or checking out late.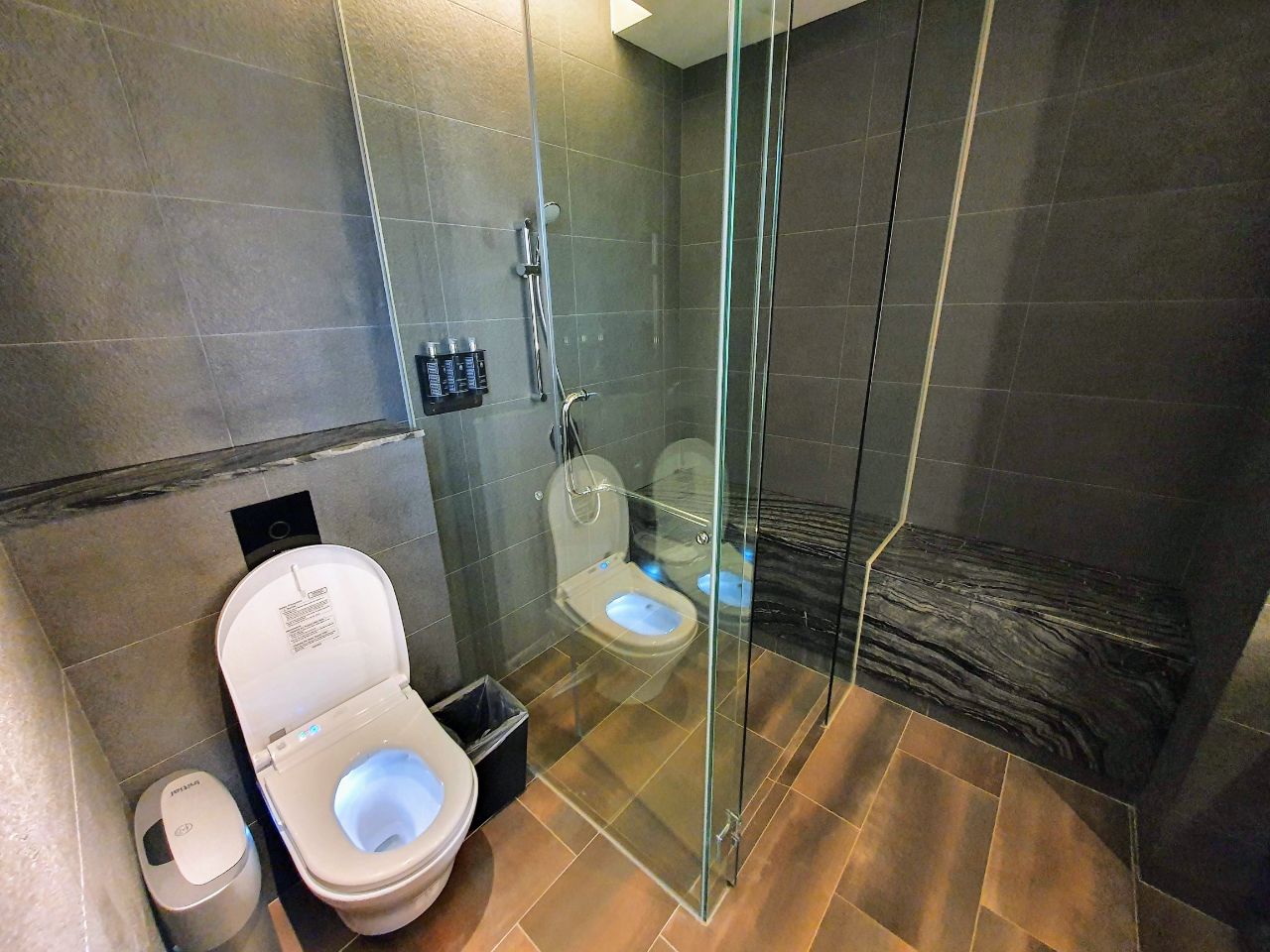 Honorable mentions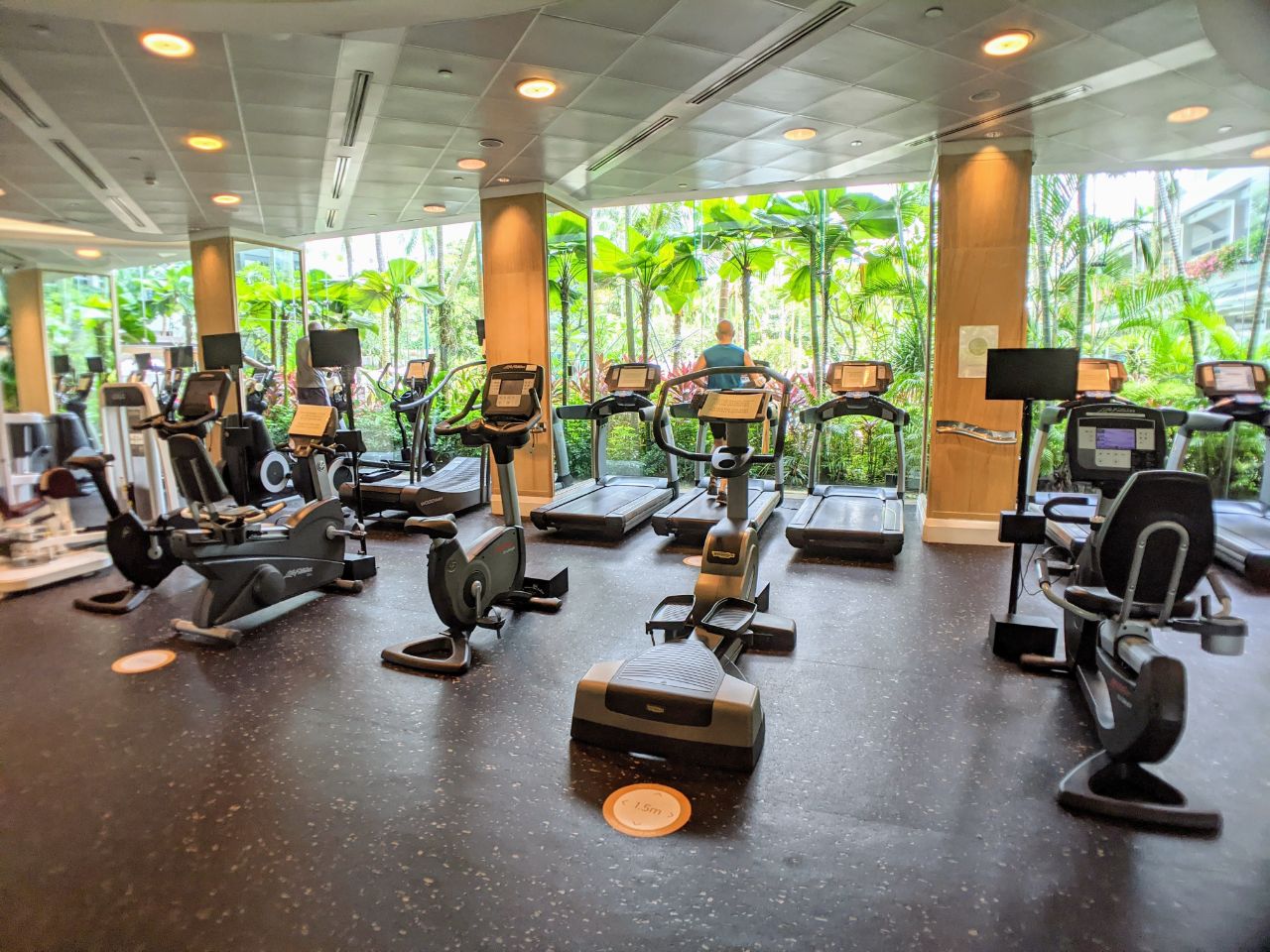 The Shangri-La Singapore's gym is humongous, measuring in at just over 850 sqm, with lush views of the gardens outside. It may not be the most modern anymore, but size matters. 
Best Deal: Raffles Hotel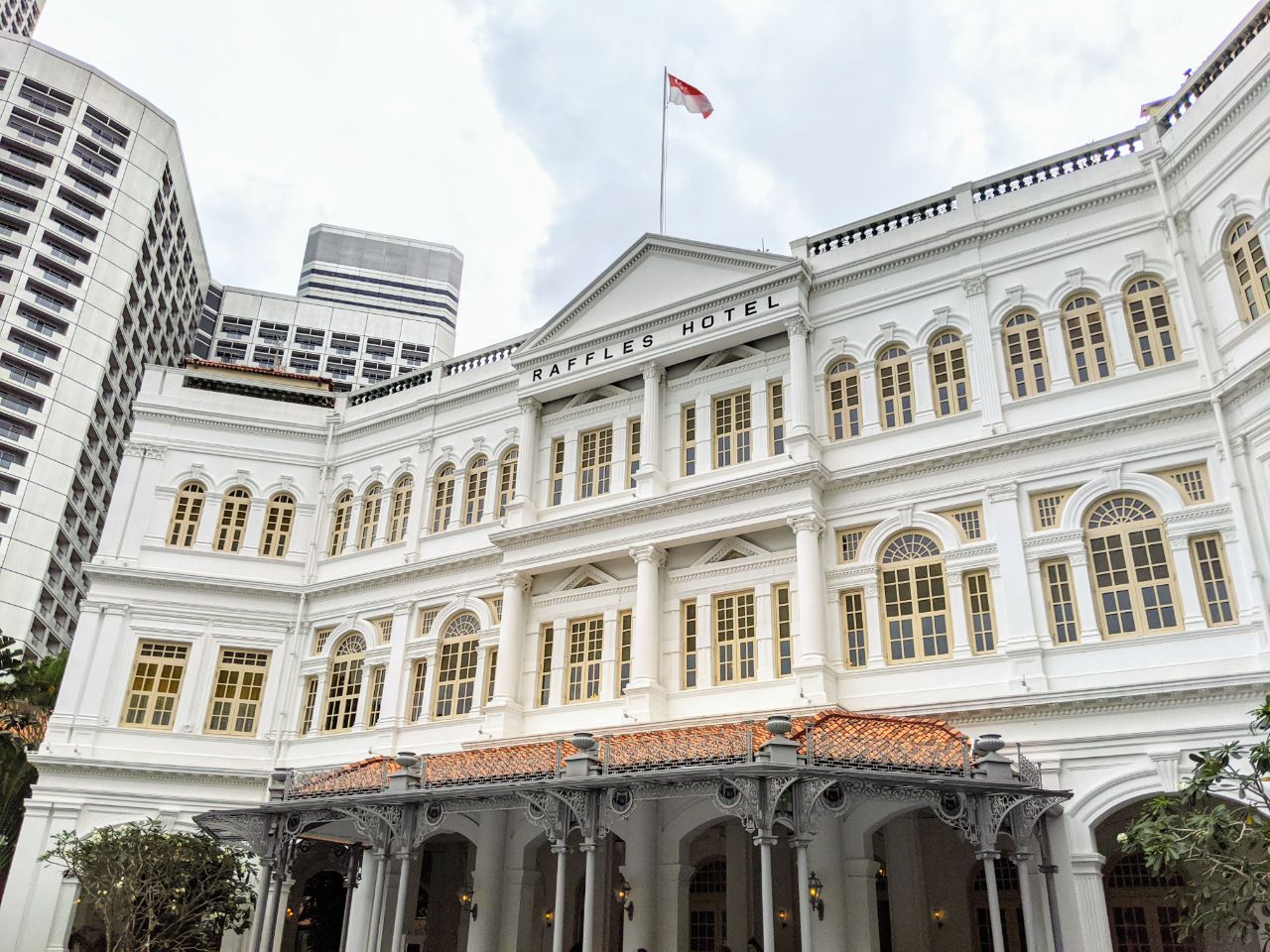 I originally wanted to call this section "best value", but realise that's a minefield because value is so subjective. Instead, let's dub this "best deal", and that for me has to be the 1-for-1 Suite Life package the Raffles Hotel offered in July last year. 
For S$795++ (S$936 nett), guests received: 
🏨 Suite Life Package

2 nights in State Room Suite

Guaranteed 11 a.m check-in/ 4 p.m check-out

Guaranteed room upgrade

S$100 hotel credit

15% off F&B, spa, boutiques

Complimentary parking
Of course S$936 nett is a hefty chunk of change, but let's remember that this is the Raffles, which during regular times would cost more than S$1,000 per night.
The package turned out to be so popular that the hotel was inundated with bookings, leading to some distinctly un-Raffles like service experiences. Some guests reported they were only able to check in post 7 p.m, others of crowded lobby scenes reminiscent of a marketplace. Raffles eventually had to modify the package and remove the guaranteed early check-in/late check-out, plus offer additional incentives to stay on weekdays. 
I think it's safe to say we'll never see a deal like that again. In fact, the most recent 1-for-1 offer at Raffles cost upwards of S$1,118 nett for two nights, with less impressive benefits (e.g S$50 Raffles Boutique credit instead of S$100 hotel credit). 
Honorable mentions
Snagging a Studio Suite at the Andaz Singapore for S$245 nett (see above) was an excellent deal, but so was getting the Shangri-La Valley Wing for just S$330 nett. This was courtesy of a one category upgrade from booking through the Luxury Circle program– since the Tower Wing is closed, the Garden Wing pool view room upgrades to a Valley Wing deluxe room.
Or should I say "upgraded". Shangri-La has since changed its policy, and will no longer upgrade Garden Wing guests to the Valley Wing. You may receive a Valley Wing room, in times when the Garden Wing is at full capacity. However, you will not be entitled to any of the guest benefits like all-day champagne and breakfast at the Summit Room. 
Miscellaneous Awards
And just for fun, here's the best of the rest. 
Best Small Space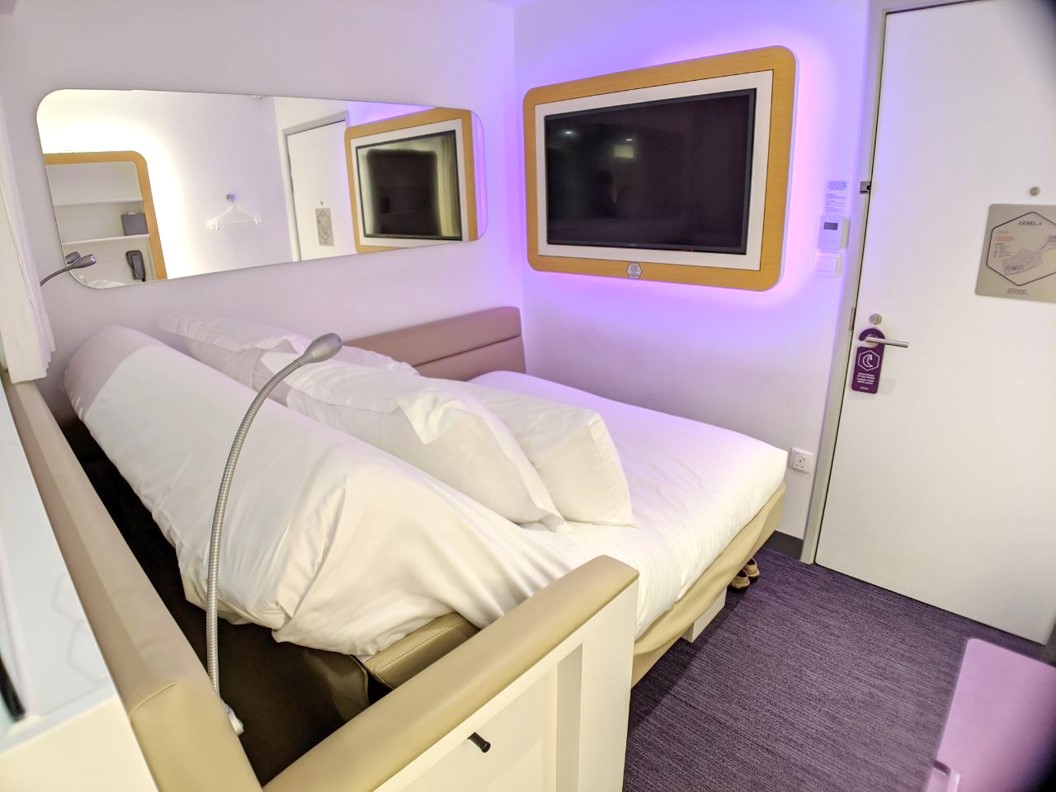 If you and your partner are having difficult conceiving, the obvious reason is that you're trying in a space that's way too large. What you need is a 10 sqm micro-hotel room at the YOTELAIR Changi, ground zero for fertility treatments. 
Best Hotel Policy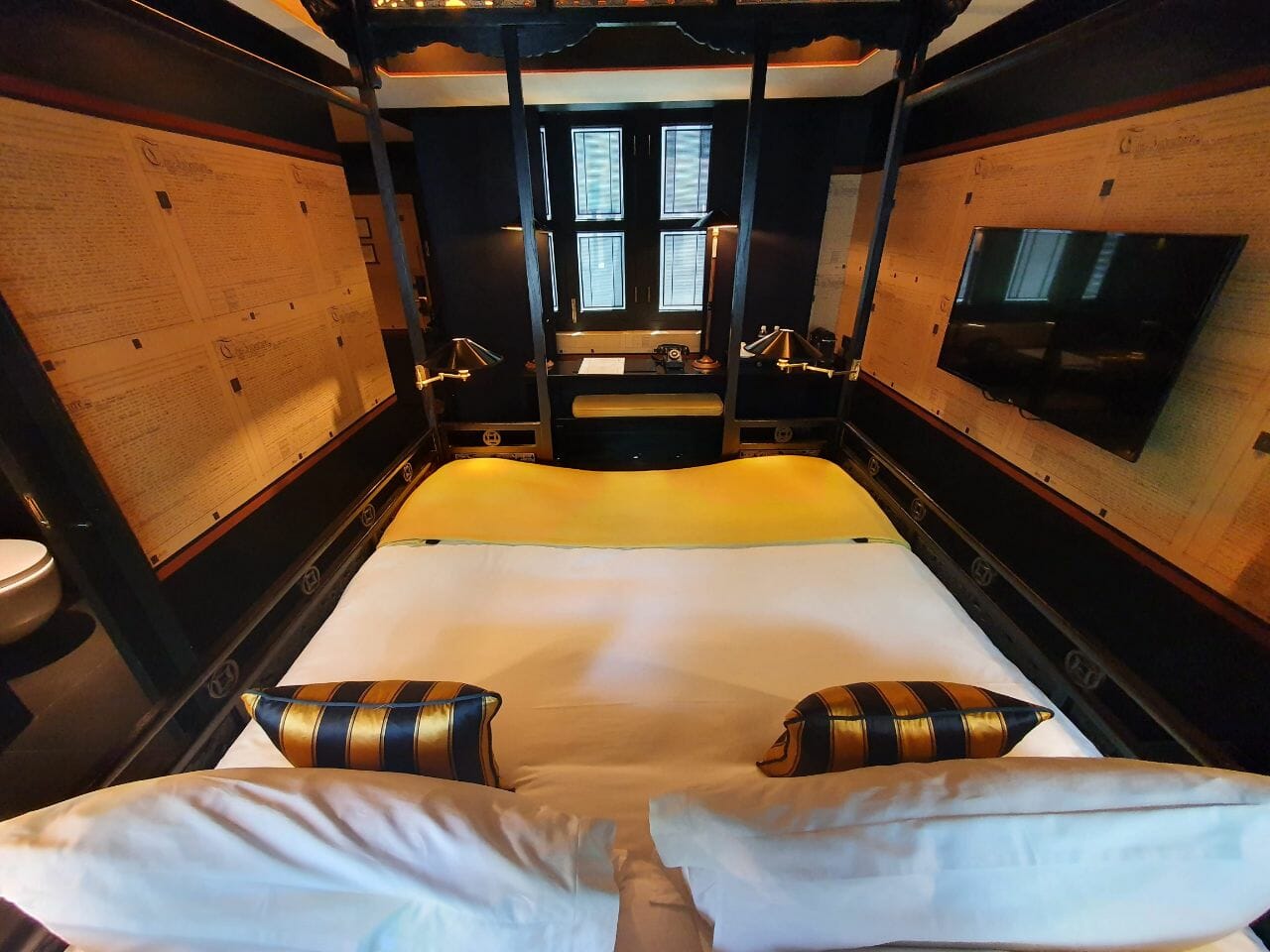 "What's the best way of serving our guests?"
"Let's slap a 35% service charge on all room service orders, so after GST, every item on the menu has a 44% mark-up!"
"That's a great idea!"
A close second would be Pan Pacific's S$5 delivery fee, where even asking for an extra towel will cost you money. Thankfully, this has since been removed. 
Best Bedsheets
Sometimes, I ask myself why I bothered buying a UV light- there are things you simply don't want to know. But you don't even need a UV light to spot these babies on the Hilton Singapore's sheets and mattress protector. 
Best Animal Companion
Conclusion
Over the past 12 months, I've stayed in more local hotels than I have my whole life. It's no substitute for overseas travel of course, but it's as good as it gets right now. 
Are there other hotels I'd like to review? Certainly- the Capella Sentosa, Fullerton Bay Hotel and Ritz-Carlton Millenia all come to mind. The problem, as always, is budget. There's no way to redeem points for these hotels, and I haven't seen any jaw-dropping deals of late. I'll keep looking, but until then, my calendar is pretty much clear (I've also got a Regent Singapore stay that I've yet to claim). 
But yes, that's my take on the best of the best so far. Sound out below if you have other nominees for these categories (or new categories of your own!) 
Any other hotel reviews you'd like to read?