Most people tend to associate staycations with hotels rather than serviced apartments, and perhaps understandably so.
Not all serviced apartments make viable staycation options, thanks to the current URA regulations dictating a minimum stay of six nights– as much as people love staycations, no one loves them enough to do that. Furthermore, there are restrictions on how much space can be allocated to amenities like bars or lounges, meaning they'll never be quite as buzzy as one of those swanky hotels. 
But some serviced apartments have nonetheless managed to secure hotel licenses, which enable them to accept short-stay guests. 
🏠 Serviced Apartments Accepting Short-stay Guests

Ascott Orchard

Ascott Raffles Place

Capri by Fraser Changi City

Capri by Fraser China Square

Citadines Rochor

Pan Pacific Serviced Suites Beach Road

Park Avenue Changi

Park Avenue Rochester

lyf Funan
Can service apartments compete in the short-stay market? Certainly. For starters, they're usually much larger than your average hotel room, and most of them have onsite gyms and pools. They offer a homely atmosphere to those who just want to stay in, and I'd rather eat my meals at a proper dining table than on some work desk in a hotel (which will be the default scenario during Phase 2). Heck, if you enjoy cooking for fun, the kitchenette helps round out the whole experience too. 
In fact, one of them more than holds its own against the hotels. I'm talking about the Oakwood Premier AMTD, the #8 ranked hotel in Singapore according to TripAdvisor reviews. 
Let's deal with the most pressing question first: what does AMTD stand for? Conspiracy theorists prepare to be disappointed, because the answer is rather mundane. This property first opened as the Oakwood Premier OUE Singapore in June 2017, and was purchased by the AMTD Property Development Group in September 2019. They tagged on their name, which doesn't actually stand for anything; it's one of those orphan initialisms. 
Since the circuit breaker ended last year, I've reviewed 23 different hotels across all price segments of the market. I figured it was time to switch gears a bit, and it all started with some McDonald's…
Booking an Oakwood Premier AMTD Staycation
Thanks to COVID-19, leisure travel has been impossible for more than a year. Locals have been trying to satiate their wanderlust with staycations, but after a while, the novelty wears off. 
Enter themed staycations. To help alleviate the drudgery of four walls and a pool, hotels have inked partnerships with various brands and attractions. Fairmont has Miffy, St Regis has Macallan, Millennium Hotels has the zoo, and Oakwood has McDonald's. Yes, McDonald's, because Miffy was already taken. 
The Happiest Night-In staycation (long since sold out) comes in two flavors: 
 

Couples

Family

Room type

Studio

2-Bedroom Deluxe

Inclusions

Bed runner (x1)

Cushions (x2)

Eyemasks (x2)

Hand towels (x2)

McDonald's loungewear set (x2)

$20 vouchers

Bed runner (x1)

Cushions (x2)

Eyemasks (x4)

Hand towels (x4)

Happy Meal books and collectibles (x3)

$40 vouchers

Cost

$329 nett

$449 nett
I went for the family package because I wanted more space to stretch out (plus a kitchen for my cooking shenanigans). While I've long since finished my SRV, I managed to stack a DBS promo code for a further S$40 off, paying S$409 nett. That's a very good price for a 2-bedroom apartment, considering it normally costs upwards of S$580 nett. 
And yes, I had a very good time. 
If you're just looking for the lowest possible rate, a room-only stay in a Studio Deluxe King starts at S$227++ (S$267 nett) with breakfast for two. 
Oakwood Premier AMTD: Arrival and Check-in
The Oakwood Premier AMTD is located at 6 Shenton Way, inside the OUE Downtown 2 mixed-use complex. Don't confuse it with the Oakwood Studios located at Mount Elizabeth- that's a long-stay property which isn't open for staycations (or short-term guests, for that matter). 
The closest MRT is at Tanjong Pagar, but the walk is not completely sheltered so you'll have to wait out the rain if the weather's bad. Complimentary parking is available for guests, with one exit pass issued per night. 
I arrived at the hotel around lunchtime on a Tuesday. The taxi dropped me at the driveway of OUE Downtown 2, which is also where the Oakwood's complimentary shuttle bus picks up and drops off guests. It runs services to the CBD during weekdays, and selected malls in City Hall/Orchard during the weekends. 
The Oakwood reception counter near the driveway was unmanned when I arrived. 
Nevertheless, it wasn't too difficult to find the hotel entrance, which was just past the counter on the right. The lift lobby is accessed by keycard after a certain time, so if you find yourself locked out, return to the reception counter and use the phone to call the front desk. 
While most of the serviced apartments I've stayed in so far have been rather unspectacular, it's clear from the start that the Oakwood Premier is trying to strike a different tone. The gorgeous reception area features floor-to-ceiling windows, which let in natural light that reflects off the dazzling chandeliers and metallic wall elements. It felt more luxury hotel than serviced residence, which I believe is the point. 
Check-in was completed quickly, and I was able to secure a 4 p.m late check-out for the following day. I was given two hygiene kits (the usual assortment of hand sanitizer, a mask and some wet wipes) and pre-sanitized "do not disturb" signs. 
Oakwood Premier AMTD: Two-Bedroom Deluxe
There are a total of 268 apartments at the Oakwood Premier AMTD, split into the following categories:
| | | |
| --- | --- | --- |
| Room type | Size | No. of Rooms |
| Studio Deluxe | 28-32 sqm | 82 |
| One-Bedroom Deluxe | 31-43 sqm | 58 |
| One-Bedroom Executive | 46-54 sqm | 46 |
| One-Bedroom Premier | 53-58 sqm | 35 |
| Two-Bedroom Deluxe | 70 sqm | 12 |
| Two-Bedroom Executive | 82-84 sqm | 32 |
| Two-Bedroom Premier | 98 sqm | 3 |
With the exception of the Studio category, each apartment is further sub-segmented into Deluxe, Executive and Premier. The main difference is the size and layout, which affects certain amenities. For example, Studios lack a cooking hob, one-bedrooms have combination washer/dryers while two-bedrooms have separate ones, and selected two-bedroom units have bathtubs installed. 
My booking was for a Two-Bedroom Deluxe, and I'd been assigned to apartment 2801. 
At 70 sqm, it's a sizeable piece of real estate. I'll take you through it room by room. 
Kitchen, Dining and Living Room Area
The entrance of the apartment opens directly into the kitchen and dining area, with seating for four people.
It's a fairly neutral color tone, and the kitchen boasted clean lines and a streamlined look thanks to the lack of handles. However, the whole place could have used better lighting, since the neighboring office complex blocks out most of the sunlight during the day. I requested for a separate standing lamp to be placed in the corner, which helped immensely.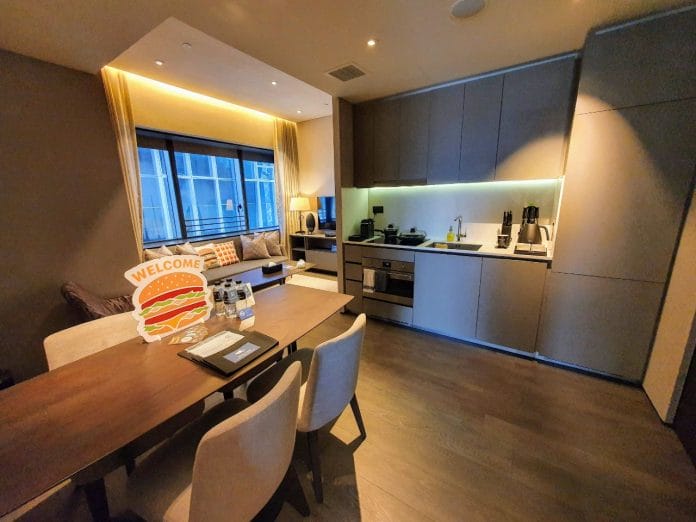 This property is now just under four years old, so most of the fittings are relatively new. Apart from a badly-scuffed dining table, everything else was in reasonable condition. 
While there isn't a lot of countertop space, the kitchen is fitted out for serious cooking.  Trust me- I tried it during my stay. There was a Smeg induction hob, a hood with decent suction, an oven, plus a built-in fridge and dishwasher. The dishwasher made cleaning up delightfully easy; I got to get one of these for my next home.
The kitchen is also well-equipped with every manner of tool or cutlery you might need. Knives, spatulas, a chopping board, plates and bowls of all sizes, even a wide range of wine glasses. The only thing I couldn't find was a baking tray for the oven, which I'm sure could be provided upon request. I also stumbled upon a De'Longhi toaster and Philips rice cooker in the cupboard.
Coffee and tea in the room came courtesy of Nespresso and Monogram. 
The dining area merges into the living room, with a sofa and coffee table. It's the perfect place to relax post meal with a glass of wine, or simply watch some TV. 
Music can be played through an egg-shaped Samsung R7 speaker. Audio quality was pretty good, as well it should be for a speaker that retailed for S$700 when it was first released. 
Nestled in a recessed space in the living room is a dryer stacked on top of a washing machine. It won't be of much use to short-stay guests, but it'll be a lifesaver for long-term ones. Guests in Studio apartments can use the laundry room in the lobby (see facilities).
Master Bedroom
Down the corridor to the right is the Master bedroom, which itself is bigger than some of the hotel rooms I've stayed in.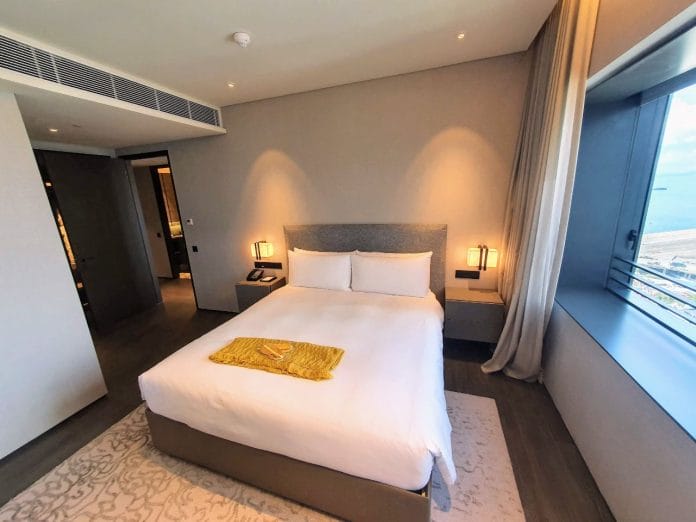 The one side of the bedroom looked out to the Tanjong Pagar terminal, which is in the midst of being relocated to Tuas to make way from the Greater Southern Waterfront district. 
The other side looked directly into the offices at 79 Robinson Road, directly across the street. I could see the occupants with alarming levels of clarity, but the hotel tells me the windows are heavily tinted, so people won't be able to look in during the day. At night you'll want to draw the blinds though, especially if your lights are on. 
The king-sized mattress was firm and very comfortable. A small pillow menu is offered to guests, with alternatives of contour memory foam or micro fibre pillows. 
While this probably won't be of use to short-term guests, I like how they've designed the bedframe so you can store things inside. 
Both bedsides had power outlets, although the USB port had a "not for charging" label affixed to it (I suspect it's for data transfer, allowing you to watch your own media content on the TV). What was also surprising was that the outlets weren't universal- not so much an issue for staycation guests, more so for overseas visitors.
The work desk is on the narrow side, but you can use the window bay in front of you for extra storage in a pinch. Although the office chair lacked a headrest, it was comfortable enough for a few hours of sitting. 
By the side of the desk was another set of HDMI and USB connections. This one had a dedicated USB port for charging. 
On the desk was a lamp with a wireless charging pad, and a  Samsung tablet and mobile phone. 
The mobile phone looked like one of those (now defunct) Handy devices you find in hotels that give tourists complimentary internet and local calls. This one wasn't nearly as locked down, although you still couldn't install your own apps. 
The tablet came pre-loaded with Netflix and Amazon Prime apps, but there was no way to stream it to the TV in the room. I think the idea was that you'd hold the tablet and watch things in bed.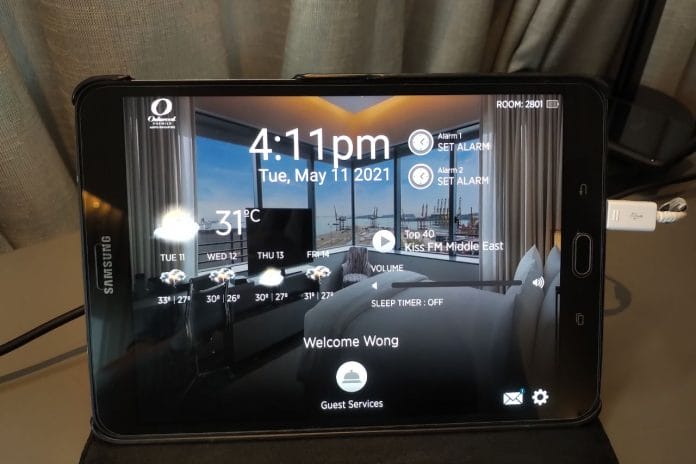 Through the tablet, you could also order additional room items like adapters (remember, the sockets in the room aren't universal), bathrobes, a stationery box, additional toiletries or cutlery. 
The Oakwood's Wi-Fi network achieved speeds of 20 Mbps for downloads and uploads, placing it roughly in the middle of all hotels I've visited so far. This is plenty fast for most purposes, although Netflix does recommend a minimum of 25 Mbps for streaming Ultra HD/4K movies. 
🌐Hotel Wi-Fi Speeds
Hotel
🔽Down
🔼 Up

Mandarin Orchard

273 Mbps

294 Mbps

Villa Samadhi

62 Mbps

53 Mbps

M Social Singapore

46 Mbps

49 Mbps

Conrad Centenni

al

40 Mbps

44 Mbps

YOTELAir Changi

29 Mbps

49 Mbps

W Sentosa Cove

34 Mbps

34 Mbps

Ascott Orchard

29

Mbps

29 Mbps

Duxton Reserve

28 Mbps

29 M

bps

PARKROYAL Beach

Road

28 Mbps

29 Mbps

Mandarin Oriental

28 Mbps

28

Mbps

The Fullerton Hotel

23 Mbps

24 Mbps

PARKROYAL Pickering

24 Mbps

23 Mbps

Oakwood Premier AMTD

20 Mbps

20 Mbps

Shangri-La Singapore

19 Mbps

18 Mbps

Pan Pacific Singapore

19 Mbps

19 Mbps

Dusit Thani Laguna Singapore

19 Mbps

19

Mbps

InterContinental Bugis

15 Mbps

15 Mbps

The Capitol Kempinski Hotel

16 Mbps

13 Mbps

Grand Hyatt Singapore

14 Mbps

13

Mb

ps

Hilton Singapore

13 Mbps

14 Mbps

Marina Bay Sands

11 Mbps

11 Mbps

The Clan Hotel

9.6 Mbps

9.6 Mbps

Andaz Singapore

8.0 Mbps

9.5 Mbps

Four Seasons Singapore

6.7 Mbps

9.8 Mbps

The Barracks Hotel

7.3 Mbps

7.7 Mbps

Hotel 81 Tristar

7.0 Mbps

6.8 Mbps

Raffles Hotel

6.9 Mbps

6.8 Mbps

Hotel Soloha

4.7 Mbps

5.1 Mbps

Hotel G Singapore

4.4 Mbps

4.8 Mbps

Internet speeds based on Speedtest.net scores
Next to the room entrance was a walk-in wardrobe, with slippers, an umbrella and bathrobes (no safe though; that's in the other bedroom). The bathrobes were extremely comfortable, thanks to a plush lining sewn on the inside. 
The walls of the master bathroom were clad in dark marble, providing a pleasant contrast with the lighter-colored flooring. There was only a single sink with a narrow mirror, and I feel they might have been able to squeeze in a double vanity here.
Just like the bedroom, it's a bit unnerving you can look directly from the bathroom into the offices in the adjacent building. Keep those blinds drawn!
While the toilet didn't have a fancy bidet seat (or even a concealed cistern, for that matter), at least there was a bidet hose. Unfortunately, water pressure was extremely poor. Even with the valve completely open, the flow never exceeded a mere trickle. 
The poor water pressure affects the shower too. I later asked the hotel about this, and was told that certain rooms have water saving restrictors installed. Guests can request the hotel to temporarily remove them or change the showerhead to improve flow, something I wish I'd known about earlier! 
The other issue concerned the lighting, as the recessed lights in the shower area were broken. Trying to bathe at night looked like something out of a horror movie, and we ended up using the shower in the other bathroom. 
Bathroom amenities are by Comfort Zone (replacing the previous Imperial Barber ones). I'd never heard of them, but apparently they're by La Bottega. I suspect it's not that La Bottega, as the website URL references La Bottega dell'Estetica, or "The Aesthetics Shop" in English.
Second Bedroom
The second bedroom doesn't come with an en suite bathroom, but still had space for two single beds, a wardrobe, and its own work desk and TV. For anyone counting, that makes a total of three TVs in this apartment, plenty to go around for everyone. 
Speaking of the TV, all models are 49-inch high-definition flat screens. Although the hotel tells me that screen mirroring is available, I couldn't figure out how to get it to work, instead relying on a HDMI cable to project my own media content. 
If you didn't bring anything good to watch, there's a wide range of channels at your disposal. 
The work desk lacks the mobile phone and tablet of the master bedroom, but still has the lamp cum wireless charging pad. 
The wardrobe area had plenty of storage space, plus an ironing board and a safe. 
Guest Bathroom
The guest bathroom is out in the corridor, and because of the way the door opens, I didn't even realise it had its own shower until hours later! 
Having two bathrooms will certainly be a boon for families, although the same water pressure issues were  resent here. At least the shower lights were working. 
On the whole, I loved the apartment. It was more than enough space for two people, and even a family of four would find it plenty. Remember, I paid just over S$400 for this two-bedroom residence, which is what you'd pay for a single room at many other luxury hotels. 
My main issue was with the faulty lighting and poor water pressure in the bathroom. This may just have been the luck of the draw, so if that's important to you then make sure to check it immediately upon arrival and request rectification if necessary. 
Oakwood Premier AMTD: Mobile Bar
Even before COVID-19 started, Oakwood had done away with the idea of a traditional happy hour in the executive lounge in favor of a mobile bar concept. This costs S$55 per person (S$65 nett), and visits the apartments from 7 p.m to 10 p.m nightly. 
The cart comes around twice, and each time you can order as much food or drink as you wish. Don't feel shy about ordering more than one cocktail; I'm sure the bartender has seen much worse. 
The canapes options rotate daily. Here's what was being served on the Tuesday that I stayed; for other nights, refer to the full menu here. 
The servings were quite hearty, and you can always request seconds (or thirds) if you need. My favourites were the chicken wings with truffle maple drizzle, and the chicken satay with pineapple salsa. 
The cocktail menu had a total of six options, and I endeavored to try all six, for science.
The Se7enth Wonder is the hotel's signature cocktail, and rightfully so- a delightful blend of Chivas Regal 12 years, ginger honey and grapefruit juice. But there's something to be said about the classics too, and the Champion's Cocktail is an interesting spin on a mojito, with vodka instead of rum. 
The bartender is also more than happy to make something off-piste if you wish, provided it's doable with the ingredients already on the cart. I had a Downtown Mojito, which replaced the regular sugar with brown sugar,  giving the concoction a deeper, toffee-like flavor. 
Was it worth it? I certainly enjoyed the drinks and food, and it ended up being a dinner replacement. For perspective, a cocktail at the bar in the lobby would cost S$14-22++, so after taking the food into account you could break even with 2-3 drinks. 
If you really want to try the mobile bar, however, it's more worth it to buy a package instead of paying the a la carte pricing. The Oakwood Mobile Bar staycation package costs S$84++ more than the cheapest advance purchase rate (and throws in S$60 F&B credits to boot, which can cover breakfast), so it's a much better deal than paying an additional S$110++ for two people. 
Oakwood Premier AMTD: Facilities
| | | |
| --- | --- | --- |
| Pool | Gym | Spa |
| Yes: 8 a.m to 10 p.m | Yes: 24 hours | N/A |
| Kids' Club | Business Centre | Others |
| N/A | N/A | N/A |
Swimming Pool
The Oakwood Premier's infinity pool is located on the 7th floor, and is open from 8 a.m to 10 p.m daily. Reservations are required, and can be made through the front desk. Each guest is entitled to a 60-minute slot, and a maximum of 15 people can be in the pool at any time. You'll need to collect towels in the lobby before heading to the pool, which is how I suppose they enforce capacity restrictions. 
As far as swimming pools come, this was one of the nicest experiences in recent memory. Even though it isn't particularly elevated, you still get a partial view of the sea, and if you find the right angle, can even spot Marina Bay Cruise Centre (World Dream was docked the day I was there). It's a lovely little oasis amidst the soaring skyscrapers, and there's a couple of tables set up for those who want to do some al fresco working or drinking. 
One nifty feature of the pool is a mini jacuzzi area, within the pool itself. Since it's part of the same pool, you won't get heated water, which is a shame as the wind chill can be surprisingly strong at times.
If you don't fancy getting into the water, you can recline on one of the pool loungers on the wooden deck. Because of social distancing restrictions, however, they're configured 1-1 so you'll still need to be physically separated from your plus one.
There's also a pair of cabanas available on a first-come-first-serve basis. 
Final point: the pool could use a bit of spring cleaning. In the drainage area off the edge of the infinity pool I spotted a mask and a discarded band-aid. Thank God for chlorinated water.
Gym
The fitness centre at the Oakwood Premier AMTD is located next to the pool, and during regular times is open 24 hours a day. It's currently closed on account of the return to Phase 2 conditions.
Inside is a limited assortment of cardio and strength training equipment. I counted three treadmills, a cycling and elliptical machine and some free weights. 
Laundry Room
Since this is a serviced apartment, it makes sense to offer a laundry facility for guests whose rooms don't have a washer/dryer. A total of three washing and three drying machines are available for use, free of charge. 
Executive Lounge
Even though the Oakwood has moved away from the traditional executive lounge model (serving cocktails and canapes in-room, as shown earlier), they still use this as a resident's lounge of sorts.
It's currently only open to long-stay guests with a booking of one month or more, or outside guests who have purchased the "Work from Oakwood" package which costs S$25++ for 10 hours, inclusive of coffee, tea and afternoon canapes. Sales have been temporarily suspended due to Phase 2 measures. 
Oakwood Premier AMTD: Breakfast
Served at

Cost

Style

SE7ENTH

S$22++ (Adults)
S$11+ (Child aged 6-12)

Set menu

Hours

Sparkling Wine?

Discounts?

6.30 a.m to 10.30 a.m

No

N/A
Breakfast is served at SE7ENTH from 6.30 a.m to 10.30 a.m daily. 
Unfortunately I'm not going to be of much use here, since I didn't partake. My package didn't include breakfast, and nothing on the menu convinced me to shell out S$22++ per person. You basically have three choices of set breakfast, all very predictable and safe- a far cry from the decidedly more experimental options at The Clan. 
I did spot this photo over on Klook's blog though, which made me feel I'd made the right decision. It's not that the food looks bad or anything, it's just rather unexciting. 
What I didn't learn until I left was that guests could order from an alternative brunch menu, which looks a bit more interesting. Most dishes here are S$17++, so if you don't need the drink then you might be better off with this instead.  
Other Dining Options
Restaurant

Opening Hours

SE7ENTH

Breakfast: 6.30 a.m to 10.30 a.m
Lunch: 12 p.m – 2.00 p.m
Dinner: 6.30 p.m- 10.00 p.m
I didn't visit SE7ENTH (it's a really annoying name to type) during my stay, so I can't comment on the quality of the food. I'll instead refer you to a couple of food blogs that probably do a better job than me:
What I can say is that it seems to be popular with the CBD lunch crowd, with a S$35++ set lunch during weekdays. The menu rotates twice a month, allowing you to try a range of items. 
Elsewhere in the lobby is the SE7ENTH bar, which looks like a nice place to sit and chill, if not for the fact that most of it is currently blocked off for social distancing. 
There's a bit of Jekyll and Hyde going on with the menu pricing. Wines by the bottle are ridiculously expensive- a bottle of Moet and Chandon brut costs S$60 at retail, but goes for S$188++ here. A bottle of prosecco which retails for about S$27 is marked up to S$78++.
However, the happy hour pricing is more reasonable. You can get selected beers, wines and spirits for S$9++, including a glass of Pol Remy Brut. It's not quite champagne, but it's a decent drink for those who just want some bubbles.
Oakwood Premier AMTD: Service
Service at the Oakwood Premier AMTD was pretty much on point, with requests for miscellaneous items (HDMI cable, stationery kit, standing lamp) fulfilled quickly, and the front desk proactively calling the room to reschedule a pool appointment that got rained out. 
One particularly nice touch was the evening turndown service, with a box of delicious chocolate truffles and a refreshment menu with a range of hot and cold drinks plus snacks.
The cake of the day was a tiramisu, which came with some butter cookies. It's one of the more elaborate turndown experiences I've had so far, and was quite substantial for a late night snack.
Verdict
Staying at the Oakwood gives you a little taste of what it's like to live in a luxury condominium downtown, but it's not just for those who crave the DINK lifestyle.
In fact, if you have kids, this is arguably one of the best value staycation options out there. Instead of everyone cramming into one hotel room where half the space is taken up by twin beds, you could get a two-bedroom apartment for not much more, giving the adults some privacy and the kids a room of their own.
There's no doubt in my mind that the Oakwood measures up to many luxury hotels. In fact, there are some aspects of this property more akin to a hotel than a serviced apartment: the presence of a full-fledged restaurant and bar, an executive lounge (even if it's not in use right now), evening cocktails and turndown service, plus a swimming pool that's not just there to tick a box. 
All in all, it's an upscale home away from home, quite literally. 
Serviced apartments vs hotels- your thoughts?
🏨 In Summary
The Oakwood's well-appointed apartments, plush touches and lovely pool helps it hold its own against luxury hotels, and even surpass them in some ways.
Do say: My McDonald's staycation was great

Don't say: Except for the clown in my closet and the Hamburgular home invasion

Milelion Staycation Ratings