There are hotels on top of office buildings, and there are hotels within a historical building. In Singapore, you can even find a hotel within an aquarium i.e the Ocean Suites. Nestled in the Farrer Park area you can find a hotel within a…hospital?
The first of its kind within the region, One Farrer Hotel (formerly known as One Farrer Hotel and Spa) is a hotel that's integrated with Farrer Park Hospital and Farrer Park Medical Centre. One Farrer Hotel has three different hotels under one roof: Mint Hotel, Loft Apartments, and Skyline Hotel. In reality, these are just the different categories of rooms that are available at the hotel. 
For short stay guests, you will only be able to book rooms in the Mint Hotel category or the Skyline Hotel category. Loft Apartment rooms are only open for long-stay guests.
The Mint Hotel, formerly known as the Urban Hotel, completed its renovations back in December 2020 with all 176-rooms in the Mint Hotel category, and common corridors, having its carpets ripped out and replaced with vinyl flooring. The hotel has also fitted the rooms with anti-viral wall coverings and anti-microbial window blind fabrics, a move meant to help the rooms and general areas be sanitized more thoroughly. 
The Skyline Hotel is the hotel's club category of rooms. The Skyline Lounge is located on the 18th floor of the hotel, together with a swimming pool and a 24/7 gym exclusively for Skyline Hotel guests. The Skyline Lounge boasts up to five meal presentations a day, and the only other hotel I can think of which offers that many meal periods would be the Ritz-Carlton Singapore. 
At the time of writing, the Skyline Lounge and the Skyline Hotel exclusive pool are currently closed to staycation guests as level 18 of the hotel is being used to house guests on SHN. 
One Farrer Hotel has been on my radar for quite some time now and rates were low enough during a recent Traveloka sale that led me to book this stay.
Booking a One Farrer Hotel Staycation
During the Traveloka EPIC Sale in April, I found a pretty decent rate for the hotel's Mint Den with breakfast for 2. While members of the Milelion Telegram Chat were reporting that they managed to find rates as low as S$40 nett for the same package, as much as I tried I only managed to get it at a cost of S$70. 
However, my original stay was cancelled due to Traveloka's weird rescheduling policies where they refund you a voucher code if you ask for a reschedule of dates. With the voucher code issued, I rebooked myself into a Mint Room with Breakfast for a minimal top-up as the voucher code provided did not even fully cover the cost of a new booking. 
For those who are interested to book a stay at One Farrer Hotel, the hotel is currently offering a "Wallow in the Skyline" promotion where for a good price from S$250 nett. Guests who book this package will get:
Breakfast 
All-day refreshments
Evening Cocktails 
As the Skyline Lounge is currently  (level 18 is being used to house SHN guests), my guess is that the evening cocktails will be brought to your room or served in an alternative venue when dining in is allowed again post Phase 2 Heightened Alert (HA).
One Farrer Hotel: Check-in and arrival
One Farrer Hotel is located at 1 Farrer Park Station Rd. If you are coming by MRT, the nearest MRT station to the hotel is Farrer Park MRT (NE8). The hotel is connected directly to the MRT station so you won't have to worry too much about getting to the hotel if it's raining. 
Here's a pro-tip for those who are coming by the MRT. At Farrer Park station, the signs will point you towards Exit C which leads to Farrer Park Hospital and One Farrer Hotel. Do not take that exit to get to the hotel as it's much longer than the route I'll be proposing.
Instead when you tap out of the gantries at Farrer Park MRT, take Exit A and turn left when you're at street level. Walk a few steps and you'll find yourself opposite the hotel. There is a sheltered pedestrian crossing before you reach the hotel so you're still sheltered throughout in the event of rain. 
For those driving, parking is complimentary for in-house guests at the hotel.
After completing the mandatory SafeEntry check-in and having my temperature taken, I headed over to the check-in desks.
The check-in area at One Farrer is spacious and had adequate seating around the lobby. I stayed on a weekday during Phase 2 HA so there weren't many people checking in when I arrived at around 3 pm that day. 
I was checked in promptly and a deposit was taken. During Phase 2 HA, breakfast is served in-room and at check-in, I was asked to choose between having my breakfast delivered between 7 am to 9 am or 9 am to 11 am. I chose the latter as I wanted to sleep in a little more. 
During my stay, I was not given a choice of what I could have for breakfast and there was no menu available. If you have any dietary requirements, you can always tell the front desk and they'd note it down.
One Farrer Hotel is a member of Preferred Hotels and Resorts under the L.V.X collection of hotels and participates in the I Prefer loyalty program. However, third-party bookings (e.g the one I made through Traveloka) are ineligible to receive any elite benefits and you will not earn elite nights too. 
One Farrer Hotel: Skyline Room
One Farrer Hotel has a total of 249 guestrooms spread over the following categories:
Room Type
Size

Mint Room

28-30 sqm

Mint Den 

38 sqm 

Mint Premier Room

33 sqm

Mint Suite

66 sqm

Mint Premier Suite

65 sqm

Skyline Room* 

35 sqm

Skyline Studio

49 sqm

Peony Villa 

65 sqm

Lotus Villa

65 sqm

Jasmine Villa

95 sqm

Orchid Villa

105 sqm

Calla Lily, The Presidential Villa

200 sqm

*Skyline Rooms are not on sale at the time of writing
I was initially booked into a Mint Room, but got upgraded to a Skyline Room as the Mint Room that I got assigned to was a connecting room. It's just a personal preference of mine to not have a room that has a connecting door. 
Skyline category rooms can be found on levels 18-20 of the hotel. I was assigned to 1906, a Skyline Room on the 19th floor. Lift access to guest rooms is strictly through keycards. Notice that level 17 is missing as the Loft Apartments located on level 16 take up two floors. Levels 7 through 10 are occupied by Farrer Park Hospital. 
For some reason, the corridors leading to the rooms felt like I was walking through a hospital ward sans the medical equipment. 
My assigned room was a short walk from the lifts. 
Entering the room, I was greeted by a rather long doorway with full-length mirrors. Unlike most of the hotels I've been to, the bathroom and wardrobe weren't right by the entrance but instead located further in the room.
Walking further in, the room at One Farrer Hotel was well, pretty basic. In the middle of the room was your King-sized (or Twin) bed. The desk can be found by the (almost) floor-to-ceiling windows with an armchair that was sadly not a Herman Miller.
Only the Mint category of rooms has Herman Miller Sayl chairs in them although it would be pretty weird if the chairs in the Skyline rooms do not eventually get replaced by Herman Miller Sayls.
A 55″ Samsung Smart TV can be found in almost every room type at One Farrer Hotel. What's interesting about the hotel's TV is that you can use it to control almost everything in the room, from the lowering of the blinds to even the temperature of the air conditioning. 
The air conditioning at the hotel was quite weak. From the time I checked in to the next morning, the current temperature reading on the air conditioning controls never dipped below 22°C even though I had set the temperature to a chilly 20°C. 
For those wondering, yes the TV does support screen mirroring and Apple AirPlay. 
On the desk you can find a writing kit, a Geneva speaker, and some stationery placed in a box. The remote for the TV was also placed here. Sidenote, the views from my room were great and I believe you could see as far as Bukit Timah Hill in the distance. Rooms on the other side faced the city. 
There used to be a daybed by the window but that has since been removed.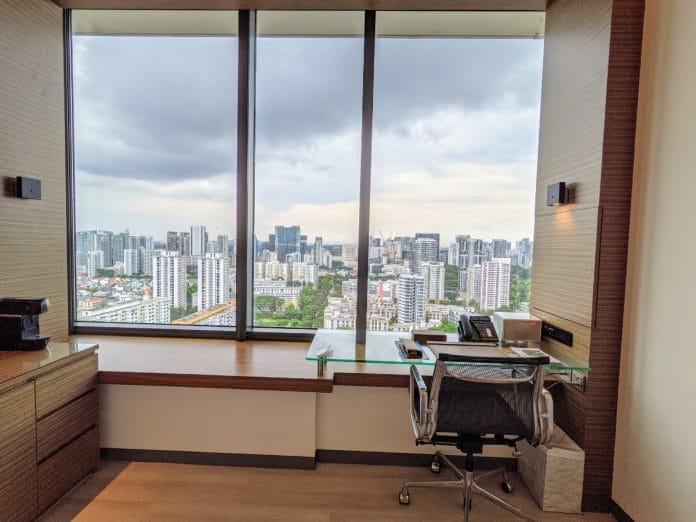 The in-room dining menu could be found on the desk and the prices were reasonable. Cocktails were priced below S$20++ and snacks such as Truffle Fries were going for just S$10++. 
Above the desk was a reading lamp which can be tilted upwards.
A MediaHub can be found right next to the desk where you can hook up an HDMI cable to your laptop to presumably stream content on the TV. A USB-A charging port, as well as two universal power sockets, is built into the MediaHub although with the sockets being perpendicular to each other, you might have trouble plugging in two large adaptors at once. 
There was quite a fair bit of wear and tear as you can see in the picture where the MediaHub has come loose and the walls were chipped. 
The mini-bar area of the room is located by the windows, beside the bed which is the first time that I've encountered something like that in a room of this size. A kettle, two complimentary bottles of water, as well as an Illy coffee-pod machine, was placed on top. The mini-bar fridge was emptied out leaving you plenty of space to store drinks. 
Illy coffee pods and a selection of TWG tea bags can be found in the drawer. The Illy coffee machine was simple enough to use with two different coffee modes similar to the Nespresso machines. 
Cups and glasses can be found in the drawers.
Earlier on in the room tour, you might have remembered that the bathroom was not found by the entrance to the room. In the Skyline Rooms, the bathroom is located right beside the bed. This is honestly the strangest feeling in the world as if you're a side sleeper like me, you might end up facing the bathroom when you sleep.  
The wardrobe can be found in the bathroom with the in-room safe and slippers in the drawers. Bathrobes and interestingly, a Yukata were inside the wardrobe 
I like how the hotel has designed the sink area such that the toiletries were placed in cubby holes on the wall. At first glance, I thought the mugs that were provided were plastic cups that were dented, but it's actually a rather clever design in my opinion as it contours around your hands when you hold it.
A Vitaminspa branded care kit consisting of a bottle of hand sanitizer, and a few pieces of antibacterial wipes were placed by the sink. No surgical masks were provided. 
Dental kits and other amenities were also Vitaminspa branded. For Colgate lovers, you'll be glad to know that the toothpaste provided is from Colgate.
The toilet and shower area of the bathroom is located past a set of sliding doors. For the bidet lovers out there, you'll be happy to know that a Toto EcoWasher is installed in every room. The shower area was rather spacious although the shower screen was rather ineffective and water always splashed out of the shower area even when I tried not bathing like a buffalo. 
If I had one complaint about the toilet, it was that the toilet was positioned quite high up, it made for a very awkward pooping position as my legs were barely flat on the floor. 
One Farrer has installed a "Please Wait" button that can be found by the bedside, as well as by the toilet for situations when I presume you are taking a poop and someone is at the door. 
A rain shower and handheld shower combo are present and the water pressure was weak. The shower amenities were from Fresh Skin Lab. These were alright, much better than anything I've used before actually. 
During my stay, I noticed some minor housekeeping issues. The hotel uses a rubber pen that over time tends to turn sticky due to the sweaty palms of its users. I was horrified to see that both the pens by the table, as well as the one by the bedside, was covered in dust. When I picked it up, it was rather sticky too.
Given that this is a high-touch item, I was a little surprised that they were not being replaced when a new guest checks into the room.
Next was a mysterious white powder that was found under the work desk. Upon seeing this, I immediately wiped it off with some anti-bacterial wipes. This powder was much more obvious to the eye than through the lens. 
The hotel uses Frette linen for its towels and bedsheets and the bedsheets here were among the silkiest I've ever experienced in a hotel. While having a nap, my foot brushed against something weird and I freaked out for a second, only to realize that it was just some ghetto patchwork.
For some reason, housekeeping had decided to sew back a torn bedsheet and have it reused in the guest rooms. This definitely isn't something that should have happened at any hotel. 
On a more positive note, I dropped a note to the hotel mentioning that this stay was for a special occasion and they very generously sent up a cake. This was the largest amenity that I have ever received in all my past hotel stays. I believe it was a blueberry cheesecake and it was delicious. 
WiFi at the hotel is free for all hotel guests and the speeds were a respectable 11.1 Mbps down and 21 Mbps up. 
🌐Hotel Wi-Fi Speeds
Hotel
🔽Down
🔼 Up

Mandarin Orchard

273 Mbps

294 Mbps

Villa Samadhi

62 Mbps

53 Mbps

M Social Singapore

46 Mbps

49 Mbps

Conrad Centennial

40 Mbps

44 Mbps

YOTELAir Changi

29 Mbps

49 Mbps

W Sentosa Cove

34 Mbps

34 Mbps

Ascott Orchard

29 Mbps

29 Mbps

Duxton Reserve

28 Mbps

29 Mbps

PARKROYAL Beach Road

28 Mbps

29 Mbps

Mandarin Oriental

28 Mbps

28 Mbps

The Fullerton Hotel

23 Mbps

24 Mbps

PARKROYAL Pickering

24 Mbps

23 Mbps

Oakwood Premier AMTD

20 Mbps

20 Mbps

Shangri-La Singapore

19 Mbps

18 Mbps

Pan Pacific Singapore

19 Mbps

19 Mbps

Dusit Thani Laguna Singapore

19 Mbps

19 Mbps

InterContinental Bugis

15 Mbps

15 Mbps

The Capitol Kempinski Hotel

16 Mbps

13 Mbps

Grand Hyatt Singapore

14 Mbps

13 Mbps

Hilton Singapore

13 Mbps

14 Mbps

One Farrer Hotel
11 Mbps
21 Mbps

Marina Bay Sands

11 Mbps

11 Mbps

The Clan Hotel

9.6 Mbps

9.6 Mbps

Andaz Singapore

8.0 Mbps

9.5 Mbps

Four Seasons Singapore

6.7 Mbps

9.8 Mbps

The Barracks Hotel

7.3 Mbps

7.7 Mbps

Hotel 81 Tristar

7.0 Mbps

6.8 Mbps

Raffles Hotel

6.9 Mbps

6.8 Mbps

Hotel Soloha

4.7 Mbps

5.1 Mbps

Hotel G Singapore

4.4 Mbps

4.8 Mbps

Internet speeds based on Speedtest.net scores
One Farrer Hotel: Facilities
| | | |
| --- | --- | --- |
| Pool | Gym | Spa |
| Yes: 7 a.m to 10 p.m | Yes: 24h | Yes: 10 a.m to 9 p.m |
| Kids' Club | Business Centre | Others |
| No | No | No |
At One Farrer Hotel, no pre-booking of pool slots is required but the maximum capacity of the pool at any one time is 16 people. During my stay, the gym was closed due to Phase 2 HA restrictions but when the gym was open, it was opened 24 hours daily.
There is also supposedly an onsen/jacuzzi within the spa area that's available for all hotel guests but I was not informed about this at check-in. 
Swimming Pool
One Farrer Hotel has two swimming pools: the main pool on level 6, as well as a pool exclusively for guests with Skyline benefits on level 18. During my stay, the Skyline pool was closed as level 18 was off-limits to staycation guests.
The main swimming pool of the hotel is opened daily from 7 a.m to 10 p.m and no pre-booking was required. Capacity was capped at 16 persons at a time but during my visit, the pool was empty.
The main pool was quite a far walk from the lift lobby. Upon exiting the lift, you'd have to walk down a long corridor before being reaching the entrance to the pool area.
The pool was a 50m long lap pool and had sufficient deck chairs given the current capacity limit. There was strangely no one by the pool to issue towels and to monitor the guest numbers. 
Gym
At One Farrer Hotel, there are two gyms available for guests. The main gym on level 6, as well as another gym exclusively for guests with Skyline benefits. The Skyline gym is located on level 19 of the hotel and from the peeks that I managed to get, is a much smaller gym compared to the main gym.
Both the main gym and the Skyline gym was opened 24h daily before Phase 2 HA restrictions kicked in. The main gym looks well equipped and even had a Smith machine. 
I did not manage to get a good picture of the Skyline gym as it was closed but if you want a serious workout, the main gym looks much better. 
Spa
The spa at One Farrer Hotel is currently operated by Adeva spa, which I believe is the same Adeva spa that Amex Platinum members had a complimentary massage at before Amex devalued the vouchers. 
In-house guests are able to enjoy a preferential rate of S$48 nett for a 30-minute massage or S$88 nett for a 60-minute massage for stays on Monday to Friday between 11 a.m and 5 p.m. 
After my stay, I chanced upon a staycation review where it says that there is actually a jacuzzi/onsen that's available to hotel guests at no extra charge inside the Adeva spa. This facility was not communicated to me at check-in and on the website, there is no mention of this as well.
One Farrer Hotel: Breakfast
Served at
Cost
Style

In-Room

N.A

Bento Box

Hours
Sparkling Wine?
Discounts?
7 a.m – 9 a.m
9 a.m – 11 a.m

No

No
As I was staying during Phase 2 HA, breakfast was served in-room for guests who had booked a rate with breakfast. If your room rate does not have breakfast included, there are plenty of food choices nearby with City Square mall located just a 5-minute walk from the hotel. 
When dining-in was allowed breakfast was served at Escape, and at the Skyline Lounge for guests with Skyline Lounge access. From YouTube reviews I've watched and a review from Shanescape, breakfast was done a la carte buffet style when dining in was allowed. 
During check-in, you'll be asked for your preferred timeslots for the delivery of your bento set breakfast to your room. There is no fixed menu available here and the choices vary daily. If you have any dietary requirements, it's best to inform the front desk staff during check-in. For the big eaters, just ring up the operator and they might be able to provide you with an additional bento set.
The breakfast set that was provided was quite substantial, consisting of a small salad, cut fruits, a cup of plain yogurt, some pastries, and the main course. An overly sweet mango nectar was also provided that morning. Coffee, tea, and juices are not provided by default but these can be requested.
The presentation of breakfast isn't the most glamourous out there, especially since some hotels are serving breakfast in-room on proper plates. If you mentally plated these items, it actually looks alright. The poached eggs were perfectly poached and still warm when they arrived but were sadly lacking any seasoning. No salt and pepper sachets were provided. 
The breakfast sausages tasted like what you'd expect at a hotel breakfast with the ham being of acceptable quality. The half slice of white bread sitting below the poached eggs felt very out of place and an English muffin would have helped a ton with the presentation. 
The pastries were forgettable as they arrived limp and cold. I did not have the salad as I'm not one who eats his greens at breakfast.
I managed to request for an additional set of the vegetarian option (for research) and this was what was served that day: 
Everything arrived warm and the onion rings and hashbrowns were still crispy. The baked beans were the canned variant, as with most if not all baked beans at hotel breakfasts. For some reason, the pastries got swapped out for two slices of wholemeal bread. Much healthy. I really enjoyed having onion rings for breakfast although the choice of onion rings at breakfast might have caused the eyebrows of all the doctors downstairs to twitch incessantly.
I also managed to get a cup of coffee and orange juice when I called to ask if the hotel could send up an extra vegetarian set. The black coffee was brewed nicely but sadly the orange juice was the boxed kind.  
This style of in-room breakfast produces a ton of plastic waste. I'm no Greta but the amount of plastic that was used for in-room breakfast daily makes me sligtly uncomfortable.  I tried my best to separate the food waste from the plastic containers and hopefully, the hotel has some recycling initiative for the plastic waste generated from this. 
One Farrer Hotel: Other Dining Options
| | |
| --- | --- |
| Restaurant | Opening Hours |
| Escape | 11.30 a.m – 9.30 p.m |
| Socieaty by Les Amis Group | 11.00 a.m – 8.30 p.m |
| Sunset Bar | Closed during P2 (HA) |
| Nest at One Farrer | Closed during P2 (HA) |
Escape 
Escape used to be located in the hotel's lobby but has since moved up to level 6 beside the pool. When dining in was allowed, breakfast was served here and this is the hotel's buffet restaurant. 
Although dining in is currently prohibited until 13 June 2021 for now, Escape remains open for takeaways. Escape is offering a drive-thru takeaway ordering system where the food will be brought down to the driveway for collection. 
Socieaty by Les Amis Group
Socieaty by Les Amis Group is a new addition to One Farrer Hotel. Taking over the restaurant area where Escape used to be, it now houses several dining concepts from the Les Amis Group under one roof. 
I think this is the first of its kind in Singapore where you have food from multiple restaurant brands all in one place. 
Nest at One Farrer
Nest at One Farrer is the hotel's private dining restaurant. From the menu , you can book a suite of your choice for the meal period for the private dining experience. Nest at One Farrer is currently closed due to the restrictions on dining in. 
Choices range from a 3-course meal that starts at S$78++ for one person up to a 5-course meal that costs up to S$188++ per person. 
Here's a sample menu for the Deluxe Package:
One Farrer Hotel: Service
From the limited interactions that I had, the staff at One Farrer Hotel were great. As mentioned earlier in the breakfast section, when I requested an additional set of the vegetarian bento set it was almost 9 a.m but the hotel gladly obliged my request and brought it to my room just 30-minutes later. I was half expecting my request to be rejected as each guest is only entitled to one bento set for breakfast. 
When I sent the hotel feedback on the cleanliness lapses, as well as some compliments for the breakfast request, the hotel replied with an apology and actually invited me back to the hotel for a stay as service recovery.
Concluding Thoughts
A staycation in the midst of Phase 2 HA is definitely a watered-down experience for most. As I do not really make use of the hotel's facilities on staycations, or even when on holidays, this did not really affect me that much except when it came to breakfast.
With the swimming pool being the only hotel facility you can make use of, plus the limit on two for social gatherings, I highly recommend postponing your staycations until dining out is allowed unless your idea of a staycation is to spend the entire day in the room. 
One Farrer's location isn't the best compared to other popular staycation hotels in Singapore, and the hospital vibe may not be for everyone. However, I won't strike it off completely as a staycation option due to its affordable price tag and proximity to good food. When dining in resumes, I'm actually pretty excited to revisit the hotel to check out its Skyline lounge offerings. 
🏨 In Summary
If you're looking for a staycation hotel that's close to good food, One Farrer Hotel might be an option you'd want to consider given its affordable price tag. 
Do say: The room feels so sterile- which is a good thing.
Don't say: If I pass out from too much alcohol, at least the doctors are just downstairs