Introduction: It's the most wonderful time of the year
A Tale of Two Lounges: SATS Premier T2 and the Qantas SIN Lounge
Malaysia Airlines B737 Business Class SIN-KUL
Malaysia Airlines Business Class Golden Lounge KUL
Malaysia Airlines A330  Business Class KUL-NRT
Japan Airlines Business Class Sakura Lounge NRT
Japan Airlines B77W Business Class NRT-LAX
The Westin LAX
The Westin Westminster
Aloft Boston Seaport
The Consolidated AA Domestic First Class Experience
American Airlines Flagship Lounge JFK
American Airlines B772 Business Class JFK-LHR
American Airlines Arrivals Lounge LHR
The Great Northern Hotel, London
Sheraton Grand Park Lane, London
Westin Paris Vendome
Courtyard by Marriott Madrid Princesa
Four Points by Sheraton Barcelona Diagonal
The Consolidated Intra-Europe Business Class Experience
Sheraton Casablanca
Royal Air Maroc Business Class Lounge CMN
Royal Air Maroc B737 Business Class CMN-ACC
Ethiopian Airlines B787 Business Class ACC-ADD
Ethiopian Airlines Cloud 9 Business Class Lounge ADD
Ethiopian Airlines Q400 Business Class ADD-DAR
Protea Hotel by Marriott Dar Es Salaam Courtyard
Qatar Airways A320 Business Class DAR-DOH
Qatar Airways Al Safwa First Class Lounge DOH
Qatar Airways A330 "First" Class DOH-MCT
Oman Air Business Class Lounge, MCT
Oman Air E175 Business Class MCT-DXB
The Grosvenor House Dubai
W Doha
Qatar Airways Business Class Lounge DOH
Qatar Airways B772 Business Class DOH-BLR
The Ritz Carlton Bangalore
Vistara A320 Business Class BLR-DEL
Cathay Pacific A330 Business Class DEL-HKG
Cathay Pacific Arrivals Lounge HKG
W Hong Kong
Touring Cathay Pacific's HKG Lounges
Cathay Pacific A350 Business Class HKG-SIN
---
After the double tragedies of MH17 and MH370, Malaysia Airlines tapped Christoph Muller to turn around the fortunes of the company. Muller, the then-CEO of Aer Lingus who had revived the struggling airline, was appointed CEO in May 2015.
Muller went about initiating a raft of changes at MAS. He laid off 30% of the MAS workforce, retired their entire fleet of 777s, dissolved the parent company and transferred all assets to a new one and announced a new partnership with Emirates to tompang their long haul routes
Unfortunately, the changes he made weren't too popular and led to his resignation (slash forcing out) in April 2016, barely a year after taking the helm.
But Muller's legacy at the company lives on through its new business class product. In November 2015, Muller decided to replace the A330's angled flat beds in favor of "a world-class leading lie-flat seat… positioned above the industry standard for business class."
Now, whether or not the new seat is truly world class is up for debate, but it's undoubtedly better than the old one. And it made sense, given that with the retirements of the 777s and the A380s  (well, as soon as they can find a buyer that is) from MAS's fleet, the A330s would now become the de facto flagships.
The first of these refurbished A330 aircraft was delivered in April 2016, with the other 14 refitted by September 2016, incredibly fast by any airline's standards.
The press photos for these new seat look great, but how do they hold up in real life? And how good is the overall MAS inflight experience? After my extremely underwhelming lounge experience, I was hoping the onboard service could salvage things.
MAS's new A330 business class cabin is a 1-2-1 configuration in some rows and a 2-2-2 configuration in others. Confused? You might be if you looked at the seatmap on MAS, which seems to show 1-2-2 in all rows
Seatguru's map is more useful in this respect, as it shows exactly which rows are 1-2-1 and which are 2-2-2
You can see that the really desirable seats are 1K, 4K and 6K as these are throne style seats with double armrests and a lot of space. Failing which, any of the A seats are alright choices, with the ones in even rows offering more privacy as the armrest is on the aisle side. The seats you don't want to get are the H and K ones in rows 2, 4 and 7 because you'll not have a lot of private space from your neighbour.
I had snagged 4K a month or so ago, and when boarding was called rushed down the jetway to get shots of the empty cabin.
My seat 4K. Well actually this was 6K. In my giddy enthusiasm I overshot my seat by 2 rows. But you can see the throne configuration here, with ample space to your left and right. Also note the 2 seats together behind 6K, with the window seat lacking direct aisle access. Perhaps those seats are better for couples travelling together, but solo travellers beware.
Now here is 4K proper.
The seat is surprisingly narrow for a 1-2-1 configuration, but like I mentioned you have a lot of storage space.
Here's a reverse shot of the 2 seats together. I'm glad the designers didn't go with Lufthansa's footsie style seating. Here your legs go firmly into their own compartment, as do your seatmate's.
There is ample legroom, but do note that the throne seat gets narrow towards the front. You can see the tight squeeze here.
Seat controls were on the side panel and straightforward enough. There's a massage function if you're into that sort of thing.
There was also a second set of seat controls in your armrest.
Full view of the side panel, showing the reading light plus mesh storage space. Also note the USB charging port and the IFE remote.
Each seat has in-seat power
And numerous nooks and crannies to put your stuff. Unfortunately not all said nooks and crannies were clean. There was some gunk at the bottom of this one, for instance
There's a side panel with more storage and a mirror.
A storage bin in the shoulder of your seat
And even a small one beneath the TV. What this one was for I have no idea.
MAS has a very nice amenities kit in business class, by Porsche Design.
The amenities kit has something that I think all amenities should have but very few do: hand sanitizer. The hypochondriac in me can't stand to touch anything in the plane without cleaning my hands, and although I always bring a bottle with me it never hurts to have more.
Other treats include mouthwash, a toothbrush kit, socks, eye shades, lip balm and moisturizer. Surprisingly earplugs are not included, but these are available on request from the crew.
Although MAS has upgraded its amenities kit, it sadly has ignored the headphones. The plasticky set provided were woeful at best. You're better off using your own.
The crew were generally friendly and addressed all passengers by name, which should be the standard in business class but unfortunately isn't on a lot of airlines (SQ is by far the most consistent in getting their crews to memorize passenger names)
After takeoff they came around to distribute menus. There were separate ones for drinks and food.
MAS's meal service on this flight made no sense to me. Satay would be served after take off, then before arrival breakfast would be served. Given the total flight time on this red-eye flight was about 6.5 hours, it seemed nonsensical to cut into passenger rest like this. Why not do a chop chop meal service after takeoff and leave the passengers undisturbed until descent? Or go lights off immediately after take off and wake passengers before arrival for breakfast? With this arrangement, you'd be disturbing passengers twice on what was already a short-ish flight.
The crew came around to serve drinks before satay. I had a glass of Duval Leroy, not my favourite brand of champagne (he said, like he could tell the difference). MAS used to serve Cattier champagne, but both these brands are generally low end. I believe I've seen Duval Leroy as low as $49 on sale in Singapore.
And the food? Well, having heard so much about the famous satay, I have to say I was disappointed.
The meat itself (beef and chicken) wasn't bad. Nice char and tender still on the inside. The peanut sauce was watery beyond belief.
Since they weren't serving the Before Landing meal until, well, before landing, they came around to offer items from the snack menu. I had a bowl of noodles, which is basically instant noodles with some garnishing.
It was well into the second hour of the flight before they finished everything, and I made a beeline for the loo to brush my teeth before sleeping.
The loo has Acca Kappa toiletries, for those of you who care about that kind of thing.
I returned to my seat and put it into bed mode for the night. The seat, as you'd expect, is full flat.
A passing crewmember helped me put the bedsheet on the seat, which made the bed look a bit nicer.
I slept just fine on the seat but people with big feet (and we all know what that means) may find the cubby hole a tight squeeze. I sleep on my back for what it's worth, and although you definitely get aware of the confined space if you try to wriggle your feet, it didn't bother me too much.
I was woken by the crew about an hour before landing. Before going to bed, the crew asked me if I wanted to be woken for breakfast and I told them as late as possible please. I'm glad they remembered my request, because sleep on this flight was already at a premium. I think the rest of the cabin was woken up 90 mins prior.
Fruit was served first.
Where the main course was concerned, Malaysia Airlines has their own version of Book the Cook that they call Chef on Call.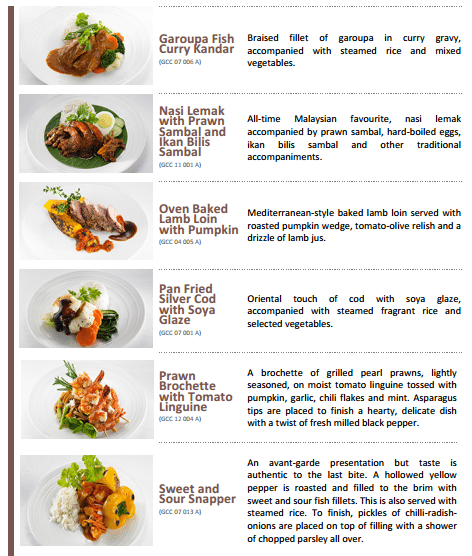 However, none of the options looked particularly attractive to me, so I didn't bother pre-ordering. For what it's worth, my colleague pre-ordered the cod and said it was terrible.
I went with the Japanese option of miso salmon, rice and veggies. It wasn't good. The rice was mush (it is possible to do good rice on airplanes. When you read my JAL trip report you'll understand how amazing rice can be) and the veggies were mush.
Before landing I got hit by one of my sneezing fits. I asked the crew for some tissues and they obliged by bringing me the whole box. Make all the kleenex jokes you want, but I appreciate the generosity. This is the equivalent of the flight attendant giving you the full can.
We landed slightly late in Narita and the crew thanked us for joining them today.
So- overall thoughts. MAS's new hard product is definitely competitive, but not market leading (1-2-1 all aisle access is still the gold standard). These days, a flat bed in J is the bare minimum requirement for any red-eye flight, and at least MAS now has that across its A330 fleet (c/f SQ which is still going angled flat on regional routes).
The crew were great, friendly and knew their stuff, but unfortunately the standard of the catering left a lot to be desired.
Malaysia Airlines does frequent fare deals where you can get great business class fares (Tokyo for S$1,070 round trip J anyone?), so keep your eyes peeled for future sales.