Introduction: It's the most wonderful time of the year
A Tale of Two Lounges: SATS Premier T2 and the Qantas SIN Lounge
Malaysia Airlines B737 Business Class SIN-KUL
Malaysia Airlines Business Class Golden Lounge KUL
Malaysia Airlines A330  Business Class KUL-NRT
Japan Airlines Business Class Sakura Lounge NRT
Japan Airlines B77W Business Class NRT-LAX
The Westin LAX
The Westin Westminster
Aloft Boston Seaport
The Consolidated AA Domestic First Class Experience
American Airlines Flagship Lounge JFK
American Airlines B772 Business Class JFK-LHR
American Airlines Arrivals Lounge LHR
The Great Northern Hotel, London
Sheraton Grand Park Lane, London
Westin Paris Vendome
Courtyard by Marriott Madrid Princesa
Four Points by Sheraton Barcelona Diagonal
The Consolidated Intra-Europe Business Class Experience
Sheraton Casablanca
Royal Air Maroc Business Class Lounge CMN
Royal Air Maroc B737 Business Class CMN-ACC
Ethiopian Airlines B787 Business Class ACC-ADD
Ethiopian Airlines Cloud 9 Business Class Lounge ADD
Ethiopian Airlines Q400 Business Class ADD-DAR
Protea Hotel by Marriott Dar Es Salaam Courtyard
Qatar Airways A320 Business Class DAR-DOH
Qatar Airways Al Safwa First Class Lounge DOH
Qatar Airways A330 "First" Class DOH-MCT
Oman Air Business Class Lounge, MCT
Oman Air E175 Business Class MCT-DXB
The Grosvenor House Dubai
W Doha
Qatar Airways Business Class Lounge DOH
Qatar Airways B772 Business Class DOH-BLR
The Ritz Carlton Bangalore
Vistara A320 Business Class BLR-DEL
Cathay Pacific A330 Business Class DEL-HKG
Cathay Pacific Arrivals Lounge HKG
W Hong Kong
Touring Cathay Pacific's HKG Lounges
Cathay Pacific A350 Business Class HKG-SIN
---
Ah, Casablanca. You know, it's nowhere as romantic as the movies will have you believe. Before I came to Morocco, Casablanca to me was Humphrey Bogart, Ingrid Bergman and a kiss is not a kiss. And then I went, and realised it was more decaying industrial city, taxi drivers who call you "my friend" (protip: when travelling, anyone who says "my friend" is not your friend) and a heck of a lot of tajines.
Casablanca is far from my favourite place in Morocco (that honor would probably go to Marrakesh), but it is the business centre of the country. So that's how I found myself at the Sheraton Casablanca, the template definition of a Sheraton hotel.
This wasn't my first time at the property- I had visited a couple of times in the past and remembered there was a Japanese restaurant where they cooked everything in butter, a nightclub full of women of ill-repute, and an executive lounge that didn't have anything inside (more on that later). And yet, I still chose it over the much superior Sofitel, simply because it was part of SPG. See what loyalty does to your decision making?
So, where do I begin? The lobby was, well, it had Sheraton written all over it. Cold, marble floors, the unmistakable concrete and sharp edges of brutalist architecture and lighting that made it feel like constant twilight.
The lobby water feature failed to convey the sense of peace and calm it was presumably put there to do. Instead, the water sat stale and fetid, and probably breeding mosquitoes.
In theory there was a separate check-in area for Platinum members but never in my four visits to this hotel has it been staffed.
So I had to check in at the counter like an animal. Woe. On the plus side, the check-in associate was as cheerful as he could be for past midnight.
The previous few times I'd stayed here, I was upgraded to ridiculously large suites. Like, a room that had a separate dining room, three loos, kitchen, living room and two walk in closets or something like that. No such luck this time, even for a one night stay. I did however get both the 500 points and complimentary breakfast in the hotel restaurant.
The lift was…well it wasn't bling. It was gold and shiny but I wouldn't call it bling. The gold paint was tarnished and chipped in parts, and the mixture of French and Arabic engraved on the button plates made me think they really didn't intend to renovate anytime soon.
The corridors and lift landings conveyed, or at least tried to convey, similar illusions of grandeur. And yet, still fell short somehow.
Dark, gloomy corridors with old worn out carpeting that was strangely mushy in some areas.
Random pictures in the corridors advertised a spa, but my understanding from colleagues who had visited before was that this spa offered conclusions of the joyous variety, so I did not partake.
My room had wooden flooring instead of carpet, a fact for which I was thankful.
The more trip reports I write, the more I realise the average hotel room really isn't worth writing about. I mean, photos are great and all, but such is the cookie cutter nature of chain hotels that you're not going to find anything out of the ordinary. The room will be clean (to the naked eye at least), it will have fresh sheets (one hopes), and it will not be retained in your long-term memory. The Sheraton Casablanca was no exception.
The bed is a Sheraton sweet sleeper, which can't measure up to a Westin bed but is still comfortable enough.
There were a few free bottles of water and unripe fruit on the bedside.
I struggle to find something interesting to point out about the room, so I shall show you photos of exotic potato chips and nuts.
And a workdesk with, erm, a chair!
Obligatory bathroom pics. Marble walls, dirty shower curtain, adequate counter space.
Bonus points for attempted symmetry in crapper room.
Breaking news is that Sheraton is finally revamping its in-house toiletries. Yes, you read that right. The "Shine" brand is on the way out, to be replaced by "Le Grand Bain"
What do they look like? Here's something that Google image search threw up. I'm still not won over, but what do I know about toiletries anyway.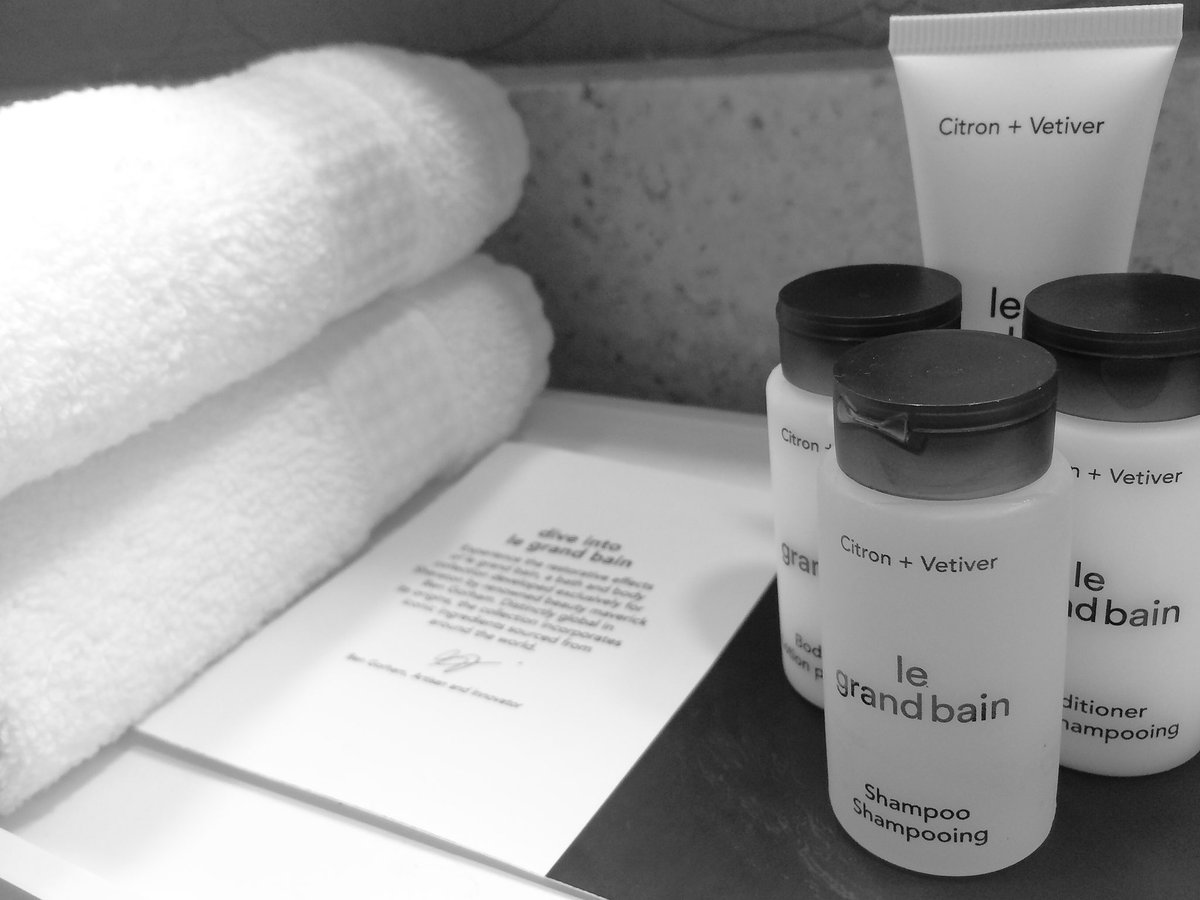 I mentioned that the Executive Lounge was kind of weird and it still is, because I've hung out there the whole day in the past and they never did any happy hour, cocktails, breakfast, no nothing. The room seems to be for work and work only.
I mean, it's probably got the most natural light of the whole hotel, and it's clearly set up for F&B, so I'm confused as to why I never saw another soul inside.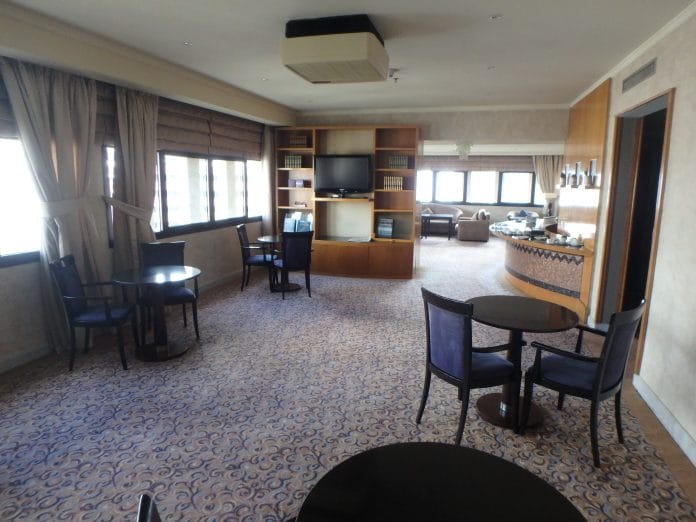 But the coffee machine capsules kept getting replenished throughout the day. Twilight Zone stuff, really.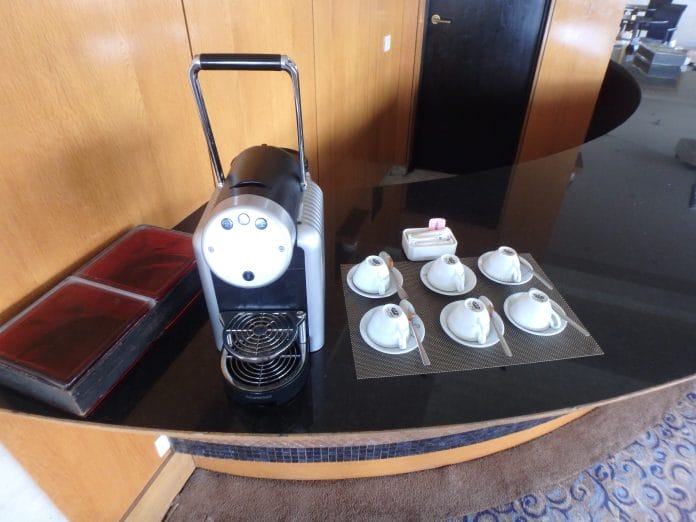 Breakfast is served at the Dafra restaurant on the 3rd floor.
Be warned that the level of English at the hotel is quite low (but I will hazard that their English is better than my French), so there were some exquisite communication difficulties at the egg station. The chef didn't understand what sunny side up eggs were, nor fried, nor over easy, until some nice businessman took pity on me and helped me order in French.
Fortunately the rest of the food did not require French language skills. Unfortunately, it was really so-so.
I will say that at least the restaurant got a lot of natural light, which was a welcome change from the lobby.
The restaurant also overlooks the pool, which I did not use.
I mentioned the Sofitel Casablanca at the start of this post and I think it's useful to bring it in again just for context- here's where I could have stayed if loyalty weren't an issue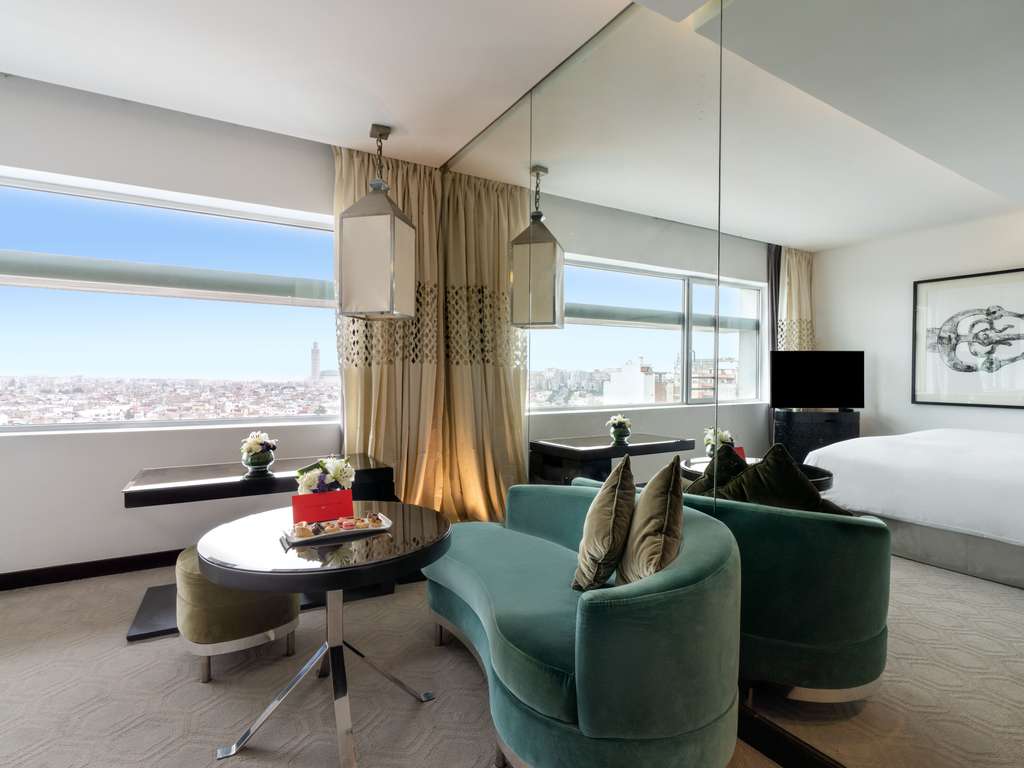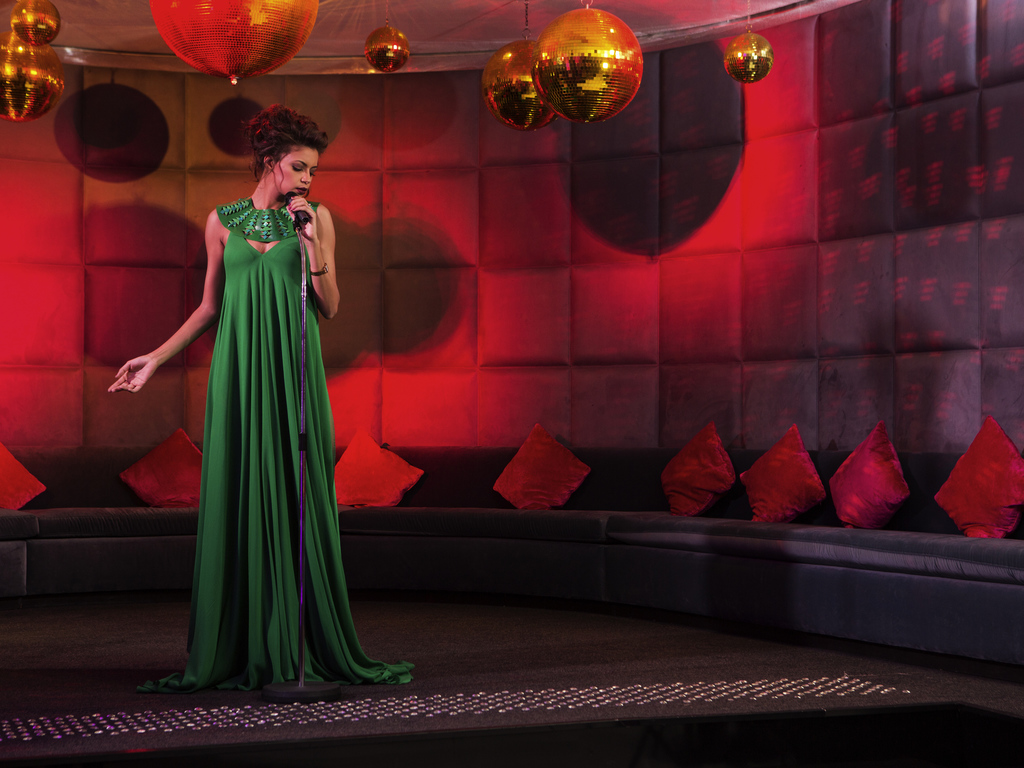 It's clearly a much, much superior property to the Sheraton, but that's loyalty for you.
One last point- the hotel offers a prepaid taxi service to the airport, but I'd recommend arranging your own. Their service basically involves hailing a guy down from outside with one of those special vans. Despite being told it was an a/c van, the a/c was never switched on, the dude smoked the whole time and conveniently forgot whatever English he knew when I asked him to stop.
The next stop for me after Casablanca was Accra, but before that I'd have a chance to take a flight with Royal Air Maroc.