Introduction: It's the most wonderful time of the year
A Tale of Two Lounges: SATS Premier T2 and the Qantas SIN Lounge
Malaysia Airlines B737 Business Class SIN-KUL
Malaysia Airlines Business Class Golden Lounge KUL
Malaysia Airlines A330  Business Class KUL-NRT
Japan Airlines Business Class Sakura Lounge NRT
Japan Airlines B77W Business Class NRT-LAX
The Westin LAX
The Westin Westminster
Aloft Boston Seaport
The Consolidated AA Domestic First Class Experience
American Airlines Flagship Lounge JFK
American Airlines B772 Business Class JFK-LHR
American Airlines Arrivals Lounge LHR
The Great Northern Hotel, London
Sheraton Grand Park Lane, London
Westin Paris Vendome
Courtyard by Marriott Madrid Princesa
Four Points by Sheraton Barcelona Diagonal
The Consolidated Intra-Europe Business Class Experience
Sheraton Casablanca
Royal Air Maroc Business Class Lounge CMN
Royal Air Maroc B737 Business Class CMN-ACC
Ethiopian Airlines B787 Business Class ACC-ADD
Ethiopian Airlines Cloud 9 Business Class Lounge ADD
Ethiopian Airlines Q400 Business Class ADD-DAR
Protea Hotel by Marriott Dar Es Salaam Courtyard
Qatar Airways A320 Business Class DAR-DOH
Qatar Airways Al Safwa First Class Lounge DOH
Qatar Airways A330 "First" Class DOH-MCT
Oman Air Business Class Lounge, MCT
Oman Air E175 Business Class MCT-DXB
The Grosvenor House Dubai
W Doha
Qatar Airways Business Class Lounge DOH
Qatar Airways B772 Business Class DOH-BLR
The Ritz Carlton Bangalore
Vistara A320 Business Class BLR-DEL
Cathay Pacific A330 Business Class DEL-HKG
Cathay Pacific Arrivals Lounge HKG
W Hong Kong
Touring Cathay Pacific's HKG Lounges
Cathay Pacific A350 Business Class HKG-SIN
---
Marriott doesn't have a big footprint in Africa, which is why the acquisition of the Protea chain in 2014 was seen as a great way of making inroads on the continent. Protea had 116 hotels with more than 10,000 rooms across Africa at the time of acquisition, and the deal allowed white guy Arne Sorenson to make some awkward PR comments
Arne Sorenson, Marriott International's president and chief executive officer, said, "Today marks a new beginning.  We can now officially say 'molweni!' (Xhosa), 'sawubona!' (Zulu) and 'hello!'  to South Africa and 'welcome!' to our approximately 15,000 new associates at both managed and franchised hotels across Protea's portfolio.
Whatever you say, imperialist oppressor.
I have decidedly mixed feelings about the Starwood Marriott merger, but one of the good things that has come out of it is undoubtedly the expanded footprint. Starwood, for example, has no properties in Tanzania. Marriott has four, three of which are in Dar. There was an ongoing Marriott points bonus for every new brand you tried, so staying at the Protea was a no-brainer.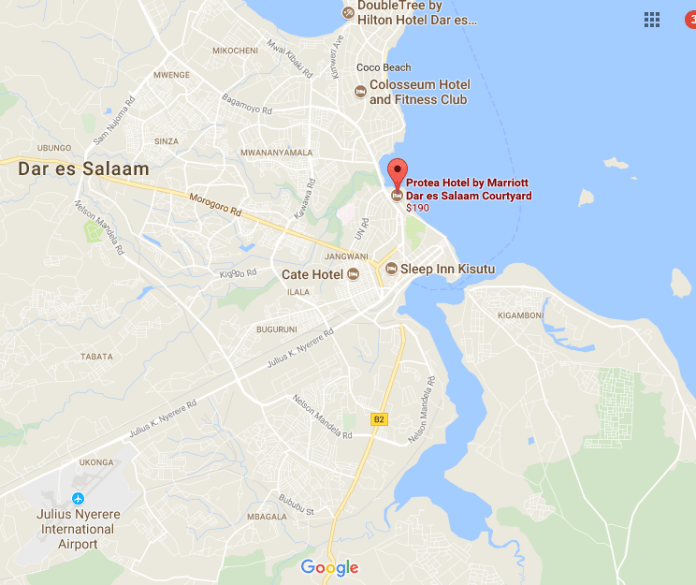 I picked the Protea nearest to the coast, in the vain hope that I'd actually have time to see the beach. As it turned out I was in the to do only the 3 Ss- sleep, shave and, er, send emails, so location wasn't that important. That said, if any of you intend to visit Dar let me warn you that traffic will be unlike anything you've seen before, and this from a guy who lived in Bombay. It's a straight road to the airport, and on paper it's a 35 minute journey. In reality though, it's about 2 hours, complete with loud construction, stuffy, no a/c vehicles, and random jams that pop up for no rhyme or reason. Be warned.
The Protea is a relative haven from all that, located off a busy main road in a quieter part of the city.
The hotel itself is quite storied, as this display at the entrance attests to.
First impressions- the lobby was well lit and pleasant, with natural light and stained glass ceiling lights plus windows. There was a lot of seating but no one really around at the time we checked in. We later learned there was a conference in the hotel though and it was booked solid.
There was some difficulty with my reservation because I was originally scheduled to check in the day before, but a month ago modified my reservation to move the check in one day later. Apparently, IT integration between Marriott and Protea hasn't been high on the to-do list, as the update didn't reflect on Protea's side and I had been flagged as a no show the previous day. Once I showed the staff my confirmation email from Marriott acknowledging the date change, however, they were able to restore everything after about 15 minutes.
As a Platinum member I was given a form with a choice of either a welcome drink and snack or 250 Marriott Rewards points. 250 points isn't a lot in the grand scheme of things (it's 83 SPG points), but I'd much rather have that than "African Passion" wine.
The building is arranged, as the name of the property suggests, around a courtyard. All the rooms face in towards the pool. I was worried this would mean a lot of noise, but the pool was hardly used on account of the mozzie problem, which I'll get to in a bit.
My room was on the ground floor, and apparently I'd been upgraded to a bigger one because when I stepped in the first thing I saw was a separate living room and seating area.
The floor plan confirmed my suspicions of superiority.
Beyond that the room opened out into the bedroom, with a four post bed and working desk.
The working desk had a very pretty stained glass lamp. There was no lack of stained glass on this property
The bed itself was comfortable enough, but the mattress was quite thin. There was also a lot of dust on the wooden frame that triggered my allergies.
And the bedside lamp was, well, you know the drill by now.
Just before you get to the bathroom there's a ledge for storing your luggage and a minibar.
The coffee selection was instant coffee, no fancy Nespresso machines here.
The fridge had your usual assortment of water, beers and soft drinks in glass bottles. I'm sure there's a reason for it, but I haven't figured out why in the developed world you hardly see glass bottle soda.
A knock on the door came a few minutes later and a fruit plate was delivered, with compliments of management.
The bathroom was basic but clean. Both a shower and a tub were available, and the sink had a good amount of counter space.
The water pressure in the shower was good, and a welcome relief from the places I'd been in the past few days. I didn't think it worth of a trip report but prior to this I was in Morogoro, a smaller city outside of Dar Es Salaam that needed a 5 hour car ride to reach and where the accommodation was, shall we say, more basic.
The amenities weren't fancy or worth raiding the housekeeping cart for
Now, a few words about the mozzie situation. I knew coming in that I'd have to be on my guard against mosquito-borne diseases and had various prophylactic measures in place. But these Tanzanian mosquitoes were something else altogether. You don't even notice they're there because they don't seem to have the buzz in your ear habit that our South East Asian mosquitoes do, but man, do you realise they're there after a while when your whole body gets itchy. Such was my experience when trying to sleep. I felt very triumphant for killing one just before going to bed, thinking: what are the odds there's more than one?
Well, quite good apparently because I then realised housekeeping had left my window open ever so slightly and that was funneling the bloodsuckers in. By then I was sure my room had many carbon dioxide hunting monsters in it, and no amount of Off would deter them.
I called the front desk and they helped set up a mosquito net around the bed. The whole process took about 30 minutes and a lot of hammering- they had to remove the top of the bed, pry a lot of nails loose and dangle the webbing from a hook on the ceiling. This ended up dislodging more dust and giving me sneezing fits throughout the night (delicate flower that I am), but at least it solved the mozzie problem.
I love mosquito nets because they make me feel invincible. I guess that's sort of the visceral thrill people get by getting up close to a lion with just a thin layer of glass between the two of you. I do think that given the mosquito situation these nets should have been installed as standard in all rooms, but maybe that would have alarmed customers. I managed to sleep properly after the net was put in place.
Breakfast is served in the only restaurant in the hotel. It was complimentary for Platinum members.
The hotel has both indoor and outdoor seating. Outdoor seating is by the pool, and fortunately the mosquitoes don't bite during the day.
The buffet spread is very strongly Western focused. There were baked beans, bacon, tomatoes, mushrooms and an egg station.
There were some stale pastries (it's amazing how stale can go to delicious with liberal use of a toaster though)
A mixture of jams, raisins, prunes.
A selection of cereals
Yogurt, cheese and cold cuts
A lot of fresh fruit was available.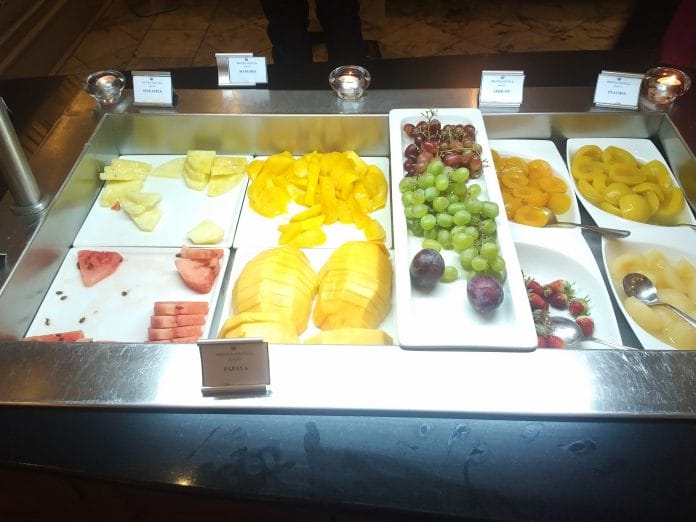 Fresh coconuts were available as well, along with juices.
The egg yolks seemed to be the palest I'd ever seen. It's probably not scientific, but I tend to associate darker, oranger egg yolks with "better for you"
Food quality wasn't outstanding, but then again it seems a bit churlish to complain about something like that when you're in a place like Africa.
Overall, mosquito issues aside the hotel offered a very good quality stay. The staff were friendly (the night manager was particularly apologetic about the mosquitoes) and requests were attended to quickly. Not sure if any of you will ever stay at a Protea hotel, but if given the choice it's a solid option.