Introduction: It's the most wonderful time of the year
A Tale of Two Lounges: SATS Premier T2 and the Qantas SIN Lounge
Malaysia Airlines B737 Business Class SIN-KUL
Malaysia Airlines Business Class Golden Lounge KUL
Malaysia Airlines A330  Business Class KUL-NRT
Japan Airlines Business Class Sakura Lounge NRT
Japan Airlines B77W Business Class NRT-LAX
The Westin LAX
The Westin Westminster
Aloft Boston Seaport
The Consolidated AA Domestic First Class Experience
American Airlines Flagship Lounge JFK
American Airlines B772 Business Class JFK-LHR
American Airlines Arrivals Lounge LHR
The Great Northern Hotel, London
Sheraton Grand Park Lane, London
Westin Paris Vendome
Courtyard by Marriott Madrid Princesa
Four Points by Sheraton Barcelona Diagonal
The Consolidated Intra-Europe Business Class Experience
Sheraton Casablanca
Royal Air Maroc Business Class Lounge CMN
Royal Air Maroc B737 Business Class CMN-ACC
Ethiopian Airlines B787 Business Class ACC-ADD
Ethiopian Airlines Cloud 9 Business Class Lounge ADD
Ethiopian Airlines Q400 Business Class ADD-DAR
Protea Hotel by Marriott Dar Es Salaam Courtyard
Qatar Airways A320 Business Class DAR-DOH
Qatar Airways Al Safwa First Class Lounge DOH
Qatar Airways A330 "First" Class DOH-MCT
Oman Air Business Class Lounge, MCT
Oman Air E175 Business Class MCT-DXB
The Grosvenor House Dubai
W Doha
Qatar Airways Business Class Lounge DOH
Qatar Airways B772 Business Class DOH-BLR
The Ritz Carlton Bangalore
Vistara A320 Business Class BLR-DEL
Cathay Pacific A330 Business Class DEL-HKG
Cathay Pacific Arrivals Lounge HKG
W Hong Kong
Touring Cathay Pacific's HKG Lounges
Cathay Pacific A350 Business Class HKG-SIN
---
There are two Starwood options in Madrid, but both were pricing upwards of 400 euros a night on the nights we were looking at. It's a shame, because I've stayed at the Westin Palace Madrid before and although the building itself is very old, I found the rooms charming and the service excellent (in other words, the opposite of the Westin Paris Vendome).
Moreover, they have an amazing breakfast buffet with a free flow of cava. Who can argue with that?
The next best alternative was to find a Marriott property, because now that SPG and Marriott Rewards accounts are linked, you can transfer points freely between both of them. Also, when the merger of the programs eventually happens your lifetime nights from both programs should roll into one. I do suspect they'll increase the threshold for lifetime qualification though. Good thing I've hit SPG Lifetime Gold!
Marriott's footprint is many times larger than Starwood's, so it wasn't surprising to find an abundance of options
We settled on the Courtyard Madrid Princesa because it was decently located and less than 100 euros a night. The hotel itself is part of a complex that includes a branch of the department store El Cortes Ingles, and there's a big supermarket and all the other conveniences you could ask for.
I didn't have high hopes for this property from reading the reviews on Tripadvisor, but I noted that most of the complaints were about the old rooms and the property had been recently renovated. In fact, if I'm reading this right the previous owners of the property went through some insolvency that ended up with the property under new management- Marriott's. So hopefully this change in management would mark a turnaround.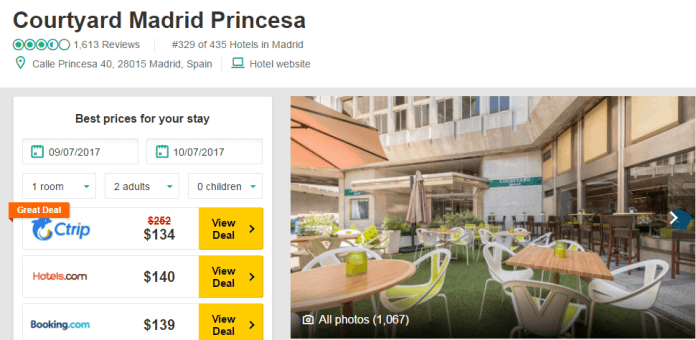 The recent acquisition is evidenced by some elements of the past on the facade, most noticeably the Princesa Hotel sign (which is how most taxi drivers will know this place. BTW, There are hardly any Ubers in Madrid)
When you get around the side to the main entrance, however, you'll see the sign of new management.
The lobby was empty when we arrived in the early evening. I noticed quite a few Japanese tour groups had chosen this hotel.
The lobby also had a lot of seating, the kind that people lounge around in while waiting for tour buses.
Check in was smooth and the front desk told me I'd been "upgraded" to a renovated room on account of my Marriott Platinum status. I'm not sure if that counts as an upgrade, but based on what I read about the old rooms I was thankful nonetheless.
Here's the floor plan-I was assigned to a newly renovated room on the 2nd floor. If you ever stay here, the 01/02 and 23/24 rooms are suites
The new rooms are fairly sizable, if not fairly unimaginative. But they were clean and modern and I really couldn't ask for more. There was a good amount of space infront of the bed.
The bed was on the soft side, which I prefer. I didn't know that Courtyard by Marriott has a brand standard bed, but apparently they do! It's definitely not in the same league as a W or Westin bed, but comfortable nonetheless.
In the corner of the room was a large sized sofa.
I was happy that the room had a large work desk with a comfortable chair for getting work done.
No need to worry about closet space here (Tom Cruise reference?) because there's plenty of it.
The closet had a safe, hairdryer, bathrobe and ironing board.
The minibar was empty, but there was a sticker asking guests to fulfill their snacking needs at the lobby shop. This arrangement makes much more sense to me. For the hotel, it minimizes restocking logistics and pilferage, and for the customer you get plenty of fridge space in which to put your own stuff.
Still on the topic of food- there was a room service menu but it worked European hours. That is, didn't start till 12pm, and finished by 7pm or something like that. Fine, enough cheap shots at the Spaniards, they actually work longer hours than most countries.
Nothing fancy in the bathroom, but as I alluded to in my AA review, there's something classy about a sink that's extruded from the counter surface
There were some mass hospitality brand toiletries available as well.
The shower was the best part of the bathroom. After my experience at the Westin Paris where they couldn't even get reliable hot water, it was amazing to have a shower with proper water pressure.
Free breakfast isn't a standard benefit for Marriott Platinums at Courtyard properties, but we got a 50% off breakfast voucher which reduced the cost of breakfast to 9 euros.
Breakfast is served at the only restaurant in the hotel on the 1st floor.
It wasn't half bad. I mean it definitely was more hearty than gourmet, but at 9 euros I can't complain
You had your usual salad selection
Hot items included eggs (not made to order), bacon, mushrooms, ham, some indeterminable Spanish omelette cake and baked beans
The expected cheeses and cold cuts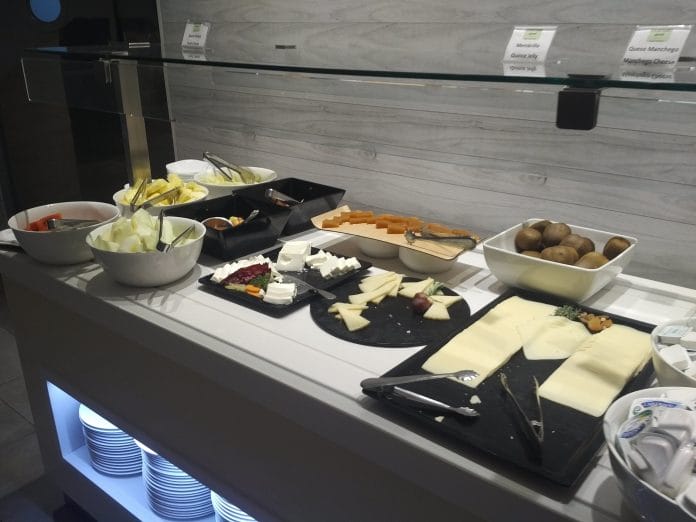 Cereals
Bread selection and a toaster that pretty much incinerated everything you put inside
And an electronic juice dispenser, yogurt and water.
The best thing was that it was melon season. I helped myself to a big plate of ridiculously sweet melon, which would easily give any Japanese muskmelon a run for its money.
So, considering the money paid, this was a very good stay with all you could ask for at a sub 100 euro price point. Madrid probably pales in comparison to Barcelona as a tourist hotspot, but if your travels bring you here you could do far worse than this hotel.