Introduction: It's the most wonderful time of the year
A Tale of Two Lounges: SATS Premier T2 and the Qantas SIN Lounge
Malaysia Airlines B737 Business Class SIN-KUL
Malaysia Airlines Business Class Golden Lounge KUL
Malaysia Airlines A330  Business Class KUL-NRT
Japan Airlines Business Class Sakura Lounge NRT
Japan Airlines B77W Business Class NRT-LAX
The Westin LAX
The Westin Westminster
Aloft Boston Seaport
The Consolidated AA Domestic First Class Experience
American Airlines Flagship Lounge JFK
American Airlines B772 Business Class JFK-LHR
American Airlines Arrivals Lounge LHR
The Great Northern Hotel, London
Sheraton Grand Park Lane, London
Westin Paris Vendome
Courtyard by Marriott Madrid Princesa
Four Points by Sheraton Barcelona Diagonal
The Consolidated Intra-Europe Business Class Experience
Sheraton Casablanca
Royal Air Maroc Business Class Lounge CMN
Royal Air Maroc B737 Business Class CMN-ACC
Ethiopian Airlines B787 Business Class ACC-ADD
Ethiopian Airlines Cloud 9 Business Class Lounge ADD
Ethiopian Airlines Q400 Business Class ADD-DAR
Protea Hotel by Marriott Dar Es Salaam Courtyard
Qatar Airways A320 Business Class DAR-DOH
Qatar Airways Al Safwa First Class Lounge DOH
Qatar Airways A330 "First" Class DOH-MCT
Oman Air Business Class Lounge, MCT
Oman Air E175 Business Class MCT-DXB
The Grosvenor House Dubai
W Doha
Qatar Airways Business Class Lounge DOH
Qatar Airways B772 Business Class DOH-BLR
The Ritz Carlton Bangalore
Vistara A320 Business Class BLR-DEL
Cathay Pacific A330 Business Class DEL-HKG
Cathay Pacific Arrivals Lounge HKG
W Hong Kong
Touring Cathay Pacific's HKG Lounges
Cathay Pacific A350 Business Class HKG-SIN
---
Bangalore beckoned, as did the Ritz Carlton. I'd previously had no interest in staying at Ritz Carlton properties, despite the fact my company had some pretty sweet corporate rates with them, because they weren't part of Starwood. But now that the merger of Marriott and Starwood is well and truly underway, Ritz Carltons suddenly came onto my radar.
I've already raved about the amazing service I received at the Ritz Carlton Bangalore, so this review will focus more on the hard product- the rooms, the F&B, the facilities etc.
Check in
Our car pulled up to the hotel just after 3 in the morning. We had a morning meeting that started at 8am and all I wanted to do was climb into bed and sleep.
Even at this early hour, neither the property nor the service disappointed. The building was lit up spectacularly and the water feature adorning the entrance had gas powered flames that seemed really wasteful and pretty at the same time.
An associate met us at the car drop off point, greeting us by name. Don't ask me how they figured out it was us, but I suppose given the lateness of the hour and the nationality of the guests it was pretty obvious who we were. He ushered us through security and told us that they'd get us checked in in no time at all.
We took the lift up one story to the main check in area.
And boy, did he really mean in no time at all. When we got to the lobby (photographed below in daylight), we found our keys already prepared, all paperwork ready and all we had to do was sign.
We were whisked up to the room, with our bags and bade goodnight. The whole process was fast, but never rushed. Well, if anything I was probably rushing the staff.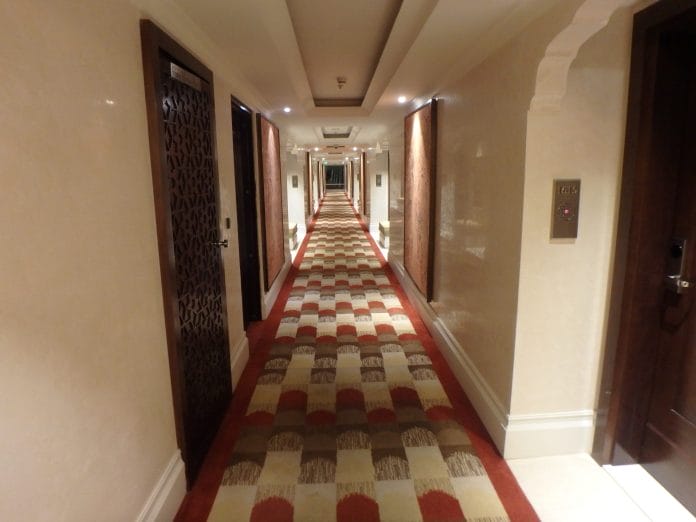 I mentioned it before but I'll say it again, it's incredible how many hotels don't bother to anticipate needs. It's not rocket science for a hotel to look at its arrivals roster to see who hasn't come yet, know that they'll be arriving late and just want to get to bed so prepare the paperwork in advance and have everything ready to go. At 3 in the morning, every minute feels like an hour.
The rooms at the Ritz Carlton (or at least the club room I'd booked) certainly aren't going to blow you away in the way some of my previous rooms at the W Doha or Grosvenor House did. They're elegant, for sure, but they're still your standard hotel room where you enter and the bathroom is on your right and the bedroom just infront of you. That said, the other rooms I've received were suites and this is a standard room.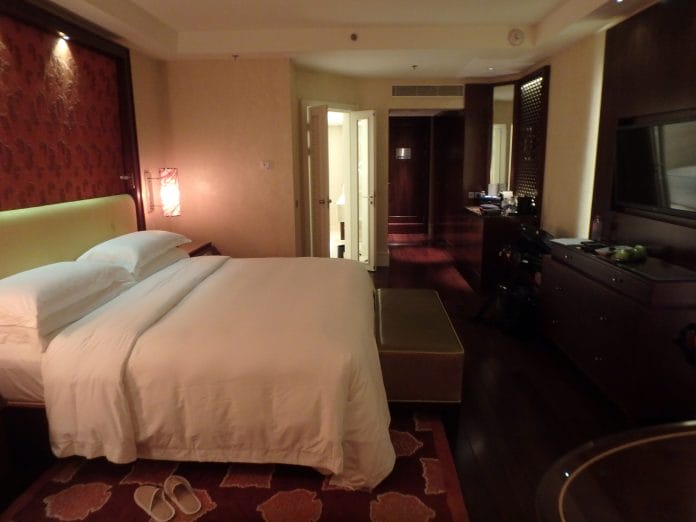 The work desk was at least large, with conveniently located USB and power outlets.
I was also pleased to see that they had these panels by the bedside. It made night time charging of your devices very simple. You'd be amazed how many hotels position their outlets ridiculously far from the bed.
The room had day blinds with patterns that let in some light. Can't say much for the view though, but I find it silly to pay more for a view when you're at a business hotel.
I liked the towel animals and handwritten note that housekeeping left on the second day. Each day I'd get a new animal.
There was a small minibar and capsule coffee machine in the room too. The coffee was Nespresso and complimentary.
I was amused the bar was called the "Honor Bar", given that's what Hilton calls its bars in certain North American club lounges (Hilton Honors, geddit?)
The bathroom had twin sinks recessed into elegant marbletop counters.
There is plenty of space to put your own stuff, as the shot below attests to. They also give you a virtually limitless supply of mineral water.
The bath amenities were supposed to be by Apsrey of London, but I only saw Ritz Carlton branding on the bottles and soap.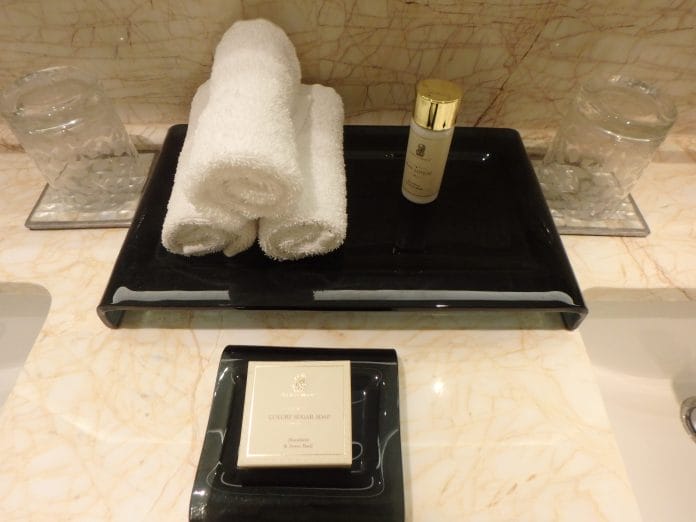 There was both a shower and a stand alone soaking tub.
On check in, I got two letters from the front desk. The first was a welcome gift
Yes, unlike other properties that give you a welcome amenity of some mushy fruits and a $5 bottle of wine, the Ritz Carlton gives Platainum members a 30 minute spa treatment. Now that's a welcome amenity worth having!
The second was a letter highlighting the club benefits, which I'm going to talk about now
Ritz Carlton Club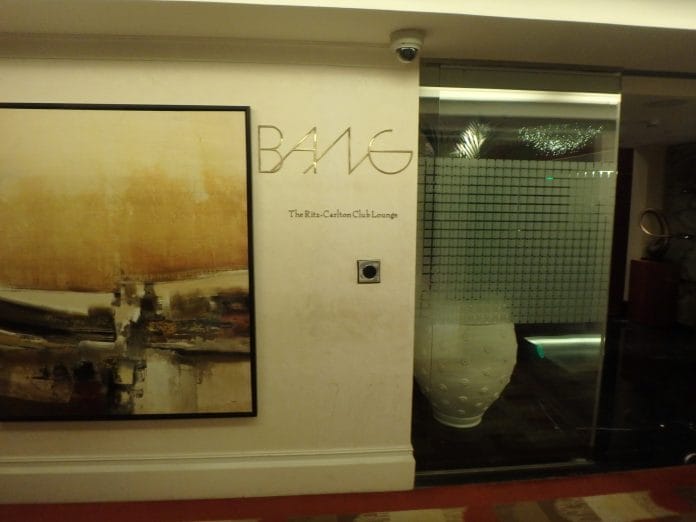 There are club lounges and there are club lounges, but when you're at the Ritz you'd better believe that the club lounge benefits are going to be impressive. Here's what you get when you book a club room
The exclusive Club experience is accessible from 07:00 am to 11:30 Pm every day at the Club Lounge, located on the 15th floor.

Our dedicated and knowledgeable club concierge team is ready to take care of any need you may have during your stay with us. These include but are not limited to arranging:

Local Sight Seeing
Golf, Restaurant and Spa Reservations
Flight Confirmations / Boarding Passes

Amenities: While you relax, unwind and enjoy the Hotel and Club Lounge, we have some amenities to make your stay even more convenient and enjoyable:
Complimentary wireless Internet access throughout the hotel.

24 hours complimentary coffee and tea service to your room.

Complimentary garments pressing of 2 pieces per room per day (non-cumulative).

Complimentary Board-room usage up-to two hours and business center services (On availability)

Complimentary limousine drops off within S km vicinity between 0700 hrs to 2200 hrs

Personalized check in and check out service at the Club Lounge.

30-minute 'Experiential Event' at 6:30 pm every Saturday evening.
More importantly, club access means food. A lot of it. Most club lounges do breakfast, and canapes during happy hour. But remember, this is the Ritz.
Culinary Offerings: We offer an exciting array of food presentations designed to tempt you. In addition, complimentary refreshments are available as well:
Breakfast: International Breakfast Buffet (Market Restaurant, L3) 06:30 am 10:30 am

Light Continental Breakfast (Club Lounge, L15) 07:00 am -11:00 am

Light Lunch 12:00 pm-02:00 pm

Afternoon Tea 02:30 pm-04:30 pm

Hors d' oeuvres 05:00 pm-08:00 pm

Cordials and Desserts 08:00 pm -10:00 pm
Yup, you read that right. Food is pretty much served in the lounge round the clock. What's on offer is substantial enough that (if you're not fussy) you could conceivably eat all your meals in the lounge and save a whole lot of money. This is the first time I've seen a hotel serving a light lunch in the lounge.
The lounge interior is homely, reminiscent of a library with bookshelves and other old world curiosities like globes and wooden chessboards.
They have two counters here that can handle check in and out, reprogram demagnetized keys, arrange late check out or do pretty much any transaction the counter downstairs can do.
There are also two computers plus printers.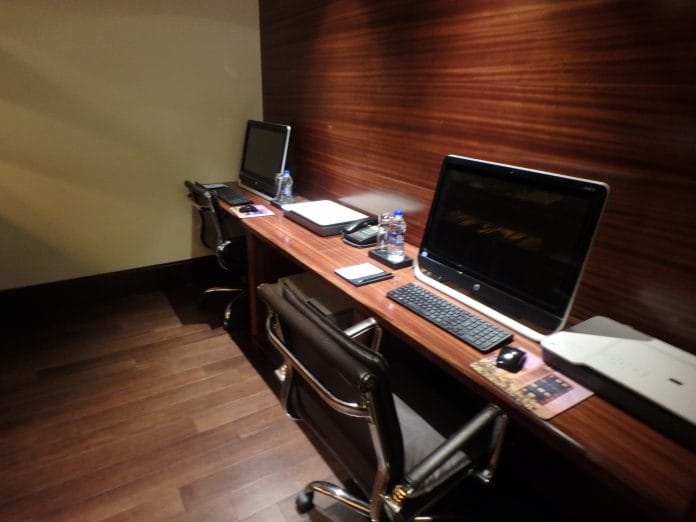 If you need to get work done or take conference calls, as my colleague and I did, there's a fully equipped meeting room. They can arrange a polycom for you if you need it too.
The lounge seats maybe 30 people. It never felt crowded when we were there, and the service was impeccable. As soon as you were seated someone would unobtrusively approach and ask if you'd like a drink, and the staff learned the skill of vanishing when not needed but ever present when needed.
I don't know where to start with the food offerings, but I'll try. The breakfast selection is no doubt smaller than what you can get in the lobby (read the F&B section for more details) but they still have cooked to order offerings in the morning.
You also have a small buffet spread of selected hot and cold items
You can get smoked salmon and cold cuts
A selection of bread (no toaster in view but they'll gladly toast it for you if you want)
Throughout the day they put out small cakes and pastries. The selection changed each day.
And in the evening they bring out the happy hour spread.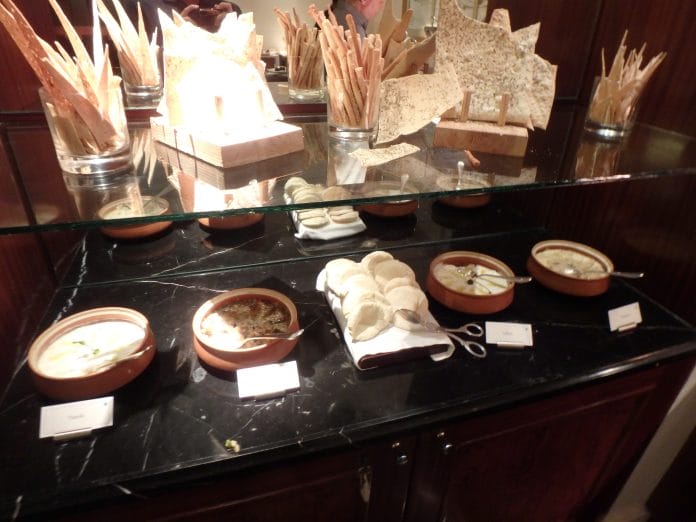 They even have a make your own fondue station during happy hour.
A sampling of the happy hour selections
Of course, happy hour means boozy hour, and out comes the liquor spread. You have all your usual hard liquors plus wine.
The sparking wine on offer was a decent cava, and the staff ensured my glass never went empty.
There are always a couple of hot items that get rotated throughout the day. You can make a proper lunch out of it if you want.
On the last day of my stay, the club manager came around to give me this signed postcard plus an elephant keychain. It was a very nice touch from the lounge staff, who had been nothing short of fantastic during my stay.
F&B
After 6 weeks on the road I was really missing Chinese food. However, living two years in India had made me very weary of Indian Chinese food (they have it in Singapore, check it out), which is basically Chinese food with lots of gravy, with basmati rice (you can't make Chinese food with basmati rice!) and with other, shall we say, interesting creations like chicken manchurian.
I decided to check out Lantern, the in-house Chinese restaurant. I knew the better hotels in India would have a native Chinese chef on staff, hopefully that would be the case here.
Latern is not inside the main building; instead, you cross over an elevated walkway that connects the main building to an annex. This is where they store the wine, so it makes for an interesting wal through cellar.
It's a pretty swanky place, though the proof is in the pudding.
Prices are not completely unreasonable- dim sum starts at S$8 a basket, veggies at S$15 and meat and seafood upwards from S$25. That's the same prices you'd expect to pay at an upscale Crystal Jade back home.
[gview file="https://milelion.com/wp-content/uploads/2017/08/The-Lantern-Menu.pdf"]
My colleague and I did a few dim sum dishes, which were quite average.
The lobster moneypouch, despite its description in the menu, was made with prawn not lobster
The rest of the dishes we ordered (curry prawns, mixed vegetables and stir fried chicken) were nothing to shout about. At least the rice was jasmine.
But, creature of habit I am, I went back the next day for lunch and it was a totally different experience. This time I ordered to coriander prawns and broccoli with garlic. I mentioned to the waiter when ordering that I was quite disappointed with the lobster moneypouches the previous night, because I was 100% sure it was prawn not lobster. He apologised and I thought that was the end of that.
However, a few minutes later the chef showed up at my table and apologised for the confusion. He told me that I was right, they used a mix of prawn and lobster that was predominantly prawn. Well, that wasn't particularly honest, but I appreciated that he came clean.
Later, when the food appeared so did an additional dish of lobster with Singapore chili crab sauce. Yeah, the chef went to prepare a special dish for me, at no cost, to apologise for last night. I thought that was a great touch (provided they do update their menus). And yes, this meal was so much better than the night before.
As a club room member, I could either take breakfast in the lounge or in the lobby restaurant called The Market.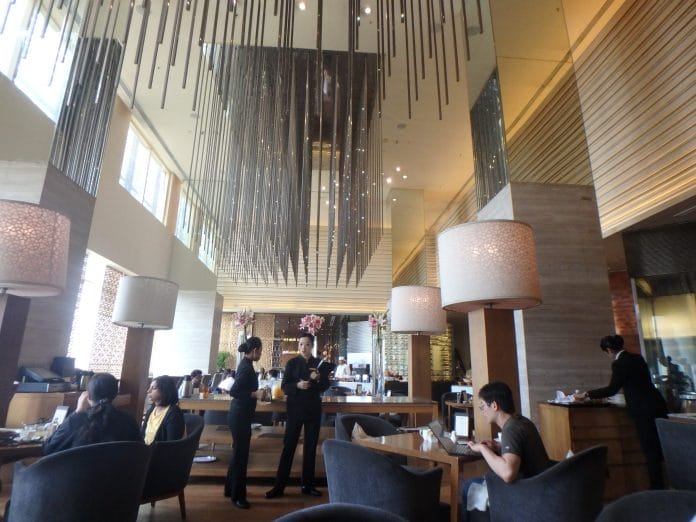 It's got a really vibrant atmosphere at breakfast with many live cooking stations.
I'm going to let the photos speak for themselves. The selection is extensive- you'll have Indian, Asian and Western options, plus cooked to order items.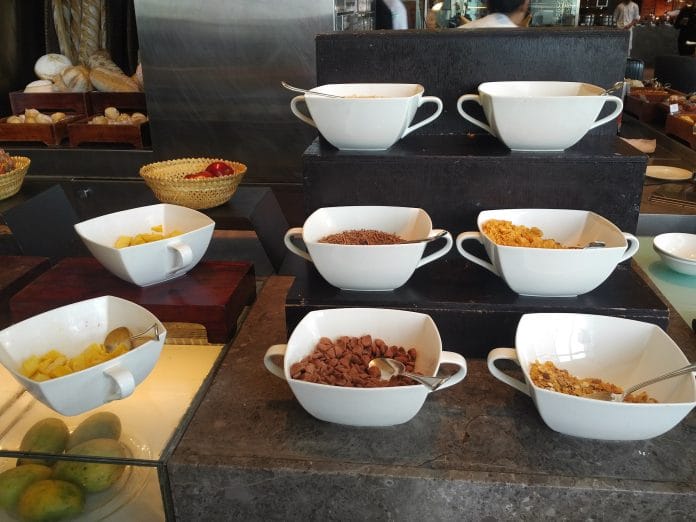 Spa
I paid a visit to the spa to claim my 30 minute complimentary treatment. The spa, as you might expect, was a quiet and serene place, with soft music and lighting.
I elected to do the foot and leg treatment and was ushered into the changing room to get ready.
A smiling associate showed me around the facilities and taught me how to use the code-based locker.
I was then given a changing room and robe to put on.
Before being ushered to the treatment area. We passed the steam room and jacuzzi, which I was welcome to use after my treatment.
The associate dropped me off in the waiting area and said my therapist would be with me shortly.
I sat on one of these chairs, expecting the foot and leg treatment would take place there.
But when my therapist appeared she instead brought me to a proper treatment room with a lie down table. So I got to take a nice nap while I got my foot massage. It was awesome.
I ended up visiting the spa again because the treatment was so good. Here's the spa menu
Moreover, the prices were really reasonable for a 5 Star hotel. Let's be frank- S$127 for a 90 minute massage in the Ritz Carlton is a price unheard of outside of India. You'd be paying three, even four times that back in Singapore.
Pool and Gym
I really wanted to get some exercise after six weeks on the road, but it had rained an hour before and experience told me that the water in the pool would be freezing. But I'm the kind of person who would rather jump into a cold pool than edge in slowly, so I figured just get it over and done with.
But it's the Ritz, so of course, the pool was heated. I shook my head in disbelief as I stepped into the warm water. They really thought of everything here.
It turns out these little statues that spit out water have a heater of sorts inside, and the water they spit out is warm. This was a lifesaver especially since it was still windy and chilly after the rain stopped.
The gym was probably one of the best equipped gyms I'd seen throughout all my hotel stays in India. You had treadmills with built in entertainment systems
And other specialized equipment for spot exercises. I imagine if I actually used a gym I'd know the names for this equipment.
Of course there were abundant refreshments available, together with cold and regular towels.
Service
I wrote about this extensively in my other post, but to summarise, the service at the Ritz was absolutely flawless. The staff there helped me out with so many small things, be it chasing Oman Air for a baggage delay letter, getting my shoes fixed for a couple of bucks
Being meticulous enough to remove stains on the sleeves of my white shirts when all I asked for was pressing
Right up to sending my laptop charger to me, in the hotel car, after I realised I'd left it in the meeting room, at no charge.
I don't think any of this is particularly revolutionary- it doesn't cost the hotel much to do these things. Which is why I'm surprised so many hotels don't do it. Hotels unnecessarily lose a lot of goodwill by not doing simple, low cost things for their customers and end up losing big money when the customers don't come back. It's penny wise, pound foolish.
So the Ritz Carlton has definitely won my business (where I can afford it!), and I do look forward to another stay at the one in Bangalore if I return.