Introduction: It's the most wonderful time of the year
A Tale of Two Lounges: SATS Premier T2 and the Qantas SIN Lounge
Malaysia Airlines B737 Business Class SIN-KUL
Malaysia Airlines Business Class Golden Lounge KUL
Malaysia Airlines A330  Business Class KUL-NRT
Japan Airlines Business Class Sakura Lounge NRT
Japan Airlines B77W Business Class NRT-LAX
The Westin LAX
The Westin Westminster
Aloft Boston Seaport
The Consolidated AA Domestic First Class Experience
American Airlines Flagship Lounge JFK
American Airlines B772 Business Class JFK-LHR
American Airlines Arrivals Lounge LHR
The Great Northern Hotel, London
Sheraton Grand Park Lane, London
Westin Paris Vendome
Courtyard by Marriott Madrid Princesa
Four Points by Sheraton Barcelona Diagonal
The Consolidated Intra-Europe Business Class Experience
Sheraton Casablanca
Royal Air Maroc Business Class Lounge CMN
Royal Air Maroc B737 Business Class CMN-ACC
Ethiopian Airlines B787 Business Class ACC-ADD
Ethiopian Airlines Cloud 9 Business Class Lounge ADD
Ethiopian Airlines Q400 Business Class ADD-DAR
Protea Hotel by Marriott Dar Es Salaam Courtyard
Qatar Airways A320 Business Class DAR-DOH
Qatar Airways Al Safwa First Class Lounge DOH
Qatar Airways A330 "First" Class DOH-MCT
Oman Air Business Class Lounge, MCT
Oman Air E175 Business Class MCT-DXB
The Grosvenor House Dubai
W Doha
Qatar Airways Business Class Lounge DOH
Qatar Airways B772 Business Class DOH-BLR
The Ritz Carlton Bangalore
Vistara A320 Business Class BLR-DEL
Cathay Pacific A330 Business Class DEL-HKG
Cathay Pacific Arrivals Lounge HKG
W Hong Kong
Touring Cathay Pacific's HKG Lounges
Cathay Pacific A350 Business Class HKG-SIN
---
The nice thing about the W Hong Kong is that it's directly attached to the airport express, which makes getting there a cinch. It took less than 30 minutes for the train to pull up at Kowloon station.
Being right smack in Kowloon station means easy access to all of Hong Kong, or at least the places I wanted to get to.
Once you exit the airport express, you'll be in a subway mall called Elements. It's a very nice place to walk around, with some top tier restaurants. Follow the signs for the W and you'll eventually find the entrance.
I've said it before and I'll say it again- there's no way you can mistake being in a W. Every facet of the experience is distinctively "W"-ish. Whether or not you like that depends on you.
The reception area is upstairs from the lobby and you take a quick elevator ride up.
Before emerging on the 6th floor at the reception lobby.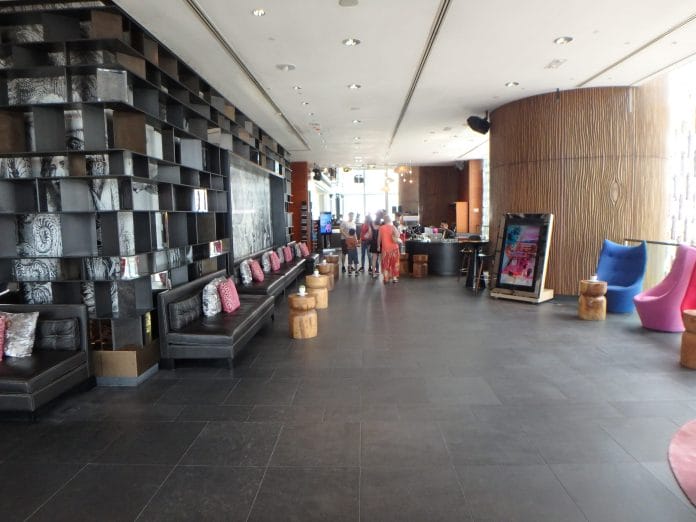 The reception area was moderately busy when I arrived, but there was a special separate counter for Platinum guests which was strictly enforced. A lot of properties really don't do that, and it's annoying. Off topic: we really need more properties to start adopting serpentine queues.
I was greeted and thanked for being a Platinum member. The associate told me I'd been updated to a suite, but the room wasn't ready yet (I arrived just before 10am). She told me they'd send me an email as soon as something opened up. She also told me there was a W house party that evening at the rooftop pool and asked if she'd see me there. I told her I didn't like noise and to please locate me as far as possible from the pool. Damn kids. Later on I realized she might have been coming on to me.
In the meantime I took a seat at the WooBar and cleared up some work (see my review on the F&B facilities below) before heading out for lunch with a friend. Halfway through lunch, around 1pm, I got an email that my room was ready, whereupon I collected my key and got this welcome note
As a Platinum member you are invited to enjoy the following benefits:
Complimentary late check-out until 4pm, please confirm upon check in

A choice of one welcome amenity (500 bonus points or Daily breakfast at Kitchen for 2 people or one W Doggie)

Welcome delight

Upgrade to best available room or select standard suites subject to availability

Complimentary in-room Internet access

Complimentary one bottle of 330m1 Fiji water per person for every day of your stay

Complimentary access to "Press Reader" on line newspaper application that allows you to read your favorite publications online. Simply download the app for free or access it on the "Handy" phone in your room. If you prefer a traditional print newspaper simply dial "0" for Whatever/Whenever who can arrange this for you.
I'd been given a room on the 19th floor which doesn't sound very high up (considering the pool is on the 76th floor), until you realise that the W Hong Kong is not the sole tenant of the building. Much like the Westin at Asia Square, rooms at the W Hong Kong occupy floors 16-38. So, ok it's still low in the context of where the rooms are, but more importantly I got upgraded to a Fantastic Suite (one bedroom).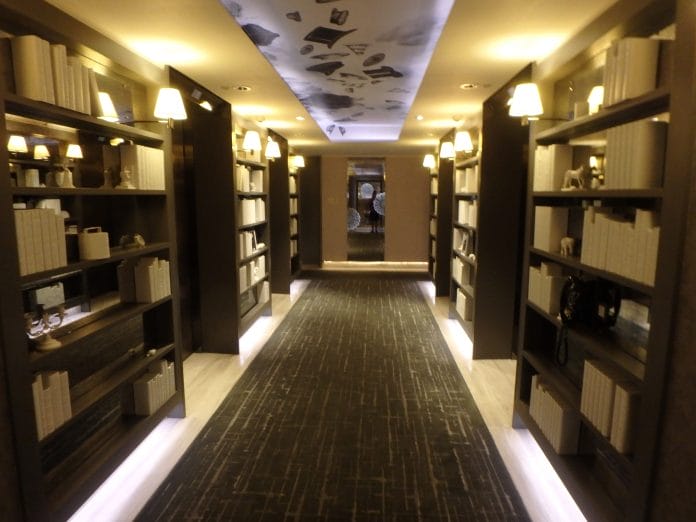 The elevator corridors are designed to look like a library. The books are all fake though which is a shame. How expensive would it be to fill all the shelves with The Fountainhead and Atlas Shrugged?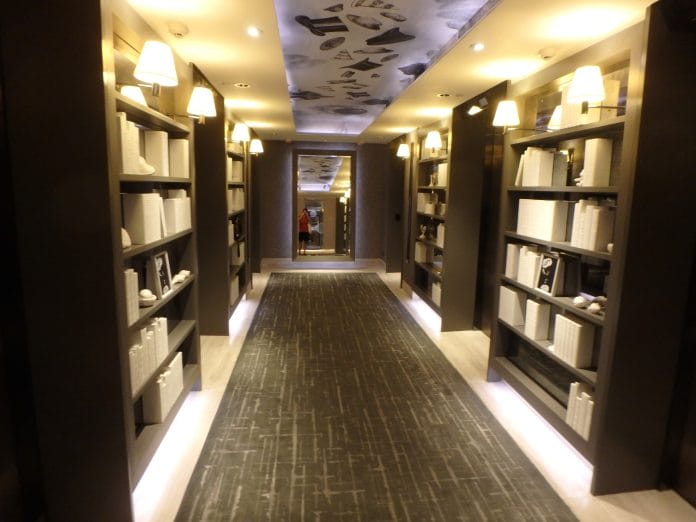 In the same way, room numbers were displayed on open books. The book was backlit and would turn a different color if the room had turned on its DND sign.
I loved the phones they had in the corridors. This is how you contact reception if needed (but it's not a rotary dial, they're still touch tone buttons)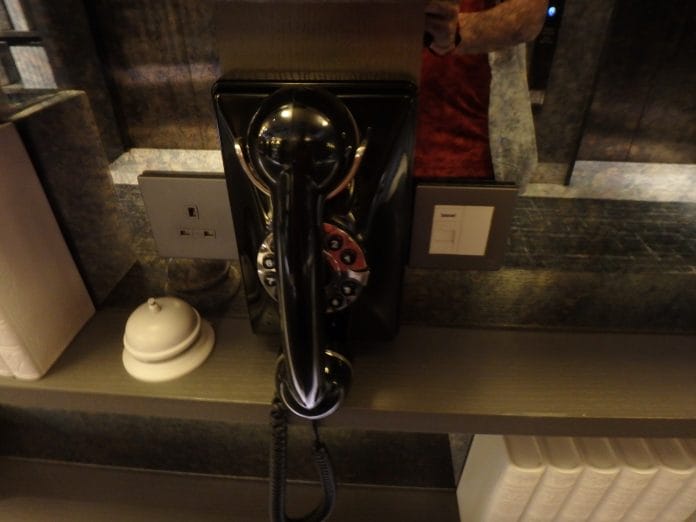 Those who have stayed in Hong Kong hotels would know that rooms are by default shoebox small, kind of like NYC. So even though I had a suite upgrade I wasn't expecting too much.
Boy was I wrong…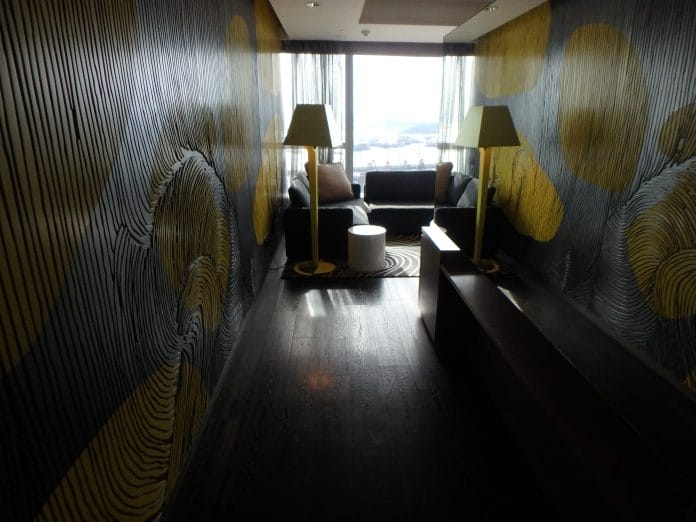 The door opened up to a narrow corridor (the room is in a corner) , which then opened up into the main living room, awash in afternoon light.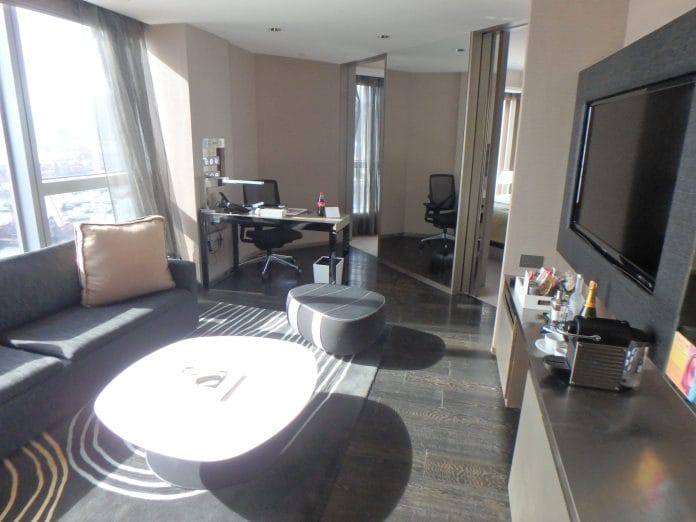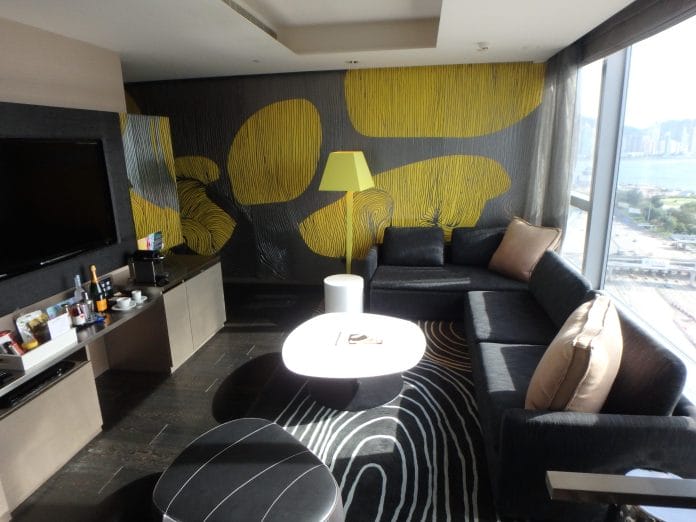 This living room alone was already much larger than many rooms in hotels I'd stayed in previously in Hong Kong (the Sheraton room was pretty much a coffin with a window). L-shaped couch, large coffee table, big screen TV. Ah, I'm going to miss SPG's suite upgrade policy when it's gone.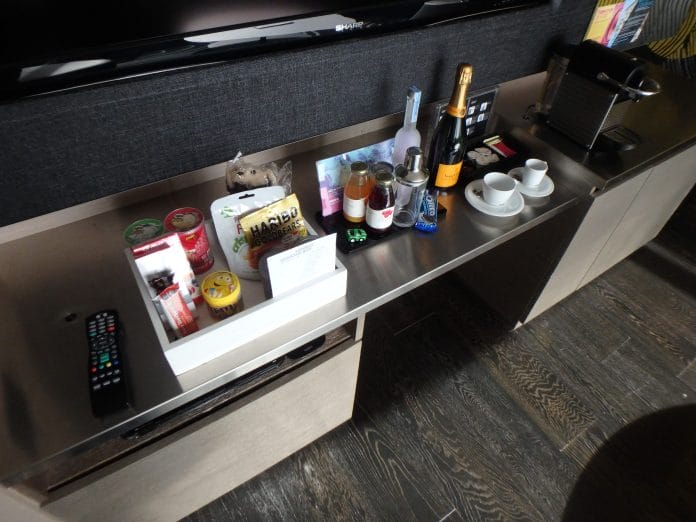 The usual overstocked and overpriced W minibar was looking in fine shape.
There's a bottle of champagne in the minibar. I believe it was somewhere north of S$300 (you can buy the same bottle at Bottles and Bottles for S$60)
On the table waiting for me was one of the most interesting welcome amenities I've ever received.
Yup, a personalized Coke. I guess this must be some sort of tie-up they've got going with Coke to personalize bottles, but I realised upon closer inspection that my name wasn't actually printed on the Coke label, it was printed on a sticker that was then pasted on a Coke label. Nonetheless it was the first time I saw my name in lights, and decided to keep the bottle.
Work desk in the living room had supplementary materials about the hotel's shuttle bus timings. The hotel runs a shuttle bus that goes to Tsim Sha Tsui every 30 mins from 9am to 8pm
The work desk was also where the control panel for the living room was located- the curtains (Both blackout and sheer) were controlled electronically, and you could select the mood lighting as well.
Hong Kong uses the same power plugs as Singapore (thanks, Brits!), but they provided an adapter too.
The hotel also provided a Handy Phone, a useful device that gives free internet and local calls to visitors in exchange for advertising opportunities. It's a great idea, really. guests can get restaurant recommendations, shopping guides, maps, transportation help and what not, advertisers can reach guests with targeted offers and promotions. And it's free.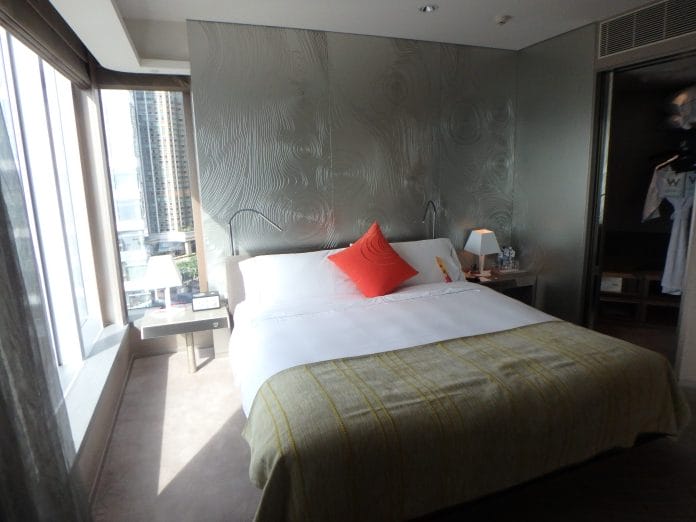 The bedroom of course had the signature W bed, which I think is my second favourite bed after the Westin Heavenly. Some people find it too soft. Some people have no joy in their lives.
One side of the bed had the phone, writing pad, and the lighting + curtain controls for the room.
The property participates in the MAGC program. Unfortunately the MAGC program in Asia Pacific has been devalued from 500 points to 250 points per night of declined housekeeping, because apparently Asians still want "some housekeeping but not too much".
There were also two bottles of free water which sandwiched one bottle of not so free water. Be sure you take the right one, or you'll be paying a pretty penny (hint: it's not the Fiji)
The other bedside table had a digital radio.
I was very happy to see that they had thoughtfully built USB ports and power plugs into the sides of the bed.
There's a big flatscreen TV in the front of the room for some good ol' fashioned couch/bed potatoing.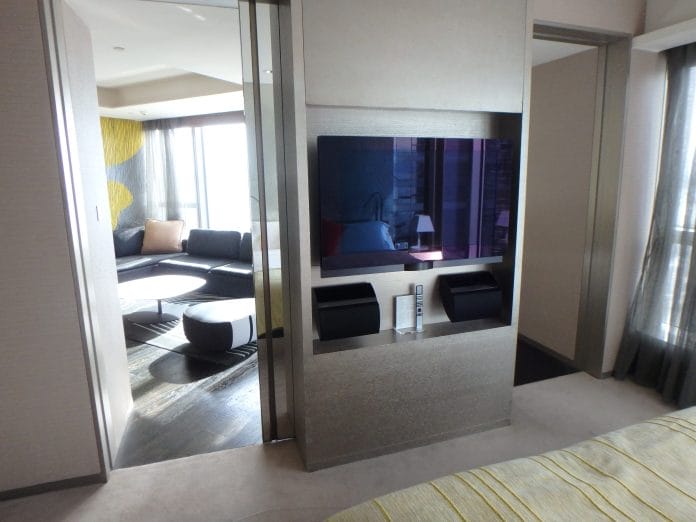 The room even had its own walk in closet, complete with extra pillows, bathrobes, hangers, slippers and a safe.
Here's the shoe shine and shoe horn kit in the closet. There's also a sewing kit.
This bathroom wasn't as fancy as the one at the W Doha, but nice nonetheless.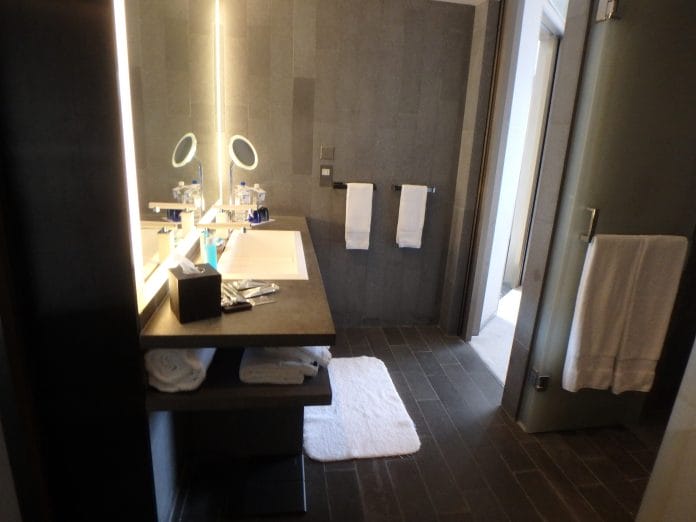 There are two taps but only one sink. Plenty of counter space for all you might need.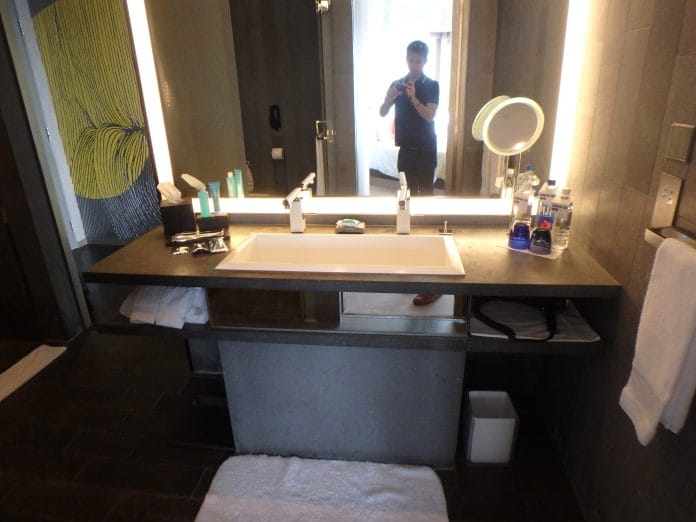 You'll find the same gotcha water setup in the bathroom- be careful which bottle you open!
All the bathroom amenities you could need are already provided.
The shower and tub are in the same part of the bathroom, which can make it difficult if you're staying in the room with a companion and two of you need to shower at the same time. Or maybe that's the point…
Full size Bliss toiletries are provided, with plenty more upon request. I'm starting to think they aren't that expensive to produce.
Pool and Gym
Taking the lift up to the 73rd floor puts you on the gym level, or as W calls it, FIT.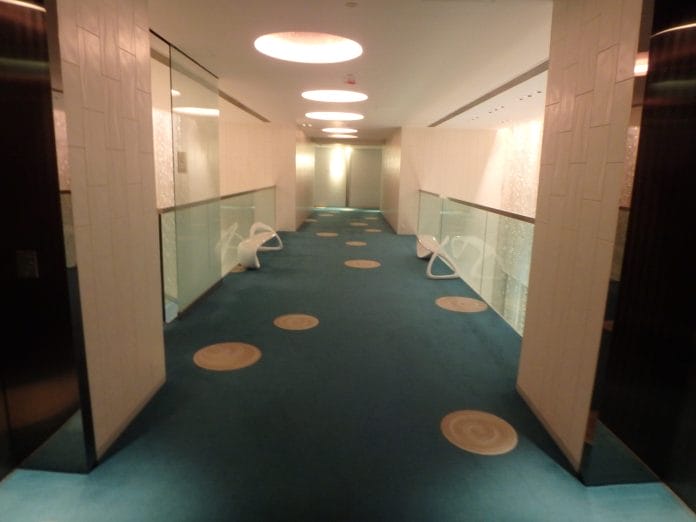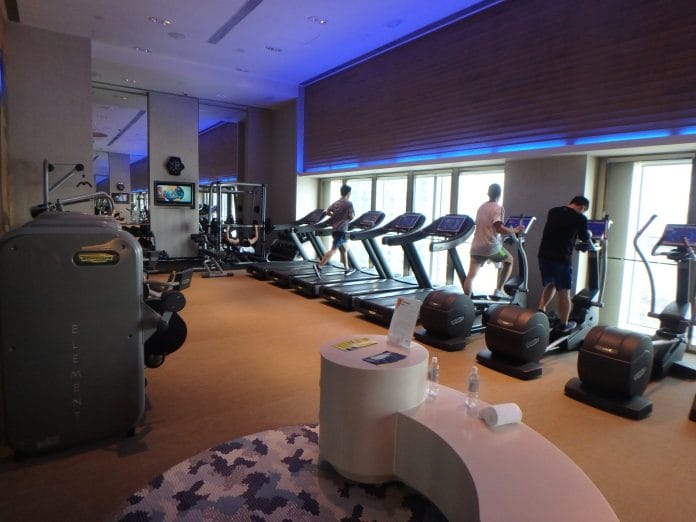 And going up to the 76th floor gets you to the pool. The rooftop swimming pool has stunning views of Hong Kong harbour on a clear day.
I avoided the pool during the weekend as it had loud music and was packed with young people (shakes fist), but at 8am on a weekday morning? Deserted.
There's no shortage of lounge chairs at the pool area- you can settle in and enjoy a great view of the harbour.
If you do fancy a swim, the pool wasn't heated but wasn't freezing either. Those glass panels around the pool aren't just for safety, they're also there to block the wind. It was a nice, proper pool that you could do laps in. A lot of W pools (I'm thinking of Singapore) go for form over function, where you have a nice looking oddly shaped pool that you can't really do laps in.
In addition to the main pool there was a jacuzzi overlooking a different part of the harbour.
There's also a rooftop cafe near the jacuzzi that serves really, really overpriced food.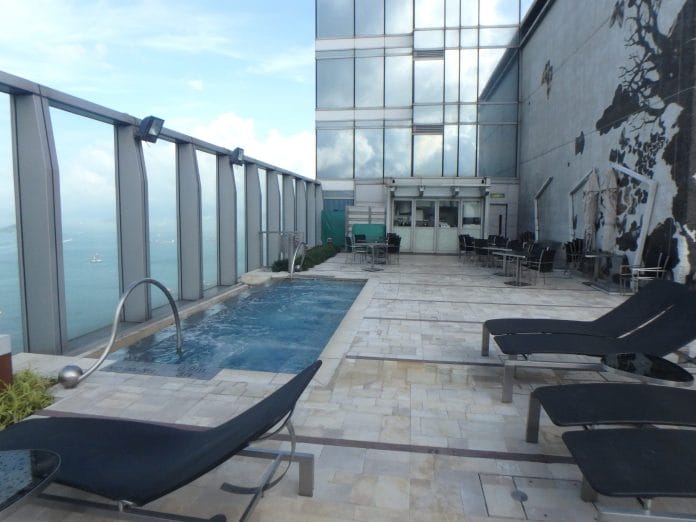 In the lift lobby leading to the pool, they put out complimentary coffee and tea in the mornings which was a nice touch.
After swimming I checked out the locker room. It's nicely designed with Bliss toiletries and all the towels you could care for.
There are also lockers to store your personal items which allowed you to program your own key.
Chilled water? Chilled towels? Yes, and lots of it.
At one end of the changing room was the hydrotherapy pool.
This pool had great views of the city. I changed into my swimming trunks and got in, enjoying the luxuriously hot water. I stared at the sweeping skyline, enjoying the vigorous bubbles.
And that's when a Chinese traveler decided to join me in the pool. I mean, sure, it's for sharing. Only that he got in butt naked. Like, stark raving naked. Fortunately when he was in the pool the bubbles sort of covered everything, but I was pretty sure some sort of health and safety standards were being violated. I gradually edged myself out of the pool, very careful when passing by him.
I then tried to scrub myself as vigorously as I could in the shower.
Food and Beverage
I mentioned that my room was not ready on arrival, so I grabbed breakfast at the WooBar.
The WooBar has a selection of western and Asian cuisine. Expect the prices to be Hong Kong 5 star hotel prices.
What did I go with? S$25 wanton noodle soup. Yes, yes. Don't tell me. This was probably the biggest waste of S$25 ever. But I had to get some work done in the morning and wasn't able to venture out. I mean the soup itself was quite pleasant, but for S$25…
I returned to the WooBar that evening to spend the free drink card I got when I checked in. All Platinum members receive a free drink at the W Hong Kong.
Now, in most properties I've been to these free drink cards are given really begrudgingly, with a very small list of drinks that they can be redeemed for. Normally you're looking at either a soft drink, juice or a house red or white wine.
Which is why I was so surprised to hear "Certainly sir!" when I presented this voucher and requested for a glass of champagne. This in Hong Kong, where a glass of champagne will probably set you back maybe $35 in a fancy hotel.
I enjoyed my bounty while testing out the bokeh on my Blackberry camera.
Breakfast was at KITCHEN.
The hostess greeted me warmly and showed me to a single diner table. Asian travelers do get an early start, and at 8.45 am the place was packed to the brim already.
The buffet spread is as OTT as you'd expect in most Asian hotels, with a little bit of everything thrown in.
More breakfast photos ahoy.
Behold my multicultural plate.
Service in all the restaurants was great- plates were quickly cleared, water topped off constantly and very observant wait staff.
Conclusion
The W Hong Kong is a fantastic place to stay in terms of rooms, location and facilities…if you can afford the cost of admission. My overnight stay here was deeply discounted due to our corporate rate, but otherwise you'd easily be looking at US$300 or more a night…before taxes.
However, the good news is that you won't be short of SPG options in Hong Kong, with the recent addition of the Design Hotels portfolio to the Starwood brand. I'd be intrigued to try one of these on an upcoming stay.