Introduction: It's the most wonderful time of the year
A Tale of Two Lounges: SATS Premier T2 and the Qantas SIN Lounge
Malaysia Airlines B737 Business Class SIN-KUL
Malaysia Airlines Business Class Golden Lounge KUL
Malaysia Airlines A330  Business Class KUL-NRT
Japan Airlines Business Class Sakura Lounge NRT
Japan Airlines B77W Business Class NRT-LAX
The Westin LAX
The Westin Westminster
Aloft Boston Seaport
The Consolidated AA Domestic First Class Experience
American Airlines Flagship Lounge JFK
American Airlines B772 Business Class JFK-LHR
American Airlines Arrivals Lounge LHR
The Great Northern Hotel, London
Sheraton Grand Park Lane, London
Westin Paris Vendome
Courtyard by Marriott Madrid Princesa
Four Points by Sheraton Barcelona Diagonal
The Consolidated Intra-Europe Business Class Experience
Sheraton Casablanca
Royal Air Maroc Business Class Lounge CMN
Royal Air Maroc B737 Business Class CMN-ACC
Ethiopian Airlines B787 Business Class ACC-ADD
Ethiopian Airlines Cloud 9 Business Class Lounge ADD
Ethiopian Airlines Q400 Business Class ADD-DAR
Protea Hotel by Marriott Dar Es Salaam Courtyard
Qatar Airways A320 Business Class DAR-DOH
Qatar Airways Al Safwa First Class Lounge DOH
Qatar Airways A330 "First" Class DOH-MCT
Oman Air Business Class Lounge, MCT
Oman Air E175 Business Class MCT-DXB
The Grosvenor House Dubai
W Doha
Qatar Airways Business Class Lounge DOH
Qatar Airways B772 Business Class DOH-BLR
The Ritz Carlton Bangalore
Vistara A320 Business Class BLR-DEL
Cathay Pacific A330 Business Class DEL-HKG
Cathay Pacific Arrivals Lounge HKG
W Hong Kong
Touring Cathay Pacific's HKG Lounges
Cathay Pacific A350 Business Class HKG-SIN
---
I had high hopes for the Westin Paris Vendome, what with its long and storied history. The property opened in 1878 as the Hôtel Continental and was for a long time the largest and most luxurious hotel in all of Paris. It was bought by the Westin in 2005 and is supposed to be one of Starwood's flagship properties in Paris.
I'm just going to come out and say that this was probably one of the most disappointing stays of the entire RTW trip.
Location wise, the Westin Paris is hard to beat. It's near major tourist attractions and a short walk from big retail outlets like Galleries Lafayette and Printemps. It's very conveniently located to wherever you may want to go.
From the outside, the property certainly looks the part. The facade of the building evokes grandeur
Security is tight, as you can imagine at most Paris hotels given the recent spate of events across Europe. But it was also tremendously inconsistent at the Westin Paris. During the day we were subject to a metal detector and bag scan, but in the evening all security disappeared. It was almost as if the bad guys were on European working hours too.
There was absolutely no order in the check in queues. This wasn't helped by the fact that the check in area is L-shaped, with 2 associates on one arm of the L and 2 on the other. So you'd have to hazard a guess at which line was moving faster. How hard is it for hotels to implement a simple serpentine queue, ensuring whoever arrives first is served first?
I asked a staff member who was just standing around watching the queues whether there was a priority lane for Platinum guests. She just gave a very Gallic shrug her shoulders and wordlessly pointed in the general direction of the queue. Again, I don't go in for DYKWIA moments, but as a brand standard there should be priority queues for elite members.
While waiting in line I noticed the inner courtyard behind me. This only opens in summer and is probably the nicest part of the whole hotel. Nothing like sipping a glass of wine in the warm sunlight with your 5 weeks mandatory vacation.
At check in, I was upgraded to a suite on the top floor of the hotel. Based on the room types shown on the website, I assume this was a Junior Suite.
The hallways themselves are narrow and dark. You even get old fashioned radiators on the wall every now and then. I'm not sure if this property has central heating. Would be interesting during the winter…
The suite has a separate bedroom and living room, separated by the door. In the living room there's a small work desk and a chair with little to no back support.
One of two televisions, just on top of the minibar. At least these were modern. Minus points that they didn't feature the FA cup final on any channel.
The minibar was, unfortunately not stocked with camembert and french wines. Instead, an assortment of pre-packaged chips and American candy bars were present. Imperialist swine.
My absolute favourite feature about the minibar was that they decided to put both the power adapter and condoms in the fridge too. I mean, we all know that power adapters work best when they've been freshly chilled, but I do wonder about the efficacy of chilled prophylactics. Those with experience, please chime in.
The living room also had a large walk-in closet, which seemed like a waste of space. Maybe Parisians like bringing their entire wardrobe on staycations.
The living room had a big couch that was easily long enough to sleep on, in case you have a French-esque quarrel.
Waiting on the table was a gift from management.
I briefly wondered if I could use this as basis for suing management for sexual harassment and getting lots of hush money. But apparently unwanted advances are a cross I must bear for having pretty privilege. Yes, that's a real term. Now go weep.
In any case, I later found the same chocolates retailing for 14 euros.
The room had a balcony from which I could sip wine and gaze disdainfully down at the proletariat. Pffft. General Lamarque might be sympathetic to them but he'll be gone soon. And then everything will be ok.
The bedroom had the usual Westin bed
And some pretty nifty blackout curtains that struggled to contain the bright summer light.
On the wall was the AC control unit. This had to be the most intuitive piece of hardware I'd ever seen. Let's say you're too hot. Do you turn the right knob to + for greater A/C power or – for lower temperature?
The bathroom was thankfully more intuitive. I believe this is where you relieve yourself.
Or maybe it's here. Can't tell sometimes. At least there was ample counter space.
Westin has revamped their line of toiletries, as I noted in one of my earlier Westin reviews. Gone is the green soap and in is this new line of white-toned toiletries. I read that they use green when they want you to believe something is healthy, and white when they want you to believe it's luxurious. These toiletries were neither.
The slope of the roof meant it was impossible for me (I'm 1.8M, ladies take note) to stand up straight (fnar) in the shower
In any case, the water pressure was a mere trickle. I suppose it was difficult to pump water up five floors in the 1800s, which was when this hotel was last renovated.
The taps and shower stopped working on the second last day and no water would come out from the hot water side. I called down and reported the issue. After 30 minutes no one arrived, so I went down to the front desk to ask about this again. I was told someone was on the way, and 10 minutes later someone showed up. He got the tap working for a while, but no sooner had he left that the problem happened again.
Indeed, dealing with requests was not this hotel's forte. A simple request for a hairdryer took 40 minutes and 2 calls to get done. Housekeeping forgot to give me my MAGC voucher on the first night and the issue never got resolved after four calls and one visit to the front desk (each time I was told someone was on the way to drop the voucher off). I had to get the guest services manager to manually post the additional night's 500 points at check out.
I wrote in to complain about the issues that occurred during my stay and got a form letter reply that disingenuously said they "wished I had raised these matters during the stay instead of after so they could have fixed it." I sent a very curt email back saying I had raised the issues, they just didn't deal with them. To which they sent another form letter saying sorry again.
Anyway, on to breakfast. This property makes Platinum guests choose between breakfast and 500 points, unfortunately.
I was trying to save some budget, so I just took a quick look at the buffet and decided to order off the ala carte menu.
The buffet looked average. The usual assortment of items (including, perhaps not surprisingly, quite a few Chinese-tourist friendly ones like oily noodles and rice), certainly nothing befitting Paris' gastronomic credentials.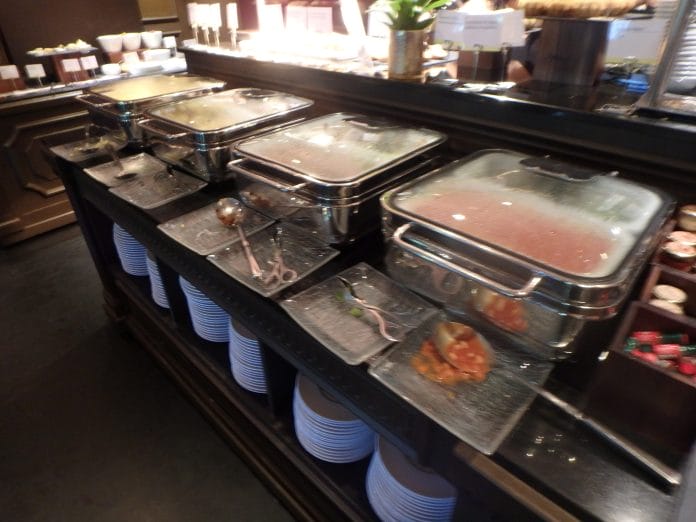 That's fine, I thought, I'll just get something cheap off the menu
I decided on some bacon and eggs, which came at the princely sum of 9 euros. It was entirely forgettable.
What was not forgettable, however, was the cost of the orange juice. 9 euros. For a glass of orange juice. Really. People have overthrown governments for much less.
The overpriced food, outdated rooms and indifferent service made the Westin Paris a huge disappointment. The best part for me was the location, nothing more. At Category 6 prices, you'd expect much more, and the Westin didn't deliver in this respect.
I think the most annoying thing was how management tried to suggest that it was the fault of the guest for not raising these issues during the stay, when in fact they were raised, just not addressed.
Definitely a property to avoid.
Protip: when in Paris, maybe consider Le Dokhan's? It's got a famous champagne bar...