Introduction: It's the most wonderful time of the year
A Tale of Two Lounges: SATS Premier T2 and the Qantas SIN Lounge
Malaysia Airlines B737 Business Class SIN-KUL
Malaysia Airlines Business Class Golden Lounge KUL
Malaysia Airlines A330  Business Class KUL-NRT
Japan Airlines Business Class Sakura Lounge NRT
Japan Airlines B77W Business Class NRT-LAX
The Westin LAX
The Westin Westminster
Aloft Boston Seaport
The Consolidated AA Domestic First Class Experience
American Airlines Flagship Lounge JFK
American Airlines B772 Business Class JFK-LHR
American Airlines Arrivals Lounge LHR
The Great Northern Hotel, London
Sheraton Grand Park Lane, London
Westin Paris Vendome
Courtyard by Marriott Madrid Princesa
Four Points by Sheraton Barcelona Diagonal
The Consolidated Intra-Europe Business Class Experience
Sheraton Casablanca
Royal Air Maroc Business Class Lounge CMN
Royal Air Maroc B737 Business Class CMN-ACC
Ethiopian Airlines B787 Business Class ACC-ADD
Ethiopian Airlines Cloud 9 Business Class Lounge ADD
Ethiopian Airlines Q400 Business Class ADD-DAR
Protea Hotel by Marriott Dar Es Salaam Courtyard
Qatar Airways A320 Business Class DAR-DOH
Qatar Airways Al Safwa First Class Lounge DOH
Qatar Airways A330 "First" Class DOH-MCT
Oman Air Business Class Lounge, MCT
Oman Air E175 Business Class MCT-DXB
The Grosvenor House Dubai
W Doha
Qatar Airways Business Class Lounge DOH
Qatar Airways B772 Business Class DOH-BLR
The Ritz Carlton Bangalore
Vistara A320 Business Class BLR-DEL
Cathay Pacific A330 Business Class DEL-HKG
Cathay Pacific Arrivals Lounge HKG
W Hong Kong
Touring Cathay Pacific's HKG Lounges
Cathay Pacific A350 Business Class HKG-SIN
---
I wrote about how I deliberately rerouted myself through Delhi instead of flying direct from Bangalore to Hong Kong, so as to avoid the horror that is recliner seats on a red-eye flight. But as I gathered my luggage off the belt at 11.20 pm and shuffled towards the international area at Delhi airport where I'd wait a further two hours to board, I started wondering whether it was worth it.
I had now been on the road for 6 whole weeks and wanted nothing more than to climb into bed and set my out of office reply to a gif of a hibernating bear (the ursine creature, not the San Francisco kind)
Fortunately check-in was lighting fast at Delhi's international airport. Delhi's Terminal 3 was opened in 2010 and is very modern, a far cry from the Indian airports of old (I lived in Mumbai long enough to see the crossover between the old Mumbai airport and new one, and the two are night and day too). My bags were checked through to Hong Kong and I was invited to the Plaza Premium lounge in Delhi.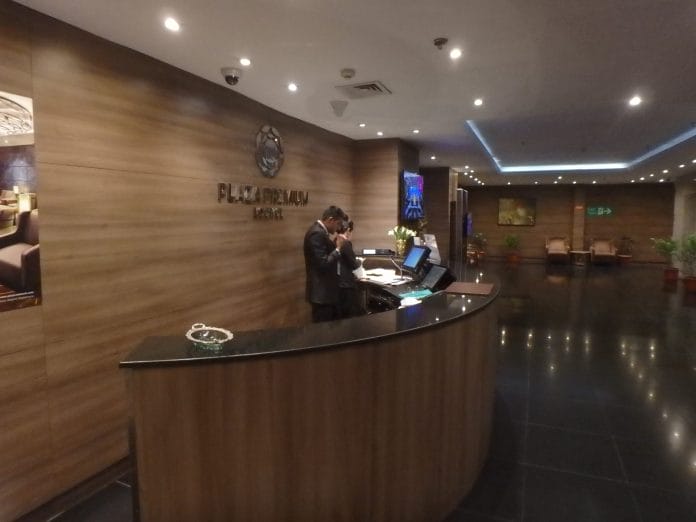 There isn't an awful much to write about the lounge other than it was really crowded (given that it's the main contract lounge for airlines flying out of T3) and I ended up having to sit at one of the computer terminals to eat.
So I'll leave you with some photos of the buffet selection and move on.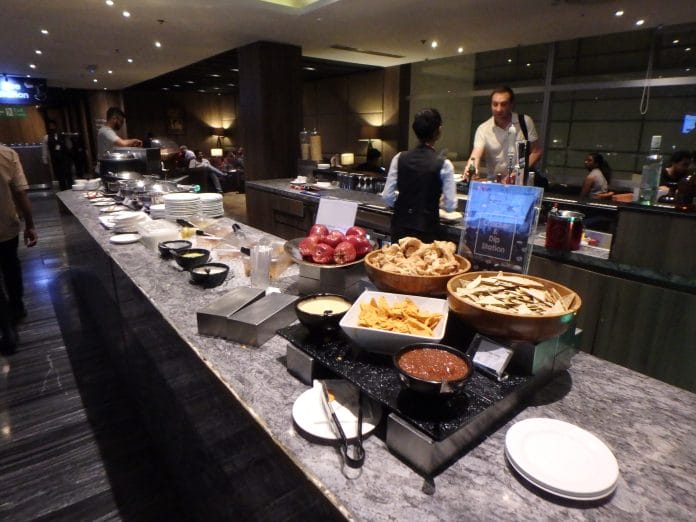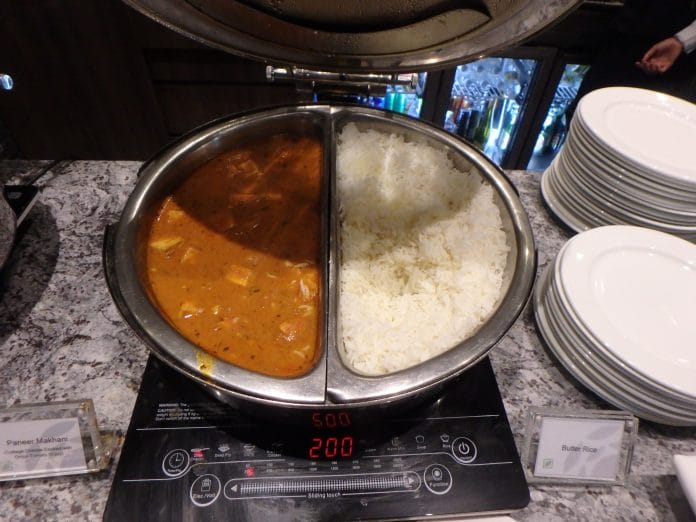 Flight CX694 started boarding about 30 minutes before its 0110 departure slot. I left the lounge at the T-40 mark and the lounge staff had horrified looks on their faces and urged me to make haste for the gate. I thought they were being drama queens, but after seeing never ending travellator after travellator, I was starting to think they had a point. Terminal 3 is huge, and I arrived at the gate with 20 minutes to go, well after boarding had started.
Cathay's Business Class cabin on its A330 is configured 1-2-1 with in business class with both a forward and back cabin.
I originally chose a seat in the rear cabin, 20A, but after discovering there was the most delightful of wailing babies in the economy cabin just behind asked if there were seats upfront. Fortunately, 14G was available, albeit with a busted IFE system (well, not busted, but the screen didn't swing out fully). I only wanted to sleep, so gladly made the trade.
I have to say I like CX's business class seat. It's reasonably spacious and puts all the lights, controls and plugs you need on one convenient side panel.
What I also like about the seats is that they have these privacy ears that block you from the main aisle. It's amazing how many airlines order reverse herringbone seats then exclude this feature. A simple extension can make the seat feel that much more private.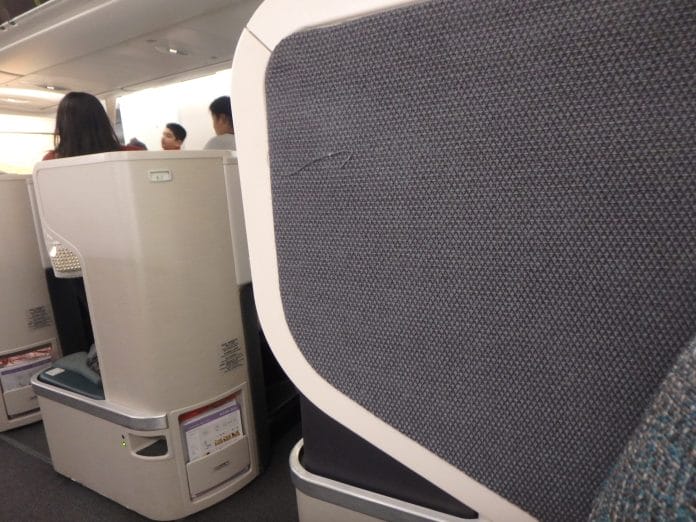 The seat had storage for books, computers and newspapers.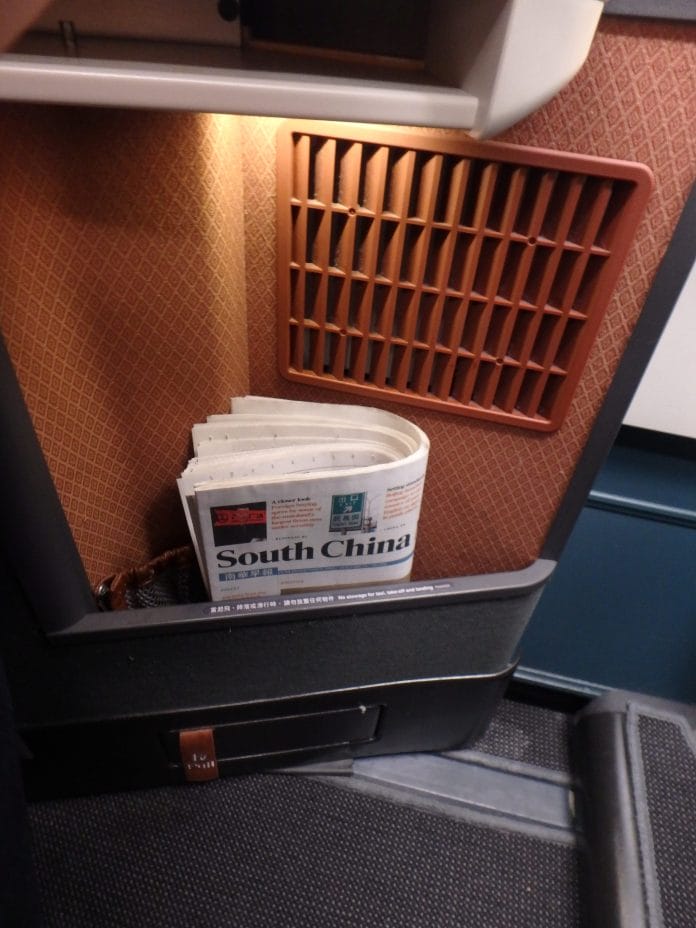 There was more space at the base of the seat in front of you, but this was already occupied by the in flight magazine and safety card.
All the controls you needed were on the side panel. Here's where you'll find your IFE controller, reading light, seat controls, power plugs, you name it.
A close up of the seat controls- I liked that they actually physically resembled the seat, rather than the button layout that other airlines use. It's a lot more intuitive.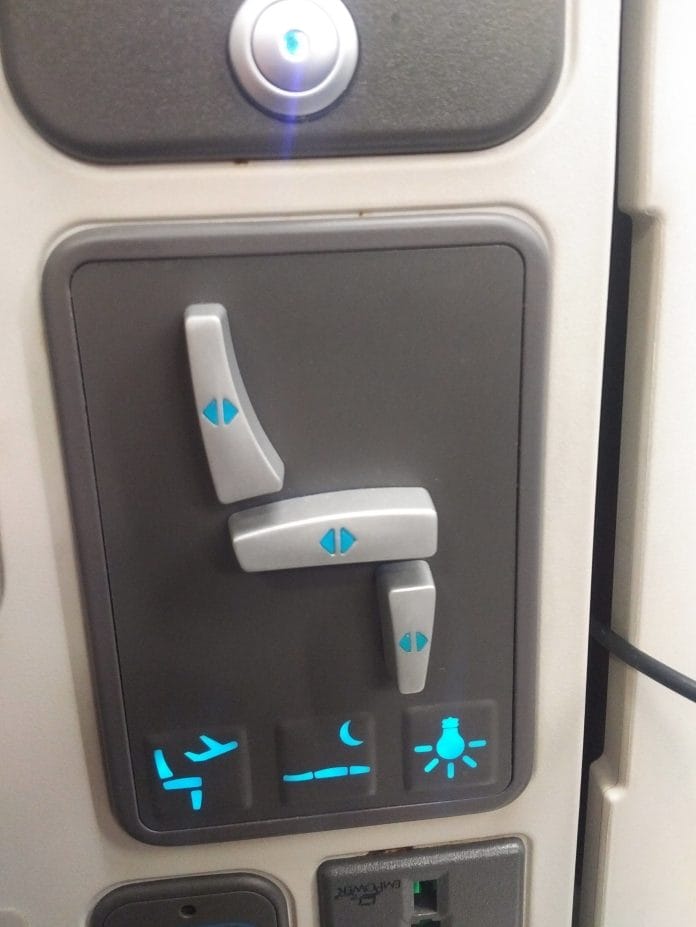 I kept wondering where my headphones were, until I found this small cupboard in the side panel that had a mirror and a hook to hang the headphones.
The tray table pulled out from underneath the control panel and flipped over to create a large and sturdy surface
No alcohol was served on the ground in Delhi, so I took water as a pre departure drink.
Hot towels came along too. I declined to take one, but noted that the lady seated to my right found…a better use for it.
I should point out that throughout the flight she kept on taking selfies with flash. Like she'd turn the camera around and flash her own face. Now, I suck at photography but I know enough to say that (1) you won't get nice photos that way (2) camera phone flash is not going to be very helpful in a really dark cabin (3) you're annoying the hell out of everyone else around you. She also kept asking for more wine in a loud voice.
I haven't flown Cathay an awful lot but it felt like they had made some cutbacks where the menu was concerned. Today's menu was printed on some flimsy feeling paper, the kind you imagine someone runs down to the local photocopying shop to assemble.
This flight departed well past midnight, so the plan was to get everyone to bed and serve breakfast before landing. I think this makes sense, insofar as there is some buffer time required to get meals ready, so that time might as well be when people are sleeping as opposed to Takeoff–> Buffer–> Eat–> Sleep
But nothing on the menu appealed to me. I knew from experience that the Western options ex-DEL would be absymal, and omelettes are never good for planes anyway (they always end up super dry). I decided to skip breakfast, sleep more and take a meal in the CX arrivals lounge
We received an amenities kit designed by Seventy Eight Percent. This is a Japanese brand that bills itself as making "fantastic bags for extraordinary men." Well, I certainly think I qualify. I once started the League of Extraordinarily Endowed Gentlemen in my JC class.
The bag reminds me of blue jeans.
Inside you'll find earplugs, mouthwash,  a toothbrush set, lip balm, some hand cream and moisturizer.
After takeoff, the crew did a round of drinks service. There wasn't a wine list so I never actually knew what champagne I was being served. For what it's worth, other recent trip reports say it's Billecart-Salmon Brut, but it tasted nothing like the one I had on QR.
The crew also gave out two bottles of water to each passenger. I was surprised to see one cheap brand and one expensive one.
Before I got into bed I went for the toilet. There was a bit of a line for the loos, so I hovered in the middle galley where I browsed the magazine selection.
Cathay's A330 toilets are really old- manual soap dispensers and taps, manual flush loos. How I miss the high tech bathrooms on ANA's 787…
The bathroom amenities were Jurlique-branded.
I quickly pawed through Cathay's IFE system before going to bed. Like I mentioned, the screen in this seat was slightly defective in that it would not swing out fully from the notch holding it in place.
StudioCX has an excellent selection of the latest movies and TV shows. I think that on most top class airlines IFE has ceased to be a serious point of differentiation. I've read great things about Emirate's ICE system, but am struggling to think how you can differentiate your IFE system beyond content.
Job done, it was time to rest. Many people seem to prefer business class seat designs that allow you to pick the exact angle you want to recline at, as opposed to SQ's all or nothing approach. CX's seat should make such people happy- I've generally found that the optimum angle is not full flat, but maybe 170 odd degrees. It might have something to do with the fact that the aircraft doesn't fly completely straight, or maybe I'm just weird.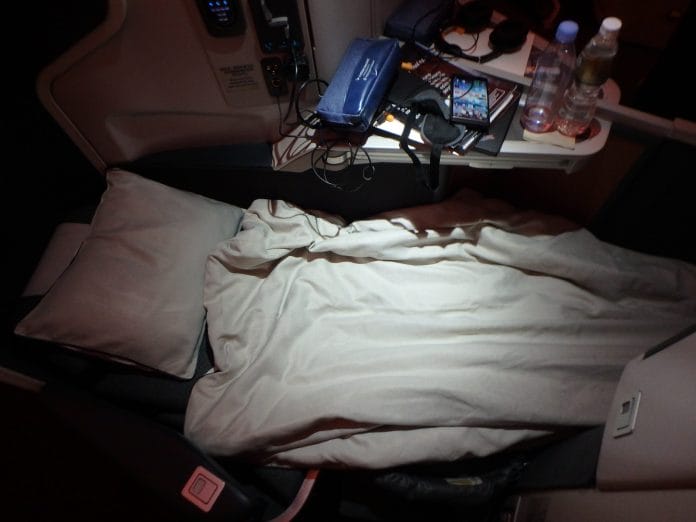 The problem with a flight like DEL-HKG is that it clocks in roughly just over 5 hours, which isn't any time at all. Before I knew it we were being woken up for landing. I realised at this point I was indeed quite hungry, but was excited to check out the arrivals lounge that Cathay operates in HKG.
I was now in the final city of my RTW trip. Almost home!