Introduction: It's the most wonderful time of the year
A Tale of Two Lounges: SATS Premier T2 and the Qantas SIN Lounge
Malaysia Airlines B737 Business Class SIN-KUL
Malaysia Airlines Business Class Golden Lounge KUL
Malaysia Airlines A330  Business Class KUL-NRT
Japan Airlines Business Class Sakura Lounge NRT
Japan Airlines B77W Business Class NRT-LAX
The Westin LAX
The Westin Westminster
Aloft Boston Seaport
The Consolidated AA Domestic First Class Experience
American Airlines Flagship Lounge JFK
American Airlines B772 Business Class JFK-LHR
American Airlines Arrivals Lounge LHR
The Great Northern Hotel, London
Sheraton Grand Park Lane, London
Westin Paris Vendome
Courtyard by Marriott Madrid Princesa
Four Points by Sheraton Barcelona Diagonal
The Consolidated Intra-Europe Business Class Experience
Sheraton Casablanca
Royal Air Maroc Business Class Lounge CMN
Royal Air Maroc B737 Business Class CMN-ACC
Ethiopian Airlines B787 Business Class ACC-ADD
Ethiopian Airlines Cloud 9 Business Class Lounge ADD
Ethiopian Airlines Q400 Business Class ADD-DAR
Protea Hotel by Marriott Dar Es Salaam Courtyard
Qatar Airways A320 Business Class DAR-DOH
Qatar Airways Al Safwa First Class Lounge DOH
Qatar Airways A330 "First" Class DOH-MCT
Oman Air Business Class Lounge, MCT
Oman Air E175 Business Class MCT-DXB
The Grosvenor House Dubai
W Doha
Qatar Airways Business Class Lounge DOH
Qatar Airways B772 Business Class DOH-BLR
The Ritz Carlton Bangalore
Vistara A320 Business Class BLR-DEL
Cathay Pacific A330 Business Class DEL-HKG
Cathay Pacific Arrivals Lounge HKG
W Hong Kong
Touring Cathay Pacific's HKG Lounges
Cathay Pacific A350 Business Class HKG-SIN
---
After 6 weeks on the road, it was finally time to return home!
My initial plan was to fly from BLR to HKG on Cathay Dragon and then catch a connecting flight from HKG to SIN on Cathay Pacific. But Business Class on Cathay Dragon consists of recliner seats, and the prospect of a 6 hour red-eye flight leaving at 0130 on a plane equipped with that didn't exactly fill me with joy.
So I started thinking of other options, and realised that Cathay Pacific operated an A330 from DEL-HKG, which was equipped with their reverse herringbone full flat J seats.
The price difference compared to Cathay Dragon was negligible. Furthermore, I was able to find a deep discount Vistara premium seat from BLR-DEL that would put me in DEL in good time for the CX flight.
Domestic flying in India is rarely anything to get excited about, but I was intrigued at the opportunity to try Vistara. For those of you who don't know, Vistara is SIA's joint venture with Tata Sons in India. The airline started operations in Jan 2015 and now flies 19 domestic routes in India with a fleet of A320-200 aircraft. Vistara comes from a Sanskrit word meaning "limitless expanse". (cue jokes from wags about "limitless expense" should the airline do badly)
There's an interesting piece in CampaignAsia about how Vistara got its branding off the ground and it's interesting how Vistara tries to tap SQ's strong service DNA while trying to retain an identity of its own.
I got to Bangalore airport in the late afternoon, well ahead of a 7.30pm departure. Bangalore airport is pleasant enough- high ceilings, natural light, well marked signs.
Vistara's check in area at Bangalore's domestic terminal was quite distinctive, with purple carpets and cheerful staff. There was only one other person in line for Business Class check in.
My bag was tagged to Delhi (Vistara and CX don't operate interline agreements, and even if they did I didn't want to be at the mercy of a missed connection after what the geniuses at Omanair did with my stuff) and boarding pass issued. You can earn Krisflyer miles when you fly Vistara, and Vistara recognises Krisflyer Gold benefits.
I love Vistara's boarding pass design. Maybe I just have fond memories of gold boarding passes, after my SQ Suites experiences. But there's something decidedly elegant about the design that made me wish SQ didn't cut all the color out of their economy class boarding passes.
I saw an invitation printed on my boarding pass for the "Above Ground Level" lounge. That's helpful, I thought. At least I know where the lounge is. I wonder what it's called?
Well. Can't say I wasn't warned. The lounge was crowded, but had a good spread of food and drinks. I didn't get good photos so I'll just post some shots of the layout. There were a few live cooking stations, a paid bar and lots of seats.
They had an egg station. It was 5.30pm, but I can never say no to some sunny sides. And maggi mee.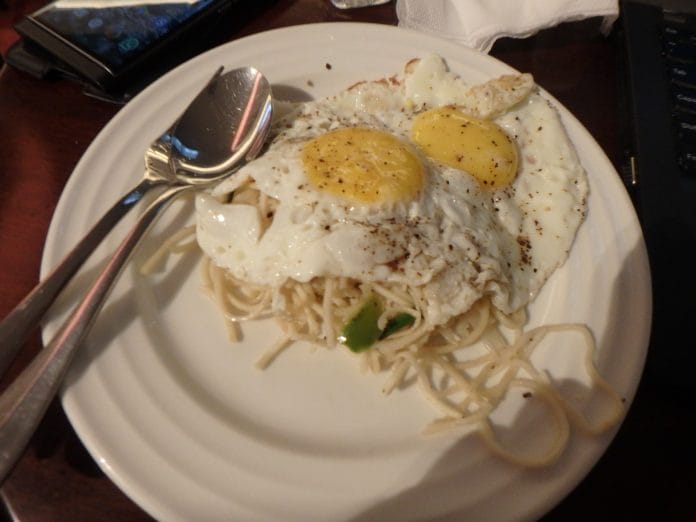 Boarding was delayed by almost an hour due to the late arrival of the aircraft from Delhi (Vistara's hub), which made me glad I had plenty of time to catch my connecting CX flight.
Vistara only operates one kind of aircraft, and their business class cabin is 2-2 configured. The seats, as you'd expect, are recliners, but they have the benefit of being extremely new (the airline only started in 2015 after all). I do like the choice of purple leather for the upholstery.
There were only 8 seats in total in Business Class. You can see that legroom is plenty sufficient, even if the person infront of you reclines fully.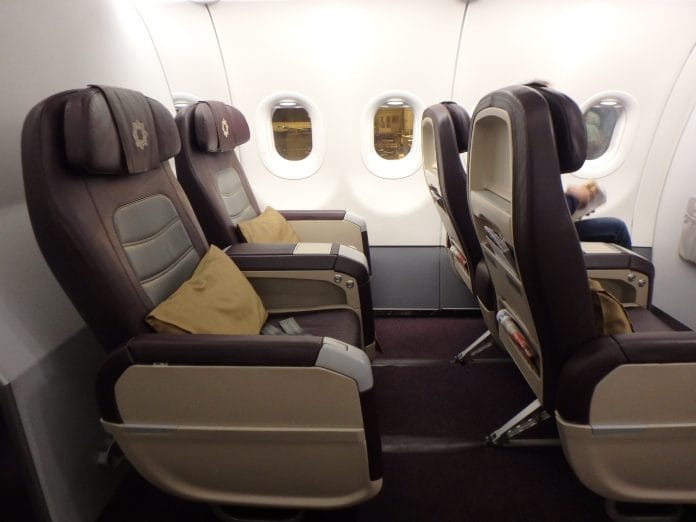 I assigned myself a window seat in the rear row, but realised that meant my recline was somewhat obstructed. There's a bit of noise leakage from the rear cabin as well because the partition does not fully align with the side fuselage on your right.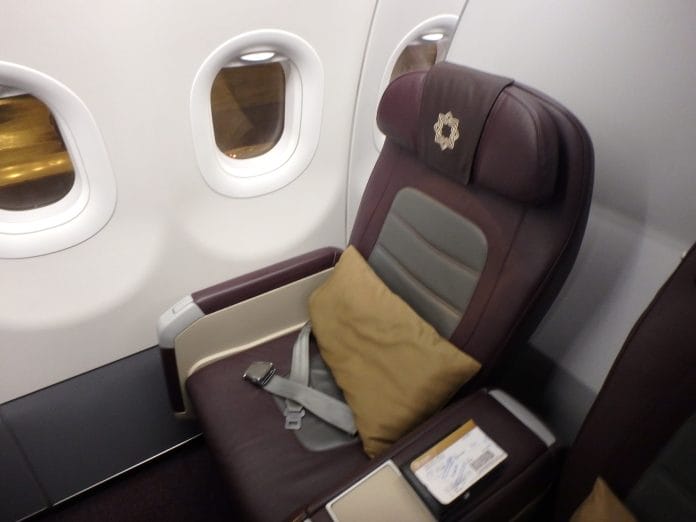 Vistara has not chosen to install IFE on its aircraft, nor was any portable IFE system offered after takeoff (unlike on Royal Air Maroc). This was a bit disappointing, especially since they're trying to position themselves as a premium carrier.
I know that Vistara was planning to launch IFE via Wi-Fi streaming, and the plan was that all aircraft would have it by the end of 2015. But the rollout has been delayed and there wasn't any entertainment available on my flight.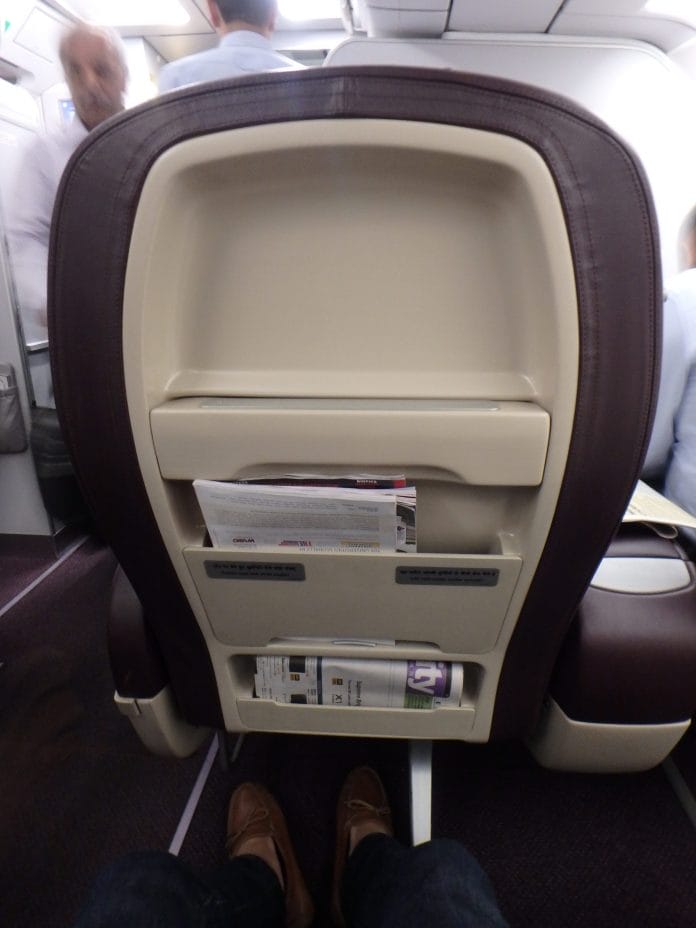 One of the issues I have with tray tables in economy (or in business class on narrow body jets) is that they're invariably flimsy, and you keep worrying they'll flex in the wrong direction and send water all over your lap. Vistara has a clever engineering innovation that attempts to address that- see the bottom right of the tray? There's an extendable component of the table that can anchor itself against the armrest, providing more "grip" for the table.
The seat had an additional legrest that extended out from beneath the seat that made it a bit more comfortable to nap in.
The Vistara crew were extremely pleasant and cheerful. I was addressed by name (possibly the first time that's ever happened on an Indian carrier for me, although to be fair the only other Indian carrier I ever flew premium with was Air India…) and very well looked after throughout the flight.
They brought out an assortment of welcome drinks after I'd taken my seat. I went with water and orange juice.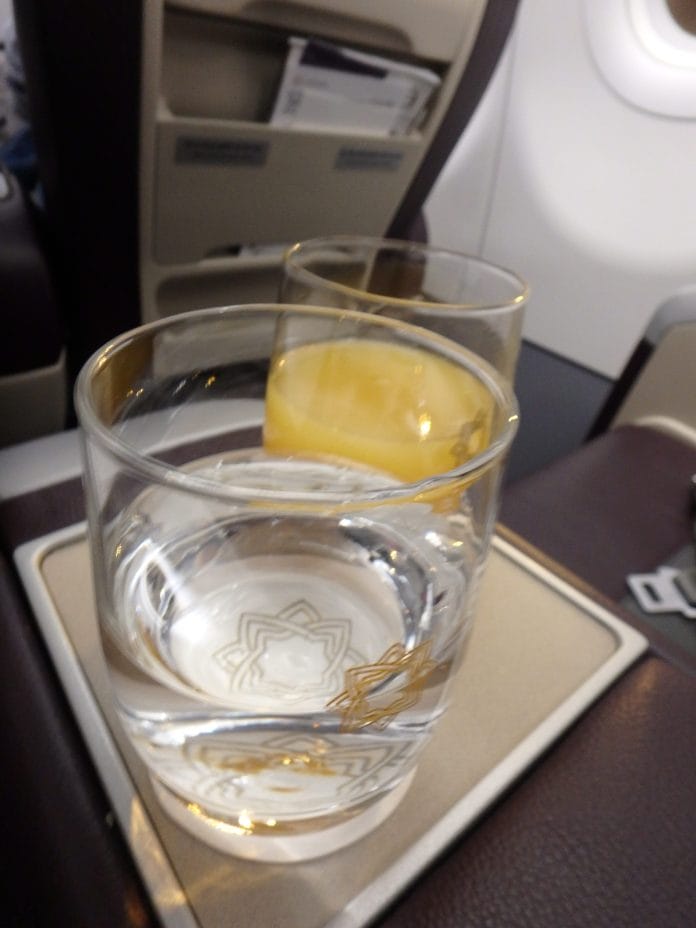 I really like that Vistara doesn't just use generic glasses- they're really trying to build a brand, and the logos imprinted on these glasses go some way towards doing that.
They also gave me a menu and told me they'd come around to take my dinner order after takeoff.
I have to say I love the paper that Vistara used for the menu- you can see subtle prints of the Vistara logo on the glossy menu, which was a nice touch (I had a long debate with a friend over Whatsapp whether it was "pore" or "pour".  Turns out "pore" is right)
The captain came on the PA system to welcome us onboard, apologise for the delay and inform us of the 2h 45 minute flight time to Delhi. After a manual safety demonstration (no video screens in these A320s), we pushed back, taxied and got airborne.
The crew came around to take drinks and dinner orders. I need to say a special word about the catering on this flight, because it was really, really good. I've always been very weary about catering out of Indian airports because if you don't like Indian food (which they do phenomenally), you're not going to have a very good time. I find Indian airport's catering of Western food to be questionable and as for Chinese food…let's not go there (which is why I was so intrigued by ANA's catering ex-BOM, knowing how particular the Japanese were about their food).
Vistara serves the entire meal on a tray, which some people dislike for business class but never really bothered me. The meal opened with a very nice cream of broccoli soup. I was impressed with how rich it was.
Salad was salad. The greens were crisp and fresh.
The garlic bread wasn't great, however. It was more like garlic biscuits and was over toasted.
Indian Airlines do not serve alcohol on domestic routes, but Vistara has some very lovely mocktails with fresh mint. I asked the flight attendant twice what this was but both times didn't understand what she was saying, so I'm just going to call it a Bombay Blue and take credit when they adopt that name.
The main of pepper coriander fish with fried rice and bok choy was delicious. Now I know it's Indianized Chinese food, but still, this tasted good. The fish was tender, the fried rice fragrant and the green chili that came with it gave it a lot of kick.
I'm glad that Vistara went with a old fashioned crowd pleaser for desert- ice cream. Give me this over fancy pants macaroons any day.
With the meal done I reclined my seat to catch a few Zs. Here you can see how the bulkhead behind the last row of sets somewhat restricts recline.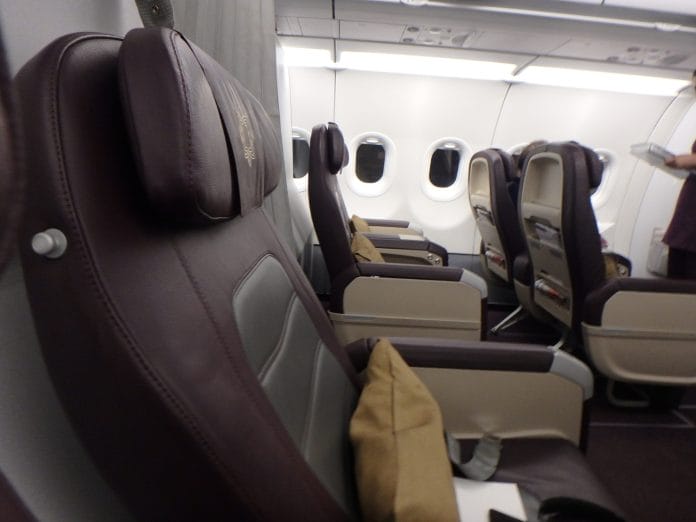 The crew were very attentive even after meal service, occasionally patrolling the aisle to see if anyone wanted more water, or coffee, or tea. You could tell they were really proud to be part of the airline (and probably relieved not to be working for Air India).
Just before landing I checked out the loo. Vistara hasn't done anything fancy with the loos, sadly, as they're the typical A320 stock bathroom. No fancy toiletries either.
The lack of IFE was a bit of a let down, but fortunately I had all the Netflix content synced to my phone so I finished out the very mediocre Season 5 of House of Cards.
So yes, my Vistara experience was head and shoulders above any other domestic Indian flight I've had so far. Great crew, good catering, new cabin and seats. Rumour has it that Vistara might order widebody aircraft as they go international in 2018, and I for one would be very interested to see what cabin products they'll put in it.