Introduction: It's the most wonderful time of the year
A Tale of Two Lounges: SATS Premier T2 and the Qantas SIN Lounge
Malaysia Airlines B737 Business Class SIN-KUL
Malaysia Airlines Business Class Golden Lounge KUL
Malaysia Airlines A330  Business Class KUL-NRT
Japan Airlines Business Class Sakura Lounge NRT
Japan Airlines B77W Business Class NRT-LAX
The Westin LAX
The Westin Westminster
Aloft Boston Seaport
The Consolidated AA Domestic First Class Experience
American Airlines Flagship Lounge JFK
American Airlines B772 Business Class JFK-LHR
American Airlines Arrivals Lounge LHR
The Great Northern Hotel, London
Sheraton Grand Park Lane, London
Westin Paris Vendome
Courtyard by Marriott Madrid Princesa
Four Points by Sheraton Barcelona Diagonal
The Consolidated Intra-Europe Business Class Experience
Sheraton Casablanca
Royal Air Maroc Business Class Lounge CMN
Royal Air Maroc B737 Business Class CMN-ACC
Ethiopian Airlines B787 Business Class ACC-ADD
Ethiopian Airlines Cloud 9 Business Class Lounge ADD
Ethiopian Airlines Q400 Business Class ADD-DAR
Protea Hotel by Marriott Dar Es Salaam Courtyard
Qatar Airways A320 Business Class DAR-DOH
Qatar Airways Al Safwa First Class Lounge DOH
Qatar Airways A330 "First" Class DOH-MCT
Oman Air Business Class Lounge, MCT
Oman Air E175 Business Class MCT-DXB
The Grosvenor House Dubai
W Doha
Qatar Airways Business Class Lounge DOH
Qatar Airways B772 Business Class DOH-BLR
The Ritz Carlton Bangalore
Vistara A320 Business Class BLR-DEL
Cathay Pacific A330 Business Class DEL-HKG
Cathay Pacific Arrivals Lounge HKG
W Hong Kong
Touring Cathay Pacific's HKG Lounges
Cathay Pacific A350 Business Class HKG-SIN
---
I had prioritized sleep over food on my DEL-HKG flight, and was starving upon arrival in Hong Kong. Fortunately, Cathay Pacific operates an arrivals lounge in HKG for arriving first and business class passengers.
Unlike some arrivals lounges that close in the early afternoon, this lounge is open pretty much round the clock. It operates from 5am to 12am, meaning that it's not so much targeted at businessmen who want to grab breakfast and a shower before heading straight to meetings, but the general traveler.
The lounges are only open to CX passengers- oneworld F or J passengers are not welcome. Given the small size of the facility (we'll get to that in a minute) I can see why.
The Arrival, as it's ingeniously named, is not tough to find. It's very near the entrance to the Airport Express actually- once you exit the secure area, look for the terminal connector between T1 and T2. The Arrival is in the underground passage connecting the two.
The first order of business was to get a shower, because that's the core value proposition of these things. There are about 12 shower cubicles available, and I can imagine the place getting crowded first thing on a weekday morning when many long haul flights get in. Fortunately, it was the weekend and there was no wait.
The shower cubicles are definitely on the small side, and you need to request for further amenities like a toothbrush or shaving kit.  But otherwise they have all the essentials you'd expect.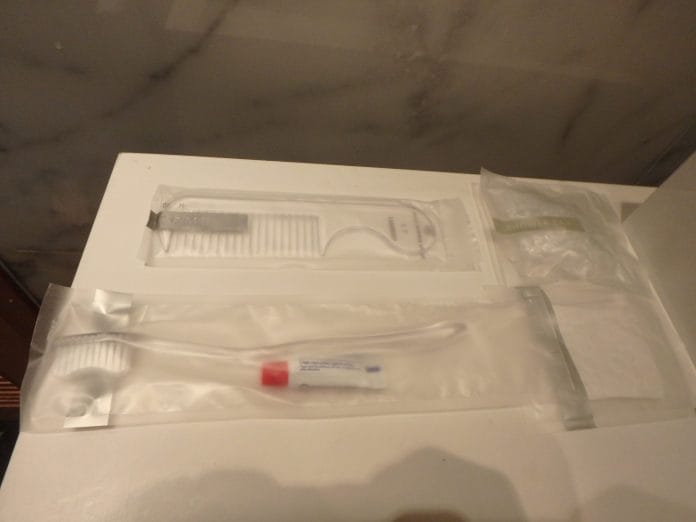 There were two sets of toiletries-  the ones on the countertop were Jurlique-branded, with purifying mist, foaming cleanser and hand lotion.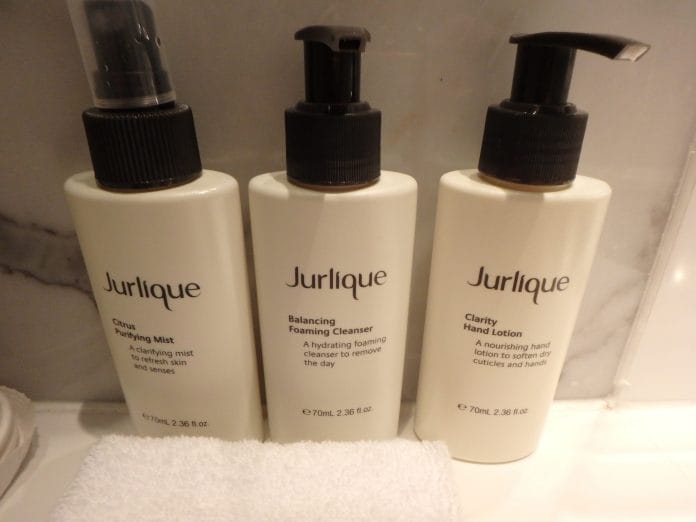 Interestingly enough, the ones in the shower came from a generic pump dispenser.
The shower itself was fine- hot water, good pressure. But given the smallness of the shower room the whole place heats up pretty fast, and any items you have near the shower will probably get wet too.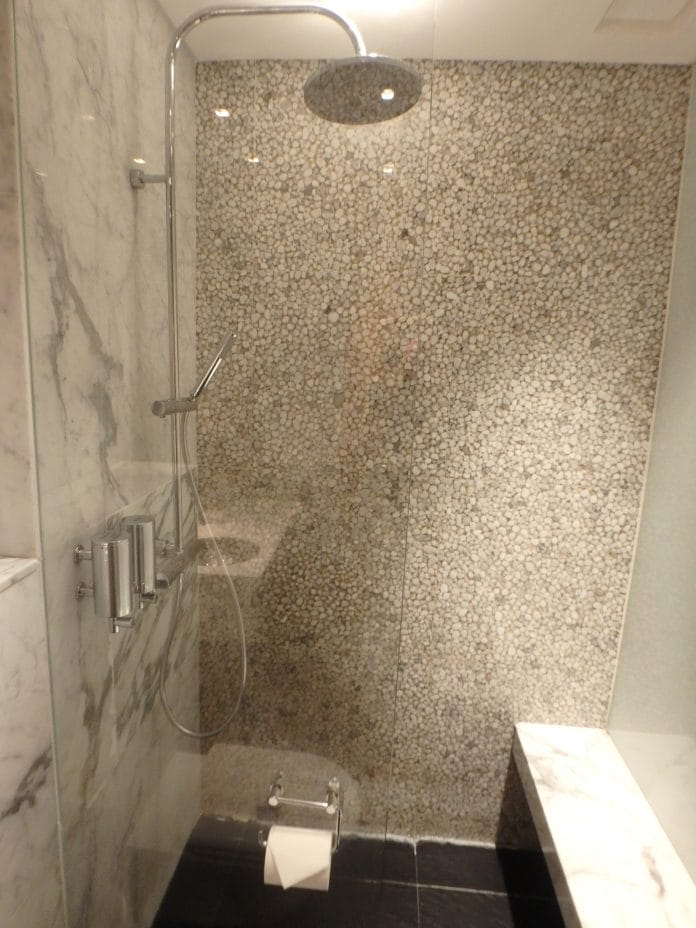 After showering I hungrily wandered up to the buffet to see what was on offer.
Where's the rest of the buffet, you ask? That's it. One single table top.  Don't come hungry.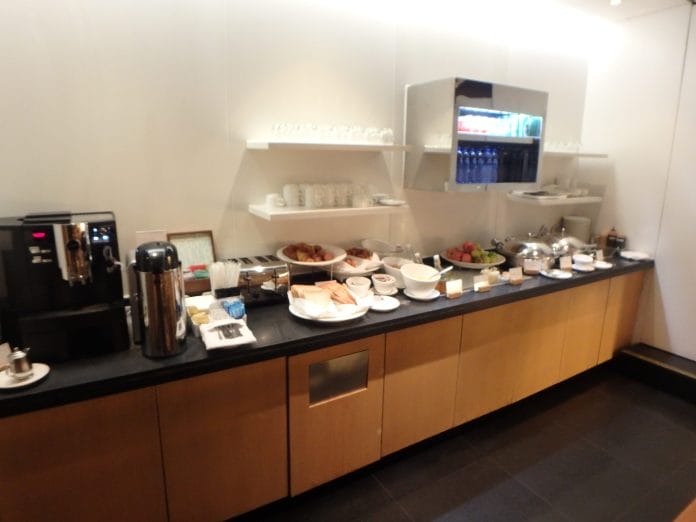 There were only two food warmers with three options inside- the Asian option of rice cakes
Or the Western option of scrambled eggs with chicken sausage.
There were juices, fruit and yogurt
Together with cereals and bread.
That was it. Needless to say, it's a far cry from the veritable bounty at the American Airlines arrivals lounge in LHR. That had a full spread of English breakfast items, plus a cooked to order menu of eggs benedict, waffles, pancakes. Heck, that lounge even had mini Moet bottles.
The Arrival is a really small facility, all things considered. You can see it getting crowded during peak periods. That's why the lounge staff are quite insistent that all large bags get checked at the coat check area- you certainly don't want them clogging up what limited space there is.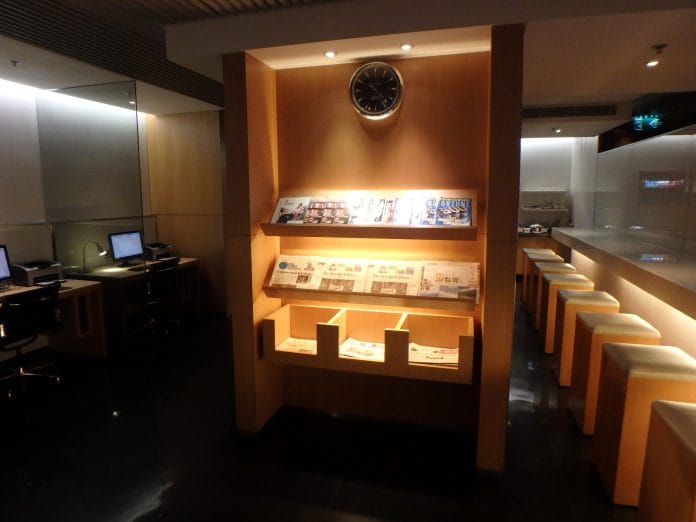 There are a couple of computers with printing capability.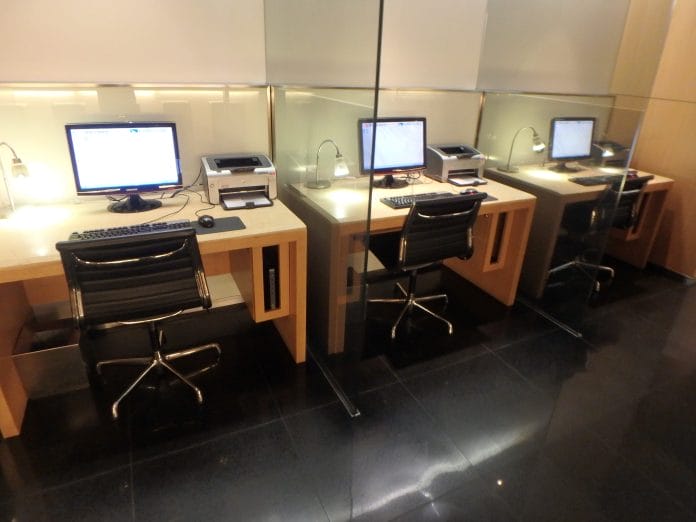 And Mac computers too if you want to feel fancy.
And that's all there is to it. There's really no incentive to hang around longer than you have to. From the way the Cathay website describes the lounge, you'd think it were some sort of Shangri-la, but in reality it's just a very functional space to catch your breath before you head out again.
It does appear that the arrivals lounge has been the victim of some cutbacks at Cathay, because based on previous reports there used to be an ala carte menu that you could order from, but that's since gone away.
I mean, say what you will about it but it's still more than what SQ offers in Singapore.
Off to the W Hong Kong!