Introduction: It's the most wonderful time of the year
A Tale of Two Lounges: SATS Premier T2 and the Qantas SIN Lounge
Malaysia Airlines B737 Business Class SIN-KUL
Malaysia Airlines Business Class Golden Lounge KUL
Malaysia Airlines A330  Business Class KUL-NRT
Japan Airlines Business Class Sakura Lounge NRT
Japan Airlines B77W Business Class NRT-LAX
The Westin LAX
The Westin Westminster
Aloft Boston Seaport
The Consolidated AA Domestic First Class Experience
American Airlines Flagship Lounge JFK
American Airlines B772 Business Class JFK-LHR
American Airlines Arrivals Lounge LHR
The Great Northern Hotel, London
Sheraton Grand Park Lane, London
Westin Paris Vendome
Courtyard by Marriott Madrid Princesa
Four Points by Sheraton Barcelona Diagonal
The Consolidated Intra-Europe Business Class Experience
Sheraton Casablanca
Royal Air Maroc Business Class Lounge CMN
Royal Air Maroc B737 Business Class CMN-ACC
Ethiopian Airlines B787 Business Class ACC-ADD
Ethiopian Airlines Cloud 9 Business Class Lounge ADD
Ethiopian Airlines Q400 Business Class ADD-DAR
Protea Hotel by Marriott Dar Es Salaam Courtyard
Qatar Airways A320 Business Class DAR-DOH
Qatar Airways Al Safwa First Class Lounge DOH
Qatar Airways A330 "First" Class DOH-MCT
Oman Air Business Class Lounge, MCT
Oman Air E175 Business Class MCT-DXB
The Grosvenor House Dubai
W Doha
Qatar Airways Business Class Lounge DOH
Qatar Airways B772 Business Class DOH-BLR
The Ritz Carlton Bangalore
Vistara A320 Business Class BLR-DEL
Cathay Pacific A330 Business Class DEL-HKG
Cathay Pacific Arrivals Lounge HKG
W Hong Kong
Touring Cathay Pacific's HKG Lounges
Cathay Pacific A350 Business Class HKG-SIN
---
Contrary to what you might be reading on the news, everything in Qatar is pretty much business as usual. There was an initial mad rush for supermarkets when the blockade was first announced, but when the country is rich enough to airlift cows to provide milk, you don't really worry about outright famine. Since then, things have calmed down quite a bit as the region lapses into a kind of a "see-who-blinks-first" stalemate. It kind of makes you wonder how long the parties involved will let this continue. But as I've said before, I'm going to leave the politics for the politicians and focus on the travel implications of the blockade.
After a weekend gallivanting in Dubai, it was time to continue the work portion of my trip in Doha. And that meant having to fly through Muscat again, though thankfully this time not with Oman Air.
I took a pretty unremarkable FlyDubai flight from Dubai to Muscat before connecting to an economy class Qatar Airways flight from Muscat to Doha. Qatar has an awesome set up for arriving business and first class passengers with special immigration facilities at DOH, but its offerings for economy class passengers are just abject. I waited in line for nearly an hour with many counters opening and closing for no apparent reason.  They say Ramadan makes the situation at immigration worse as employees take more frequent breaks. Plus, if you haven't had blood sugar for a whole day you're not exactly going to be in the best of moods.
At long last, I cleared immigration, got my bag and headed off to the W Doha, about 20 minutes from the airport.
Believe it or not, the W Doha was the first W property to open in the Middle East back in 2009 (well, second if you count Turkey as part of the Middle East- the W Istanbul debuted in 2008). A grand total of 442 rooms await, plus restaurants helmed by celebrity chefs like Jean Georges.
The first thing you need to know about W Hotels is that they're built for Instagram. It's probably the only hotel chain where I don't feel awkward for taking pictures of everything because everyone else around me is doing the same thing.
As you enter the lobby you're greeted by quite an impressive sight- W Hotels really strut themselves in the evening, and the blue ceiling-hung lights together with the mood music make for a very distinctive atmosphere. There's no way you'd walk into a W and not know it.
I'd arrived in the evening, well into the breaking fast time and the lobby was quite lively. Many hotels in the Middle East run special Iftar buffets in the evening, where there's lots of food and special entertainment (I was under the impression all entertainment was not allowed during this period- maybe it just follows the same rules as eating in public).
The lobby decor was what you'd expect from a W, with plenty of seating areas that look cool but are probably uncomfortable to sit in for prolonged periods of time.
There was no line at check-in, and I was served by a very cheerful associate. He poked around in his computer a bit and said he thought I'd like the upgrade they had prepared for me.
(Later I realised that you could also check in at these sit down booths on the right hand side of the foyer)
There are 51 suites in the property, and I was given room 1214, a W Suite (16 available, 109 sqm). How do I know it was a W Suite? It says so on the door, silly.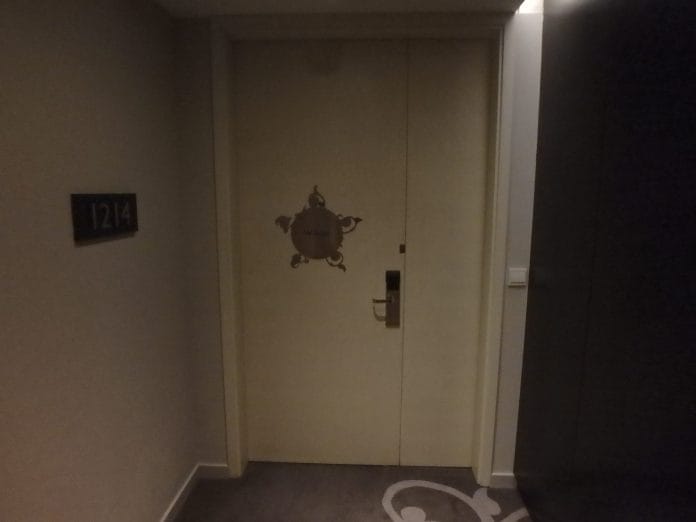 Nothing quite like having your room specially labelled.
You know your room is going to be awesome when you open the door and can't actually see your room yet. There's a small corridor at the entrance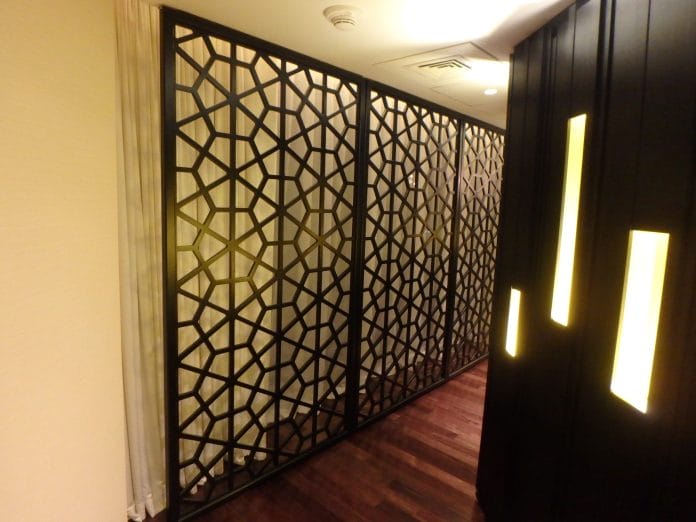 With a guest bathroom just adjacent to it.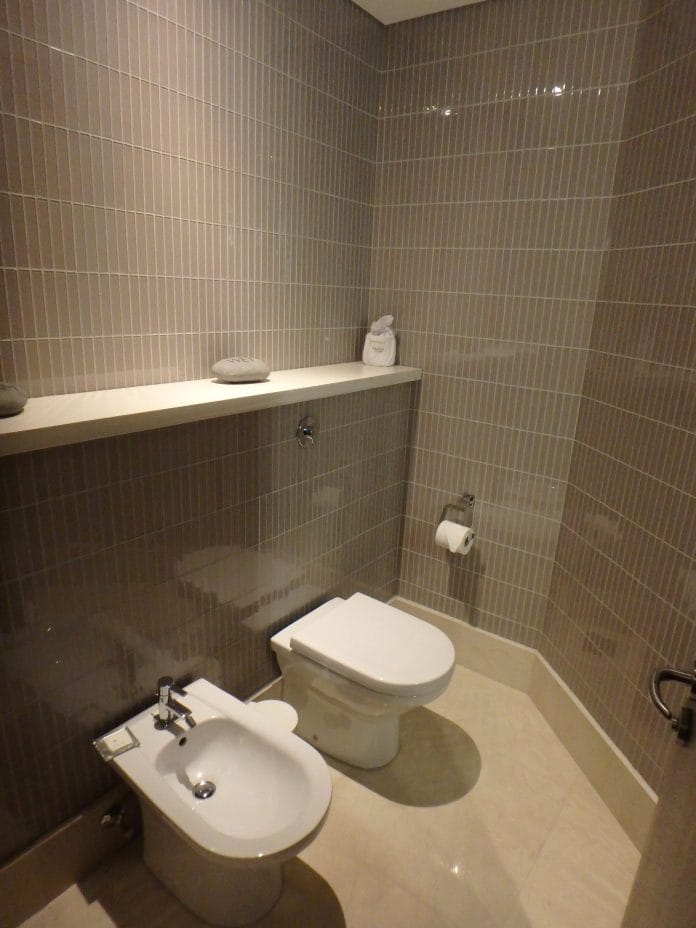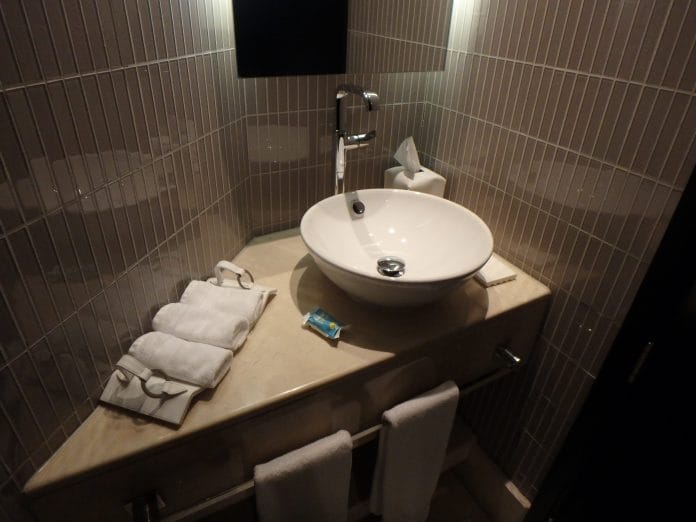 But it's what lies in the main room that's even more exciting. The lighting during the day was much better so there's going to be a mixture of shots, sorry for the confusion. Day/night cycles work the same in the Middle East as they do elsewhere in the world, for the record. I'm pretty sure my photos are not doing the room justice, but dammit, I'm not Ansel Adams (although I will soon have a flashy new camera which will obviously improve my skillz because it's all about the equipment).
The living room area is massive. You have a full couch, working desk, TV, many chairs and this huge chandelier in the middle of the room.
One of the perks mentioned on the hotel website about W Suites are "board games". I'm guessing the tic-tac-toe on the coffee table counts… (clearly these guys have never played Settlers before)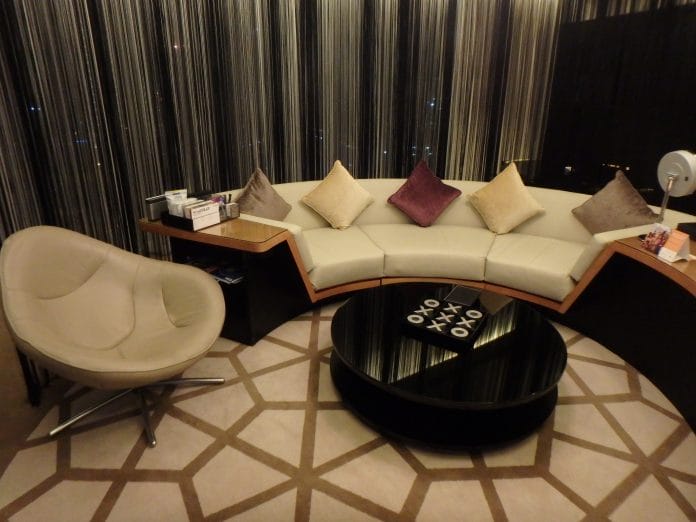 Here's the reverse angle showing you the TV and rest of the room.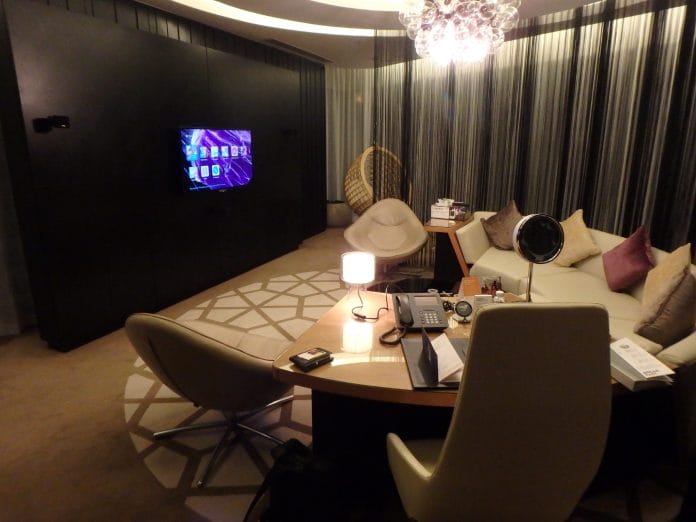 And a close up of the work desk.
The work desk had a stationery kit of its own, with highlighters, sticky pads, binder clips, rubber bands and paper clips. Don't underestimate the importance of paper clips, people- they're invaluable for swapping out your sim card.
The minibar wasn't as extensive as the one I had at the W Seoul, but still had a good assortment of nuts, sweets and souvenirs. I noted that there were no condoms or alcohol (a potent combination), probably more on account of where we were than time of the year.
You can find a separate dining/working table in a corner of the room too, which is useful for hosting meetings and/or dumping your spare junk.
And a fun to swing in eggshell chair suspended from the ceiling.
The bedroom is equally wow worthy. I don't know what it is about these drapes that aren't quite drapes- these dangly things that make the room feel really nice. Yeah they get in the way, but they're on a rail attached to the ceiling and can be extended or retracted as you please.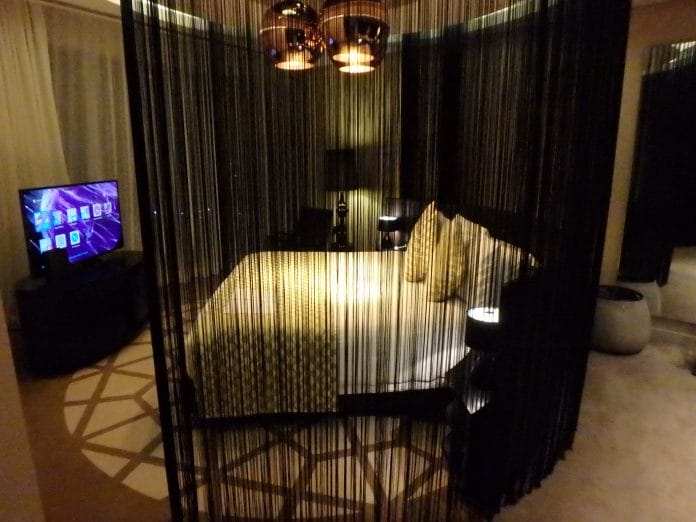 There were two notes on the bed- one was from the manager explaining the sensitive nature of Ramadan, and the second a notice explaining how the operating hours of the pool and F&B outlets would be affected. In general, you can't be seen eating in public during Ramadan so restaurants with outdoor seating areas will be shut, but those which are well concealed from outside can continue operations as per normal. This is most noticeable in malls, where open concept coffee joints shut down, but restaurants can put up "modesty boardings" and continue operations.
It is a W Hotel, so the bathroom is of course a thing of beauty. Lots of frosted glass, flattering lighting and I'm pretty sure the weighing scale lies to you too.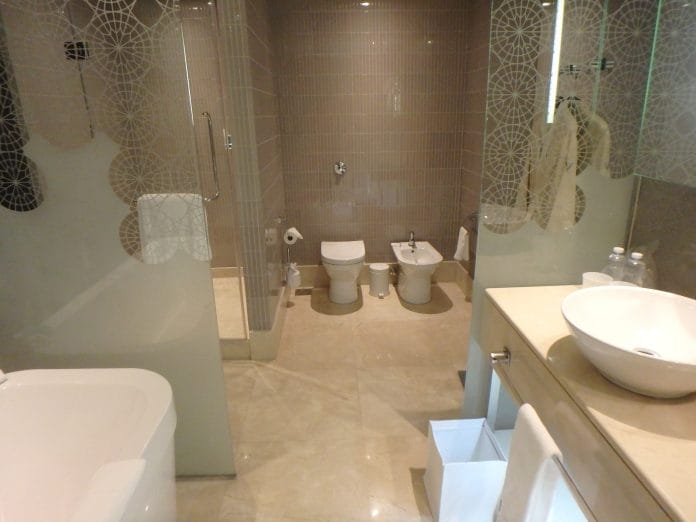 If you feel like soaking, there is a free standing bath tub.
The shower had a rain head. The design of the shower wasn't like what I'd seen in other hotels with a peek a boo glass window overlooking the bedroom that some other W properties have.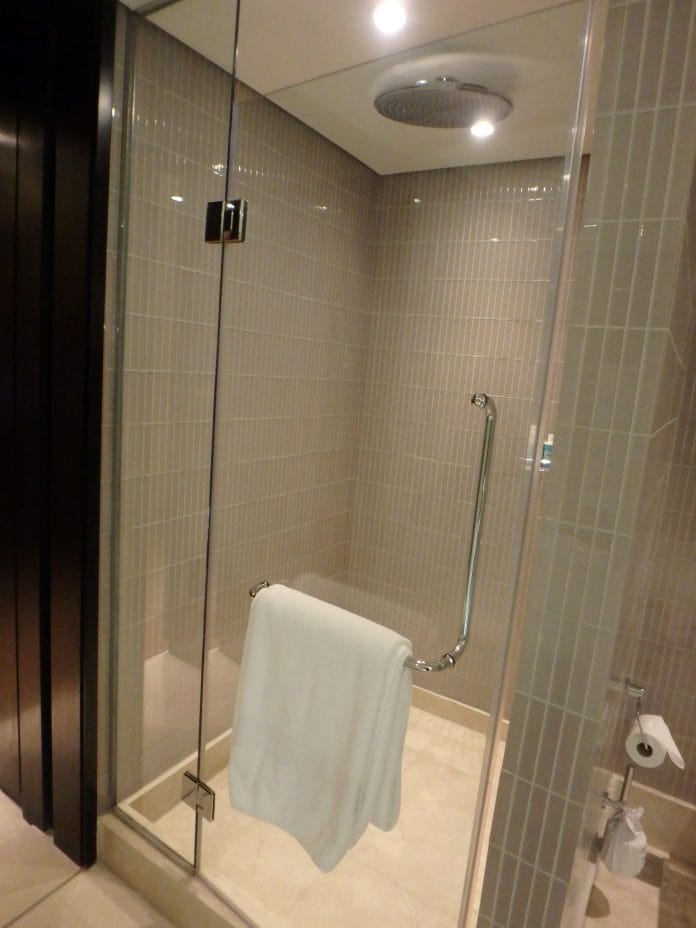 What was awesome is that in addition to the rain shower there were a series of wall-mounted jets that could give you a good back massage.
The amenities are, of course, full-sized Bliss branded ones and were replenished daily.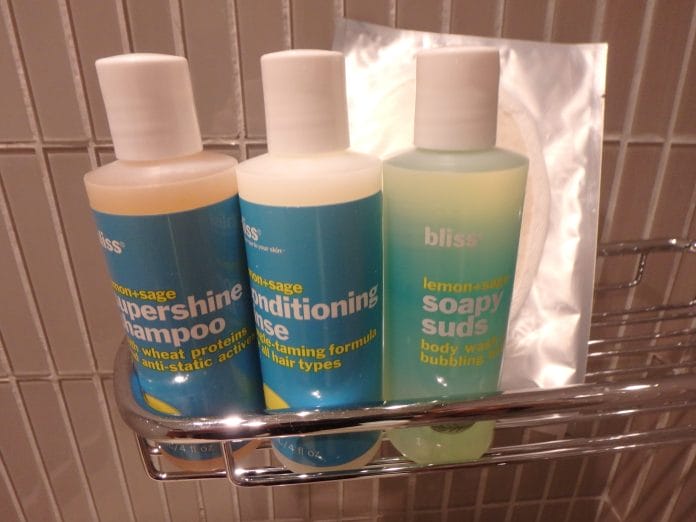 For washing up, there are dual sinks with mineral water (from bottles, not flowing out of the tap unfortunately. What? It's the Middle East) and an abundance of towels.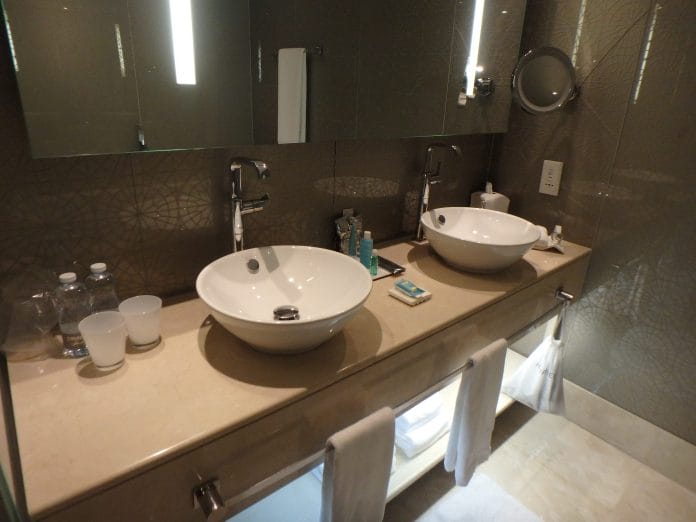 On the wash counter top you also had Bliss facial wash and body butter. The staff were more than happy to replenish the supply as and when you wanted.
It's a shame that it was Ramadan when I visited because it meant the executive lounge (called the WIP lounge here) was closed (why closed? It's exposed to the public concourse so it counts as eating in public).
So I spent whatever time I had exploring the rest of the food options at the hotel that were still operating.
The W Cafe has cupcakes and other baked treats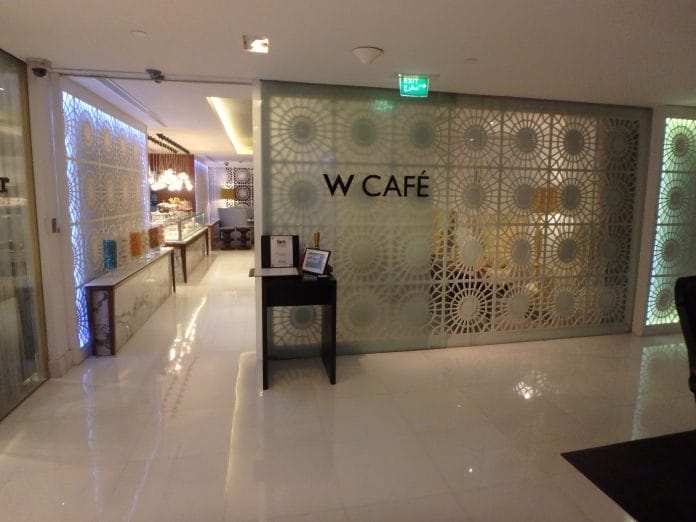 I tried some of their creations like banana nutella cupcakes (is there a more heavenly creation?) and found them to be awesome.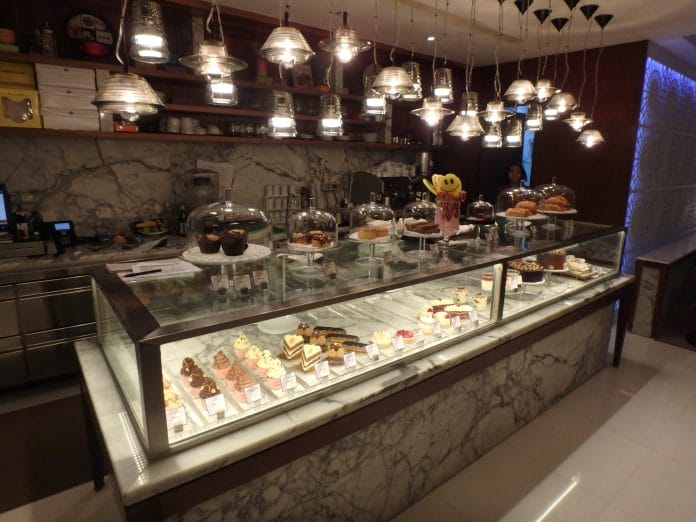 The cafe has seating too so you can have your deserts in-house or to go.
The highlight of the dining optios was the Italian restaurant, called La Spiga by Paper Moon. For the uninitiated, Paper Moon is a chain of eateries started in Via Bagutta, Milan that has since expanded to several other locations around the world.
People who know me will tell you that I'm particular about pasta like no one's business. I have shouted at people for not salting the water before cooking pasta, for breaking the pasta, for using teflon cut supermarket brands and cooking the pasta and sauce separately. I have met Italians who have told me I am more particular about pasta than they are. So when I say this pasta was good, you know I mean it.
I had a very enjoyable chat with the chef about cooking Italian food, and he told me he was so relieved I asked for the pasta al dente, because in the Middle East "they like their pasta cooked until soft." We both shook our heads silently at this, shocked at how barbaric the world could be.
Breakfast was at Market by Jean Georges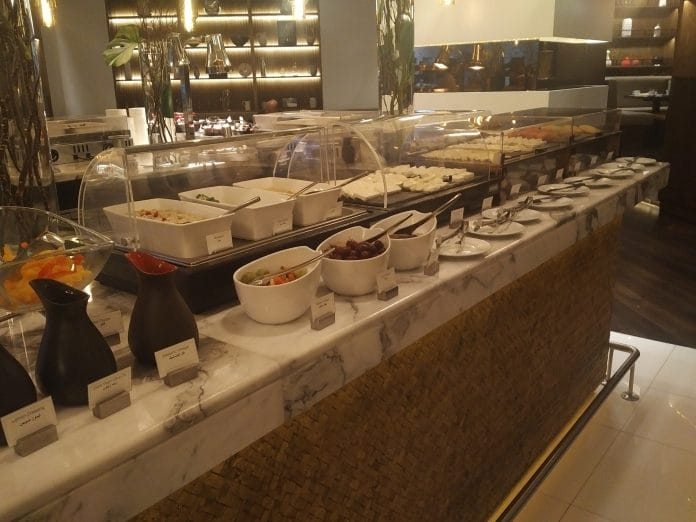 A very large spread of items was available, and I'll let the photos speak for themselves.
I never saw the restaurant too full despite coming for breakfast at peak period. I think a lot of business travelers were avoiding the country on account of the blockade.
The W Doha definitely provided me one of the nicest rooms I stayed in all journey long (a close fight with the Grosvenor House). The decor was fantastic, the service was always friendly and the F&B options were solid. It's a shame that I wasn't able to try out the lounge or pool, but Ramadan is rarely the best time to be in the Middle East anyway.