The following impressions are based on a media stay
Is it just me, or is it the fate of every military installation in Singapore to one day become a hotel? 
After all, it's happened to Fort Canning (Hotel Fort Canning), Fort Fullerton (Fullerton Hotel), the Blakang Mati base (Capella and The Barracks Hotel), and Beach Road camp (JW Marriott South Beach).
At this rate, it's only a matter of time before Tekong becomes a wellness resort- I mean, they're already offering complimentary physical training and mindfulness sessions (guests are often implored to "walk some more", in a reminder that the world is fast-paced enough as it is).
It's funny if you think about it, because there's something strangely incongruous about the juxtaposition of a hotel and a barracks. 
To think that guests now enjoy private quarters with en-suite bathrooms instead of eight-to-a-room bunks with communal toilets, celebrity chef meals instead of mess hall gruel, air-conditioned fitness centres instead of musty training sheds, turndown service instead of turnout parades, and mood lighting induced wake-up calls instead of the din of a reveille bugle. It's enough to make one wish for world peace.
But perhaps the parallels are not entirely out of place at a property like the JW Marriott South Beach, where everything runs like a well-oiled military operation. 
🏨 tl;dr: JW Marriott Hotel Singapore South Beach

A rare blend of a heritage and design hotel, the JW Marriott South Beach delivers on the staycation experience with military precision.

👍 The Good

👎 The Bad

Stylish, modern rooms with soaking tubs and electric bidets

3.5 hour free-flow alcohol in the club lounge each evening

Varied breakfast spread and exciting dining options

Excellent lounge service 

Mediocre lounge food

Swimming pool is freezing
Booking a JW Marriott Singapore South Beach staycation
The JW Marriott Singapore is currently offering a "Better Two-gether" package, which is valid for stays up till 30 June 2022. This rate includes:
A 2-night stay in a Deluxe Room
Breakfast for two adults
Rates start from S$538++ (S$633 nett), and are valid for stays with check-in from Sunday till Wednesday.
Alternatively, you can book a Marriott Luminous rate through a luxury privileges agent like HoteLux. These price the same as the hotel's best flexible rate, and include:
Room upgrade (subject to availability)
Early check-in/late check-out (subject to availability)
Daily breakfast for two adults
US$100 hotel credit
Luminous rates are eligible for points and elite credit accrual, and Marriott Bonvoy elite benefits will be honoured.
For those interested in a longer staycation, Luminous is also offering a Stay 3 Pay 2 offer at the JW Marriott Singapore.
JW Marriott Singapore South Beach: Arrival & Check-in
The JW Marriott Hotel Singapore is located at 30 Beach Road, opposite Suntec City and Raffles City. 
Getting there by public transport couldn't be simpler, thanks to a dedicated South Beach exit at Esplanade MRT (exit F). If you're arriving at City Hall MRT from the red or green lines, you can cut through Raffles City and take the underpass to Esplanade MRT, without ever setting foot outside. 
If you're driving, complimentary parking is available for all guests with a single exit coupon per day (i.e. those who stay one night will get two coupons).
The JW Marriott Singapore is located within the mixed-use South Beach development, which houses residences, office space, and eateries like Black Cow, Sushi Masaaki, and Crafted by Peter Zwiener (Wolfgang Steakhouse's sister outlet). Its tree-lined boulevard is shielded from the elements by an expansive canopy, making it an all-weather option for a stroll or an alfresco cup of coffee.
A circular fountain decorates the roundabout area in front of the hotel (it's no Fountain of Wealth, but it'll do), with attentive doormen standing by to assist arriving guests with their luggage. 
Once through the doors, guests are greeted by a 7-metre high video wall by South Korean artist Lee Lee Nam. The LED monitors are meant to form a canvas for "breathing life into art through movement and technology", but unfortunately there was a dead screen (pixel?) right smack at eye-level (or perhaps it's just an another example of me not understanding art).
To the left of the entrance was a wooden table, set beneath a beehive-shaped light. During happier times, this was where cultural programming such as wine and cheese tastings, coffee experiences and chef-led culinary events took place. Now, it's more of a communal workspace. A pair of ladders were propped against soaring display cases, teasing that at any moment a staff member might scale the heights and bring down a tchotchke for you to inspect. 
The lobby was empty when I arrived at lunchtime on a Tuesday, with the weekend staycation crowd having cleared out yesterday morning.
Just like its sister property St. Regis, the JW Marriott Singapore isn't shy to flaunt its art collection, with more than 30 works and installations scattered throughout the lobby and grounds. I personally love Flying Flames by Ingo Maurer, which hangs above the check-in desks like a set of enchanted dynamite sticks. These, incidentally, can adorn your home for the modest price of €410 (free shipping included). 
Though the hotel bears the JW Marriott name, its DNA is decidedly more akin to a W. The lobby features an eclectic mix of furniture, the carpets scream for attention, and the elevators are bathed in psychedelic lighting more suited to a nightclub than a mode of conveyance.
After a speedy check-in, I was on my way to the room. 
JW Marriott Singapore South Beach: Premier Marina Bay View Suite
The 634 rooms and suites at JW Marriott Singapore are split into the following categories:
| | | |
| --- | --- | --- |
| Type | Size | No. of Rooms |
| Studio Room | 30 sqm | 51 |
| Deluxe Room | 35 sqm | 271 |
| Premier Room | 40 sqm | 56 |
| Premier Marina Bay View Room | 40 sqm | 48 |
| Premier Family Room | 45 sqm | 36 |
| Club Deluxe Room | 35 sqm | 104 |
| Club Premier Room | 40 sqm | 21 |
| Deluxe Suite | 74 sqm | 24 |
| Premier Suite | 100 sqm | 11 |
| Premier Marina Bay View Suite | 100 sqm | 10 |
| Chairman Suite | 219 sqm | 1 |
| Presidential Suite | 248 sqm | 1 |
Studio Rooms are the lead-in category for this hotel, but are currently not available for booking as the East Tower is closed. This means that every guest is guaranteed at least a bathtub-equipped Deluxe Room, for the foreseeable future. 
For this media stay, I was booked into a Premier Marina Bay View Suite, a 100 sqm corner unit with a separate living and bedroom area.
The entrance to the suite opened into a small foyer area, with two brown leather chairs and a white footstool. 
Hidden behind a graffiti-covered door (intentional, for the record) was the guest toilet, so large that the space felt almost underutilised. I'm not one for toilet art, but the odd piece might not have gone amiss here. No arguments with the hardware though- a heated TOTO bidet seat made answering the call of nature a joy. 
In the expansive living room, natural light streamed in from generously-sized windows, bouncing off the mirror-lined walls to make the room feel larger than life. 
Tucked away in the corner was an open bookshelf, with pulp fiction (and non-fiction) of various softs. 
The seating setup consisted of two perpendicular sofas, four log-shaped marble tables, and one oval table. A welcome amenity of fruits, chocolates, and a bottle of Perrier-Jouët champagne was waiting on the table.
The work desk was behind the sofa, with a lamp, a phone, and a comfortable chair.
Two individually-wrapped masks and a bottle of hand sanitiser were provided as a hygiene kit. 
Wi-Fi speeds clocked in at 16 Mbps down and 14 Mbps up, putting the JW Marriott Singapore roughly in the middle of all hotels I've visited so far.
🌐Hotel Wi-Fi Speeds
Hotel
🔽Down
🔼 Up

Mandarin Orchard

273 Mbps

294 Mbps

Sofitel City Centre

95 Mbps

92

Mbps

Villa Samadhi

62 Mbps

53 Mbps

M Social Singapore

46 Mbps

49 Mbps

Conrad Centennial

40 Mbps

44 Mbps

YOTELAir Changi

29 Mbps

49 Mbps

W Sentosa Cove

34 Mbps

34 Mbps

Ascott Orchard

29 Mbps

29 Mbps

St. Regis Singapore

29 Mbps

29 Mbps

Duxton Reserve

28 Mbps

29 Mbps

PARKROYAL Beach Road

28 Mbps

29 Mbps

Mandarin Oriental

28 Mbps

28 Mbps

Oasia Resort Sentosa

28 Mbps

25

Mbps

The Fullerton Bay Hotel

24 Mbps

24

Mbps

The Fullerton Hotel

23 Mbps

24 Mbps

PARKROYAL Pickering

24 Mbps

23 Mbps

Oakwood Premier AMTD

20 Mbps

20 Mbps

Shangri-La Singapore

19 Mbps

18 Mbps

Pan Pacific Singapore

19 Mbps

19 Mbps

Dusit Thani Laguna Singapore

19 Mbps

19 Mbps

JW Marriott Singapore

16 Mbps

14 Mbps

InterContinental Bugis

15 Mbps

15 Mbps

The Capitol Kempinski Hotel

16 Mbps

13 Mbps

PARKROYAL COLLECTION Marina Bay

9.4 Mbps

18 Mbps

Grand Hyatt Singapore

14 Mbps

13 Mbps

Hilton Singapore

13 Mbps

14 Mbps

One Farrer Hotel

11 Mbps

21 Mbps

Marina Bay Sands

11 Mbps

11 Mbps

The Clan Hotel

9.6 Mbps

9.6 Mbps

Andaz Singapore

8.0 Mbps

9.5 Mbps

Four Seasons Singapore

6.7 Mbps

9.8 Mbps

Goodwood

Park Hotel

7.8 Mbps

7.

5 Mbps

The Barracks Hotel

7.3 Mbps

7.7 Mbps

Hotel 81 Tristar

7.0 Mbps

6.8 Mbps

Raffles Hotel

6.9 Mbps

6.8 Mbps

Hotel Soloha

4.7 Mbps

5.1 Mbps

Hotel G Singapore

4.4 Mbps

4.8 Mbps

Internet speeds based on Speedtest.net scores
Power options included two universal outlets and a pair of USB charging ports.
A pair of mirror-coated doors opened to unveil a mini-bar within, with a Nespresso machine and TWG teabags.
Unlike other hotels which have emptied out their mini-fridges post COVID, this one came fully-stocked with soft drinks, still and sparkling water, beer, as well as a small bottle of Moet champagne. 
The TV, unfortunately, didn't have Chromecast functionality so you couldn't stream your own content. On the bright side, there was a wide selection of entertainment and sports channels, including one showing the Australian Open.
The living room was connected to the bedroom by a heavy reflective door that provided excellent noise and light insulation. 
Instead of being pressed up against the wall, the bed formed the centrepiece of the bedroom. Day and night blackout curtains were controlled at the flick of a switch. 
The King-sized mattress was of medium firmness, with 400-thread count imported linens and a pillow menu. Both bedsides had a universal power outlet and 2x USB outlets for charging. 
A yellow chair in the corner of the room added a splash of colour, although it was also slightly wobbly due to one leg being shorter than the other.
Behind the bed was a wardrobe area with storage space for clothes, an extra pillow, an ironing board and slippers.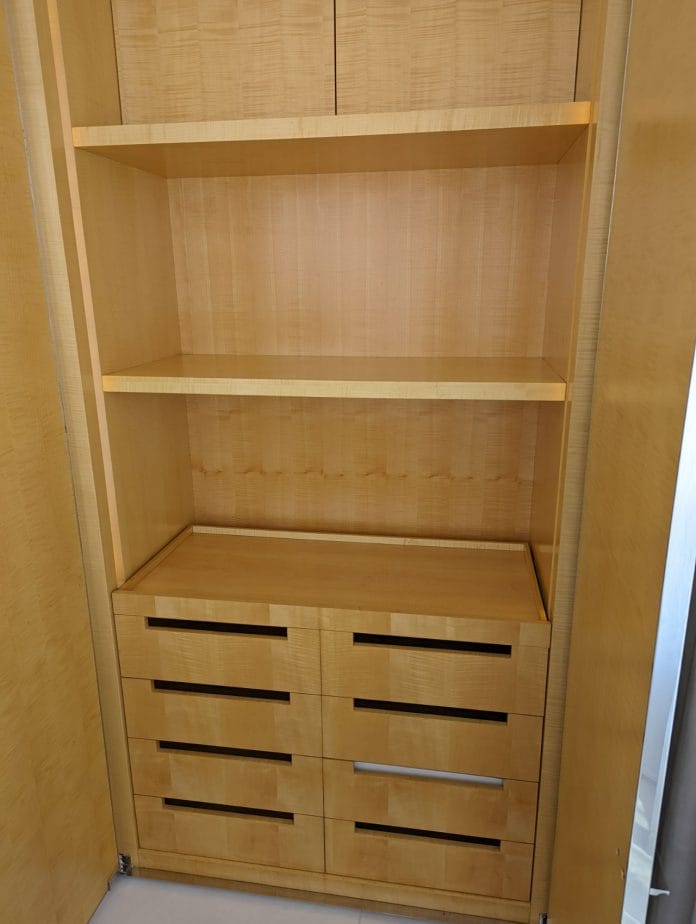 The pristine white bathroom featured a deep soaking tub, his and her sinks, and a viewing window that let you gaze out at the CBD skyline in your unclad form (though hopefully not in reverse). I don't need to tell you how difficult it is to maintain a white bathroom, so it's quite something that the hotel has managed to keep it looking this good even after five years of operations. What's that thing I said about military discipline?
The large bathtub (a standard feature in all rooms Deluxe and larger) could comfortably accommodate two people lying at opposite ends. 
The shower was pretty fun too, with massage jets for that luxury bathing experience. 
Bathroom amenities are from Aromatherapy Associates, one of the more premium brands you'll  find in a Singapore hotel. 
Just like the guest bathroom, the master toilet also had a heated TOTO bidet seat.
What struck me as odd was that the remote control wasn't mounted to the wall. You could pick it up and carry it around, creating the possibility for some fun hijinks if your other half is sitting on the can and you're hopelessly immature.
I had few complaints about the Premier Marina Bay View Suite. In fact, I could see this being the perfect setup for a wedding suite, with the tea ceremony taking place in the foyer, the gate crashing in the living room, and the Monopoly Deal in the bedroom. 
JW Marriott Singapore South Beach: Facilities
Pool

Gym

Spa

Flow18: 6 a.m to 9 p.m
Ebb6: Currently closed
Yes: 6 a.m to 9 p.m
Yes: 11 a.m to 8 p.m


Kids' Club

Business Centre

Others

N/A

N/A

N/A
Swimming Pool
The JW Marriott Singapore has two swimming pools: Ebb6, and Flow18. Ebb6 (on the sixth floor, as the name suggests) is currently closed, leaving Flow18 (no prizes for guessing its location) as the sole option. 
Flow18 is open from 6 a.m to 9 p.m daily, and guests can book 60-minute slots upon arrival at the hotel (with a maximum of 18 persons per slot). This requirement isn't strictly enforced on weekdays; I came and went freely, and was always welcomed enthusiastically by the bubbly pool attendant each time. 
Flow18 is blessed with magnificent views of the downtown skyline, and would be one heck of a place to catch the NDP fireworks. Two striking orange chairs immersed in toe-deep water provided the perfect Instagram shot, with the Singapore skyline obliging as the backdrop. 
The pool is regular-shaped enough for lap swimming (although Ebb6 is probably better for this), with a separate wading section for the little ones. 
Five submerged lounge chairs with a jacuzzi function were available at the near end. 
The main drawback of the pool? The water was freezing. It doesn't get a lot of sun throughout the day, and the architecture can make it a bit of a wind tunnel- one particularly strong gust blew towels, slippers and other debris into the pool. 
Around the pool are some very pleasant seating areas, perfect for catching up with a book or enjoying a light meal post-swim.
There's also a few resort-like facilities, such as a pool table, foosball table, and a table tennis table whose mirror-like appearance suggests it's more for show than showdown (plus, the aforementioned wind tunnel effect makes it nigh on unplayable).
Gym
The gym is located next to Flow18, and open daily from 6 a.m to 9 p.m. Access is available on a first-come-first-serve basis, with the maximum capacity set at five guests. As you might have guessed, peak periods are in the mornings and evenings, so come during the lull if you want to have a private workout.
Gym equipment includes treadmills, stair climbers, exercise bikes, elliptical machines, as well as a boxing corner with exercise balls, resistance bands and free weights. 
Spa
Spa by JW has just reopened after a prolonged closure, with operating hours from 11 a.m to 8 p.m daily.
Guests who book treatments may enjoy the complimentary use of spa facilities for an hour, with 2-hour a la carte access priced at S$20++ for in-house guests, and S$50++ for everyone else. 
Spa facilities included a sauna room, steam room and showers, all with different colours as a form of "colour therapy" (the staff member explained it's meant to activate your chakras, and I stopped listening after that).
The heated hydropool is usually a highlight for me at spas, but this one could have used a little temperature tweaking- it was more lukewarm than anything else, and couldn't compare to the amazing hydropools (yes, plural) at the St. Regis Singapore.
Prior to treatment, guests are invited to make use of the relaxation room, which features zero-gravity recliners with built-in massage function. If you've never experienced one of these before, the idea is to reduce stress on your lower back and elevate your feet to the same level as your heart. 
This supposedly reduces the strain on the vertebrae, relieves back pain, improves circulation and cushions sore muscles. I can't vouch for whether it does all that, but I can say it was one of the most relaxing chairs I ever experienced, and easy to doze off in. 
I kept thinking this would make a wonderful airline seat (many don't provide proper lumbar support), and Emirates, incidentally, uses zero-gravity seats in its new First Class cabin on the B77W. 
Spa treatments are designed with four themes in mind:
Calm: Allows guests to reset when out-of-sync, offering a moment of serenity and a chance to slow down time to restore balance. Sample services include a 15-minute tense shoulders  massage or the full hour "Sleep Deeply" massage
Indulge: Provides nourishment for the soul and a way for guests to pamper themselves through a range of therapeutic treatments that reward and rejuvenate. Sample services  include an "Ultimate Aromatherapy" massage or the luxurious "Signature Spa Journey" body treatment
Invigorate: Enlivens the body and clarifies the mind, wiping away the stresses of everyday
life and replacing it with energy and vitality. Sample services include a "Jet Lag Cure" or a "Bespoke Skin Polish" express exfoliation treatment
Renew: Purifies the mind and body so guests feel more centred, re­-focusing and instilling a sense of spiritual rebirth. Sample services include our Signature Massage or a "Detox & Revive" body treatment
We tried a 60-minute Signature Massage (S$180++ per pax), an aromatherapy body massage to relieve tension and promote relaxation. The environment was peaceful, and the treatment excellent.
JW Marriott Singapore South Beach: Executive Lounge
The Executive Lounge is located on level 2, via a link bridge. Access is available to all guests in club rooms and suites, as well as Marriott Bonvoy Platinum, Titanium or Ambassador members. 
Lounge hours are from 12 p.m to 9 p.m daily, which means that all guests will have breakfast at Beach Road Kitchen (see below). 
The lounge is divided into several zones, separated by semi-translucent coloured panels.
Pick your seat wisely, however, because some chairs are awkwardly high relative to the table (or the table is awkwardly low, either way). 
A communal high table runs the length of the window, for those who want a bit of privacy for getting work done. 
Otherwise, there's a Quiet Zone towards the back of the lounge which is cell phone, child and distraction free. 
Afternoon tea is served in two seatings, from 2.30 p.m to 3.30 p.m and 3.30 p.m to 4.30 p.m daily. You can find a copy of the menu here, and the following items were served during our stay.
Even though we arrived about 10 minutes after 4.30 p.m, the lounge staff were more than happy to put together a tea set for us, a three-tiered affair with scones and other sweet/savory items. 
While I appreciate the effort, none of the items were particularly good. The chicken floss buns were hard, and the sandwiches bland and the cakes forgettable. 
Evening cocktails are arguably the lounge's ace in the hole, running from 5.30 p.m to 9 p.m daily. That's not a typo; guests really do enjoy almost four hours of free-flow alcohol- one of the most generous arrangements I can think of at any hotel in Singapore (do note that canapes are served from 5.30 p.m to 7.30 p.m).
Like afternoon tea, the canapes follow a rotating menu, with the following items on offer the day we stayed.
Cold items included cold cuts, cheese, a pumpkin soup and some cakes.
There were also a couple of hot items like chicken yakitori, octopus takoyaki, gyoza, and udon with oden.
I wish I had better things to say about the canapes, but let's just say the main attraction of the lounge is the booze and not the food. The gyoza were bland, the takoyaki lacked any kind of crispiness, and most of the items tasted like something that'd been reheated in a microwave rather than freshly-prepared. 
I was worried that we might spoil our appetite for dinner with the lounge food, but we barely touched most of the items.
JW Marriott Singapore South Beach: Breakfast
Served at

Cost

Style

Beach Road Kitchen

S$45++ (Adults)
S$22++ (Child 7-12)

Staff-served buffet

Hours

Sparkling Wine?

Discounts?

7.30 a.m to 10.30 a.m (till 11 a.m on Wkends & PH)


No

No
Breakfast is served at Beach Road Kitchen from 7.30 a.m to 10.30 a.m daily (till 11 am on weekends and public holidays). On weekends and weekdays, guests are advised to pre-book a slot via a link provided on arrival. 18 guests can be accommodated per slot, and timings are 15 minutes apart. 
Beach Road Kitchen adopts a staff-served buffet format, where guests can waltz up to the serving counters and point at what they like. The spread is certainly out to impress, with an extensive selection of local and international items, ranging from breakfast staples to more interesting creations like chilli crab eggs benedict and Impossible Pork congee. 
Near the entrance were display cases with pre-plated portions of salmon and other smoked fish, cold cuts, and cheese. 
Slightly further in was a cold room with fresh fruits, cereals, salads and yoghurt. 
A bakery counter offered pancakes, waffles, all sorts of bread, pastries and cakes, together with spreads, real maple syrup, and preserves. 
The egg station (with options like chilli crab and masala omelettes) featured fry-up staples such as hash browns, grilled tomatoes, mushrooms and baked beans.
Next to that was a station with local items like prata, Nasi Lemak, dim sum, and various interpretations of eggs benedict (including one with chilli crab sauce, though unfortunately with very little crab meat).
There was one live cooking station, where the chef would put together a bowl of laksa or egg noodles. 
I was intrigued by the idea of Impossible Pork congee, but having tasted it I think there's a long way to go before it can pass off as the real thing (the texture is a dead giveaway). Impossible Pork, incidentally, is also certified halal in the USA, although MUIS advises against consumption.
On the whole, I was very impressed by the variety available- there's something for everyone, and I daresay that even when the lounge reopens for breakfast, it might be worth visiting Beach Road Kitchen nonetheless. 
My only complaint would be that on days where there isn't high turnover (e.g. the Tuesday I stayed), items aren't replenished as quickly and tend to get cold or dried out. It's particularly notable with things like hash browns, but the staff can prepare new ones on request.
JW Marriott Singapore South Beach: Dining
In addition to Beach Road Kitchen, JW Marriott Singapore has two other dining options: Akira Back, and Madame Fan. 
As a reminder, Marriott Bonvoy has extended its member dining discount till 30 June 2022, allowing members to enjoy F&B discounts at more than 2,700 participating restaurants and bars across Asia Pacific:
Member, Silver: 10% off
Gold: 15% off
Platinum, Titanium, Ambassador: 20% off
Blackout dates may apply; so do check in advance when making your reservation. 
Akira Back
Akira Back serves up modern Japanese cuisine with Korean accents, helmed by celebrity chef Akira Back. While the Singapore outpost is just one of almost a dozen restaurants bearing the chef's name (with another dozen soon to come), it's far from a copy paste job, with enough pedigree to hold its own on the local dining scene.
We tried the "Two Good To Share" set menu, which costs S$142++ for two people (before supplements). 
This began with a Tuna Tataki Salad- shaved root vegetables, onsen tamago, ginger balsamic dressing, and of course, some very lovely tuna. It's recommended that you mix the whole thing together, because the combination of flavors is rather striking. The ginger helps temper the richness of the egg yolk and tuna fat. 
The Sashimi Combo (S$55++ supplement) comes with mouthwatering slices of tuna and salmon and proper, honest-to-God wasabi (it's always a bad sign when you go to a Japanese restaurant and they serve you the Play-Doh stuff).
If you're a fan of some theatre, request an upgrade to the Toro Tartare (S$40++) , which is dressed and mixed at your table. Paired with brioche toast, it reminded me a bit of a caviar course.
Otherwise, the Hokkaido Scallops with kiwi and truffle yuzu aren't bad either. The scallop meat was delightfully sweet, and the yuzu helps enhance the flavours by making you salivate. 
Tofu is the next course, encrusted in a crispy shell with kochujang soy and finger lime. Regular readers will know I'm not one for tofu (although it's an opportunity to tell my dining companions "ni ke ye chi wo de do fu" [literally: you can eat my tofu, a Chinese euphemism for being taken advantage of]), but if you like the stuff then you're in for a treat.
There's always the option to upgrade it to an A4 "Tochigi" Striploin for S$50++, cooked to medium rare perfection with delicious black garlic bordelaise. This was my favourite of all the dishes. 
And yes, there's still carbs. The wagyu fried rice rounded off the meal, though by this point I was a little too full to enjoy its flavors. 
The dessert for the day was a very light cheesecake, paired with fresh fruits and grape sorbet.
While purists might dismiss this as Americanised Japanese food, leave your culinary scruples aside and you'll find it to be a fantastic meal in and of itself.
Madame Fan
Madame Fan is housed within The NCO Club, a complex which also hosts Cool Cats (a cocktail bar), Fish Pool (for champagne, oysters and caviar) and the Stags' Room (a wine lounge). 
Though the press materials describe it as an "etiquette-free" setting for playful Chinese cuisine, in reality it's a place of refined elegance, where you could picture ladies right from the pages of Joy Luck Club holding clandestine gossip sessions over dim sum, or a sullen patriarch watching wordlessly as his assembled family tucks into reunion dinner around him.  
For our dinner, the team had curated a special menu featuring some of the selections from their CNY menu.
We started off with a couple of cocktails, an East Mule (a unique play on the Moscow Mule) and The Madame 2.0. Both were excellent, but if I could only order one, I'd go with The Madame, an intriguing mix of Monkey 47 Gin, apricot tea mead wine, osmanthus, gentian, lemon and egg white.
For starters, we had sweet and sour Kurobuta pork, ume wasabi prawn, and Japanese pumpkin strips. The wasabi prawn was the highlight for me, topped with a tangy mix of mango and wasabi cream.
I was slightly confused by the next dish, a 20 years Gu Yue Long Shan rice wine soup with Hokkaido scallop and Bridges Lobster. A search for "Bridges Lobster" turned up blank, until the waiter explained that the dish was served in two parts, and the bridges ("guo qiao") referred to the process of bringing the dish together by pouring the soup on top of the ingredients. Delicate, and delicious.
The Salt-baked Spring Chicken was just like how grandma used to make it, with tender meat falling off the bone, and a hearty broth enriched with cordyceps flower, ginger and leek.
My personal favourite was the Pan-fried Marble Goby Fish Fillet, served with asparagus and a delightful truffle sauce topped with shaved black truffle. The fish was moist, the truffle aromatic, and the sauce was spiked with black pepper for an extra kick.
The final hot item was Pan-fried Wagyu Beef and Foie Gras. I'm divided on foie gras; I love its richness, but it gets a bit much after a couple of bites. This, however, was just the right amount, with the leek adding some delicate sweetness to proceedings.
Chilled Coconut Pudding with brown sugar pearls finished the meal. This was nestled in dry ice for extra dramatic effect.
Madame Fan is that rare breed of restaurant that can please both the boomers and the zoomers. It certainly knows how to riff on the classics, introducing just enough twists to keep things interesting, but not straying too far into blasphemy territory. 
JW Marriott Singapore South Beach: Service
Service throughout the stay was prompt and attentive, although the two standouts were the pool attendant (who welcomed each guest with an enthusiasm that restored my faith in the Singapore service industry) and the staff at the club lounge.
Antonio and Cora fussed over every guest who stepped through the lounge doors, almost begging you to let them help with some task or other. Drink preferences were remembered, top-ups were frequent, no request was too big. I wasn't surprised to learn that Cora was previously a member of the Ritz-Carlton Singapore lounge team, as the fawning service wouldn't be out of place there.
Verdict
The JW Marriott South Beach runs with a kind of military precision, where the sheets are ironed, the bathroom spotless, and every guest request treated like a command.
Premier Marina Bay View Suites are a great place for a bridal party (or a blanket party), breakfast at Beach Road kitchen hits all the right notes, and the facilities are every bit befitting a hotel of this calibre (pity about the freezing pool, though it might bring back some memories for those in the Naval Diving Unit). 
The main disappointment was the quality of food in the lounge, especially given the culinary heights achieved at Akira Back and Madame Fan.
I just hope Tekong gets with the programme soon.
🏨 In Summary
A rare blend of a heritage and design hotel, the JW Marriott South Beach delivers on the staycation experience with military precision.
Do say: Drop and give me 20

Don't say: Ah Girls Go Army wasn't that bad